Half of polled Windows Central readers will run Windows 11 on their main PC
While people aren't usually meant to run Windows Insider builds on their primary PCs, just under half of our polled readers will do just that.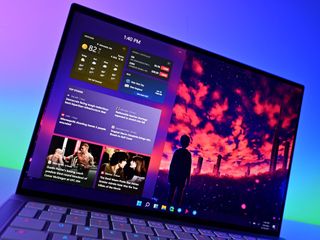 (Image credit: Daniel Rubino / Windows Central)
Windows 11 won't ship until later this year, but plenty of people want to get their hands on it as quickly as possible. The first Insider preview build of Windows 11 rolled out yesterday, and many Windows Insiders raced to download it. We wanted to know how many of our readers plan to run Insider builds of Windows 11, and if they are running it, which PC they'll use it on.
Since our poll went up yesterday, it's received over 1,500 votes. Just under half of those voters (49.2% at the time of publication) plan to run Windows 11 Insider builds on their primary PC. Another 21.86% will test out the operating system on a secondary machine. 13.03% of polled participants won't install Insider builds yet, but will do so at some point. That leaves only 15.93% of participating readers left who plan to not run any Insider builds of Windows 11.
It's not that surprising that readers of Windows Central would race to get their hands on the latest version of Windows, but I was surprised to see that almost half would run it on their primary PC. Insider builds can run into bugs, which can be frustrating on your everyday computer. Potential bugs or issues didn't seem to sway many of our readers away.
Many people in the comments of our poll post said they'd like to run Windows 11 preview builds but aren't able to because their PC doesn't meet the operating system's minimum requirements.
Shel Dyck said, "5 of 6 of my machines failed the hardware test. Some of which are fairly new hardware. I'm too pissed off to even look at 11. I wanna test win10 21h2, hopefully that happens soon, as I'll probably be running 10 for years to come."
Microsoft updated a page recently to acknowledge an issue that caused some Insiders to not see the update. If you tried to update yesterday but weren't able to, you may see the option now.
We'll keep the poll open for a while to see if it trends differently going forward than it did over its first 24 hours.
Windows Central Newsletter
Get the best of Windows Central in your inbox, every day!
News Writer and apps editor
Sean Endicott brings nearly a decade of experience covering Microsoft and Windows news to Windows Central. He joined our team in 2017 as an app reviewer and now heads up our day-to-day news coverage. If you have a news tip or an app to review, hit him up at sean.endicott@futurenet.com (opens in new tab).
Many of us haven't been given a choice. Our main PC is often the only one that meets the modernised specifications, if any do at all.

grab ISO file for Insider build from "UUP Dump" (website)
You can figure out rest of it XDD Now do a clean installation from USB drive
Processor Generation restrictions won't apply on clean install (maybe) To make sure it goes smooth , Enable TPM and Secure Boot
Bios mode should be UEFI Anyways , if you are willing enough : Find some tricks to bypass all this and install windows 11
You can find those tricks easily on youtube or Just Google it

@Zeem Frostmaw use a virtual machine.

CocoPizza_2000, This is how I installed it to my Surface Pro 2.

I'm running it on my main machine, but on a separate (and very small) partition. It will not be my daily driver, yet.

Installed it on a backup machine, Ryzen 7 3700x, 16GB, HyperX SSD. Performance has been very good so far. Just finished installing on a more current machine, Ryzen 7 5800x, 16GB, 980 Pro SSD. It runs much better than I expected for an early build.

I will run it on my main machine. I have done so in the past. I will, however, wait for the Beta channel. This has worked for me in the past as the bugs weren't so bad as to prevent me from working. Most of them were just temporarily annoying.

Running it on my main work machine and it's working really well. Because the code base was already done in previous Windows 10 builds, I think it's worth the risk and I've found no issues yet. In fact my boss was pretty impressed when he noticed the new Start menu during a screen share while I was opening an app on a conference call.

I'm intensely curious and would love to see it (and my main PC happens to pass the hardware requirements since turning on PTT), but I'm not willing to risk my work with a pre-release build. I just don't personally have the time for that. I'll gladly give feedback when the production build is ready and probably install that on during the first week (probably not on day 1, to give time for reports of any widespread problems).

It looks like either the o/s is smart enough to know it's running in a vm or the hardware restrictions haven't kicked or Ms testing wide range via insider. I imagine it's the latter as i had no issues installing W11 in a VM via the insider program.

I'm running it on my only PC (surface laptop 4) end it's running better than it ever did in Windows 10. My fans aren't running at full power all the time anymore. I have noticed though, that the apps that have rounded corners are hit or miss. Many Microsoft apps are rounded, One Note is NOT. Slack is rounded. ProPresenter is not. On macOS Big Sur, every app automatically had rounded corners. And they all looked great. With windows 11 do developers have to put out a new update to existing apps to make rounded corners work? That certainly makes the experience feel less polished.

That's more likely to be on the developer than the OS though. As odd as it sounds they probably need an update. OneNote is an odd one, if it's OneNote 2016 then that's unlikely as it's been discontinued, if it's the store version then that's more likely to see an update.

I don't think so. Its true of all the Office apps. The rounding seems pretty hit or miss. The Edge browser I'm in now just had rounded corners on the right side only until I move the window.

Well that's not a great experience! Lol

That's the main purpose of testing. Insiders are free testers - a dedicated QA team costs money lol. Insiders are compensated by getting early access to the software and tools. So it's a fair trade off. Nevertheless I always felt personally Microsoft should rehire a QA team.

I need to know if I can make the start menu like windows 10 .aka I want to add folders to the start menu

Haven't seen that option yet, but I also am still learning the new settings app

@siegfriedgreding - right click a folder and then pin to start should work. If you don't see your folders, scroll down - the two dots on the right hand side of the start menu indicates pages or whatever Microsoft wants to call it lol.

Well my main PC met the requirements and had already getting the insider builds. What was frustrating is the issue with my 2 year old laptop that has a 7th gen cpu being told not for you. Well M$ in all their graciousness has allowed these machines to run the insider builds to. Hopefully it will be shown in telemetry that it will run 11 well also. I 've had it on for a few hours and nothing at all major has cropped up yet. That though being M$ doesn't mean they'll Totally F this up down the line.

To be 7th gen came out in 2017, so you bought a 2-year-old laptop that already had a 2-year-old processor in it. So really, it's 4 years old at this point. Still, I agree that should be compatible. But I'd hardly call it 2 years old. That's on the manufacture for selling that old of a process, and you for buying it.

Pretty stable so far. I hate the recommended section of the Start menu. Why do I want to re-open a file I just closed? Some of these are installers. Do I need to run an installer twice? This area would have been better used by the widgets or saved desktops or something.

Working well on my daily driver, Surface Go with a Pentium Gold 4415Y which was not listed as supported, but I was in the Dev Channel so I was able to install. Odd, the Pentium Gold 4425Y, which is the same CPU but 100mhz faster, is listed as supported. Go figure.

Ran it on my surface go for the hell of it...Hated it. It makes my go to tank game and only game I play jittery and load in atrocious. 1. start menu icons to small
2. I don't want recommendation on Start and when turned off you have huge blank space.
3. Couldn't move Taskbar to right side of screen. I run mine in auto hide. Simply swipe up from bottom and out it pops. It takes up the least amount of space. And its easy to hit the start button. I hate 10s start menu but I loathe 11s. Oh and you cat unpin items from start without deleting them. I like having my pivotal apps on Stat and everything else hurried.

Well, Windows 11 is 21H2... Lol! I had to choose secondary machine as I am running W11 in a vm. Had re-install / re-create the W11 VM last night as in my excitement to start testing I forgot to activate the VM lol... Like W10 to personalise etc you need to activate the O/S. So activated the VM prior getting the insider build, backed up the W10 activated VM, now running the preview build. Will be checking it out over this week.

Successfully installed on my Surface Pro X yesterday evening and all is running well with the following differences vs my 2 desktop installs. The desktop PC installed as W11 Pro while the Pro X gets W11 Home. One of the differences is you can't remove apps from the start menu on Home while you can on Pro. Also, in the start screen you can't swipe to view the app list you have to select the all apps button. Not deal breakers but certainly a miss in the touch experience. I will play around with the keyboard attached today and see what else is different but again, very stable and smooth running on ARM.

Oddly enough, now I can pin and unpin on my Surface Pro X without any updates. That's interesting.