Poll: Will you install Windows 11 Insider preview builds on your PC?
Windows 11's first-ever Insider preview build is rolling out now, and we want to know if you're going to install it.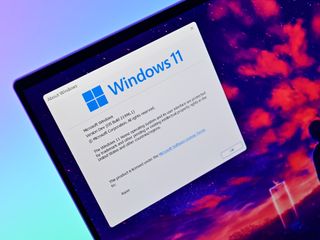 (Image credit: Daniel Rubino / Windows Central)
The first Insider preview build of Windows 11 just started rolling out to Insiders. As you'd expect from the first-ever officially released build of a new operating system, it has a ton of new features. With it, you can test out the new Start menu, File Explorer, Taskbar, widgets, and much more. Our senior editor Zac Bowden breaks down the full changelog, but we want to know how many of you plan on actually installing it.
If you're on a mobile device, you may need to use this direct link to participate in the poll.
To get the latest build of Windows 11, you have to enroll in the Windows Insider Program. You also have to set your PC to be in the Dev Channel of the Insider Program. We have a complete guide on how to get the first public preview of Windows 11 to help you out.
Note that your system may still run into some issues in terms of compatibility. Microsoft is letting people with certain older hardware try out the operating system, but there are still many PCs that will not be able to update to it.
To know if your PC will be able to upgrade to Windows 11, make sure to check out its minimum requirements.
Microsoft has pulled the PC Health Check app for the time being, but you can use a new app called "WhyNotWin11" to find out why your PC doesn't meet the minimum requirements for Windows 11.
Please let us know if you'll run Windows 11 Insider builds on your PC and explain why or why not in the comments below.
News Writer and apps editor
Sean Endicott brings nearly a decade of experience covering Microsoft and Windows news to Windows Central. He joined our team in 2017 as an app reviewer and now heads up our day-to-day news coverage. If you have a news tip or an app to review, hit him up at sean.endicott@futurenet.com (opens in new tab).
I'm sticking to my usual testing strategy of testing it out in a realistic scenario for an IT student.

Would install on a secondary device, if I had one which met the minimum specs -.-

I will, maybe even in the ring before Release Preview this time.

Installing now on my secondary computer, Surface Go 2 LTE!

did it work? the Insider settings page tells me my Surface Go 2 (M3) "doesn't meet hardware requirements", etc., and so i will only get Windows 10 builds...

It installed fine on my Go 2 (M3).

I rejoined the insider program on Friday. While I was joining, it told me I do not match the requirements, but it will let me join. It also told me when Windows 11 is released, I will be removed from the insider program, and I will have to manually install Windows 10. Today after the Windows 11 update, I went to Device Security in settings. I got the following message: "Standard Hardware Security not supported".

I installed it on my Surface Go despite the warning that it doesn't meet the requirements. Works wonderfully and the improvements to touch are great.

Presumably it was already enrolled onto Insider before the announcement?

I would if my i7 Surface Pro 4 met the minimum requirements, but it doesn't.

Neither of my laptops meet the conditions, yet I'm installing on both.

I have it running properly on my SP4. Just enroll into the dev channel and you're good to go. Those requirements are not a hard limit, probably more like a recommended spec list.

The Windows 11 Insider Preview build installation started before I got home on my dev channel enrolled Surface Pro 4 that is supposed not to be compatible dixit the PC Health Check tool.

Installed on my rig so far no issues AS rock B450MAC

I'll let all the bleeding edge people here test it out for me. Kidding... I have a second desktop I plan on using to give W11a whirl. 🙃

I installed it on a Intel Acer laptop from 2013 just to see. 0 issues.

Already doing that on my secondary PC, my SP4. A first for me, didn't do it for Windows 10.

I would but I don't have a PC that passes the test. Will try it on a VM if it will let me.

I'm running the new release now on my main laptop 💻. It's flipping amazing folks. Just hope Microsoft don't make me uninstall it later in the year because its only my cpu from 2016/17 that's not supported? So dumb that!..

It won't install for me citing lack of TPM 2.0 (which I thought was being ignored for insider builds at least for now) and lack of Secure Boot support.

I'll be installing it on my main machine once it moves to the Beta Channel.

I had a VM running the leaked version. Switched to the dev channel and it is installing as I write this. Glad it updated.

I am actually quite surprised. A few glitches here and there, but overall, it has been a good update. Everything from win 10 carried over. This seems more of a Beta build than a Dev build. I am just hoping that in the next months there's no BSOD.

Installed on my Surface Pro (2017) this afternoon. Runs like a dream.

5 of 6 of my machines failed the hardware test. Some of which are fairly new hardware. I'm too pissed off to even look at 11. I wanna test win10 21h2, hopefully that happens soon, as I'll probably be running 10 for years to come.

I read an article from Microsoft that it will support the 7th generation of processors
I will check if this is possible and I think it is possible and I registered my dev channel from Insider
I got the first version of Windows 11 and I really hope that it will be officially supported for me

Just installed on my Surface Book 2. So far so good.

Just installed Wileven on my lappy and it's running seemlessly so far. It does meet the reqs but just barely as I use a less powerful device as a dumb terminal to remote to my admittedly aging desktop when I need more power, which ironically has an i7 7820X which doesn't CURRENTLY make the cut, but I'll be pretty surprised if it doesn't work anyway. I won't be upgrading my desktop yet, though, until we get closer to public release, and only then if I can keep it. Biggest change so far for me is that Settings looks a lot more Edge-like and they moved a bunch of things around again. I'm not too keen on the centered Taskbar, but I have a feeling MS will enable a legacy mode sometime down the road due to high die-hard fans' demand. My condolences to anyone who has had a more Rocky experience than me.

Of course I do, on a VM for now.

I would love to install it but my 2016 PC is too old for Microsoft to run it.

I have installed it on my main gaming pc and on my work SP7. Both work perfectly, even faster than Windows is 10. I'm currently downloading it for my SB2 and later will try on my wife's Surface go 2

On a VM/Hyper-V yes but definitely not on my main install

After a day of testing on my backup Ryzen rig, only found a few fit and finish issues that are small so far. I'll be installing on my primary Ryzen rig today with plans to install on my Surface Pro X this weekend, if all goes well.

Already installed on an SP7 and an SD850 Yoga C630

My Windows 10 ARM-64 Insider build successfully upgraded to Windows 11 through Windows Update as soon as it was released. This is a VM running in Parallels Desktop 16 on an M1 Mac Mini. (I guess will have to qualify as a "secondary machine" since VM was not an available choice.) It's working beautifully so far (with some expected early glitches here and there).

Installed on my main. No bugs or issues yet that interfere. So far very smooth.

Running fine on my Samsung Galaxy Book. I think 11 kinda sucks but it runs fine.

Then just run W10, it is supported till 2026

When I was removing my machines from the Insider builds I forgot one, and it installed Win11. Even more unfortunately, that machine was one running a 3rd gen i7 on a motherboard that has a connector for a TPM module but not one installed. It didn't seem to have any issues actually loading or running. But I can't stand what they did with the OS, so I reverted back to Win10. Much happier now.
Windows Central Newsletter
Thank you for signing up to Windows Central. You will receive a verification email shortly.
There was a problem. Please refresh the page and try again.