New GitHub app details precisely why your PC cannot upgrade to Windows 11
Want more detail as to why your PC may not get Windows 11? A new free app called WhyNotWin11 dives much deeper than Microsoft's own attempt.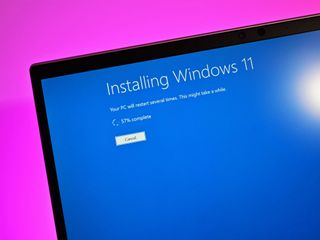 (Image credit: Daniel Rubino / Windows Central)
What you need to know
Windows 11 has strict CPU and hardware requirements that are causing a lot of frustration.
Microsoft's own PC Health Check app is getting better but still feels half-baked.
A new free, open-source app called WhyNotWin11 provides much more detail for users exploring their PC's hardware in preparation for Windows 11.
While the dust is still settling on the news of Windows 11, the big story that is now dominating this discussion is not the UI, but rather can your PC get the free upgrade this fall? It's a sharp turn from the "Windows 11 is just a skinned update" a week ago, as now many people are salty that they may not be able to get the OS revision.
Of course, as usual, Microsoft is its own worst enemy here. While strict TPM 2.0 requirements have some weight to them, the seemingly arbitrary processor restrictions are the real mystery. And Microsoft's own PC Health Check app, which lets you know if you can get the update, seems more like an afterthought.
Step in the bright community at GitHub. A new open-sourced app called "WhyNotWin11," spotted by XDA, is available to download. While that app sets flags off for the Windows 10 "App & browser control," it also does much more than Microsoft's attempt.
Once you override your computer's security concerns (the app is not signed, so Microsoft Defender SmartScreen steps in), the app is barebones and to the point. WhyNotWin11 delivers a much more comprehensive look at where your PC may be lacking when it comes to Windows 11.
There are 11 categories the app checks against, including boot type, CPU architecture, generation, DirectX support, RAM, Secure Boot, and TPM Minimum, to name a few. The specificity of the CPU information – architecture, generation, core count, and frequency – goes much further than the PC Health Check app.
One crucial feature the app has is the ability to check for updates. As noted on the GitHub page, Microsoft recently revised the so-called "hard" and "soft" floor for Windows 11, and version 2.1 of the app reflects those changes. However, we expect Microsoft to clarify the reasoning behind the processor limits in a new blog post, perhaps as early as Monday, so these "requirements" may soon change.
With Windows 11, some PCs may be left behind because of TPM, and it's causing a lot of confusion
For now, at least you can dig deeper into any potential limits on your PC. Microsoft has four months before Windows 11 gets a general release, so let us see how this all shakes out. My hunch is we'll see some changes very soon.
Windows Central Newsletter
Get the best of Windows Central in in your inbox, every day!
Daniel Rubino is the Editor-in-chief of Windows Central, head reviewer, podcast co-host, and analyst. He has been covering Microsoft since 2007 when this site was called WMExperts (and later Windows Phone Central). His interests include Windows, laptops, next-gen computing, and for some reason, watches. Before all this tech stuff, he worked on a Ph.D. in linguistics, watched people sleep (for medical purposes!), and ran the projectors at movie theaters because it was fun.
I am failing bcz of having 5th gen i7 processor
I have everything else checked and OK

Yeah, as of now, pretty much anything less than Intel 8th Gen is a no-go. Not because those CPUs can't run Windows 11, but because Microsoft is arbitrarily not let them upgrade to it.

I wish we knew what CPU features are required. As of right now, arbitrary is the best description or they just want people using a processor no more than 3 years old so it seems faster. I feel bad for recent Surface Studio customers with that 7th gen i7.

Yeah very stupid idea.. I'm sure people power will hopefully overturn it 🙏🙏🙏

I imagine it won't be long until there is an article here that explains how to bypass Windows 11's arbitrary limitations and still get Windows 11, even if it's not officially recommended or "supported".

No problem, I have 6th gen i5. It can be installed manually.

I am waiting for Insider build to get released
I will grab the ISO from UUP Dump and Clean install it I really wonna test it out XD

You could install it right now after enrolling as an Insider

for some reason Insider builds are crashing during installation.
So lets see if Windows 11 would be installed or not Anyways, i can always do clean install of Windows 11 Insider Build

My only obstacle now is that damned TPM 2.0 chip. My laptop has AMD's PSP 1.0 Device which theoretically supports fTPM but I can't, for the life of me, figure out how to enable AMD's fTPM. Worse, I just formatted my laptop and clean reinstalled W10 so I can convert my firmware to run on UEFI (instead of BIOS), GPT (instead of MBR) and at least activate Secure Boot. Now I've been kicked out of Insider Dev and have no other option available besides Release Preview so I can't even test out W11 next week. MS wouldn't even let me back to Build 21390. What a nightmare.

One bit of hope I would have is if/when the ISOs come out. Right now, you can clean install, or even upgrade to Windows 11 via (leaked) ISO/MCT on any PC, which is how we know Windows 11 can run on these older/non-supported processors. I'd also be shocked if MS doesn't revise some of this. The blowback is really building right now. The good news is they have plenty of time to nip this in the bud.

I'm pinning my hopes on those ISOs. Hopefully I won't get a message saying I can't install them. Anyway, does anyone have any idea how to fix "TPM is not usable. PCR7 Binding is not supported"?

Question. That link to the ISO, is that the early build you told us was incomplete? Are you satisfied with the announced features that you told us was missing from that early build? Or are they the same, nothing new announced...
I had to..

They can, probably will. But still it's not a good image for them to first officially put rigid requirements for the sake of their vision and then later take them back. They could have spared the public, their fans, this whole drama. Dunno, getting people worried thst they're not getting W11 is a twisted way to create interest in it??? I tend to think MS is above that kind of dirty trick.

Depending on what you have, if you can access BIOS/UEFI the setting will be there. On my desktop (so the BIOS has every feature under the sun, since it's built for gaming and messing around) the setting to turn it on is disabled by default, but is part of the TPM settings, I believe under the CPU advanced features.

Sorry this information is late for you but you probably didn't need to do a clean install to convert from MBR for BIOS to GPT for UEFI. I had the same issue where C drive was MBR and it was the only thing stopping me from the W11 upgrade because my MOBO was using BIOS to support the drive. Found this article on here about the mbr2gpt tool, which I think really needs to be republished now because I quite a few people will probably have the same issue. My MOBO is only a year old but decided to make the Windows install drive MBR by default when it can clearly support MBR and UEFI.
https://www.windowscentral.com/how-convert-mbr-disk-gpt-move-bios-uefi-w...

Ouch. I wish I had that resource before I did what I did. Anyway, the upshot is my laptop feels snappy and responsive again having a fresh install. So it's not all bad. Haha.

You are not alone buddy ,yesterday i clean installed windows 10 again
for GPT and UEFI with Secure Boot. My plan was to later on upgrade to Windows 11, lets see if i will recieve
Windows 11 insider update or not , i am in Dev Channel So far 21390 update is crashing during install idk why XD

Everything but my processor, which is an AMD Ryzen 5 2500U. Please Microsoft, let me get Windows 11!!!

I'm in the same boat... HP Envy x360 laptop with a 2500U (15m-bq1xx), with a 250GB m.2 boot SSD and full 16GB ram, rebuilt to implement UEFI the day I got it. This system has an AMD TPM chip and the UEFI lists it as "Visible" and
"Enabled". I haven't performed any config on it, not having needed it. I'm going through the documents looking for TPM info to do so. I may have to get Win10 Pro for secure boot. I see no reason for Ryzen 1/1.5 chips to be excluded, but Microsoft isn't exactly forthcoming on WHY they've been excluded. I'm not worried about my Desktop (fully top of the line; X570 w/R9-3900X except the GPU). If we can't upgrade to 11 Microsoft will lose at least 2 licenses on laptops... My wife uses her Samsung Tablet more anyway and I'll load Linux on one of the laptops to play with.

With the 2500u being a relatively slow chip it might be better to just leave it on W10 since you will still get 5 years of updates (at least security) and to prevent possible driver issues or maybe even slowness.

Laptop 2000 series apus are Ryzen Gen 1. 3000 series are 1.5 (Zen) +. 4000 series is Zen 2. 5000 series is Zen 2 and Zen 3 - depending on CPU model number. So, for laptops Ryzen Zen 2000 series is quite old now. So these were mostly cut due to poor experience with containerisation. Which you need to run droid apps for instance. After 4000 series that's where Ryzen truly shines on Laptops.

My Surface Go 2 pasted this test. Microsoft please fix your PC Heath Check app and Insider Program to recognize that my PC con support Windows 11.

A better title for all these articles would be "the convoluted windows 11 requirements"

Honestly, learning that I can't move the taskbar in W11 has killed a lot of the hype for me. It sounds so trivial but I always move my taskbar to either the top or left. It's just better for my workflow and how I hold my Go 2 in tablet mode. W11 looks incredible but I still like how W10 runs so maybe I won't upgrade my tablet this fall. We shall see.

You can move the task bar back to the left. It's an option in the settings. Not sure about any other position like top or right but I definitely know you can have it on the left if it suits you better. I was able to do it in the leaked build (unless they change it in the release).

I'm pretty sure you can only align the icons to the left, not move the entire bar to the left side of the screen.

@HeyCori that's a lame restriction lol. Doubt it will be there for long tho..

Pretty sure there will be solution for this, maybe through Regedit or 3rd party or in public release by MS.

My Nuc7 fails due to the CPU. My Nuc8 is running Windows Server at the moment. My Dell i7 4790 does not have a TPM option My Dell laptop has a 6th gen i7 6600u. My need to switch the NUC's over.

I'm just go buy a new computer 😂 or just stay on Windows 10 for the next five years and then find your new computer.

I would wait till public release of w11. Maybe desktop PC mobo will have dedicated TPM chip!

Some motherboards do have a dedicated tpm chip at present.

My motherboard has TPM connector and I turned on 'Firmware' for toggle TPM 2.0.

If you look at the Intel specifications for the i7-6700, i7-7700, and i7-8700, they are all identical in the Advanced Technologies and Security & Reliability sections. There are a few subtle differences in other sections including the number of cores, maximum memory, memory speeds, Intel Smart Cache size, and the GPU. Someone with more knowledge in this area should investigate this and report back. I have an i7-7700K with TPM2.0 and Secure Boot turned on. It passes all tests except processor. I don't understand why Microsoft is excluding the i7-6700 and i7-7700 processors!

Same here man, I have a 6700K. I hope Microsoft changes their mind and adds these processors in the final release.

After digging through Microsoft documentation in the Windows Hardware Developer section, I interpret the Processor requirement "Meets the supported processor generation list " requirement as follows. Microsoft will not support Windows 11 on processors that are not on the Supported Processor Generation List. To me this means you can install Windows 11 on any machine that meets the minimum requirements, but if your processor is not on the list Microsoft will not guarantee it will run without issue. I believe this to be a guarantee to OEM's that they will support their products to End of Life for Windows 11 as long as they meet the Windows 11 Minimum Requirements.

That is my understanding too, and what I fully expect to happen. But, of course, what I really want is Microsoft just to come out and say that.

First, no one says the cpu requirement is set in stone, I'm guessing a lot of "non compliant" CPU will be running the Insider build and that data may alter the decisions. Second, if you have a five year old machine and it can't upgrade, you still have years of support to go in W10 and the programs you use will still be supported. Third, I hear a lot of people complaining about how they can't get W11, and I'm betting it overlaps well with the people complaining they had to leave W7, Microsoft will never make the vocal minority happy. If you want to see how little legacy support the other guy gives you, go buy a Mac.

People aren't complaining, it's Microsoft's dumb rule that even Windows11 isn't even allowed to run on custom PC's that have more than enough of the requirements. I had a MS support guy leaving chat because he was confused why my Custom Gaming PC can't run windows 11. A freeking 1.5 year old device.. A device that is even recognized by the health check app to be 2 years old. Microsoft lets people with unsupported devices try Windows 11 with insider build just to have them forced downgraded to windows 10 again in the end. Your device can't run windows 11 but it's good enough to run Windows11 insider builds..gtfo with that logic.

Same here. Customer support provided me a link and left chat with reference number. I asked them for support via email but still waiting for their response.

Its still a preview / Insider build, no doubt there will be issues. Official release still takes a few months.

I'm on the same path, I have a computer with a Ryzen 3 2200G, 16Gb of ram, 120 SSD, 2TB of HD, Graphics card, TPM, UEFI, Secure boot, but the processor is not compatible, wait for microsoft to expand compatible processor versions, because here in Brazil Ryzen's stock disappeared and because of the absurdly high value it's not worth upgrading.

Software requirements change and require different features that older processors do not have. For example I had a HP desktop with a Core 2 Quad 9400 that ran Windows 8 fine with Hyper-v. When I upgraded it to Windows 10 Hyper-V could not be used due to a requirement to support a feature that was in the new at the time Cor I processors but lacking in the Core # processors. Microsoft are requiring features now for Windows 11 that enterprises have had for years like Secure Boot, Secure guard and TPM. You may find that bitlocker drive encryption may become a requirement to make Windows more secure. I know my old Surface RT has bitlocker enabled and that is nearly 9 years old.

I was running Leaked build on my Surface Pro 4. Now got Insider update and it's installation is in progress. IMO, CPU requirements might change next year after enough Insider build test.

Just make it straight to CPU Generation point

Two things for me to take away from this. My laptop has a 5th gen Core M that apparently doesn't run at a fast enough speed for Windows 11. But my laptop will be supported until 2025 or I have a great excuse to buy a new one. O can't complain about the support as it was running W8 when I bought it.

Microsoft is correct, now pCs should have a level of hardware security, only the software level is no longer sufficient
Windows Central Newsletter
Thank you for signing up to Windows Central. You will receive a verification email shortly.
There was a problem. Please refresh the page and try again.