Microsoft fixes PC Health Check app for Windows 11, now tells you WHY
The minimum requirements for Windows 11 have confused many, and a faulty PC Health Check app doesn't help.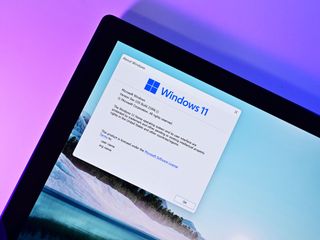 (Image credit: Daniel Rubino / Windows Central)
What you need to know
Microsoft has fixed the Windows 11 PC Health Check app.
Right now, the app can show false negatives, indicating that a PC can't upgrade to Windows 11.
The app update now tells you why your PC does not meet the requirements of Windows 11.
Update: Microsoft has pulled the PC Health Check app. The company explains that it will work to improve the app for a return later this year. There is a free alternative app called "WhyNotWin11" that helps determine why a PC cannot upgrade to Windows 11, though it is not from Microsoft. The original article follows.
With Windows 11 officially on the way, many people want to know if their PC will be able to upgrade. To help people out, Microsoft launched the PC Health Check app (opens in new tab). It allows people to see if their system meets the minimum Windows 11 requirements. Unfortunately, the app has run into some issues.
The Health Check app sometimes shows people a false failure, meaning it says a system won't be able to upgrade to Windows 11 even though it meets the minimum requirements. Even if a PC actually falls short of the requirements, it's difficult to determine why. The PC Health Check app doesn't list a specific reason that a PC won't be able to upgrade.
As a result, many have expressed frustration online. Microsoft's Steve Dispensa shared on Twitter that the company is working to improve the PC Health Check app.
Sorry for the irritating experience! We're going to improve the PC Health Check app over the next couple of weeks. Hopeful that the first update will be out tomorrow.Sorry for the irritating experience! We're going to improve the PC Health Check app over the next couple of weeks. Hopeful that the first update will be out tomorrow.— Steve Dispensa (@dispensa) June 25, 2021June 25, 2021
Dispensa explains that Microsoft will improve the app over the coming weeks. He adds that its first update could arrive tomorrow, June 26, 2021.
The minimum requirements for Windows 11 have caused some confusion and frustration. A minimum requirement of TPM 2.0 has some PC gamers worried, and others are concerned about 6th and 7th Gen Intel chips being able to upgrade.
There are some differences between soft floor and hard floor requirements, but for the average consumer, that information causes more confusion than clarity.
An updated PC Health Check app that clearly, and correctly, indicates if a system will be able to upgrade would go a long way. It would also be nice to see specific feedback as to why a system fails, as certain components could be tweaked or replaced.
You can find the app on Microsoft's site here (opens in new tab).
News Writer and apps editor
Sean Endicott brings nearly a decade of experience covering Microsoft and Windows news to Windows Central. He joined our team in 2017 as an app reviewer and now heads up our day-to-day news coverage. If you have a news tip or an app to review, hit him up at sean.endicott@futurenet.com (opens in new tab).
When Windows 11 starts like that you better keep your fingers off it as long as you can.

You know, I usually shun these comments but you're right, they're getting into a shitshow.

Agree. Mine has 7th gen 3GHZ processor along with all requirements satisfied even TPM 2.0 but PC health check app still says your processor is not supported.

When is Microsoft (and every other software developer) going to realize that error messages are frustrating and do nothing to enhance your image among users. Error or failure messages without specific information are TOTALLY UNACCEPTABLE!!! If your process encounters an error, tell us specifically what is missing or incorrect. You know why the message was generated. You created the error message. Tell us why, please.

I agree, it's utterly puzzling they needed all this confusion to realize people may want an error message with at least some helpful information.

Do we know that they weren't planning to improve that app anyway?

I'm curious why a Celeron N4100 is supported but a Pentium N4200 is not. See https://docs.microsoft.com/en-us/windows-hardware/design/minimum/support...

For some reason, when I download the health check app, it's still v2.1. Anyone else having this issue?

The PC Health Check app isn't compatible with Windows on ARM. It's as if Microsoft disrespects Windows on ARM users. We know all the Qualcomm processors are supported by Windows 11 though. So all good.

So not like they disrespect WoA users then. Failing to give people something they don't need doesn't qualify as disrespect in my book.

The absurdity of the minimum requirements is best exemplified with the inclusion of the Pentium Gold 4425Y and exclusion of the Pentium Gold 4415Y found in the Surface Go. The only difference in the two chips is 100mhz in speed. My surface Go meets all other requirements and the 4415Y meets all requirements. Luckily I am in the Dev Channel and will get the Windows 11 Beta. Absurd.

One thing to keep in mind is that that list is not necessarily final/definitive at this stage. Remember that they generally don't include items in such lists based on specs alone but actually have to test each one. The fact that one is in and one is out at this stage may just be that they have explicitly tested one but not the other.

This is where a dedicated QA team and programmatic testers come into play.... what a broken record... smh.

It's Monday and this app wasn't updated to have it do what it's meant to do. Meanwhile over the weekend some guy made the app we need on GitHub and does the job better than those who work for the multibillion company Microsoft. Who probably have to jump through a lot of hurdles to release the slightest but of code. But still, this is not the way to go, MS.
Windows Central Newsletter
Thank you for signing up to Windows Central. You will receive a verification email shortly.
There was a problem. Please refresh the page and try again.