Halo 5: Guardians launch events to be held at Microsoft Stores and Best Buy on Oct. 26 [Update]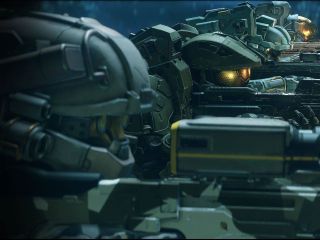 Halo 5: Guardians will officially launch on Tuesday, October 27 for the Xbox One. However, the day before will see launch events for the game held at all of Microsoft's over 100 retail store locations, along with over 800 Best Buy stores in the US.
Microsoft says:
In addition, a number of Microsoft Store locations will have unnamed "special guests to answer all your questions and sign memorabilia". Presumably, these guests will be members of the Xbox and/or 343 Industries development team that created Halo 5:
Fashion Valley Mall - San Diego, CA
Metropolis at Metrotown - Burnaby, BC
NorthPark Center - Dallas, TX
Park Meadows Mall - Lone Tree, CO
The Florida Mall - Orlando, FL
Tysons Corner Center - Tysons Corner, VA
Westfield Century City - Los Angeles, CA
Yorkdale Shopping Centre - Toronto, ON
University Village - Seattle, Washington
677 Fifth Avenue - New York, New York
Meanwhile, the 800 Best Buy stores will open at midnight and each will have limited amounts of free swag to give to Halo 5 buyers, including "Halo 5: Guardians draw string bags, Master Chief and Spartan Locke masks, and Best Buy exclusive deluxe art books."
Update: Microsoft has revealed more information on its Microsoft Store launch events for Halo 5 in New York City, Seattle and Los Angeles (opens in new tab).
Pre-order Halo 5: Guardians for the Xbox One at Amazon for $59.99 (opens in new tab)
Source: Microsoft Store (Facebook), Best Buy (opens in new tab)
Windows Central Newsletter
Get the best of Windows Central in your inbox, every day!
PSA: For those who pre-order and downloaded Halo 5 before September 21: https://www.halowaypoint.com/en-us/games/halo-5-guardians/launch-update

I will be joining new York, Woo! Halo hype.

See you there, Spartan! ;p

I'm on that preorder SWAG

Sounds like the Best Buy parties will be better for those looking for swag.

Of course isn't happening at any of the MS stores in Ohio.

The real question is... Will it work?

Good thing Best Buy and GCU is by far the best way to buy games. I'll be there for the pickup anyway. Still have the bag, stres ball, and mask from TMCC's release.

You can keep your clutter, I'll be playing when the clock strikes 12, and I'll only be paying half price thanks to the home xbox sharing program :).

What about Gamestop? I don't have either a Best buy or MS store within 100 miles of me, but Gamestop exists. I normally digitally download games, but I want a physical copy of Halo 5 so I can share it with my nephew and another friend. Digital sucks for sharing.

Digital is the best for sharing, if its only with one person lol.

I long ago learnt the lesson to NEVER lend my disks to anyone, especially younger ppl. Unless that is, I like getting it back with free scratches, peanut butter and fiungerprints.

NYC 9PM 5th Ave Baby, YEAH!!! High and tight, ready to drop...w/ my Preorder of Halo 5, I will not stop! =]~)

I'll be hosting a launch event at my house 11p.m central time.

I stopped by the Microsoft Store near my house yesterday to pre-order the Elite controller. The sales associates told me that the Elite controller and the Band 2 will be available as part of the launch event. I am going to be spending a lot of money on Monday.