Watch the replay of our Halo: Master Chief Collection Twitch preview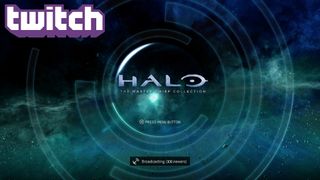 Last night, fellow Windows Central staffer Sam Sabri and I hopped online to Twitch stream Halo: The Master Chief Collection for Xbox One. We were lucky enough to play competitive matches in all six Halo 2: Anniversary maps, closing out the night with a visit to Beaver Creek, a classic map from Halo 2. See this story for videos from the stream.
Tonight, Sam and I are dishing out one last preview of the Master Chief Collection, this time by playing campaign missions from Halo 2 and 4 in online co-op! Join us at Twitch.tv/Eastxtwitch at 8pm Central (6pm Pacific, 9pm Eastern) for a final early taste of the greatest Halo game/collection of all time.
Update: The stream is over. Congrats to the winners!
Watch live video from EastXTwitch on Twitch
Watch live video from EastXTwitch on Twitch
Halo: the Master Chief Collection is a collection of all four Halo games that starred the Master Chief, now remastered for Xbox One. Tonight's event focuses on two select campaign missions from the collection:
Halo 2: Anniversary: Prophet of Regret
Halo 4: Forerunner
Join us at 8pm Central (6pm Pacific, 9pm Eastern) for this stream and you can win some tasty prizes. We'll be giving out three codes for $10 of Xbox Live credit as well as a grand prize code for a 3-month Xbox Live Gold subscription.
Halo: the Master Chief Collection – Xbox One – 59.1 GB – $59.99 – Amazon Link

(opens in new tab)

– Xbox.com Link

(opens in new tab)
How to view the stream and enter the contest
To enter, just follow me at Twitch.tv/Eastxtwitch and tune in during the stream. You can watch the stream right here in this post, but you need to actually participate in the stream chat to have a chance at winning. We'll deliver codes to the winners via Twitch message (PM) during the stream. No code begging!
What's the best way to experience Twitch? If you don't have a PC, you can get the Xbox One or Xbox 360 Twitch app and watch from the comfort of your couch. Or grab the unofficial app Livegaming for Windows Phone. It has plenty of great features, including the ability to chat along with your fellow viewers. Annoyingly, you'll have to add our channel to your favorites from the Twitch website, outside of the app.
Feel free to show up a few minutes before the stream starts to help with testing. The stream should last about 90-115 minutes. And don't forget to leave a comment on this and all of our Xbox One gaming stories!
One more Halo: The Master Chief Collection stream coming next week!
If you're dying for more Master Chief Collection footage and impressions, don't miss our previous streams:
Once the game comes out, we still have more in store for you! On Tuesday the 11th, we'll have a full review of the game AND another Twitch stream. Our launch day Twitch stream is special because we'll be inviting our viewers who own the game to play with the Windows Central staff!
Join us in my channel at 8pm Central (6pm Pacific, 9pm Eastern) for your chance to watch and play with Daniel Rubino, Sam Sabri, Seth Brodeur, and Paul Acevedo (me!).
Finally, regular readers and viewers know that we usually Twitch stream a downloadable game for Xbox One on Saturdays. Due to the close proximity of our Halo streams, we'll be taking this Saturday off. You guys get some gaming of your own in this weekend, and be sure to join us for next Saturday's stream on November 15th!
Winners
Check back after the stream ends to see tonight's list of prize winners.
$10 Xbox Live credit
Adeadby30v
t3kn0thugz
Mrflurple
3 month Xbox Live Gold subscription
Thanks to Tylerh1701 and DerekDoesIt (who goes by isi mcf here at Windows Central) for moderating tonight's stream and giving away the prizes!
Windows Central Newsletter
Get the best of Windows Central in your inbox, every day!
Paul Acevedo is the Games Editor at Windows Central. A lifelong gamer, he has written about videogames for over 15 years and reviewed over 350 games for our site. Follow him on Twitter @PaulRAcevedo. Don't hate. Appreciate!
Can't wait. Has been a blast so far watching the stream and talking to other Windows Central members.

I'm going to be busy, but I will try to make it on there as soon as I am done.

It's no longer WPCentral - its WindowsCentral. Everyone just has to deal with it :) - or you know... just not read and reply to posts that you don't have interest in... I do that all the time with all the 'deals' articles that don't pertain to my phone. Just ignore these posts :)

Uh Did you notice that there's also a Windows Phone app that they put up to be downloaded?

I wish we had a separate app for phone related articles only.

Would be awesome, but we're shit out of luck there.

Can't watch, it's 5AM here :(. I saw the ones from yesterday. Sam doesn't really know how to play :D I hope you record this one too!

No no, I was the one who struggled at times. Sam is really good. But I do know how to play, I'm just not as good as I used to be.

I don't know why but I thought I was following Sam there. Anyway, you got better after Beaver Creek.

Are you cray cray? I never lost a game last night!

It's not about winning , its about the kdr

Is halo co-op on single console or just online

All four games support 2-player split-screen co-op as well as online co-op.

Will it work 4-player split-screen as the old times? And deathmatch everybody against each other?

Presumably yes. I haven't tested it yet though.

Having a lazy day inside tomorrow so I think Ill stay up for this! I mean...its not like I need sleep anyway O.o

Thankfully it's early enough that I won't fall asleep before the stream starts this evening... ;)

I'll be there. Love watching you guys play halo. But I would have thought there would be more trash talking and tea bagging. Lol

Glad to have you! Congrats on winning last night. :-D

Thanks again Paul. :) I was only able to watch the stream for minutes. But the graphics looked phenomenal.

Got a today from electronics boutique they said 9am tues. Guess its not a priority or its because its in a mall

Eb is usually iffy for me. Not that they don't want to sell it. It's always shipping problems. That's why I am beginning to download, that and not having to switch discs will be nice.

The stream was fun. It was also a good way to get meet other gamers.

congrats to the winners and that was fun again thanks for the previews