Share content across Windows 10 devices with Hand Off, today's myAppFree deal
Hand Off is a Windows 10 app that's designed to allow you to seamlessly share content between Windows 10 devices. The app is also today's myAppFree Deal, saving you $1.99.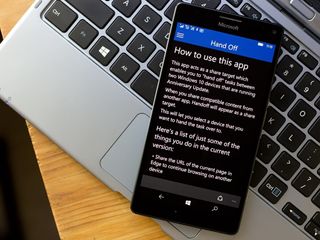 Available for Windows 10 PC and Mobile, Hand Off provides a set of tools to help you easily work across the Windows-10-device spectrum. From sharing websites to sharing a location you found on Windows Maps, Hand Off makes transitioning from mobile to PC a lot easier.
During the next 24 hours, through the help of the myAppFree promotion, you can pick up Hand Off for free. That's a savings of $1.99, and if you do a lot of bouncing between devices, Hand Off could make your life a little easier.
Hand Off allows you to continue a task while moving from one Windows 10 device to another. If you find a web page on your Windows 10 Mobile phone that you want to continue reading, Hand Off can share that page seamlessly with your Windows 10 PC to pick up where you left.
Additional features include:
Remote dialer feature allows you to trigger a phone call from another Windows 10 device.
Pull up an artist or track in Groove Music from another Windows 10 device.
Handoff Windows Map destinations between Windows 10 devices.
Remote Clipboard feature allows you to send text content between Windows 10 devices.
Hand Off acts as a share target between devices, and you must be signed into your Microsoft Account on the Windows 10 devices to enable the content transfer.
Hand Off is a handy Windows 10 app to have in your app library. The myAppFree promotion adds to the appeal of the app and even if you only see yourself using Hand Off from occasionally, it's a great opportunity to save a few bucks and pick up a very useful app.
Download Hand Off from the Windows Store (opens in new tab)
myAppFree
Windows Central is proud to partner with myAppFree to bring you savings on Windows 10 apps and games. myAppFree is a free Windows 10 app and service that highlights special deals for software in the Windows Store. Make sure you download the app to keep track of all the weekly specials.
Windows Central will continue to highlight select Windows 10 titles from myAppFree on a regular basis as a benefit to the Windows Central community. Many of these deals will be available for both Windows 10 Mobile and PC, doubling your savings.
Download myAppFree for Windows 10 PC and Mobile (opens in new tab)
George is the Reviews Editor at Windows Central, concentrating on Windows 10 PC and Mobile apps. He's been a supporter of the platform since the days of Windows CE and uses his current Windows 10 Mobile phone daily to keep up with life and enjoy a game during down time.
Thanks I'm the developer of the app. There's a new feature or two in the pipeline and I have plans to improve remote dialler in a number of ways. Watch this space

Similar to Share Across Devices, but with app services. Cool

I've got some new features and big improvements to existing features planned. Please consider leaving a review if you enjoy the app, and send feedback if you have any issues or suggestions

SWEET!! Finally something that MSFT "promised" long ago via Cortana.

Cortana was supposed to do this with the pick up where I left of feature.

It works for me, but only between PC and SP3. Mobile doesn't show even Edge tabs which is shame.

oh this app is so cool and works like charm.
Thanks for mention this, would never have found this.

This app seem to work with devices (PC/Phone) that are running Anniversary Update. And if both devices (PC/Phone) are running Creator Update? Will continue to function correctly?

have all devices on CU and it works...

Good one! But I have nobody to share contents with... All the people I know use androids :/

Not available in my region. That's sad.

Hi I am the developer. Which region are you in? I had to exclude it from certain regions due to the remote dialler function accessing the phone line function

I live in Turkey. Is there anything I can do to get the app?

Hi, I'm the dev. Please consider leaving a review if you enjoy the app, and send feedback if you have any issues or suggestions to give me a chance to fix your issues before leaving a negative review etc. Many thanks and hope you enjoy the app

Hello, installed this today and seems to work well with Edge. I have also tried to share from Epicurious app on phone to Laptop and opened webpage of course on Laptop, very cool. I have tried the remote dialer from PC to phone as well and it appears that the Hand Off app on phone needs to be open even if in the background for that feature to work. If there is spaces in the phone number as there sometimes may be, there is a format error when it comes up on the phone's phone app. Also, I am trying to get the clipboard to work but I have not figured that out. One more thing, in the store, it shows your website address which links to a rather informative blog which was last updated in 2013. Just saying. I assume that this program utilizes just Microsoft services and does not bounce of yours or other's servers? Thanks for the great App.

For remote dialler it should still work even when the phone is locked (you need to unlock it after triggering it of course) or when its unlocked without the app in the foreground so I'll look into that in case it's a new problem in Creators Update or something. The remote clipboard text actually went into the description by mistake, although I do have the code written for that and it'll be released very shortly in the next update. You're right that the app just uses Microsoft services and nothing gets sent to my server or anything like that. It makes use of APIs built into W10 from Anniversary Update onwards so nothing is sent via third parties.
Windows Central Newsletter
Thank you for signing up to Windows Central. You will receive a verification email shortly.
There was a problem. Please refresh the page and try again.