Hands on with the slick new Lenovo ThinkPad X1 Carbon, available this month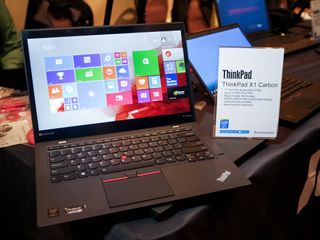 Lenovo is in force here at CES 2015, showing off a wide array of new or refreshed products. Due to the wider availability of Intel's Core M and fifth generation Broadwell processors, Lenovo has been able to make their laptops even thinner with better battery life.
If we had to pick one laptop to highlight, the one that caught our attention it would be the X1 Carbon. The Carbon ThinkPad is not new per se, but this edition, which you can buy this month, sure is a head-turner. Described as a 'business Ultrabook' the X1 Carbon for 2015 looks to have great potential.
We got to spend some time with the updated X1 Carbon, and it is on our short list of new purchases.
Lenovo X1 Carbon (2015)
14-inch touchscreen FHD or WQHD display option
5th generation Intel Core i5 or i7 configurations
Fingerprints scanner
2.9 pounds
Up to 11 hours battery life (likely less in real-world)
256GB or 512GB PCIe SSD drives
So, what to think? My first impressions are the bezel and thinness of the display are fantastic. The 14-inch touchscreen pops in color, and it blends very nicely into the body.
Elsewhere, you still have the excellent Lenovo keyboard, fingerprint scanner for security, the 'red dot' pointing nub, and they even brought back the physical buttons on the touchpad. Speaking of, that the touchpad felt nice – even clicking when pressing down, the right sensitivity, gestures seemed to work well, etc.
The X1 Carbon weighs in at just 2.9 pounds, and it sure feels light. Combined with the highly durable Carbon Fiber material and the new, ultra-efficient fifth generation Intel Core chips, this laptop looks like a killer combo for those who prioritize performance with portability.
You can order a new X1 Carbon right now from Lenovo (opens in new tab) with shipping coming in the next few weeks (make sure you opt for at least the i5-5300U CPU). Pricing for the Broadwell line starts at $1,299, and it can go up from there depending on hardware configuration.
Windows Central Newsletter
Get the best of Windows Central in in your inbox, every day!
Daniel Rubino is the Editor-in-chief of Windows Central, head reviewer, podcast co-host, and analyst. He has been covering Microsoft since 2007 when this site was called WMExperts (and later Windows Phone Central). His interests include Windows, laptops, next-gen computing, and for some reason, watches. Before all this tech stuff, he worked on a Ph.D. in linguistics, watched people sleep (for medical purposes!), and ran the projectors at movie theaters because it was fun.
Looks cool... but 9 pounds is a typo in the specifications right? Ah, i see in the article it is 2.9 lbs.

Is it a convertable? 2 in 1? how much RAM? is the components interchangable?

Just a laptop. If it were a 2 in 1 or tablet, we would have said that ;) All parts on interchangeable if you know what you are doing, but honestly, who is still modding laptops in 2015?

I am... when Lenovo charges 4x what the going rate on the market is, I buy the cheapest internals and upgrade it myself for a fraction of what Lenovo wants.

Business users in general do not require a tablet that much...

LaVie has i7, flip-able, lighter goes for $1600 Dell xps 13, i5 8GB ram, 256GB ssd, 1080p, no touch, not flipping $1099, and it looks great! this one, i5, 8GB ram, 256 GB ssd, 1080p only, no touch, not fliping, $1549 lol thanks but no thanks

Whats up with the light bleeding on the display? Seriously...

That isnt light bleeding, it is matte reflection from the lights above it

Yep. 2.9 lbs. That is almost nothing in weight. I'll take an I5 to go.

The screen looks beautiful and sharp.

According the ID, Daniel was wearing, he is from WPCentral.com but.. Shouldn't it be WindowsCentral.com -.-

Pepcom (the event in question) is usually an auto re-register based on the last time you went. They send an email, you hit a yes button, they say you're coming.

Oh okay.. Sorry just couldn't help noticing it :)

I configured one to match my Yoga 2 Pro and the Carbon comes in at over $1,000 more for the same config. Lenovo charges an extra $700 just to go to a 500GB drive and the upgrade to a touchscreen was $350. Ouch.

I was just looking at the same thing. Touch screen + 256ssd + i7 puts this at $2200. I really want to order this but not sure I can justify that price.... I will also be looking at the T450s configured in a similar fashion. Part of my thinking is paying the premium for durability, but I can buy two Y2Pros for the same price....

Much of that difference may have been in the switch from "consumer" line to "business" line. The ThinkPad devices cost more, but are typically better built to handle being tossed around on business trips. I had ThinkPads in my backpack during both of my bicycle accidents. My only two broken bones in my life are from those accidents. The ThinkPads survived just fine. (A colleague suggested that it was the ThinkPad that broke my bones!)

I get that the business line is tougher but is it really worth $1k just for that. My point was I could buy two yoga 2 pros with the same spec for the same price as the x1 carbon. Also, how rugged is the carbon vs a comprable T450s. I know there is a weight penalty but without having ever held one I am curious how stiff the screen is, keyboard etc.. I will say the flex on the screen of the Y2P and the Y3P does not give me confidence.

Yeah, $1K is a lot, but the ThinkPad has a much better keyboard and it usually lighter, too. Having it NOT break is worth something in time and frustration, even if two Yoga Pros would be similarly priced. The older T's felt really strong -- my old X1 CT didn't feel as sturdy as them. The newer T's feel less rigid to me -- I think that the old X1 CT is as strong as a T430 (and maybe moreso than a T430s). I can't compare the X1 CT to the newer T440 or T450. I'm usually not much of a believer when a sales rep wants to talk "value rather than price," but I've been through even computer hell to reach the point where I'm willing to pay for the value that I see in the ThinkPad line. The direction in which Lenovo was going with the 2014 models really concerned me. Seeing a return to keyboard rationality is great. Now, I'd like them to embrace the squarer screen of an SP3 (my current device) rather than 16:9 panels. (I hate to sound curmudgeonly, but I'm not a fan of using the share of a TV for computing -- watching TV and doing work are different tasks.)


Curious​ if you looked at new xps 13. Nice looking machine also priced better than the carbon. If anything we are seeing some great windows laptops. Very exciting. ​

Honestly hate the mouse pad on the ThinkPad devices. Looks like an old 98 Laptop

I hate touchpad on newer laptops they are too slippery to use. And ThinkPad gives me solid dragging grip to my fingers

You must be under 20. The Trackpoint is the best thing ever. Ever. The end.

Soooooooo delayed. Nice tho.

Daniel does it still have the screen door effect because of the matte filter?

I donno how safe these SSDs are, for my purpose. For using visual studio and virtual machines it's a lot of writes, just afraid if it may fail !

Lemme reply to a few Thinkpad and SSD questions. About 3 years ago, I bought a low-end Thinkpad (X120e). It was pretty good. To make it better, I installed an SSD. Two and a half years ago it was in an unpadded bag on my back when I (on my bike) was hit by a car that decided it could run a stop sign. The accident cost me a hip, and also fractured an elbow and ankle. The damage to me was considerable. The X120e booted up in my hospital bed the next day without complaint and without damage, and it's still my main machine today. So: (1) Thinkpads are built tough. and (2) SSDs are worth every penny. Wanna guess what a spinning ceramic disk full-o-bits might have done when I hit the ground. Alas, the price of this particular machine is out of my reach. But one of these days.

But my question is, is it good for software developers and power users where we write, delete, copy recopy, overwrite a lot. A real lot ??? If so how many years will it sustain !! Coz I have read so many times in stack exchange forums about Mac book's ssd failing with 2 yrs or earlier !!! Can't take risks !!!

Good question. As an (ex) software developer, though, while I don't run into quite the same level of copy/recopy, I have followed the literature and know that most SSDs include the smarts to handle dispersing r/w activity across the disk. I believe that the MBA's SSD is proprietary, and it's possible that it doesn't do that, but it probably does. All I can say is that mine has been rock solid, and the machine gets a hell of a lot of use. (I do back up my work to a private cloud in case the machine walks off [I'm now an attorney], but I have yet to run into any trouble.)

Sorry for the late reply ! :-( And thank you so much for the clarification !

I have been buying X1's and T4xx models with SSDs since they came out. The only problems with SSDs I've run into were not with read/write limits, they were with catostophic failure. But out of the 100+ units I've purchased, this was only on two machines and both were manufacturing failures. They both failed within the first week of use and Lenovo promptly sent replacements. Our company runs the gamet of computer applications from casual use to power use, and development to GIS. I will no longer buy internal traditional hard drives - for any reason. If a user needs more storage, they get a USB 3.0 external or store their data in the cloud. Our company authorizes Dell, Lenovo or Mac machines for purchase - no others and I've elected that my region stick with Lenovo and Mac. But that new XPS 13 looks heavenly.

My work laptop is the 2014 x1. Glad to see them finally ditch the *horrible* 1600x900 screen. It's one of the worst screens I've ever seen. They did seem to address the biggest complaints of the 2014 model... adaptive keyboard, caps lock key, and hopefully touchpad. 75% of the ones we get in have really finicky touchpads. I do wish the 256gb hard drive was default along with 8gb ram, but at least it's customizable. Also, hope to see least Lenovo bloat, but wishful thinking on that one.

I was shown the 2014 model as a mock-up in September 2013. I told them that replacing Caps Lock with Home and End keys and using an adaptive top row of keys was insane. I knew that it was too late to save that model, but I'm glad that they learned from their mistakes and recovered.

RAM maxes at 8GB in 2015...

It's so beautiful! Man I wish I had so much of money. Haha

"highly durable carbon fiber material" Does it really have the carbon fiber or that's just a figure of speech?

Still riding my ThinkPad r400.
Windows Central Newsletter
Thank you for signing up to Windows Central. You will receive a verification email shortly.
There was a problem. Please refresh the page and try again.