Hands on with the new Black Walnut and Light Oak shells from Mozo for the Lumia 950 and 950 XL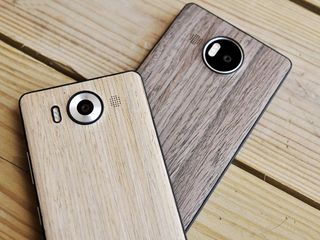 Alongside unleashing a new set of colorful shells for the Lumia 950 and 950 XL, Mozo has also released a set of wooden replacement back covers that might suite those who are looking for a more 'serious' kind of shell. We've already taken a good look at the colorful shells from Mozo, so today we're going hands on with Mozo's new Black Walnut and Light Oak shells for the Lumia 950.
Black Walnut
In what must be my favorite Mozo shell yet, the Black Walnut design and feel is absolutely fantastic. Made from real wood, the Black Walnut shell features a matte black soft-touch rim found on the original black-leather shell, and plastic buttons coated in metal-like paint to give it a premium feel. The camera module and flash are surrounded by the same matte black soft-touch material, giving the shell an all round design style that fits perfectly with the 950.
Image 1 of 4
Light Oak
The Light Oak shell is also a pretty sexy replacement back cover, featuring a much lighter tone of wood. Again, sporting real oak wood, the shell is surrounded by that matte black soft-touch material, something I actually really like on these shells, much more than the metal-coated rims found on the older Mozo shells. Both covers are pretty much identical, other than the different colors used for the wood. Overall, very nicely designed and aesthetically pleasing.
Use and Feel
Both shells feel absolutely fantastic in the hand. Considering they're real wood, you can feel the wooden texture when running your finger along the back of the shell. I've noticed the Black Walnut shell feels a little 'rougher' compared to the Light Oak shell, almost as if it wasn't sanded down as much. Since it is real wood, the wood cut out for the shell will be different for everybody, so the wooden grain pattern you get will be different for everybody.
Unlike the 950 XL, which users have complained about having poor button clicky-ness, the Lumia 950 suffers from no such problem. Each button clicks down well, with no complaints on my behalf. It's likely Mozo changed how the buttons work on the 950 XL due to the XL's odd button placement, making it easier for users to feel which button is being pressed without looking. Unfortunately, that makes the lock-unlock button feel mushy, and something users are not pleased with.
See Mozo cases for Lumia phones
As already mentioned, this isn't an issue on the 950 as the button placement is more traditional and therefore is not needed. All buttons have a satisfactory click down and feel great when doing so.
More Mozo reviews!
MobileFun Mozo discount
MobileFun US and MobileFun UK are both official distributors of those Mozo replacement covers, and they are running a big clearance sale on many of those highly coveted items. Even better, we're teaming up with MobileFun to offer you some exclusive codes to help lighten the financial pain even more!
Many of the Mozo Wood covers reviewed here are available now and can ship much faster than from Mozo direct. Currently, MobileFun and MobileFun UK have savings of 20% or more on many of the covers, including:
Lumia 650 Wood (various colors) - $18.99 (was $23.99; Savings of 20%)
Lumia 950 Cognac Leather - $29.99 (was $41.99; Savings of 29%)
Lumia 950 Black Leather - $29.99 (was $41.99; Savings of 29%)
Lumia 950 XL Cognac Leather - $29.99 (was $41.99; Savings of 38%)
Lumia 950 XL Black Leather - $27.49 (was $41.99; Savings of 43%)
Lumia 950 XL Red Leather - $35.99 (was 47.49; Savings of 25%)
Besides the already lowered prices you can also get FREE SHIPPING by using a special code during checkout ($2.99 savings):
WINDOWSCENTRALUK
WINDOWSCENTRAL
For those who are interested in the Mozo wallet-flip covers, those too are on sale, and you now get a free Olixar Tempered Glass screen protector either for your Lumia 950 or Lumia 950 XL.
Mozo Lumia 950 Black Leather Wallet Flip - $23.99 (was $47.99; Savings of 50%)
Mozo Lumia 950 Cognac Leather Wallet Flip - $24.99 (was $47.99; Savings of 48%)
Mozo Lumia 950 XL Black Leather Wallet Flip - $24.99 (was $47.49; Savings of 48%)
Mozo Lumia 950 XL Cognac Leather Wallet Flip - $23.99 (was $47.49; Savings of 58%)
Use the follow codes during checkout to get the free Olixar Tempered Glass screen protector a $15.49 value. These codes apply to both the US and UK MobileFun stores.
Have you tried the Mozo wood replacement covers? Let us know what you think in comments and whether you recommend them.
Windows Central Newsletter
Get the best of Windows Central in your inbox, every day!
Zac Bowden is a Senior Editor at Windows Central. Bringing you exclusive coverage into the world of Windows on PCs, tablets, phones, and more. Also an avid collector of rare Microsoft prototype devices! Keep in touch on Twitter: @zacbowden.
It looks really nice, wow.

Lol, it's great to give people a choice if they would rather not use a leather back.

Save trees but kill animals.

Black Walnut Looking spiffing. <3

They will differ significantly from the pictures.

I'm getting wood.....hehehehehhehehe

Is there any option to request mozo for a polycarbonate metal rim or complete metal finish -type, cover?

Yes, you can give your suggestions to ( Yi Tang ), She is a Development Manager, at MOZO

Looks great, but they need to make an actual case, not just cover, too! I need a bumper :P

Ya the plastic edge on the 950xl is sooo prone to dings and general deformity if you drop it. I really hate that they didn't make that metal so it would be amazing if mozo made these covers in a way that adds protection to the front lip/edge around the screen

The secret is to not be so useless with your hands that you drop your phone. Seriously how hard is it to hold something?

You need a hummer??? hrmmmm

I have the light oak. I love so far. Now one thing that I will say is wood will continue to look weird especially with finger oils. I just got some new pants and I slip this into my back pocket. I did notice some dye? on the cover. How do you clean wood?

Finish the wood with Tung oil. It will be protected and bring out the color of the wood.

Hmm I was thinking to use mineral oil

Pretty haha Posted via the Windows Central App for Android (V10 or N5x)

Got mine Wednesday and love it. Breathes new life Into this 950. Between the bug fixes on release build and this new back, this phone just may last me until may 2017...
Black walnut finish btw

How's your travelling in terms of dirt? Mine is getting dirty/darker

When in india? Posted via the Windows Central App for Android

I received mine (light oak) a couple weeks ago from Mobile Fun. I had to wait a while for back order status to clear, but I am pretty happy with it. I really like the way it feels and looks. My only disappointment is that it doesn't fit into my other big purchase: My ProClip car mount. I half-expected that to be a problem but took the chance. So I have resorted to swapping backs when on longer car rides.

I ordered the light oak for my 950 xl. Just returned it. While the fit was excellent - I just couldn't get over the power button. Mozo really needs to fix this. I also have the mozo white leather for my 950 xl which had the same issue. The power button on the light oak was even worse - to the point where I was pressing so hard I was worried about causing damage to the phone. If I didn't have to use that button to wake up my phone every time I used it - probably wouldn't be that much of an issue. Not sure how WPC can recommend these cases for the 950 XL until Mozo fixes this issue. Oh and the polycarbonate shells for the 950 - really poor quality control on those. The back edges look like they've been chipped when I got mine. Promptly returned as well. On the plus side, mobile fun's customer service - top notch!

I own 5 cases - Red, Black, Cognac, Blue and Zebra Wood. All fits well and works well except the Balck Leather, that has the similar problem that you mentioned. It requires extra pressure on the power button. I put a thin strip of rubberized cushion inside the button and it works.

The power button is my one big complaint. Hate it.

How about adding a modern- looking Windows logo on top of the Mozo logo? I think that would attract more buyers, especially Windows fans.

They need to get rid of their ugly logo first. I sandpapered it off.

Got mine recently - light oak 950xl - and it looks darn sexy. As described in the article, the feel is great. I do not mind the buttons and actually like that I have to press the buttons more forcefully - previously it often happened that the volume jumped up to max or silence as the buttons were so easy to get pressed while in my pocket but now the issue is gone. If there is one negative point I could think off, then it would be the missing of information on how to take care or the cover's wood to keep it clean and stuff.

It doesn't look like those items are still on sale on MobileFun. Bummer.

Would love to see these for the 650.

I got my light oak one about a week ago. Look and feel is great, but unfortunately mine is super creaky on the left side and as already stated the power button is very, very hard to press. My stock case doesn't have either of these problems so I guess that'll work to keep my old cover relevant.

its not in sale now,i would like to buy if they a sale. how about when buying from mobile fun uk to united arab emirates by dhl web mail service.how long it takes to be delivered.my bad luck is that service is untrackable

Compared to the leather covers, the buttons were vastly improved. I have both and can honestly say I like the wood cover way more for this fact alone. I don't have any issues with mushy buttons, power button doesn't stick out as far as volume buttons but still has a nice click to it.

Hey everyone, do these cases add a little bit to the length and width of the phone? I currently use the Lumia 950 XL stock white case and have a clear rubber case on it. If I buy a mozo case I want to be sure I can put the clear rubber case on it.

It doesn't add length and width, it does however as a bit of depth (thickness), with that none of the clear rubber case can fit perfectly on top of the mozo leather & wooden case, no sure of the colorful polycarbonate shell.

Thanks for your reply. Okay I will think about buying one of these cases. After reading your comment I can see the added thickness in pictures. The coral polycarbonate case looks the best to me so I got some thinking to do. :)

You don't need a clear rubber case. Stop being cheap and overprotecting everything or stop being clumsy.

Lol relax it's just a case.

Thanks, I can't wait to get mine! would anyone oil these?

Might be an idea they get dirty easily and I don't see any way of cleaning them.

Already have too many Mozo covers for my Lumia 950 XL...

My light oak looks much less light after a few weeks of use. It's nice however but you cant get it anywhere near water because the wood isn't sealed.

Oh and the power button is garbage. What nob head thought that would be a good idea?

Can you please stop posting that price? It wasn't that price long after the last article. The free shipping code still works though.

Maybe I missed it, but couldn't find in the review or any comment whether these retain the NFC and wireless charge functions.

Yes there cases have the connections to enable wireless charging and nfc.

I got my light oak for the 950 last week and it fits fantastic. No creaks. I am curious what the best way to protect it though? Some mentioned an oil but what kind so that it doesn't rub off onto your hands? The only negative is the mozo logo. I wish they did it in white or as an indent similar to the leather case. It's too loud particularly on the lighter tones of the oak. Any suggestions on how to take it off/reduce its prominence without marring the wood around the logo?