This is the new Mozo 'Black Rim' Lumia 950 replacement back cover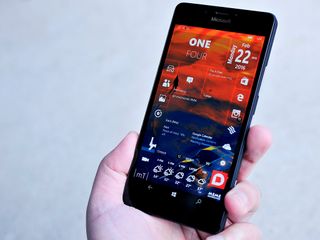 The Mozo covers for the Lumia 950 and Lumia 950 XL are considered required additions for the new Microsoft phones. I have taken a look before at the tan, white and black variants and even did a special feature on the red version with gold trim.
For some odd reason Mozo also sells a black leather case with a black rim. It 's strange because this variant cannot be found on Mozo's own website and is instead available only from MobileFun.com (as far as I know). Why? I have no idea, but we have one and figured we would post some photos in a gallery.
What's different?
In case you are wondering why this case is unique, it is because the previous version of this case had only a chrome/metal rim (vacuum metal coated polycarbonate if you want to get technical).
The version that MobileFun.com sells has a matte black trim. In fact, the rim is still metal-ish but has a soft-touch paint feel making it smooth and silky. The result is a back cover that is completely jet black and it looks quite beautiful.
NFC and Qi wireless are still included in this back cover. The only difference is the rim.
The case is available for the Lumia 950 and Lumia 950 XL, and it costs $42. Once again, that is not cheap but you are getting leather back, Qi wireless charging and NFC sensor plus that vacuum metal coated polycarbonate rim.
How is it?
I have only had the back cover for a few hours but so far I like it a lot. Mozo cases are quite durable and I have had no complaints about any of them (sure, the white leather one can get dirty but you already knew that).
The dark jet-black Mozo back cover gives a fantastic contrast with the Lumia 950's punchy display. For those who prefer a more toned-down or conservative Lumia, I don't think you can go wrong. You lose the flashy chrome of the alternate version but still retain that Mozo quality and it looks great.
So, like all Mozo cases I'll put this under Highly Recommended.
Bonus: MobileFun.com took just six days to deliver the case after ordering. That is a lot faster than some of their other Mozo shipments.
Daniel Rubino is the Executive Editor of Windows Central, head reviewer, podcast co-host, and analyst. He has been covering Microsoft here since 2007, back when this site was called WMExperts (and later Windows Phone Central). His interests include Windows, Microsoft Surface, laptops, next-gen computing, and arguing with people on the internet.
Wtb non leather for the XL

I wish if Mozo only carved (or used metal squares) for the Microsoft Logo on the back where its supposed to be located. The back feels empty especially in the middle.

why not buy one on ebay for like 3 bucks?

im holding back only for the MICROSOFT LOGO. if they release this metal cover with the LOGO i will order it today.

It looks utter mank to me. Blue not black and nasty leather.

I guess I am lucky. When I ordered the black one with the silver rim, they sent me this one. I was pissed because I thought it was fake (This was late December and it wasn't listed on their site!). Then I started using it and all thoughts of returning it vanished. It is beautiful and unique... well, until now.

I wish they also had a mix aluminum and polycarbonate to make the 950/950XL look like a 830 or 925, also those wood covers for the 650 were interesting and could work the flagships

I'd love a dark cherry woodgrain with silver trim and silver Microsoft logo on the back.

me too. MICROSOFT LOGO with metal, seems super PERFECT

guys you're losing me, your site is getting worse with the day.

Haha hey guess what I managed to do... I got Redstone on my Lumia 640

No I'm serious. I got it ok my Lumia

Here's the snapshot: https://onedrive.live.com/redir?resid=D4AEACE9F47C5497!144151&authkey=!A...

It was a registry hack. I saw it on Microsoft community

how's it? did you noticed any particular reason for it to not be available for the 640 in the first place?

Well according to Microsoft community, if you change the product manufacturer key in the registry to MicrosoftMDG you can get the update

I don't see any reason why it shouldn't get it.

I even got the moveable keyboard from 1520

And you spam a post about a case to tell us this?

I'm sorry it may have been off topic but I just wanted to tell someone

No one cares why you are trolling a article about an ugly case with a supposed off-topic thread about god knows what......just go away....


I'm sorry I'll go with my Redstone loaded Lumia 640 somewhere else

@William Stovall. I get it that you were so darn excited ;), that's what the forums are for. However one of our fellow ambassadors has also managed to do the same and will put up a tutorial with the obvious caveat that it's for enthusiasts and pro users. Speaking of users, don't take what they (other commenters) said to heart. There has been countless of topic comments and trolling; so they just happened to pounce you.

Would you like a pillow to hug as well? haha..... Oh comeon......its just jokes, no one can take a joke anymore.....

Daniel that's a sexy start screen!! Beautiful! What's the wallpaper? Can you give me?

Tech blogging, the only business where the customer doesn't matter.

Don't forget, on the internet the advertisers are the customer. We readers are the product. Posted from Windows Central for Windows 10

I think the site has gotten better, especially with the editorials lately. I think you mean you won't read anymore, because there are no more 10+ new Lumia models a year to write about their every single detail

There`s nothing wrong with the site ... Posted from Windows Central for Windows 10

My only problem with the site is its horrid to view on my 950. The ads slow the site down to a crawl. For links to even work on my 950 I have to hit close on every ad that pops up.

Install the WC client app.

Yes, but the old one. New WC app is practically unusable.

Yes, but the old one. New WC app is practically unusable.

The WC website slow in PC and mobile

No comment on the site content, but the old / regular / non-beta WC app isn't able to connect as of today, getting a web client error. I was keeping it around for its live tile that shows the number of unread articles.

You could check that other "fan"-site... But that's really an undercover movement to undermine Microsofts strives in the mobile department.

What's wrong with this post? It's about a WINDOWS PHONE case from a company that makes nice products and a lot of Lumia 950/XL owners have been wanting a metal bezel similar to what is on the L650. How is that getting worse when the site is doing a post on exactly what many of their readers want to learn about?

In regards to performance, I agree. It seems sporadic, but Windows Central tabs (and out of the sites I frequent, it only happens with WC) will randomly skyrocket in memory usage. I've 8GB RAM and most of it will be used up by a single tab. I've a powerful system and it can handle multiple tabs at once, but WC tabs are very sporadic, tend to refresh alot, and generally just don't perform well. RAM problems like this happen rarely when I'm surfing the web for homework. Every now and then I'll stumble across a site that encounters the same issues as WC, so it seems like it might just be an issue with a script or general optimization. ​I don't know, but I agree that WC tends to not perform well, at least for me with Microsoft Edge.

WC's ads are out of control, in my experience. While I hate using AdBlock in general (because I know the revenue is how many sites survive), the performance on this site and FanGraphs got so bad I had to either switch to Firefox or give up using the stir altogether.

I wish Mozo would make full metal back covers. I never use wireless charging, so I would pay for it, despite the likely higher cost.

Is the link for 950 XL correct? Posted via the Windows Central App for Android

Looks pretty good, like it.

Dan, is your live tile for the new WC app working with the latest insider build? In fact are you receiving any notifications at all? Posted from Windows Central for Windows 10

I'm not receiving any notifcations and I'm having plenty of app crashes if I scroll too quickly.

Yes same here. I am however receiving comment reply notifications and can do in-line reply. It's awesome.

It's alright for some. Each time I try to login the app crashes.

Have you tried logging in to the webpage and remember username and password, then try logging in through the app. Maybe.

I comments seems to mixed up with number of articles!!!! Posted via the Windows Central App for Android

I know there is a user voice page but it's good to discuss with others like this. Live tile is about 5+ articles behind with no counter.

Mobilefun.com left me with a bitter taste when I had to emailed them 3+ Times with no answer. They stopped giving me delay updates about the Mozo back I ordered. I ended up cancelling the order and it took me a month to get the refund, I so was never emailed about so I never knew if they cancelled my order until I got the refund.

Its cool!! Posted from Windows Central for Windows 10

Silver and black is nicer

Subjective, even though I agree.

Got mine 11 days ago, it's awesome ☺ http://www.reddit.com/r/windowsphone/comments/459yb3/just_got_my_blackbl...

this may sound stupid, but can you fit a case over the back cover? I'd like to have screen protection, so i would look for a clear case to put over it.

Yes! I have this mozo rear cover and the phone still fits in the clear gel case I originally had, so I still have the option to cover the screen edges depending on where I'm taking it.

Still no MS logo on the back. Too bad.

I'm sure that is one of those legal things. I suppose MS could license it to them for free, but that would set a precedent. If not free, who knows what additional cost would be tacked on.

Can you post a Link to the Wallpaper used in the cover picture? It would also be nice to know the accent color configuration, thanks!

I'm not receiving any sound or tile notifications on the latest build.

On latest build with my 950 XL and getting no updates from store, so even if new build, I wont be getting it. The store is getting a little messed up in this redstone build. But I did order one of these badass cases....

I was hoping for a full body metal back cover, like the 950 should have been officially. But now this, less metal than the previous one. Okay...

I like the black trim, but still hate leather as a phone material. $42 is also a very steep price for a backplate, so this really isn't something I would look into. I'm hoping they eventually give us colorful plastic options.

I'd be happy if they made some polycarbonate ones in different colours

Got my red and gold 950xl case in 4 days from order thanks to MobileFun... Very happy just annoyed at the stupid premium price for a bit of plastic... Still my blower is now somewhat unique which I like.

Are they kidding or what? is it that hard to do something like Lumia 930, 830 or 650 with aluminium frame and flat polycarbonate back instead of those leathers and awful texured stuff??? Also they should try to hide as best as possible their logo instead of making it that big, putting instead the Microsoft logo in the back like the original, after all they're official covers they could do that i guess

On the Amazon website in the UK they have the black rimmed Mozo case for the Lumia 950 for just under £26 and the 950 XL for just under £28. A bit cheaper than £35 on MobileFun.com

Available on amazon uk since day one

I'm not in the UK though and this is new for us.

I'm not either, and anyway it was just an information. It was called like black leather with black rubber coating.

They're having enough trouble filling existing orders, can't manage when people will get these. Still waiting on my brown leather back.

In all honesty I love the stock black back cover. If only it didn't creak though, that is the only disappointment I have with my 950 except for the occasional reboot. Still, super happy with my L950.

I've bought this from Amazon UK a while ago. Very happy with it.

Why does this Black case look purple?

Attention MOZO, people want non-leather backs too. Enough with this fake leather crap and give us some premium plastic backs!

I'd like this dark metal edge with a black polycarb back. A clear shell could be interesting too.

Fyi its real leather..thou agree...we need more color options

What's that calendar app in thr top right corner called?

Doesn't the 950 come with built in wireless charging and NFC?

It's all contained within the back shell. If you swap the stock shell for a third party one you'll lose those features unless the replacement shell comes with those parts.

They should make a cover that also covers up that silver ring.

Word of warning with MobileFun, don't believe their website when it comes to availability. I've been waiting for my flip cover in cognac for over 2 months. They keep pushing the date back. I just changed my order to the black flip cover as it is usually the only color they acutally have in stock. Will see how that goes.

Do the buttons on these Mozo cases behave better than the stock back? my 950 buttons are a bit crap - the power button in particular juts out too far and is very very prone to accidental pushing.

Just like Black L830/930 Love it, just make it with plastic instead of leather and MS logo.

You just described the default cover that it comes in.

If you can order one and they can deliver, than its a good addition to the 950 and 950XL. These guys must have the worst supply chain ever!

I have that one. It is a well built case that in my opinion still makes it look very generic. of course that is because of Microsoft design. I finally got my red case and I love the look. It really stands out plus it finally looks and feels premium.

Looks great, but this isn't useful for those of us that take our phones on runs or to the gym. Arm bands let in sweat and I can see this nice back getting ruined. I'd be happy with the black "metal" edge and a polycarb back. It's not as fancy, but it would be more functional for those of us that are more active.

Does it squeak like the oem cover?

Still waiting for vibrant colors :(

I actually suspect that these cases are a mistake. I ordered a black and silver case from MobileZap, which is the name MobileFun uses here in Australia, and got one of these all black numbers, even though the code on the sticker was for the back and silver version. I reckon Mozo messed up a batch, i.e. forgot to apply the silver metal, that was sent to MobileFun and they decided to sell them anyway.

It has been listed on Komplett.no here in Norway for a while now as a separate product. With another Mozo product code than the black and silver one. That store also had other variants that the Mozo website did not list last time I visit. (flip covers)

Background image link pls..

Does it cause heat issues like the previous Mozo back covers? Daniel, why in the Hell does it take so long to type things into comment forms on this website? I have regressed to typing in notepad and just copying and pasting because the forms on your site barely work.

I've noticed the very same thing. It's as if the page hangs along the way.

Are you using Edge? I have found that there are certain sites that are difficult to type in from Edge. I'm guessing that it's something to do with some JavaScrip that gets run on keystrokes.

Happens in Edge and Chrome.

I have 2 mozo case red leather with gold rim...really makes the phone look awesome...like limited edition and gives great grip....thou my 2nd case has better build and quality...the 1st one cracked with just one fall and rim color comes off with daily wear n tear...

they look nice, but I would not pay the outlandish price... also alot of folks have been complaining about QC on these aren't the best...

What are the clock and calendar apps used here?

I actually got on for my 950 XL by mistake from an online seller. Returned it because it lacks the premium feel. But the quality is really good. No creaking compared to the original cover.

I'm sorry, but I find all of their back plates to be ugly and dated.

It looks quite beautiful. It would be a really hard choice between the black/silver case and this one.

You know, these Lumias are not that ugly. I actually think they look good.

Sometimes I feel like the only person who likes the standard TPU case with "bling ring" and silver MS logo. I'm not sure where "metal" became synonymous with "quality."

It doesn't look as good as their other cases IMO.

I have this one on mine 950XL. Really love it. :-) The look is great, and the leather back does also give a very good grip on the phone. I think it look's better on 950XL and on 950.

Here are photos of mine black beuty Lumia 950XL with Mozo black/black leather.: http://1drv.ms/1QxdgJE

Ideal cover would be:
Blue polycarbonate back (same shade as the proposed 'Cityman' colour) with silver/metal Windows logo
Silver metal rim with metal buttons And in an ideal world, a tiny switch on the top or left to toggle NFC/wireless charging on/off.

Wish they'd do the same with the red leather cover.

Lipstick on a pig. No overpriced case will make this phone into a real flagship. My 640 with the cyan shell looks stunning compared to this junk.

Hi can someone tell me what the apps to show me the time and date in this photo in this subject

I've had this one for a while now, bought it from amazon uk site. The soft touch edge is really nice to hold, the buttons are perfect with no wobble or sharp edges (unlike the original cover which had both annoyances). I have to say I'm loving my 950 more all the time. I had expect it to take until the end of March for the software to settle down but it's pretty much there already (for my uses at least). The Mozo cover just completes it.

Do you mean the MS cover had sharp edges or the original Mozo? I found the XL cover I had to be a bit sharp to hold where the leather met the polycarbonate. Was that just the XL design or is the 950 the same?

No I meant the button on the original cover, they had sharp edges. My Mozo cover has no sharp edges and everything is nice to touch. I've had it for months now and it's still as perfect as when new.

Thanks for taking the time to reply, I appreciate it. My XL cover is a little grating on the hands, just where the leather fuses with the plastic RIm, but I think it's the more angular design of the XL that causes it. Am changing down in sizes, so just wanted to ask.
Windows Central Newsletter
Get the best of Windows Central in in your inbox, every day!
Thank you for signing up to Windows Central. You will receive a verification email shortly.
There was a problem. Please refresh the page and try again.