Windows Mixed Reality in Windows 10 19H1: Hands-on with all the new changes
By Zac Bowden published
A new Start menu, window controls, refined WebVR experiences and more are new to Windows Mixed Reality in Windows 10 build 19H1.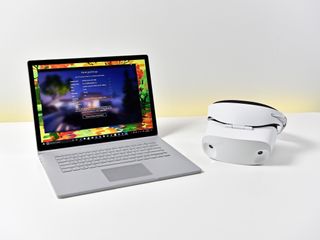 (Image credit: Windows Central)
Microsoft is adding and changing around a few things regarding Windows Mixed Reality (WMR) in Windows 10's next feature update, codenamed "19H1", which brings with it updated user interfaces and a larger emphasis on WebVR content. This build is expected to launch this coming April.
In the latest 19H1 Insider builds, WMR features an updated user interface that introduces more hover-based elements in the Start menu and title bars of apps. This could be our first hint at the UI design that will ship on HoloLens 2, which is rumored to be announced later this year.
In addition, the WMR house has also been updated with new objects, with old apps like Groove being replaced with something more useful. Also, there appears to be a bit more focus on WebVR content, with new objects that feature web content that can be used in immersive mode supported in Edge.
Make sure you check out our hands-on video above and let us know your thoughts on the new changes coming to WMR in Windows 10 19H1.
Zac Bowden is a Senior Editor at Windows Central. Bringing you exclusive coverage into the world of Windows 10 on PCs, tablets, phones, and more. Also an avid collector of rare Microsoft prototype devices! Keep in touch on Twitter: @zacbowden.
I'm not really a fan of my WMR house being altered every update. I had my house set up very nicely prior to the October update and then MS wiped the slate clean. Don't remove things that I already have in place MS. I use Groove, I use the desktop app.

Like Sully, I think the WMR house is a stupid idea and stupid execution. If I want to work with applications in VR I want a completely round room, or a dome, that I can throw app panels up on in any configuration that's efficient for me. Have stupid rooms that I have to navigate is a horribly inefficient way to function. That said, Build 18312 completely broke WMR for me. I've disconnected my HMD, totally uninstalled WMR, deleted drivers, and reinstalled. WMR will not function for me in this build.

I'd agree a smaller environment with walls all around to place productivity apps is a great way to navigate quickly in VR, and I even have such an environment as a custom Place for Windows Mixed Reality.
However, it can also be more confusing to new users, as the brain naturally works in term of differentiating features, making a more varied environment easier to navigate for the beginners.
So I'd say they picked the right kind of environment for the two first places, but I'm also looking forward to power-users kind of environments. Let me know if you're interested in custom environments, I probably could quickly build a proper installer for the one I made if some people are interesting in giving it a try.

I never said it's a stupid idea. I just don't like how they reset the room every update. I actually have all my stuff in the one room so I don't have to travel between locations to get to my applications. Having access to more custom rooms will probably be nice if there was an option for a dome room.

Sully said no such thing. Can you read?

I feel like I'm the only one realising Microsoft is really committed to Microsoft Bob 2.0

I think your demos would be much improved if you did not move your head around and jerk the picture all over the place. Its one thing if you have the headset on, but when watching you demo it really doesn't play well on the screen. I think VR is the coolest thing I have ever seen and am constantly looking forward to updated apps. Two sad aspects of it are "The Blu" season 1 and Microsofts own "HoloTours" are WAY cool, but have not had a single new episode or update since they first debuted over a year ago. WTF is that all about? Microsoft of all creators should be able to offer a new "HoloTour" on a monthly if not 4 times a year basis. People are starving for new content. Its also interesting to hear the Thurrott's of the world writing VR off as niche, when its pretty obvious it is going to be the biggest thing ever once the form factors are reduced to a pair of glasses way in the future.

People hate wearing technology. They don't really like wearing 3D glasses in a theatre for 90 minutes, and they basically refused to do it at home, which is why there's no more 3DTVs. People don't even like wearing smart watches, and they barely like wearing fitness trackers. VR headsets are not even close to new. They're also not better than they were the last time they were a fad in the 90's and the head tracking is still garbage, only the resolution has changed, even though it's still pretty abysmal. Gretchen, stop trying to make VR happen, it's not going to happen.

VR is already happening, is a rapidly growing industry and it's already a minor hit. Far from being an akward novelty like in the 90s. It can even be cheap with WMR. VR even has its own game hits, arguably their "killer app", like Beat Saber. Hit F5 and get on with the times.

The new house content was already updated with the demo apps and games, 360° Videos and WebVR Showcase in version 1809.
Simply go to Settings > Mixed Reality > Environment > [Reset my home] if you want the Home content to be updated. Alternatively you can open the WebVR Showcase and the 360° Videos apps from the MR Start menu without resetting your Home.

Still hoping we see sets.

Is there any new headset coming? I mean, is the hardware evolving? I have had a Lenovo Explorer for a while and it was great (and the price was so low) but now it's been like 2 years?
Windows Central Newsletter
Get the best of Windows Central in in your inbox, every day!
Thank you for signing up to Windows Central. You will receive a verification email shortly.
There was a problem. Please refresh the page and try again.