Examining the new Movies & TV app in Xbox One Preview
The Universal Windows Application for Movies & TV has made its way across to Xbox One Preview, and here's how it works.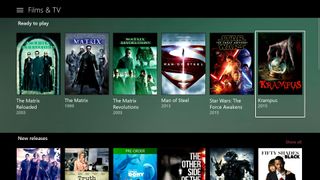 For a while now, the Xbox One has had the capability to run Universal Windows Applications from the Windows 10 Store. Since last November's NXOE update, Microsoft has been working to update the Xbox One to support more of the Windows features necessary to make UWP apps operate correctly on the console. The most obvious addition is that of background music playback, which is a crucial function for third-party music apps, for example.
When it comes to Movies & TV, those of you who are familiar with the app on Windows 10 and Mobile will recognize the app immediately. Those who are used to the old experience on Xbox One are in for some pretty huge changes.
The Movies & TV app available outside of the preview also functions as a store. With this summer's Xbox Anniversary Update, Microsoft has moved their movie and TV purchases almost entirely to the Store section, as they begin merging their catalog across all Windows 10 devices. The new Xbox Movies & TV app simply catalogs your purchases, allows playback and makes the occasional suggestion.
If you're on the Xbox preview, you can obtain the app by deleting the current Movies & TV app, and downloading the new one from the app store. There's a bug that lists it as its UK name, "Films & TV" at present, but there should be a fix coming for that shortly.
When you first open the app, you're greeted with a screen that explains that the store portion has moved into a dedicated section of the OS. There are several ways to jump quickly between the Movies & TV app and the media store, with suggested content displayed at the bottom of every section of the app.
When you enter Movies & TV, you're greeted with the home screen. This is slightly different to the Windows 10 version of the app, as it primarily serves advertisements and suggested content with direct links to the store. It also shows you six of your most recent plays and purchases.
To navigate around the app, you use your joystick or d-pad to highlight different elements. To access different sections, hit the menu key on the controller, which looks like a standard modern app hamburger menu icon. Suddenly Microsoft's choice for controller button iconography begins to make a lot of sense.
Another difference between the Xbox and Windows 10 version's menus is that the Xbox version doesn't give you access to play videos stored locally, as this is currently beyond the Xbox One's capabilities.
The search button works as you would expect, allowing you to navigate your content by using the on-screen keyboard. It also allows you to jump straight over to the store if you search for something that isn't available in your library.
The Movies and TV sections function in the same way to how it does on Windows 10, with the 'view' button on your controller replacing the right click or long press functions with mice and touch respectively. You can highly content and press the view button on your controller to delete items that you no longer want to see in your library.
You can always retrieve your purchases via the settings, listed at the bottom of the slide-out menu. The settings menu also allows you to open your account pages, ordering history and payment options via Edge. It also allows you to change the theme of the app between dark and light.
When it comes to the content sections of the app, you can sort your collections by most recent, date added, or alphabetically. Unlike the Windows 10 version of the app, these segments include recommended advertisements for movies and TV shows you might enjoy based on your viewing habits, underneath your purchase libraries.
Selecting a piece of content will take you to a dedicated page that lists the media's cast of actors, and notable crew members such as directors. Selecting those individuals automatically takes you to the store and offers other content featuring those actors and directors.
You can cycle back from the store and other sections of the app by pressing the B button on your controller, which functions similarly to the back button on a Windows 10 device. Doing so is fairly responsive, and is far faster than it was in the app from the previous version of the OS.
When viewing media content, the app utilizes similar on-screen controls as the Windows 10 version. You can select different elements of the player using the joystick and d-pad, or use the triggers to move forwards and backward through the timeline. The player functions a little more responsively than the previous Movies & TV app, but the display is largely the same. Unfortunately, I couldn't take any screenshots of the media player, as the Xbox detects if you're using a capture card while connected to the app to prevent piracy.
Unlike the Windows 10 app, you can't adjust the volume via the media controls, nor can you cast Movies & TV streams to other devices. You can, however, cast local videos to the Xbox One from a Windows 10 PC, and it loads up and plays significantly faster than it did on the previous app.
Work in Progress?
As this app is still part of the preview, there are a bunch of quirks inside the app relating to UWP. The links in the about section try to load the Windows 10 Feedback app, which of course isn't yet available on Xbox One. Also, you can't download movies for offline play on the Xbox One app, unlike on Windows 10 and Windows 10 Mobile.
Additionally, the app is sorely lacking in visual polish. There's a general lack of consistency between the app and the rest of the Xbox One OS, and it looks far less attractive in general than the previous Movies & TV experience. Items are poorly spaced and rarely centered, and highlighted elements have inconsistent padding and margins, and the way they've translated controls designed for mice and touch to a controller could be a little more intuitive.
Still, this is just the start of a massive convergence journey for Microsoft, as the company begins to bring the full Universal Windows Platform to Xbox One. Developers will be able to take advantage of the largest family of devices, the largest and broadest audience, with comparatively minimal code tweaks between different versions of their apps.
The preview of Movies & TV is by no means perfect, but it represents an incredibly exciting future for the console and Windows in general. Watch this space.
Jez Corden is the Managing Editor for Windows Central, focusing primarily on all things Xbox and gaming. Jez is known for breaking exclusive news and analysis as relates to the Microsoft ecosystem while being powered by caffeine. Follow on Twitter @JezCorden and listen to his Xbox Two podcast, all about, you guessed it, Xbox!
Just waiting for my console enroll to go through. This app looks somewhat ok.

Where can you filter movies that are available for rent?

Side bar... Rumor has it that there will be another Matrix movie in 2017. Pray to god its true.

Why? The trilogy was enough. Perfect. If slightly perfunctory. You have the Animatrix if you want more Matrix goodness.

The entire series was awful

While I admit the sequels were dreadful, the original was incredible, and difficult to find an action movie that doesn't incorporate things The Matrix originally brought to american cinema. If your under the age of 35, then I can understand how difficult it is to see its significance when you aren't old enough to remember what preceded it.

Still my favorite SciFi movie of all time. I watch the trilogy at least once a year. It'll be hard to top the Matrix, maybe they should do a side story in the same world instead?

Yeah same world, different story would be best

I'd love more Matrix goodness, I love those movies.

Until they fix the issue with it making a mess out of your personally owned movies and TV...who cares...

I really wish they'd add UltraViolet collections to the library like I can add my Disney movies.

Maybe request Disney to make an UltraViolet app?

UltraViolet doesn't work like that.

Until they do, I will continue to choose VUDU over Microsoft's Movies and TV app. With VUDU, I get access to all of my UltraViolet movies and Disney Movies. Also I've gotten $15-20 in credits from T-Mobile over the past few weeks (T-Mobile Tuesdays).

That's exactly why I use VUDU as well. Although, I wish VUDU would make a Windows 10 app already. I have to use Flixter instead and it's so slow loading my movies.

It's the very same app as on desktop, tablet and phone ! Now on Xbox One. Got to love Microsoft's apps that look native regardless of platform.

Why is everyone including Microsoft calling it Movies and TV when it's actually called Films and TV?

So you didn't read the article?

You're a bit of a spoon aren't you?

You won the comments section. :D

Well I'm from the UK and all the help docs are US, so it might you that is spoon like?

Actually, I believe the app's name depends on the country. In the US, it is called Movies & TV. But perhaps in jasonmalcolmgibbins' country, and also in my country, it is called Films & TV.

In Canada and UK, we call it Films & TV

Anyone else having a hard time getting it to install? I've uninstalled the old app, found the app incorrectly labeled "Films & TV" in the store, but when I start the app, it's still the old version...

Are you in Europe and/or Canada?

No, is it only in those regions?

Are you enrolled in the new Xbox Preview? This app is only available to those enlisted in the Redstone preview.

Yes I am :). Latest build from July 2 is installed also.

Agree that it needs a bit more polish on some ui aspects, but It is already better than the previous one. Performance is much better imo. Cant wait for Groove and other apps. And hope they drop a real universal version of Edge, once the current one is clearly a rebranded IE. All in all Universal apps on XB1 is looking good.

Will it read from a network file share like the one on windows PC?

Not with this app, but there's another app that lets you access your file shares for media. I'll write up how to do that in the future.

Still waiting for pornhub universal app with achievement support.

"with the 'view' button on your controller replacing the right click" It's odd that they have that button on the controller on the left instead of the right side. What I really need them to do is remove movies I previously rented and no longer have access to from My Collection. It's a cluttered mess because I go nuts with rentals whenever they do 99¢ rentals.

You can delete them with this app, or at least I could delete trailers I watched.

I am a non insider from India. Should i wait till aug 2 for this?

You don't have access unless you're an insider right now. :)

The current version UI is very bad. Items shows in two column. So there is lot of space wasted in alignment. And don't. Support latest format after .mkv release

Now it should be really clear that the "hamburger menu" UI is the worst possible layout. It may work for mouse use but it doesn't work well on a phone and now on the TV. But I have to admit that the new style with those giant blurred background images does indeed look nice.

tbh, I think it works pretty well on the Xbox One, it just instantly gives you a context menu with options automatically selected, same as any other console game menu. Hamburgers make a lot less sense with a mouse though, aye.

Although, future keyboards could do well to include a new key no? =P

Aye, Cortana, back button, hamburger

Seriously... how is Offline Playback not supported?!? Xbox 360 did it... almost flawlessly.

Well, the app just needs to be updated right? This can happen several times until August so I'm not worried... ;)

Well they never added it to the Xbox One app previously.

As a person with a severely restrictive Data cap, this is the biggest reason I don't use their movie service. I can't afford the data cost if I decide to watch a movie twice.

This Windows 10 app needs massive improvement. MS has not given it the attention it deserves. Would like to browse sales and read reviews from within the app as was possible in previous versions. Groove app allows you to explore content, so this app feels inconsistent in design.

Work in progress matey, the idea is that they'll be able to push updates to all versions of the app simultaneously. UWP is a long journey, it'll be worth it in the end.

If someone would send me an invite to the preview my gamertag is playnogames0 it would be much appreciated Posted via the Windows Central App for Android

"press the view button on your controller to delete items that you no longer want to see in your library​" That should be the story

Is it possible in the new app to use OneDrive or an external harddrive as a source for movie files?

I already have the latest preview update (Cortana) but my MovTv app still looks the same as before the update.
Windows Central Newsletter
Thank you for signing up to Windows Central. You will receive a verification email shortly.
There was a problem. Please refresh the page and try again.