Hands-on with the Microsoft Surface Book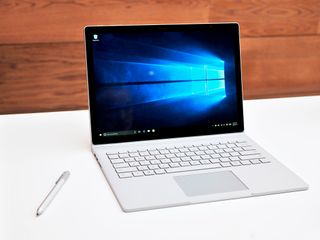 One of the new devices that Microsoft announced today in New York City is a larger Surface. We're talking about the Surface XL, featuring a 14-inch display with 4K resolution. We got to play with one immediately after the announcement. Watch our hands-on video!
Surface Book specs
Swipe to scroll horizontally
| Category | Specification |
| --- | --- |
| Operating System | Windows 10 |
| Display Size | 13.5-inch PixelSense Display |
| Display Resolution | 3000x2000 (267 ppi) |
| Processor | 6th Generation Intel Core i5 or i7 |
| RAM | 8GB or 16GB |
| Internal Storage | 128GB to 1TB |
| Rear Camera | 8MP with 1080P HD video |
| Front Camera | Windows Hello face-authentication & 5MP camera |
| Battery | Up to 12 hours battery life for video playback |
| Dimensions as laptop | 9.14 x 12.3 x 0.51-0.90 inches |
| Dimensions as tablet | 8.67 x 12.3 x 0.30 inches |
| Weight as laptop | Non-GPU: 3.34 lbs., GPU: 3.48 lbs. |
| Weight as tablet | 1.6 lbs. |
| Price | Starts at $1,499 |
Thoughts
Oh, Surface Book...you are the oddest of the odd. That is not a bad thing either as I only got to spend about five minutes with the device before Microsoft closed the event for the day (don't worry, we have plans for a review).
The Surface Book was certainly the A-bomb of product announcements today. Not only was it unforeseen - even if we did say a "14-inch Surface" was coming - but Panos delivered a double shock when they showed it turning into a tablet.
The Surface Book reminds me of how a Sci-Fi movie depicts a laptop in the year 2035. It's like it has to be a laptop, yet different. The hinge and the way it expands plus the general look is just...well, out of this world.
How does it feel? It's not the lightest laptop I have felt, but it is very far from heavy either. This experience is because it's like solid metal, and there are no air gaps in the thing. So imagine a thin, dense slab of metal and you can understand how it does not feel light but not heavy. It feels substantial. It means business.
The display was fantastic, and the keyboard felt perfect from the few moments I had with it.
At this point, I hesitate to say more if only because I truly need more time with it. But let's not make a mistake here, Microsoft did create something entirely new here. It's unique. It's functional. It's beautiful.
Pricing and availability
Microsoft is now accepting pre-orders of its recently announced Surface Book in the U.S., with prices ranging from $1499 to $2699 depending on your configuration preference.
The base model offering 128GB SSD, 8GB of RAM and an Intel Core i5 processor for $1499. The next bump up replaces the hard drive with a 256GB SSD along with 8GB of RAM and Intel's Core i5 for $1699. Above that is where you will see the new discrete GPU, which Microsoft claims will help big time with performance. For $1899 you get the discrete GPU, 256GB SSD, Intel's Core i5 and 8GB of RAM.
If you are looking for Intel's Core i7, pricing starts at $2099, which gets you a 256GB SSD, 8GB of RAM and the dGPU. The top of the line model comes in at $2699, which offers 512GB SSD, 16GB of RAM and the discrete GPU. You can pre-order your Surface Book now directly from Microsoft at the link below.
Pre-order the Surface Book from $1499 at Microsoft (opens in new tab)
So, how do you feel about this new device from the Surface team? Is the Surface XL too big or is it the right size for you? Let us know in the comments!
Lumia 950
Surface Pro 4
Surface Book
Microsoft Band 2
Windows Central Newsletter
Get the best of Windows Central in in your inbox, every day!
Daniel Rubino is the Editor-in-chief of Windows Central, head reviewer, podcast co-host, and analyst. He has been covering Microsoft since 2007 when this site was called WMExperts (and later Windows Phone Central). His interests include Windows, laptops, next-gen computing, and for some reason, watches. Before all this tech stuff, he worked on a Ph.D. in linguistics, watched people sleep (for medical purposes!), and ran the projectors at movie theaters because it was fun.
Yep. Was a jaw dropping moment when they replayed the video. Looks super thin the video too.

King MS just pooped all over CrApple AGAIN. its unbelievable.

The point is Microsoft and Apple are in their own leagues. I am very glad Microsoft keeps it thick enough for a regular USB which allow for a more comfortable grip. Too thin is not natural for the hands. I seen many of those Apple tablets and they all have sleeves because they are too thin.

This would've looked better in dark magnesium. The light color makes it look bulkier and makes the ports more noticeable. Also, that hinge will take some getting used to (at least for me).

Yeah, just like the Surface Pro at first gen! I still love the dark color and I would even love that with Surface Book!

The first time through the video I noticed the key at the top right, and was like "that looks like an undock button" to a coworker. I knew something was up, but didn't really think if it!

Yeah, the whole time they were presenting it I was thinking, "No way this can just be a laptop", but then they made it sound like they were wrapping it up and I thought, "Oh, man, what a missed opportunity", and then, BAM: 'it's a tablet too'. Mic drop. Checkmate, Apple.

Me too! I had a feeling that it should be a tablet, then I remember the fans around the screen then they played the video again, at that time it gives creates a nice feeling then BOOM! It's a tablet too! My heart just skipped a beat.

F**** s*** OMG why is this so expensive? GOD DAMN I need to sell my kidney to afford this :(

Hahahaha, please don't, Panos Made the Surface 3 for you...

No need. This is a lead device. Microsoft need this to build and set the bar level for the Windows 10 market and for it's partners. So, just wait and one or more of the OEM partners will build devices in your price range. In the mean time, Microsoft is attracting managements in business and corporations with these products and that is a very good thing indeed.

Agreed! This was a showstopper. Superb. My only issue is the screen wobble, especially when typing hard. I'm guessing these display machines have probably been handled hard, but that is rather distracting from what is clearly a premium device. That wobble isn't premium - I can't wait to get my hands on one!!!

@Poirots Progeny:
This was in fact the one (and only) showstopper. Panos and his Surface team once again excelled themselves.
Surface Pro 4 was expected (where were the magical auto-hiding bezels?).
And Lumia 950 and 950 XL keep on disappointing me. "People in the know" are quoted you would need to inspect the devices further to appreciate them. So why didn't we get an in-depth look at them, especially at the magical camera? Continuum would've been nice, if they hadn't shown it all before at the April event. So we didn't hear anything new about the Lumias, although it would've been due time. But similiar to the April event it shows that Lumia has become an afterthought for Microsoft to rush over as quickly as possible...

Hmmm. I agree with you re the Lumia devices. I can only assume they didn't spend time on then is because the os isn't ready for prime time. It's still a work in progress and far from finished, and I'd imagine they're frantically trying to get app deals in place, for launch. Revealing the devices themselves, well they had to as everyone has already seen them in leaks. And yes, rather a downer, but they are what they are. It's a shame they haven't really been able to innovate with the design but there it is. I'm guessing msft had to have something for the holiday season, so these devices are placeholders until a proper whizz bang surface phone is ready for prime time. Basically, they're was nothing to talk about, and nothing new, especially for tp users. The camera seems show - again the sw is beta so that is expected. Not something to shout about. I'd imagine closer to release they'll do all the show and tell. Re sp4 magic bezels - yeah, that's a shame, and no lte, otherwise great device. Generally, wm isn't ready so they just need through it. Is that better than showing a finished product, only time and damage to hype will tell.

My answer to this is that this is a product announcement not a demo. Demo's and reviews will go more in depth.

Indeed! I'm already excited about the Surface but still the Surface Book surpassess why expectations, and that's an awesome thing!!! It's basically my dream device just comes true and it's here! :D

I had to walk away from the stream before they announced it, when i came back i saw the pics and thought it was rather ugly. I'll admit, going back and re-watching the reveal was certainly a "showstopper" reveal however the device as a whole doesn't excite me. I know I'm probably the only person at all who isn't interested, but for me, the tablet the replaces the laptop is what makes Surface great. I have not liked any of these flip, folding, or detachable "tabtops" I guess it will get a ton of sales for people who really NEED a laptop, but i like the surface form factor myself.

Right? I actually cried a little from happinesss!

Because of my low bank account for me

I was hoping for a more rigid keyboard for the Surface, something with a hinge like the kickstand. This was a pleasant surprise

I wonder if, and hope thet the Surface Pro 5 will get a similar hinge but a thinner keyboard, giving people who cant work with the stand in the lap an alternative.

Best part of the show. Beautiful device. $1499 is still too rich for my blood though. I MIGHT be able to get the Pro 4 but that's stretching it.

Is there confirmation anywhere about what specific GPU is being used? It seems weird to me that people would throw money to buy one because of that feature without knowing what the GPU actually is.

We need for sure not belief.

960M will not be possible in such small chassis, more like 940 or 950M,

Hmmm - 960m would put this in the same league as the xps15!!! That would be... Amazing. If true. The only other outside would then be the wobble on the screen, but I'm guessing that's just cos this is a display device.

Does it have the windows hello cameras? It wasn't mentioned but it looks like they are there.

It's in the article. Yes it does.

It doesn´t seem easy to disassembly for cleaning and upgrading components. Come on MS even Apple the masters of obsolescence make it easy nowadays.

Show me the upgradeable usb ports on mac will you?

Maybe, upgradeable RAM he meant :)

I don't think you can upgrade RAM in the newest Apple laptops.

Ssssh he thinks he's batman.

I don´t understand the negatives votes. Did I say a lie or something wrong? I could have used Dell, Alienware, HP, Acer or whatever brand you like as example, but the fact is that EVEN Apple (ie Macbook Pro) allows you to access the motherboard by removing a few screws. If you can access the interior then you can clean the dust, change the thermal paste or upgrade the SSD and that is enough to keep your machine performing like a new one for years. Doing that in any Surface device without breaking the screen it´s almost impossible. The Surface Book seems not a different case, let´s wait for ifixit. PS. Wow! much fanboys, such hate, so deffensive.

Forget the sycophantic types - I agree with you wholeheartedly!
.
I've got some sp3's but, especially for work, I'll only ever use devices that allow access to the ssd etc. I not only tend to use our own drives, but everything you said about maintenance is true. I'm really not a fan of where tech is going, soldered and closed - this just smacks of planned obsolescence. Those batteries and all that; how long are these things going to last. They're an investment, one should be able to at least maintain it. I have tended to buy dell for this very reason, especially they're new line up, xps13 and the precision lines, one can take the whole thing apart and their in situ repair service is great too. Of course, they're is a cost associated with that, but at least I know I can control the drive and maintenance, and it can readily be repaired. Hopefully there will be better address, on the book. I'm not sure though, if my experience of the sp3 is anything to go by. Repairs can be done but it's not easy and, for me anyway, devices don't go off site. Anyway, this looks like a fantastic bit of kit. That screen wobble though...

Thank you! I´ve love the Surface devices since the first one, and the Surface Book it is almost perfect, but for me it doesn´t feel right to spend 1500 - 2000 on something that I can´t not fix by myself and therefore it is going to last 2 - 4 years runing "fresh". Other option would be sending it to MS every 2 years for this "manteinance" but that it´s not acceptable for a workstation.

Over the last 15 years I've had Dell, Acer, and HP laptops. I'd typically get 2 years out of them until the hindge broke, the keys fell off, or the trackpad stopped working. These were from $800 - $2000 laptops and, now I know, utter crap. I've had a maxed out MacBook Air since 2011 and besides some scratches on the shell, everything works perfectly (running windows 7, then 8, now 10). I think it cost $1,900 but I'll probably sell it for $500 when I get my SP4. The Dell, Acer, and HP all went in the trash after they got replaced. My point here is: Build quality matters more than price. HP: Spend $800, use 2 years, throw away == $400 per year Apple/MS: Spend $2,000, use 4 years, sell for $500 == $400 per year Wouldn't you rather have the best possible device for the same price?

Like with an 1800 dollar HP Elitebook. I have a 5 year HP Elitebook laptop and it keeps running and running. Now Windows 10. Frankly I want it to brake down so I have an excuse to get a new Dell XPS15. At least the HP Elitebook has a lot better screen then the MBA ;) Frankly Apples started failing after 3-4 years of business use and the business Dell and HP's laptops keep running and running. But I get your point ;)

Seriously, nobody is going to replace the thermal paste inside their laptop, unless they're a major unemployed nerd living in their mother's basement and they do it just because they can. By the time the thermal paste needs to be replaced, it's time to buy a new laptop.

Sure... try working almost 24/7 on CAD / 3D and doing a lot of renderings. The thermal paste it´s gonna burn like some fanboys here.

I never mentioned thermal paste, but, having owned many alienware and msi gaming rigs, being able to get in and repaste is a must. But also, just being able to change drives and clean a fan or two - I don't know what you do for a living but saying they're is no need is just wrong. You may not have a need, fine, but others do. Which is why the majority of devices sold all have access, whether to Enterprise or consumers. Of course, the sp lime is very nice, but it would only be bettered by access to the ssd and internals.

Negative votes because you're comparing a laptop to a hybrid. Did you really expect to be able to open 7.7mm casing easily with assemblies sandwiched like 4 times? It has nothing to do with fanboyism or hate, just your lack of engineering understanding.

Damned if that hinge isn't the sexiest thing I've seen in a while

Amazing piece of engineering similar products have used flat hinges or clamps but nothing like the spine of a book.

Can it rotate all the way around like a Lenova Yoga? If not, what's the point of it? Why does it lolk so unique if it just allows the same type of range of motion as traditional laptops? I get that you can undock and flip it around, but why not just do it like the Yoga?

Yes it does roll all the way around by switching the way the tablet docks. There is actually a picture of it above.

So you don't feel the keys when using it flipped.

No, because the keys would be on the back of the device. Genius! :D

Exatly. So if it rotated your fingers are touching the keys on the back. It doesn't affect usibility, but it is less than a "premium" feel.

I currently use a Yoga and it feels weird with the keys on the other side of the device.

Open Computer - 1 - Detach screen portion - Spin screen around 180 degrees - Reattach Screen - Close Computer. You will have a tablet (screen facing Out), like the yoga, but the key will be inside, facinbg the back of teh screen. THe "Fulcrum Hinge" it designed to stretch out making teh keybord/bas taller to better balance the weight of the screen.

Yes! That's what I meant, back off the tablet, so the fingers don't get at it - though it might feel"spongy" as the keys depress against the back of the tablet section..?

Reminds me of the Lenovo ThinkPad Helix, just with better engineering. Posted via the Windows Central App for Android

I think it's a very useful device. I'm not sure it's worth the price-tag when I think I've already seen something similar from Lenovo but it sure is a nice device. I'd rather they had done it in black but that's aesthetical choice. I will not be buying one. The SP3 covers my need for mobile word and work. And for heavier work I rather use a proper PC. And with the price they ask for this I can build a hell of a PC. So, not for me but it's good for laptop lovers.

Yup for 2 grand a custom PC will last hell of a long time to boot and you don't have to worry about battery degradation over time either :P.

Custom PC's do not have this form factor and can not detach into a "clipboard"

Custom PCs are for people who never move or go anywhere. No matter how much I would like one, I could never own one (at least not for the past 20 years and the foreseeable future). So I might as well put that same money into something premium that I can take with me and that serves my purposes without breaking my back.

Yeah the sp3 almost covered most needs of a pro user. One wouldn't buy unless his surface got some hardware issue after few years.

Not for everyone. You could make the same argument against MacBooks but in the end, the experience and the battery life seems worth it to many people (and many students at universities who earn -$20,000/year). This looks like a machine where it is about more than just the sum of its parts. I'll have a hard time justifying this over a Surface Pro 4 too but lets see.

no need to justify one over the other, get both....pre-ordered(SP4 i5/8gb + SB i7/512/16)

Oh you don't even want to hear me talk about MacBooks and specially their price...lol ;P This is, I believe, again, a sort of "flagship" device much like the Surface for what Microsoft would like to see its partners do. Much like the Surface itself of the Microsoft Band. That said though, it's very hard to justify this over an SP4 indeed or over other more powerful and feature complete laptops. Microsoft has some strategy with this laptop...I'm just not really sure what it is.

Well they don't get much more feature complete than Core I, discrete graphics, usb3, 16gb ram, pen, touch, and detachable screen. Granted I'd personally get the top of the line SP4 for the portability.
But there have been folks clamoring for a Surfacebook with a (and I hate this term) "proper" hinge.

Definitely. The strategy here is the same with the Surface lineup in general. It's them telling the OEMs that even with the declining PC sales, Apple is selling products which means there is a market. Either you get it right, or we will start making it ourselves. That's not the first choice so that's why the make a model to push the envelope and give the OEMs ideas. Currently, only Dell has anything worth nothing and maybe Lenovo. Rest of them need help.

when i 1st saw the hinge in the video (live) i was blown away at the design.... then to make the screen a tablet on it's own BLEW MY FRAGILE MIND! went into work wanting to throw all the macs away to justify getting surface books!!!

Seems like a sweet device, but that gap is weird and the price is kind of insane.

Yeah, they're not talking up the thickness are they? The hinge looks modern and effective, but it's not super space efficient. It's a very premium product (based on the standard MS Surface build quality, as a very premium price. Interesting that they could put the GPU in a different, detachable portion of the device. Undocking changes the display driver. There are some challenges there that they had to overcome. I don't quite need that level of graphics. Maybe the Surface Pro 4 for me. Wish they'd have built in a MSSD access door so I could stick 1 TB into a less expensive unit.

They really played up the power of the device with the attached GPU. Looks like they're targeting high end graphics users. As a daily AutoCAD and Revit user, this thing could easily do my work. And as for size, even with the hinge, that thing is WAY thinner than my last desktop class laptop. It's also priced right for that segment. Laptops that can run engineering/CAD programs successfully are easily $1,800-$2,200. And they are heavy bricks not suitable for the travelling worker. I'm in love. Too bad I won't see one in my office for another three years since we just upgraded.

Agreed, my work laptop was over £3000, that's what like $4500 ish, and the Surface Book blows it out of the water in every single way. My work desktop was around £5000 and packs a bit more punch, however, I could easily replace both with the Surface Book and a Dock and probably be a bit more productive (constantly having to push changes to git during the day while I switch from desktop to laptop and back for various demos and meetings) despite the loss in pure power the desktop gives.

I thnik that the size is then high is a functional part of the design. If you noticed it was called the "fulcrum hinge." As the computer is opened, the hinge flattens out, effectivly making the keyboard/base taller. This helps prevent the whole thing from tipping backwards. The screen portion is heavier that a laptop because it has a bettery, the CPU and Memory. When opened past 90 degrees the weight of the screen tends to make the laptop tip backward. This backward force is countered by the weight the keyboard/base. The pivot point is a the back of the flattened hinge.The Heavy (battery) compomnnents of the base/keyboard will be under the wrist rest, away from the hinge to provide stability. The further back the hinge, the longer the base (lever) and the more stable the computer. Electrical wires of some sort needs to pass thru the hinge to the connectors bens and flex each time teh computer opens or closes. The hinge radius mazy provide strain relief for these wires. "Give me a lever long enough and fulcrum on which to place it, and I shall move the world." Archimedes

The discrete graphics in the base and CPU behind the glass is not to much different than laptops that have had switchable graphics in the past. About the thickness, at its thickest, it's only 5mm (.2 in) thicker than a MBP (that same 5mm thinner at it's thinnest point). So even with the "gap" it's still rather svelte.

I just like how on a normal laptop having the screen and keyboard close without a gap provides the whole unit more protection. I know Microsoft designed the Surface Book the way they did for a reason, but I'd prefer it fold flat. Oh, well...I don't want to spend that much on a laptop anyway so I suppose it doesn't really matter for me in any case.

At first I was also like, that's a weird gap, but I think it makes for an interesting design that also actually looks like a book. My only concern would be, what happens in a bag if you put some pressure on the hinge part?

The Surface Book is super lust worthy!

Do you think there's room in the gap to store the pen? Why did they seemingly remove the side buttons from the pen?

i thought i saw 1TB storage, woulnt that be the top? if the 512GB is at 2700 how much for the 1TB storage?

Ditto, I have the same question.

I thought we had missed something when Panos said "Look a bit closer this time", and when I saw it, I was like "WHAT?!?!?!" I was just speechless. Lets hope someday I get a lottery win and get BIG CASH and get this, the Lumia 950 XL, the Microsoft Display Dock (with keyboard and mouse), Microsoft Band 2 and 'eventually' HoloLens. I ain't getting the Developer Edition for 3 reasons. 1: I'm not a developer. 2: Its only available in the US and Canada. 3: I don't have the money for it!

Magical and game changing

I was surprised and impressed with the demo of the Surface book. Can't wait to get my hands on one. The product looks very productive in getting the job done and sexy.

Fully specced SP4 with 256gb SSD, i5 and 16gb RAM, same price as base model Surface Book, is it all worth it?

but you still need to buy the type cover.

Honestly, the Surface Book looks badass, but so does the Surface Pro 4, and at those specs and price, I'd get the Surface Pro 4 instead. I think...that's tough.

I literally teared up for a minute during the presentation, and was in "must buy" mode shortly after it, until I went to the Store and seen the price. Charging 400$ for 8GB worth of RAM upgrades, or 2$ per GB of SSD storage, or 500$ for a discrete GPU, is hard to swallow. Design nailed it on this device, marketing determing the price point, FAILED.

I think it is deliberately priced this way. MS really doesn't want to compete head on with OEMs, it's really to keep the hype and interest in the windows ecosystem burning. Only the most hard-core users and fans will get this machine which is okay. Although I'm a big fan myself, I'll have to go homeless to get one lol! In the meantime, I'm looking for deals on the SP3 now...

This is exactly right. Just as Apple doesn't compete on price, Microsoft with these reference designs isn't competing on price. Microsoft is happy to leave that part of the market to all the OEMs that are willing to sell their machines for a $5 profit.

It's fantastic that they made the Surface Pro 4 accessories compatible with the Surface Pro 3.

I would seriously look into the SP3 now that SB and SP4 are out! My SP3 feels just as awesome today as it felt last year! And it just keeps turning heads wherever I go (with people totally confounded at how there's a Core i5, 8GB RAM and 256GB SSD inside something nearly as small as an iPad).

Its priced in the range of the macbook pro. Foe the equivalent price of the top macbook pro you can get a surfacebook which is far superior.

Yes I teared up during the presentation and then I teared up again and fainted when I saw the price :( Microsoft why are you trying to pull an Apple and starting to rip people off :(

I know, at $2500 for the best Surface Book and $3000 for my HoloLens dev kit, then another $650 or whatnot for the Lumia 950 XL, I'm going to have to sell our car. Totally worth it, though.

It's not ripping people off. It's targeted at a certain demographic. The elite demographic. If it's not expensive, the elites won't want it, because it won't be elitist.

that's in a typical range for these upgrades - it was the same with Vaio Duo 13 (that's been in similar category at the time ~2,000 left or right) - and e.g. the new Vaio (again the only thing that compares to this really) is going atop of 3,000 - for what seems not as good as this (definitely) to me.
This is high class - pricing is according - 1TB is still pricey so that is an ok jump - 16GB shouldn't be - but not sure what's involved inside really, they may have some things to worry about (it may not be just a clean swap). And btw. the 2699 is "out of stock" :)) I laughed when I saw that one - probably not available yet

3 years ago I paid a similar price for a top of the line dell latitude ultrabook. Its still a top of the line machine today. This surface book is an evolutionary step, so the price is in line in my opinion. Keep in mind that it will be a high performance system for at least 5 years.

Ahh $1899 for Surface Book (i5) + the discrete GPU hmm... looks like I'm going to wait until I see more comparable Laptops from the other OEMs along with reviews. There is no way I'm dropping nearly 2 grand without looking at comparables first. Don't get me wrong It's an amazing device however at that price need to do more research first before I make my mind up lol.

I love the Surface Book too. But seeing how better the Surface Pro got over the years, (and the fact that I bought a Dell XPS 13 a few months ago) I will probably get a Surface Book 3 in 2018 :P

I'm fascinated with this device. I was waiting for the "14 inch" surface to be announced and then this arrived. I was initially disappointed till the device was separated...then I was excited! Now I have a big question though....what are the specs without the keyboard attached? From the video it seems the discrete GPU is in the keyboard section. What else is there and what is in the tablet portion? I'm curious as to whether this will function as well as a Surface Pro when undocked in terms of performance, battery, CPU, etc. The term "digital clipboard" is making me nervous....can you still run full W10 on it in undocked mode and to what extent? Daniel, do you have any answers to that? No-one has said yet...

I think just the GPU. Maybe an extra battery.

It will function just as well as the SP4 when undocked except for battery life, and no kickstand.

Current press reports say that when you remove the keyboard you lose the GPU and about 2/3rds of the batteries but no loss in performance if you aren't using GPU enabled applications. So, when you're undocked you get: Same Operating System Same CPU Same RAM Same storage Same pen and touch support Less battery No ports No GPU No keyboard No trackpad

I was so expected after the demo and determined to make the Surface Book my next desktop/laptop/tablet. That was changed when I saw how much it cost. 1500 for a i5 8GB/128GB. The 16gb version (with 512ssd), which is what I want cost 2700. :( Guess i will wait a little. Too rich for what I will be doing with it. I don't play game game or do any 3d rendering, so GPU means very little to me

I'm all in for the top end model :-). Can't wait.

I wanted the SP4 but it makes more sense getting this to me...love it!

Timing couldn't have been better. My new boss told me yesterday that I can pick a new laptop. Didn't care which one as long as it is really powerful and I am not in his ears for an upgrade a year from now. Order placed.

Jesus, leo, I envy your job, whatever it is.

Leo, what job do you do again? Do you need a colleague or something? I will be just glad to sit beside you.

What configuration did you go with?

Why no USB Type-C? I need it to be future proof!!!

This is what has let me down. I was all set to buy, but I'm having some second thoughts... I really want the latest USB spec on there. Why would they give the phones USB-C and not the Surfaces?

Ppl don't usually plug USB peripheral on phone, e.g thumb drive, keyboard, mouse, etc.. but ppl needs to do that for laptop, and most peripherals are still on USB 2 or 3.. I don't want to bring converter everywhere I go.. so USB 3.0 still make sense for few more years to go.. Posted via the Windows Central App for Android

The benefits of USB-c are mostly captured in the Surface connector for fast charge and expanding video, storage, networking using the dock. Tell me one compelling thing that you need USB-c for as a dedicated connector that is more important than USB 3.0 standard connector?

I would like it 50% less powerful, but 20% lighter.

Then get a Surface Pro 3 or 4. lol Not even 50% less powerful and they are 20% lighter... and cost less.

This was the most compelling product announced to day. I would definitely sell a kidney for one.

That was what I wanted Microsoft to do. Why doesn't MS do the same with the Lumia phones? Or why don't they make Surface Phone?

Only surlyface phones for now :P

The whole "acquire-Nokia-integrate-it" thing has set Microsoft back a lot. These devices are created by the Surface division. With most of the Lumia jobs cut and Panos Panay (the Surface head since Day Zero) as the head of the Hardware division including Lumias, i'm going to think the next Lumias will *finally* be what we have been looking forward to. Surface phones. (Which would make so much sense, given Continuum, and the Surface promise of redefining device categories and "doing more")

Microsoft does it yet again! Posted via the Windows Central App for Android

Shut up and take my money..... euhmmm... okay and an extra mortgage

Don't like that space that it leaves when closed. Looks weird but beautiful beautiful device :D. I'm definitely getting it Posted via the Windows Central App for Android

Detachable AND Foldable??? I Predicted the 3-in-1!!!!!!

Shut up and take my liver T_T

Must have already sold one of your kidneys for a different device eh?

I was sensing something exciting is about to come when Panos said to watch the video second time and more closely and then after a pause Magic happened and it turned into a tablet.

Stunning. Impeccable design. Now to save some money. I will buy this laptop.

The product is a perfect compliment to the surface lineup and should satisfy those who find Surface lapability to be a concern. Would it be necessary if a OEM offered a 13" 2-in-1 that leveraged the nTrig stylus and docking solution ... likely not. But Microsoft was correct to offer this option. If I had a critical comment about it .. I think they could have offered at least a minimalistic kickstand, on tablet side, for those situations where you don't have the keyboard tethered. Its probably the main reason I'm sticking with Surface Pro 4 and the significant improvements made to Type Cover keyboard and touchpad.

As Panos spoke about the SB I argued with myself about which to get: SB or SP4. But when he said look at the video again and to look at the details - and the tablet "popped" off - I found my checkbook literally $2699 poorer ($2900 and change because of taxes). But I am richer by an i7, 256 and 16 on the 26th. Oh, and a pencil with an eraser. Computer perfection personified.

How will that hinge hold up when shoved in a bag and pressure applied, will the air gap weaken this over time?...soo many questions, I guess the answers will come in due course.

mind=blown! -how long does the tablet itself last? -why is it so much more expensive than the SP4 tho? (take the i7, 8GB model for exacmple which is $2100, the same spec'ed SP4 is $1600 + $130 for the keyboard. )

It has a dedicated GPU, more battery, better keyboard, etc. Of course that doesn't justify the ~$400 difference, but actual device logistics and the experience will be very different.

They have to recoup those R&D dollars some how. This won't be a high volume device, they have to amortize R&D over fewer units.

I prefer the smaller Surface Pro personally, but I love that they did this. OEMs have pretty much ceded the high end laptop market to Apple and dont even try to compete there. This is the kick in the pants the sector needs.

Does the Windows logo light up??

Still trying to figure out what the capabilities are of the screen when detached. It was referred to repeatedly as a "clipboard" rather than a tablet. What exactly can it do when detached? I understand you lose the ports, keyboard, and additional GPU, but what's left inside just the screen? I'd love some more details there, though I doubt that this is the device for me. The capabilities are quite intriguing, though. This is the sort of thing my engineering father would appreciate.

It should be basically a SP as a tablet. Albeit with a smaller battery. How much smaller is the burning question.

Oh no, now MS fanboys will start buying the most expensive one just like the Apple crowd with Macbooks. Sarcasm aside, this device is definitely a fashion statement AND a supercool laptop/tablet all in one.

It's not just a fashion statement, It's also an extremely powerful device for those that need the performance.

13.5 inch screen with 3.2 ratio will be similar or better in total screen size compared to usual 14 inch 16:9 laptops, thinking of getting the i5, 8GB, 256GB SSD but don't want to spend more than $1500, can wait for some usual price drops after few months to snag one OR go with Dell XPS 15 infinity base model at the same price, good dilemma to have..

The Surface Book does NOT come with up to 1TB in storage... the Surface Pro 4 does. However, 512GB on the Surface Book is good enough for me... it's definitely the option I'm going with. I may get the SP4 next year to have something a bit more mobile as well.

Wrong the SB is also available with 1TB.

Surface Book DOES come with 1TB of SSD storage, why not check the Surface website before contradicting correct information given here: http://www.microsoft.com/surface/en-us/devices/surface-book#techspec-block

It is perfect!!!! I really went like crazy when Panos Panay showed that it was a tablet!!!

A billet, portable PC is a thing of beauty. Folded up it's reminiscent of a knock-off trapper keeper with curved spine I had as a kid. It's gorgeous.

Why that name. Ugh, at least it seems decent. I also think they need to go away from the apple color as well. If not black then do a gun metal like color. Imho.

Already preordered my 512 i7! Just wish the 1tb was already available.

The i7 option is the one for me

Apple already proove that if the quality of product is excelent.. The price doesn't matter, People will buy it. So i'm not afraid that people will not buying this.. It will depends on its performance and quality.

I want to know the processor... Dual? Quad core? The new Skylake chips can be very heat efficient even in quad core guise. Wondering which processor MS used here. Also, the GPU.

There's a huge issue here for me... Make no mistake, I'm not trying to rain on Microsoft's parade or anything. I'm indeed a card-carrying MSFanboy! I too was trying my hardest to push money through my monitor when they announced this Surface Book heh. But after thinking about it, there seems to have been a fundamental lapse in judgement when desiging this dream machine.. When they first lifted that screen from the base, like so many others, my mind went BOOWM! Yet at the same time I was wondering what type of technology was this? Was this messentially Wireless Display tech, like the Nintendo Wii U: all of the processing occurs in the base, and the image is wirelessly projected to the display forcing you to keep it near the base? That didn't seem too great. But as I understand it now, it IS a fully usable tablet with processer and silicon built in. Only the GPU is in the base. That's totally amazing right?? Well hang on.. (and here, finally, is my rant) If the detachable display is a fully-functioning tablet that get's it's GPU chops from the base, well then.. WHY Could't The Tablet Just Be a Full-On SURFACE PRO 4??? Think about it.. The display is basically a presumably port-less, stand-less Surface-in-name-only tabblet (which curiously they refer to as a 'Clipboard').. And if all you need to do is simply attach it to the base in order to give it a massive GPU boost, wouldn't it have been more consumer-friendly if they simply made the base a high-end accessory for the SP4? Seriously, think about this! You buy an awesome SP4 with all of its sweet features. Then down the road, you want to get some extreme gaming or GPU-heavy work in. So you buy the $450 base that gives you GPU, a better keyboard, more ports and a genuine laptop form factor! This way the SP4 remains the king of the hill and not just an incrementa' (yet substantial) upgrade from SP3, and has the potential to completely wipe the floor with the Macbook (well, more so). I would have loved this. But I'll admit coming to this realization may be a result of my lack of understanding of what the technology is being employed here.. Thoughts?

I agree, and I had a similar reaction after a bit. I think part of it is attacking the devices with different mindsets: Surface Pro: A powerful tablet than can function as a laptop when you need to type a paper. Surface Book: A powerful laptop that can function as a tablet when you need some portability, like the example of passing it around the room. The Pro is a batter work tablet, but the Book is a better work laptop. Your use case skew will affect which fits you more (and your willingness to throw $1,800 for the discrete GPU). There is also something to consider--the keyboard. If they DID want to make the SP4 as the tablet with this, then the keyboard would have needed to be narrowed to fit it (or they'd need to build a weird frame into the hinge to help stabilize the tablet with the wider keyboard). This might have meant a cramped keyboard (a reality with a Type Cover, IMO), and it might have meant not enough room for the discrete GPU. Maybe they then could have still gone with a 13.5" Surface Pro 4 option and made THAT the heart of this new docking system, but then I think they worry about confusing peoiple with products that are too similar and have the same name. Imagine if you get the 12.3" SP4, then you see the laptop dock sold separately. So, you ask the Best Buy employee about it, and find out you bought the WRONG SURFACE for the dock. Now you're mad at Microsoft for confusing you into the wrong tablet. OK, so the solution is to only sell the 13.5" tablet and the new dock together, as a single unit. No confusion. Well, you're now just sitting on the Surface Book, but with a thicker tablet, I guess. So you take out the USB 3.0 port, since the included laptop dock has 2 ports anway. Now you're at the Surface Book. Lengthy answer, but I really think it was about getting the tablet as thin as possible (proving Panos Panay right when he said the SP4's thickness only exists to house the USB 3.0 port), and making sure that people didn't confuse the SP4 and this dock as compatible. Maybe there was a way to make the dock work with both. Maybe the SP5 will pull it off. I just think there's SOME level of rational thought to explain why this is how it is, but I DO think it's overpriced at $1,500 without a discrete GPU.

Mostly agreed but I think its all about the hinge and the existing surface pro's and their accessories etc. It gets annoying when every new device upgrade comes with new and incompatible accessories. The really did well to make the new type cover work with the SP3. Keeping SP4 and Surface Book separate is a smart move, I do think they could have made it the Surface XL or Surface Pro XL though, to keep some of the marketing consistent plus the fact that a silver laptop called Surface Book just sounds like a clone.

I'm usually not a fan of that complaint. I don't want future technology hindered by past technology. For example, if we stuck with micro-USB on these phones, rather than murdering our past connector use with Type-C, we couldn't get Continuum or Fast Charge. Also, I THINK that the new Surface Pen works on the Surface Pro 3, as does the new dock. We've got a good set of backwards-compatible hardware. I do agree that the "Book" name sounds like a clone, but I can't say I'd make up a better name. I'd hate the XL names because "Surface XL," doesn't fit in with the fact that the Surface 3 runs on an Atom chip (of course, they didn't mind that when they went from ARM to x86 from the S2 to the S3). I also don't like making names too wordy. "Surface Pro XL," makes it sound like there's a non-XL Surface Pro to still be had as well. None of the other split-up names for what it is ("lap," "top," or "note") goes well either. I think htey were kind of backed into a corner on the name, and being called a copycat of a beloved laptop, rather than obscuring the device in an awkward name.

I find myself very much agreeing with you.

wrong... the seperate nVidia graphic chip is in the keyboard part.. when you seperate the two it switches to intel graphic, that is a part of i5/i7 processor that is in the display part, and uses less power. :)

Microsoft 's video and website clearly state an option is for 1 tb. Where is it? When?

Oh man.... 4gb RAM on the low end SP4. ooof

Fantastic! The one consistent thing I didn't like about previous Surface keyboards didn't change though...I hate the tiny up and down arrow cursor keys! I wish they made it normal sized.

OH, wow, that's lame. You don't get the GPU at the base price? It's not even worth $1,500 without that, IMO. That makes it start at $1,800 to me, and that's well beyond where I consider a laptop worth my time. Since I have a desktop I mostly use, anything else is a secondary device, and $1,800 for a spare PC is just too rich for my blood. Its design looks awesome (though I still don't like the light-colored magnesium the Surface devices carry; wish we had the dark metal of the SP2 as an option), and the hinge is really neat looking. The power potential with the added GPU is killer, but $1,500 without it baffles me when it's ultimately just a SP4 and a special dock without it. Without the GPU, I'd expect this to be more in the $1,200 range.

This was both the thing I was most looking forward to, and the thing I was most disappointed by. Sorry, I am not won over like the rest of you. I am actually less critical of the phones, which could be a mm thinner, but overall, are exactly where they should be hardware and price wise. As long as the mobile OS delivers, they get a thumbs up from me. The aftermarket case-backs are a stylish bonus. The Surface Pro 4 is also a fine product that leads and defines the class, like the SP3 before it. The separate keys on the new chicklet keyboard, and the new mag-stylus are further bonuses. As an artist, I have been waiting for a 15" version of the Surface Pro, since gen 2. I'd even go for a 17" version, but I won't get greedy, as that would likely be a niche market. So I was hoping for 15", maybe 15.3" or so if we got lucky, but was happy even to see 14". Now it turns out to be even less, at 13.5"--and it's not really a Surface in the same sense as the Pro. It lacks a kickstand for tablet mode, so you must rely on the rather bulky (thicker than the tablet section!) keyboard base as a stand. This would be okay, if it could fold into a compact form factor, but the complex hinge leaves the folded result nearly a full inch thick. You might say, "Yes, but unlike the other Surface models, the base allows for a dedicated GPU for gaming-class processing power, hence the $400 premium over SP4." Except that you don't get the dedicated GPU until you option up to the 256GB/i5/8GB RAM model, which starts at $1899. All models cheaper than this only get extra battery life from the large base. I don't really see these becoming popular with the masses. The premium price is undermined by a form factor that's decidedly chunky compared to any laptop when folded, and despite all the advanced engineering, the accordion hinge looks to me like something from an '80s child's learning toy. Given the choice, I think most people will forfeit the touch screen and tablet capabilities for the slick, razor-edge MacBook Pro. The Surface Book seems more targeted towards enterprise environments, such as the showroom floor, where salesmen can use it as a full computer at their desk, then yank off the screen to showcase the product to the customer sitting across from them. For that scenario, it will do well, but that seems more niche to me than a large Surface Pro for the many artists of the world. Perhaps I will simply have to wait for the SP to gradually grow to those dimensions.

Decidedly chunky at 5mm thicker than a MBP. That's rich.

That's nearly 27% thicker! That can make a huge difference if tucking it into a bag or seatback pocket. If it weren't for that air gap (a limitation of the hinge) it would likely be as thin, or thinner than the MBP.

Just like you, I am observing the Surface Pros devlopment for their potential as an artist/designer's main medium. I agree that this needs to get to 15 in and beyond for that to work. I also agree this needs a kickstand to accomodate the spine-killing hunched over angle most artists and designers work on. On that last part though, I think the Surface Book can still accomodate as the tablet can be attached to the base in reverse kind of like presentation mode in most 2-in-1s then pushed back. Based on how stiff the accordion hinge is in Daniel's video, I seriously hope it would be strong enough to support the weight of pen and hand bearing down against the screen without the tablet portion closing down against the keyboard base. Here's hoping Microsoft also overengineered that hinge similar to the SP4's kickstand.

I wish there was an option for the i7 with the 1TB HD. Im sure that'll push the price over 3K, but I'd still buy it!

I noticed the joint between the hinge and the screen the first time they showed the video, i also noticed the camera on the top corner back of the screen, which made me wonder a bit, but I kinda dismissed it until he said this time look more closely. Then it hit me.

Amazing Sur Facebook but $2699USD...come the hell on. That in Canadian dollars is insane for a hybrid laptop...$3550 to be insanely exact.

When he copied 3gbs of gameplay and everyone was like ":o oooooooooooooooooo"

I think it's great. I want one. However, Windows Central needs to correct the article. It is NOT a 4K display. 4K displays have 3,840x2160 resolution. I think they said this has 6 million pixels. 4K displays have over 8 million.

just played with a book and SP4 in a microsoft store, i must say the book is super nice, the tablet is so thin and light,, ends up being around 3.5 pounds with keyboard. super impressive and probably gunna get one myself

The 6K display looks incredible, can't wait to check it out at the MS Store

Man, the Surface Book looks awesome. I plan on purchasing one for my birthday.

Daniel, we love you, and we tank you very much for bringing us the latest Info about King MS. However, PLEASE stop comparing MS's REAL prods with CrApple Overrated toys. This Surface Book is 100000000000000000000000000000000000000000000000000000000x more superior than MacCrap book wannabe PC. its not even close. The hardware on MacCrap Book is the same as a cheap 8 inch tablet WITHOUT a touchscreen, inside a laptop. with no other ports than 1. I mean really. Dell Venue 8 is 10000x better than MacCrap Book. Need i say more???????? Is like having a Ferrari right infornt of you, and while you are touching it, keep saying, """well Geo Metro is like that, and Geo Metro has similar ........."""". This thing is in its own class with NOTHING like it. That special hinge, makes it easier to Carry in your hand, think about it. your hand curves when you bend it, right???????? Ok then. There is your answer. Thank you sir.

I like that fulcrum hinge thing.

waiting for your full hand-on review....

When the max price drops to the min price i will buy one.

Love it! Pre-ordered mine from Best Buy and used my 10% off coupon they sent me a month ago. Got the i5/256GB/dGPU/8GB RAM for $1709! Now selling my Asus Taichi.

Upon seeing the picture of the tablet portion on a stand above its keyboard, can the keyboard portion act as a bluetooth input in case you want the screen just higher up?

I guess the only disappointment I have about this is the lack of USB-C or Thunderbolt 3. Is there any reason MS didn't choose that?

Common questions about the Surface Book (without answers): How capable is the "tablet" part without the "keyboard" attachment? Does the keyboard attachment only include the new GPU and batteries, or have other tablet internals been moved inside the keyboard? I.e., when you detach the keyboard, are you basically left with a thinner Surface Pro 4 missing a kickstand and with less battery life? Is it correct that the USB ports have been moved to the "keyboard" part while the power and volume buttons remain on the "tablet" part? When the keyboard is detached (e.g. for comfortably reading e-books), can the "tablet" portion be plugged-in and supplied power? Is there still a microSD port or only the full-size SD port? Currently the Surface Pro 3 has 2 pen buttons. In the new pen, one of these (the eraser button) has been moved to the top of the pen. The other one (the right-click button) is not visible on the new pen. Where has it gone? Does the new pen attach magnetically *only* to the left side of the device, or does the right side also hold it? Are models with 1TB SSD, LTE or USB-C options coming?

This thing is sweet, no doubt. But it doesn't really have anything my ThinkPad helix doesn't have, and its 2.5 years old... Granted, newer Gen processor etc, but for the most part, the same features. It does fill a couple gaps, like being slightly larger for working on all day ( helix is a little small) and the option for discrete graphics.

Hope they would have a 15 inch version of it, just a touchscreen but not convertible and detachable because I love 15 inch laptop.

A 15 incher with the infinite kickstand and the pen is an artist's/designer's dream...MY DREAM. I wish I was part of the development team for this. I would kill to feel the kind of excitement it's creators must have felt bringing this from concept to reality.

One beautifully unique device which has me drooling.

their is no 1TB model as mention only 512gb HD

It's ... well, perfect! Considering that I'm constantly eyeballing portable machines that can sustain my web development work, this one comes like a Lambo overtaking you on your way to get the new Fiesta.

All these videos and pictures and yet no one can tell me what ports this thing has without the keyboard.

one of best product ever from MS

Just love this device. And it is oddly gorgeous. And powerful. Perfection.

In australia, cheapest is $2300, top end one is $4200. Ripped off yet again down under :(

What I do not like is that you have to use two hands to open the laptop.

Beautiful device but damn expensive especially in Canada Posted via the Windows Central App for Android

Damn you Microsoft, I was almost ready to buy a base Surface Pro 3 when they when on sale after the Pro 4 announcement and you had to debut this beautiful machine. The Surface Book is just about almost perfect for what I wanted, something portable yet powerful, something that's light enough to travel with but will perform well under load. And its still got pen support for the few times I feel like drawing. But at NZ$2300, that's some serious coin that I'm not sure I'm ready to spend

Why isn't the Surface Pro and Surface Book the same device with two different keyboards? With the laptop keyboard also having the extra gpu. Seems unnecessary to have two such similar devices. Or more importantly very expensive. =)

Some people are simply looking for the best laptop with a larger screen than the SP4. This hits a sweet spot of screen sizes where the demand is.

Some people simply don't want a tablet that can replace their laptop. The notion perhaps being that it isn't powerful enough. Or perhaps they like the solid base of a laptop/keyboard. Either way, this provides a marginally larger form factor with added power when it is in laptop mode. It is a even more "functional" laptop that can go tablet (at the expense of losing ports while in tablet "mode"). It is a strange delineation, no doubt, but makes sense.

This was easily the biggest wow moment of the presentation. We were trained to expect a 14" and when we saw a "book" were like..."oh, damn." Then when it detached to become a thin Surface, it was like "oh, dayum." It shouldn't have been a surprise as the screen portion looks exactly like a Surface Pro except for the base. Still, he was moving it and holding it all which ways and so that added to the surprise. The hinge, the locking mechanism, the sex appeal, the profile, everything was a surprise. Microsoft is definitely innovating and it's an exciting time to be a fan of their stuff. Though it wasn't engineered to be a gaming rig, they did show some stuff and explained that it should be able to handle some gaming... I wonder how it would play games like Elder Scrolls Online and Guildwars 2, etc at native screen resolution. Putting GPU in a separate base opens up some interesting opportunities for the industry. It is a similar concept to the Dell Alienware Graphics Amplifier for their laptops and the new water cooling dock for ASUS gaming laptops - except significantly more mobile. I don't need this. I own an Alienware 18 and a Surface Pro 3. But, I think I'd be willing to part with my awesome SP3 for this device.

Great products! Viva Microsoft! Now you're talking! I know it's too late now, but I would suggest a different name for the Surface Book, which would be 'Bookface', Facebook from right to left, and Surface with the prefix 'Sur' replaced! And it could be pronounced /ˈbʊkfɪs/, just like in /ˈsɜːfɪs/!

I read enough comments from many tech web sites to know that a lot of People wanted the Surface Pro to have a larger screen and a stiffer conventional keyboard dock to use it in laptop mode. The Surface Book gives these People what they wanted. On the webs Twittv Website Windows weekly show Mr Thurrott pointed out he got info that the Preorders of the Surfacebook are very very high. I always felt that the Surface 3 needed a standard stiff keyboard dock as a accessory to turn it into a more stable Laptop Hybrid. The fast success of the Surface Book proves to me I was RIGHT. Microsoft now has to make a make a simular device for the Surface 3 and 4 Tablets they sell. Hmm what about the Atom CPU Surface 3' upgrade device will there be any made ?

Microsoft needs to make a stiff conventinal keyboard dont like the Surface Book has for it's Surface 3 and 4 tablets People haveanted one for the Surface 2 and 3 for some time now. the huge proorder sales of the Surface Book prove how much People want a more stable base for the Surface Tablets.

Finally, a replacement for my Nokia 2520. My Nokia is going strong, but I am on my 3rd keyboard.

That hinge.... Will it stand up to being flattened? Like if I put the computer in my bag sandwiched between some books and files, or if I put it on my desktop with screen closed and put something on top of it.

I hope MS follows this up quickly with a 15.xx inch model. Don't make us wait another year. Strike while the iron is hot. I would sell my kidneys for one if I have to.

I'm super bummed this does not have a kickstand. It's been said already, but until you get to the pricier option with the GPU, the keyboard offers nothing over a SP4 beyond battery life. I'm excited that they did this, but for me I'll probably stick with a SP4. Even if I could justify the cost of a model with GPU, I'd still want a kickstand for when I want to use it as a tablet.
Windows Central Newsletter
Thank you for signing up to Windows Central. You will receive a verification email shortly.
There was a problem. Please refresh the page and try again.