Hands-on with Windows 10 build 16215's new features (video)
Microsoft's latest Insider Preview build includes a bunch of new and noteworthy changes. Here's a quick video walk through showcasing them all!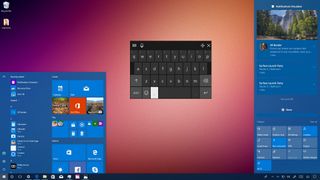 Last weeks Windows 10 Insider Preview build came packing a whole bunch of new features and enhancements, so we put together a super quick video walk through showcasing all the newest noteworthy features Insiders are now testing in the Fast ring.
Build 16215 for PC includes new UI changes to Start and Action Center, updates to the Settings app, improvements to Microsoft Edge, a new virtual keyboard with shape writing, and a whole lot more!
We're expecting Microsoft to be adding even more UI changes and features over the coming Insider Preview builds, as we're not over half way through development. This means the bulk of what we're expecting to be in the Fall Creators Update should be getting checked in internally at this point, so it shouldn't be long before Insiders are able to test more features.
Finally, build 16215 has several known issues, some of which have been affecting users negatively. Make sure you check the known issues list before you decide to upgrade to this build. Or, you could just watch our video and not have to risk the known issues list yourself.
Let us know below if we missed anything, and we'll make sure to include it in our next build video walk through.
Get the Windows Central Newsletter
All the latest news, reviews, and guides for Windows and Xbox diehards.
Zac Bowden is a Senior Editor at Windows Central. Bringing you exclusive coverage into the world of Windows on PCs, tablets, phones, and more. Also an avid collector of rare Microsoft prototype devices! Keep in touch on Twitter: @zacbowden.
Very nice indeed!. Fantaaasic video, Zac! 😁😁😁
.
An issue probably? I can't shape write (word flow) even in the small keyboard and the universal emoji picker doesn't pop up. Is it EN-US only at the moment?

I think we went full Microsoft with this build

There's another good improvement. In settings - networks is it possibile to set IP Settings with a new interface. Much better than the old control panel

The arrows on the keyboard, next to the X button, what is it for?

ok. i was wondering if it was that small dot we have on mobile. I actually think it makes more sense up there than between keys.

No, it doesn't have the small dot we have on mobile (I actually kinda missed it). The symbol you refer to is a little square with four arrows (pointing outside), it is to move the (whole) keyboard to any position in the screen. It can automatically take the center or the corners... or whatever position you leave it on.

Hey there. Today I noticed something when I rented a movie from the window store. When I paid for the movie the window that has my credit card information goes with the dark theme. Previously it was white even though my system settings are dark theme. It's been a while since I rented a movie so I'm not aware if this has been around for a while or not.

I purchased a movie recently and it was still a white screen if I recall correctly.

How do I get my wifi back, it's missing in this build

hey there. according to the windows blog ( https://blogs.windows.com/windowsexperience/2017/06/08/announcing-window... ) Wi-Fi will get turned off on certain devices like the Surface Pro 1 and Surface Pro 2 and some USB devices and won't work due to a driver issue. To get Wi-Fi working again, you will have to roll-back to the previous build.

Down load it, along with some RAM.

dedidated WAM. its a meme

Its a nice build but having no end of problems with Edge, but thats what we signed up for...

Does the full screen mode on Edge work with the F11 keyboard shortcut?

It does, its the only way to rectify the blurry text bug.

I also noticed a lock icon before the URL in the address bar on Edge. Does this mean we can finally grab the URL and drag it onto the favourites bar?

Doesn't seem so. Unless user error. ;)

The green lock icon? That's a sign that you are accessing the website in a secure way using HTTPS protocol

Ya, I know what the green lock icon means, but the current version of Edge is different. It shows a grey lock icon when the field is not in focus, but no protocol. And then when you put focus on the address field it shows no lock icon, but then it does show the protocol. I guess they've just changed the look of it, but I was hoping that they'd finally implemented drag and drop from the address bar cause it looks a more similar to Chrome now.

My Surface pen is not working correctly in this build. Think I must roll back.

What the hell is MS thinking with that small KB? Why isn't shape writing working on the big keyboard? I was so excited about this and then I see this.

First, this is the king of feedback Microsoft wants you to give on the Feedback Hub app. Second, it's prerelease so they are experiencing. Third, it makes sense that you don't what to drag your finger app the way on the screen. It makes more sense on the small keyboard.

Did you use Shape Writing to write this??

I would love to say this is a great build...but still cannot get it installed. Looks like the problem with Samsung SSDs persists.

The dictation is pretty awful, and the handwriting recognition is slow. Why not just use the same Cortana engine for dictation, and why not have the ability to install the dictation data locally like macOS, which for some reason is way more accurate and an order of a magnitude faster than this (almost as good as a mobile device). Is the dictation like this on Windows Mobile? I haven't used it in a while, but I know both iOS and Android do pretty fast and fluid dictation as you speak. Unless you're a really quick talker, it's practically in real time, and it's very accurate on those systems...

Need the screen resolution adjustment settings for mobile (L950) to save the battery...

Cant get it to Install on my Surface Pro 3 .. After 1st reboot , It does a bios loop 3 times then restores back to Production release..

had this problem on a few build realeses. Seems some of the Asus programs have issues in my case. Just reset pc and update from there. Usually that will work in my experiences.

Can somebody explain to me, wtf the mini keyboard on a laptop/desktop/tablet? Really, why? And how is this a thing?

I wish the option for transparent tiles would be available for tablet.

Great build but now only one of my external monitors will work. Had to roll back.

Be forewarned about this build. I attempted to roll back to a previous build after Displaylink driver would not function on this build. The roll back processed bricked my Surface Pro 4! Now will only boot to UEFI screen (yes, I did try the volume-down power-on to boot from USB).