Hands-on with Windows 10 build 17666 showcasing new features and more
By Zac Bowden last updated
Windows 10 Redstone 5 build 17666 is the first build in a while that comes packing lots of new changes and features. Let's go hands-on!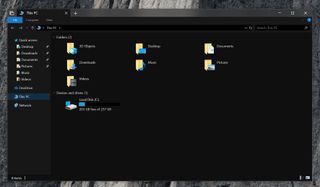 Build 17666 of Windows 10 comes packing lots of new changes and features that are in testing with Insiders in the Fast and Skip Ahead rings right now. In fact, it's one of the more interesting builds we've received in a while, sporting things like Cloud Clipboard, dark mode in File Explorer and more.
As always, we've gone hands on with the new build to showcase all the noteworthy new changes you can find in build 17666, in case you're someone who doesn't want to install pre-release versions of Windows 10 onto your device for testing. The most notable changes in this build are improvements to Windows Sets, which now feature Acrylic, and Cloud Clipboard.
Also new in this build is dark mode for File Explorer, which also applies dark mode to the context menus on the desktop and in the File Explorer too (finally!) There are also UX improvements to Timeline and Windows Search, with Windows Search now offering a more clearer look at your recent Timeline activities.
Make sure you check out the video above and let us know what you think about this new build!
Zac Bowden is a Senior Editor at Windows Central. Bringing you exclusive coverage into the world of Windows 10 on PCs, tablets, phones, and more. Also an avid collector of rare Microsoft prototype devices! Keep in touch on Twitter: @zacbowden.
This was uploaded like 3 days ago on YouTube wtf.. slow news day WC? Now on the topic - let's say this time I decide to believe you and the rumors that we'll actually see a REAL modern UWP File Explorer in CShell/Andromeda in October without bloatware and legacy Win32 unnecessary crap. As I can see on YT there are a lot of people asking the most relevant question in terms of W10 design standpoint - When Microsoft will hire an adequate designer that actually cares about consistency and iconography in particular? I still cannot figure out is it that difficult to create a singular pack of icons for the entire fricking OS, every single chunk of it, no matter how legacy it is? Also when will the start menu be cleaned from the expandable folders - Ease of Access (since all of its functionality is already in Settings (also why do we still have On-Screen Keyboard?!?!?!?)), Windows Accessories, Windows Kits, Windows Administrative Tools (99% of which have the look of Windows 3.1 mixed with 95...) and Windows System? I want every MS defender to open: Maths Input Panel...
Windows Fax and Scan...
XPS Viewer
On-Screen Keyboard
Steps Recorder
Windows PowerShell ISE
anything from Windows Administrative Tools folder... then just stops for a moment and let what you just saw sink in. Also: why do we still have the Recycle Bin as an icon on the desktop and not a system tool shortcut in the Taskbar near the tray for example or next to Cortana????? It's 2018..

It's not about feeling better you lame internet troll. It's about sharing an opinion and hopefully someday someone responsible stumbles across it and finds something relevant. Noob

That's because 80% of people using a pc does not know anything about it and 70% can't tell what's different between win XP and win 10. Guess what? You kill links in start menu, you change file explorer, you remove bin icon... and you make a lot of people angry and complaining about how windows is buggy and useless and whatever

I am mathematician and a computer scientist irl. I work with numbers. I want statistical data for simple questions like: How many people in the entire universe open Manths Input Panel?

u claim to be an ''Mathematician and a computer scientist irl''. yet u use the words like Troll and Noob to someone for no reason and ''wtf''. Noob is a dead giveaway that u ain't all that but more of a daily regular complainer with some computer skills. next time instead of being a d*ck in the comments. actually post a real opinion where others can discuss on. nobody likes an angry Nancy that wraps his hate as an opinion.

I absolutely claim to be ''Mathematician and a computer scientist irl'' and I can and use whatever words I find suitable and appropriate for certain communication channels and audience

You was not in a good mood either, I was like that yesterday (Tuesday), because this stupid OS called Windows decided to restart for now reason when I was working on something.

@reomw: I like to see u build an OS.... aaawwww wait my bad. u cant.....

Yes I can't by my own, but have years of computer engineering and software science education when I have learned how (Masters degree actually)

Everything is so ugly. Everything looks like high contrast theme. I know it's just the beginning, but we all know Microsoft.

They only need to make the background slightly grey instead of a hard black (and maybe the text a bit more grey than pure white). That's what makes you think it's a high-contrast theme. I wonder if there's a registry key you can edit to change that.

I just don't get the obsession with dark mode. I really don't.

I like dark mode on a phone, but can't get into it on my PC.

Same here but you know what they say about colors and taste 😁

Maybe people like to go to the dark side, but we must stop them before it is too late. TBH, i like black, I always wear black and I would not mind a decent dark theme for my computer.

Excellent UI changes. Seems like Redstone 5 will be an eye candy.

Sets may be nice. But, I would really love to see Virtual Desktop persistency. I.e. apps and their windowed lay-out, that would give me a head start on continuing on specific workflows. Please fix your app.
I find your website not fit for browsing your articles.

Finally windows 10 has come up with dark theme for file explorer. Same old icons look however weird in this theme but no worries, I can make my own icons.

I did like the 1 pixel color border very much. Very subtle. With nowerdays high res screens windows design should have more of this in stead of bulky stuff.

Obsessed much? Actually, what I would love when working on dual monitors is that if you open an app on your tool bar on the #2 screen that is opens to the #2 screen. I hate when I'm gaming and want to open say discord or edge that it goes to the #1 screen regardless.

This build is tempting me so bad but I've stayed off the preview builds for half a year now as my Surface Book is my daily driver. Windows 10 Is getting so amazing.

I'm on Skip Ahead on my SP3 (main device) and the builds aren't as rough as let's say a year ago... New features work rough sometimes but overall I find the very stable really...

I updated Windows to 17666 but it doesn't has sets and acrill theme for explorer. Is this feature has some region lock like Cortana?

No, a small amount of people still don't have sets. It is wanted not a mistake. Wait a little more

I also don't have sets anymore, which is weird, because I did have them before updating to 17666. It was on a virtual system, but that shouldn't really matter

Cool... More features to disable.
Windows Central Newsletter
Get the best of Windows Central in in your inbox, every day!
Thank you for signing up to Windows Central. You will receive a verification email shortly.
There was a problem. Please refresh the page and try again.