Hands-on with Windows 10X build 19578 showcasing new changes and enhancements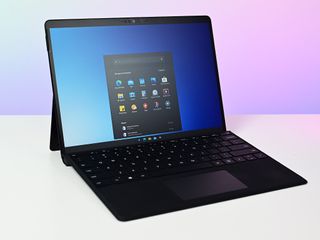 (Image credit: Daniel Rubino/Windows Central)
Microsoft has released a second Windows 10X preview build for the Microsoft Emulator, which brings with it a number of new changes and enhancements to the OS. As Windows 10X is still in development, we're expecting more features and changes to show up before it's signed off as RTM, which we're hearing will take place in June or July this year.
This week's build is 19578, and in it is a number of minor enhancements such as a complete dark theme for the Control Center, along with a new File Explorer beta app and a (semi) working out of box experience. We go hands-on with all the new changes in our video, which you can watch via the embed above.
It's been about a month since the last Windows 10X preview build, so hopefully we'll be getting another Windows 10X preview build next month with more features and changes. I'm told to expect improvements to Search, and more perzonalization options, to appear in the builds before RTM is complete.
Have you tried Windows 10X yet? What are you liking, or not liking, most about it? Let us know in the comments.
Zac Bowden is a Senior Editor at Windows Central. Bringing you exclusive coverage into the world of Windows 10 on PCs, tablets, phones, and more. Also an avid collector of rare Microsoft prototype devices! Keep in touch on Twitter: @zacbowden.
I hope that Windows 10 X supports multiple instances of apps opened as well, especially for File Explorer. Which is needed if you really want to be productive and run multiple instances of the same app. This is why Windowed Mode is needed when you use it as a laptop state (Compose Mode) and when the device is plugged to a USB-C Dock to act as a desktop PC. I find Windows Timeline from Windows 10 desktop useful and sadly so far there is no sign of it. The Recents section in Start Menu is okay, but it is more for going back to the most recent items, not for the ones you worked on from the past in specific time. Windows Timeline is actually quite powerful and has search functionality, so you can resume activities without digging through file system. Microsoft just need their own apps to fully take-advantage of it if relevant and encourage app developers making apps for productivity to take advantage of it. The new File Explorer is interesting and something we have been waiting for. But its current state really still needs more work, which makes me wonder if this is even ready at launch. I'm afraid we might just get the old UWP File Explorer from W10M or this new one but still lacking most essential features. There is no search function, no basic navigation controls like back and forward, no grouping, same advance file copy/move dialog box from Windows 10 (which is pretty great), no thumbnail support for supported apps which I notice from the docx, xlsx and pdf not having thumbnails, no properties to see and modify metadata, permissions, etc., no tree navigation, and few features that are more obviously missing like lack of local storage support (this one will likely get added pretty soon).

Good points, I am fairly certain multiple instances or views support will be there since UWP (now) supports both (devs just need to activate it).

True, its been with UWP for quite a while already, devs especially Microsoft must take advantage of it for their apps if its relevant. The new File Explorer for example needs to support it at first public release.

Give file explorer some tabs already. This is getting ridiculous.

Yeah just like in a browser in the window/title bar.

I like the quick settings menu, I do noticed it misses screen snip (maybe that shortcut will get an other location?). I also hope that MS will add some form of widgets either to the start menu or to the desktop, just something to be able to glance the weather, tasks/notes etc (I mean not something like sticky notes but something that links to a fully fledged note editor).

I would like to see Widgets as well to replace Live Tiles, but sadly there is no sign of it anywhere in Windows 10 X or at least rumors. I wonder if apps like Sticky Notes actually floats and not became full screen as well, since in WIndows 10 Tablet Mode, Sticky Notes does not adapt to Tablet Mode and every sticky notes acts as its own window, thus everything is maximized in Tablet Mode which is absolutely horrible. Calculator also needs to at least be exempted as well from full-screen only on Windows 10 X for small screens, since not everybody needs full calculator full screen on another screen. There are apps that are better not in full-screen/maximized and better if they are smaller window. To-Do is another app that I can think of that it doesn't make sense to be full screen even for 8 inch.

Never thought of that certain apps needed to be excluded from forced fullscreen mode, especially MS apps ironically. That likely means that one way or the other MS will add flexible window support for at least certain apps (since apps like calculator and to-do etc would make perfect sense on a Neo).

I'm testing Windows10X and it seems fine so far, but there are issues which im not sure about it. While using 2 screen, whatever apps you open it shows in both taskbars, while i believe it should show on the taskbar where the app is opened.
So far no widget (i'm using Rainmeter on Windows 10 and hopefully they do something about it in 10x).
It would be nice to resigned the settings window.
Start button should remains in center and not shifted to left side when opening new apps.
Start button and task view are changing colors when moving mouse over them, while all other apps are stable, i think it would be nice to have all apps act the same as long they are not active (viewing on screen).
Windows Central Newsletter
Get the best of Windows Central in in your inbox, every day!
Thank you for signing up to Windows Central. You will receive a verification email shortly.
There was a problem. Please refresh the page and try again.