Shady business allegations embroil ASUS at the worst possible time (UPDATE)
Gamers Nexus rain on ASUS ROG's special day.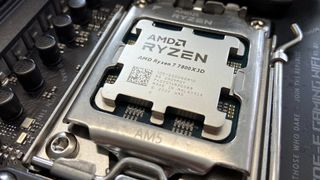 (Image credit: Ben Wilson | Windows Central)
What you need to know
ASUS responds to recent overheating AMD Ryzen CPU issues with rapid beta BIOS updates that waive consumer warranty (updated)
An apparent SoC voltage cap of 1.3V is intended to keep processors within safe levels via the beta firmware.
Content creators Gamers Nexus have since tested ASUS ROG motherboards post-update and detected voltages still dangerously exceed the limits.
Update: Monday May 5 @ 6 AM (ET)
ASUS UK confirms that the company will honor warranties on a global level for official and beta BIOS releases for AM5 chipsets. The beta warranty disclaimer should disappear from ASUS' support page within 12 to 24 hours.
---
ASUS hasn't shaken the controversy of overheating CPUs paired with its motherboards, starting with the unfortunate examples of AMD Ryzen 7 7000X3D-series burning up, and it only seems to be getting worse. In an attempt to contain the issue, several BIOS updates have since been released for the affected boards, including the very same ASUS ROG STRIX X670E-E used in my Ryzen 7 7800X3D review, but there's a worrying blurb of small print on each.
In a wholly unfortunate timing alongside the ASUS ROG Ally launch, prominent content creators are diving deeper into the issues and simultaneously losing faith in the brand. Launching a PC gaming handheld in a market dominated by Valve's Steam Deck is a risky move that relies, at least partially, on brand recognition, and the ROG name is currently somewhat tarnished. Encouraging users to install beta firmware to prevent damage to their components while withholding warranty coverage is not a great look for a hardware vendor looking to expand.
First-hand testing from Gamers Nexus on YouTube showed that not only did the supposed patches contained in its motherboard BIOS updates not fix the issue of exceeding safe voltage limits, but ASUS provided particularly shoddy support when contacted for help.
When Tom's Hardware found EXPO and SoC Voltages were to blame, AMD clarified that 1.3V was the safe limit. Still, in their recent video, Steve Burke and his team at Gamers Nexus show readings exceeding 1.41V on an ASUS ROG Crosshair X670E Extreme motherboard after updating to a beta BIOS that supposedly prevents any of this from happening.
Completely disconnecting their partnership from ASUS sponsorships, JayZTwoCents on YouTube similarly expressed disappointment with the brand usually known for its premium products best suited for custom tweaks and overclocking. Now, it's up to ASUS to respond and put its consumers' minds at ease with a stable BIOS update that addresses the apparent issues with AMD EXPO profiles for RAM and alarmingly high SoC voltages.
Windows Central take
It seems you can shoot yourself in the foot with impressive accuracy because my benchmarking desktop currently holds an AMD Ryzen 7 7800X3D seated in an ASUS ROG STRIX X670E motherboard with overclocked DDR5-6200 RAM. It's one of the absolute worst combinations that leaves me at risk of blue screens of death from unstable memory or voltage spikes cooking the CPU to death.
Of course, I installed the first available beta BIOS when ASUS first responded because I didn't want my rig to spark a flame and melt some of the most expensive components I've ever put inside a single machine — there goes my warranty. I'm not entirely sold on the idea that ASUS should be discarded as a company, but time is running out for them to respond appropriately.
ASUS motherboards have topped the list of my recommendations for tweakers looking to overclock their gaming PCs for years, and that still holds for AMD AM4 and Intel systems. For now, though, my AM5 machine is gathering dust with its 1300W MSI PSU and 600W RTX 4090 GPU, too afraid to accidentally send a lightning bolt through the SoC like the wrath of Thor. Fix it, ASUS.
Get the Windows Central Newsletter
All the latest news, reviews, and guides for Windows and Xbox diehards.
Ben is the channel editor for all things tech-related at Windows Central. That includes PCs, the components inside, and any accessory you can connect to a Windows desktop or Xbox console. Not restricted to one platform, he also has a keen interest in Valve's Steam Deck handheld and the Linux-based operating system inside. Fueling this career with coffee since 2021, you can usually find him behind one screen or another. Find him on Mastodon @trzomb@mastodon.online to ask questions or share opinions.