HDHomeRun Xbox One app rolls out for owners of the live TV router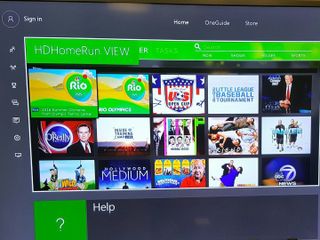 SiliconDust has revealed that it is rolling out its HDHomeRun app to the Xbox One. It will allow owners of the console and the company's HomeRun antenna and cable TV routers to stream live TV to the Xbox One.
The announcement was made via an update to the HDHomeRun DVR Kickstarter page:
It's unclear if the Xbox One version of the app can store recorded TV on its own hard drive or if it needs a PC or external drive that's connected to the HDHomeRun router. You may remember that Microsoft put plans to add over-the-air DVR features to the Xbox One on indefinite hold earlier this year.
The Kickstarter page also mentions the Windows 10 version of the HDHomeRun app, which added support for Windows 10 Mobile earlier this month as well.
Download HDHomeRun from the Windows Store (opens in new tab)
You can purchase SliconDust's lineup of TV routers at Amazon, which include two that support over-the-air antennas and one with cable TV support.
See at Amazon (opens in new tab)
Thanks to Christian Jolicoeur for the tip!
Windows Central Newsletter
Get the best of Windows Central in in your inbox, every day!
It's raining Xbox one apps!!

I just installed the HDHomerun apps on my PC and phone. Both work great. Thank you.

Does it record from multiple cable TV channels at the same time? Does it record DRM protected shows like on HBO, if you subscribe? Where are the recordings of the live TV stored? Are the recordings available on all the Xbox Ones in the house, at the same time?
How do the features compare with the TV DVR features of Windows Media Center?

It will record as many channels as you have tuners available. The Prime has 3 tuners for digital CableCard and the Connect and Extend each have 2 tuners for over-the-air broadcasts. You can add multiple HDHomeRun devices to your network if you need additional tuners. They are still working on DRM. Quote from yesterday's Kickstarter update: "Support for protected content is an ongoing time-consuming headache which we are making progress on." The TV signal and recordings are as clear as WMC, but the interface is much more streamlined since it only deals with TV but none of the other media such as DVD, music, radio, etc. The guide is a bit different. There is no traditional grid because of copyright/licensing issues. Instead, it has a pop-out menu during TV playback on the right edge of the screen to scroll through the channel list to see what is on now or on next. It has a search function to search anything that appears in the next 2 weeks, or a screen that shows what's on right as tiles for each series or movie. They are still working on pause/rewind for live TV, but the update yesterday stated that this should be ready by the end of August.

I hope the app is deeply integrated into the Xbox One. Would love if that extra "TV Provider" field in the Xbox One Settings is for Apps like this so that it deeply integrates into the Live TV App and has full voice command support. Would LOVE to get rid of my cable box and just have my HDHR and my XB1!

Or in future a win10 stream stick :D honestly I just see Xbox as the "TV" shell for windows 10 nowadays anyway.

Suddenly these get much more desirable

I have been in the beta for this for a while and I thought I could clear up some of the questions. I use the SiliconDust HDHomeRun PRIME Cable HDTV (3-Tuner) ​ I have had it for years purchased it back in the day when I used it with Windows Media Center and this one is a cable card tuner they have others in a verity of price ranges . the new app works on Windows 10 Phone and PCs with just the app and the tuner on your network, if you want to use the DVR functions you need to designate a PC on the network to use as the DVR and then when you schedule or record a show from any of your devices that's where they get stored but you can watch them from any device on the network and at the same time. You can not record protected content like HBO even if you have it on your service but they are working on that and will eventually support it. Here is a like to the tuner I am using. https://www.amazon.com/SiliconDust-HDHomeRun-PRIME-Cable-3-Tuner/dp/B004HKIB6E/ref=sr_1_2?ie=UTF8&qid=1471345820&sr=8-2&keywords=hdhomerun

You have to be on the same network??? You can't watch from elsewhere om your phone? Defeats half the purpose of this thing.

Yeah I agree, they need to add a static option. I have a feeling its coming. For now, to solve for remote i just point my Plex server at the recorded TV directory and let it do its magic. Live(ish) tv through plex.

If you want to make your setup really cool, you point an Windows app called MCEBuddy at your recordings folder and it removes the commencials, adds the meta data and puts it into your TV folder for Plex. :-)

I do that too, but have it set for a week delay. there is a bunch of stuff that gets recorded that I have no interest in watching again. I just do a TV on Media Center Plex library becuase Plex can read>convert>stream live TV files from Media Center as they're recording, or after they're done. This HDHomerun DVR isn't quite there yet.. but i'm hoping the interface will improve over time.

I used MCEbuddy forever. For some reason it was very quirky with me.

Has anybody heard anything about the OTA DVR that has been put on hold? I ask because the uservoice went from under 2,100 before the announcement it was put on hold and is now at 4,440. That's a big jump in 2.5 months. That makes it 302 total on the list. If you do not include backwards compatability titles, it's at 45.

I wish I had something to use with my ceton card.

I have two that are basically paper weights.

Are they working on a way to move your recordings to your phone without having to physically hooking it up to your PC server? Wirelessly? Of so, I'm in.

You can handle this with Plex. Point Plex at your HDHomeRun DVR folder and tell it to matically sync X number of unwatched shows. It will sync them with new cotent on your device as you watch them

Do you have to pay for that feature with Plex?

found 1 device 103C7DE7 (unsupported) :( Looks like I have older hardware or need a firmware upgarde. Too bad!

Me too! device 101B92FB :(

While still nowhere near as good as WMC, this is a good step forward!

Nice one, One of the Good App for Live Tv Channels is webcrictv mobile app http://www.ptvsports1.com/android.html
Windows Central Newsletter
Thank you for signing up to Windows Central. You will receive a verification email shortly.
There was a problem. Please refresh the page and try again.