Help rebuild a kingdom with Undersky: The Eternal Saga on Windows Phone 8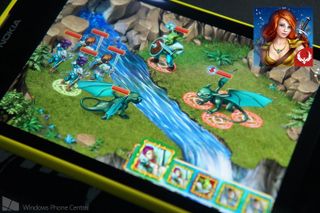 City-builders are those sorts of games that you can literally pour hundreds of hours (and/or dollars) into, whether you have a daily commute or some free time to spare each day. One such title is Undersky: The Eternal Saga, which has just been released on Windows Phone 8. The game, developed by SteamWarShip and published Renatus Media, is slightly different as it offers a strategic combat twist to the familiar gameplay.
Move on past the break for the full read through.
So what's the backstory of this magical kingdom? Unfortunately, a terrible disaster has occurred and it's up to you to now build up the kingdom, develop an economy and purge the lands of invaders. It's essentially a free-to-play city-building game, just like competitor titles already available. But as noted above, there's a twist - a battle system.
Just when you thought that constructing and developing buildings and managing resources was all you'd be tasked with, you're going to need an army. From swordsmen to dragons, you'll need to have your wits about you as you repel attacks from enemies. There are also numerous challenges and activities available to earn coins and crystals (in-game currency) to keep you busy.
Just like other city-builders and you know and love, you'll be constructing buildings, but in a fantasy setting. Sawmills, foundries, barracks and other buildings are required to get the economy back on track (if only it were that easy in the real world).
That's not all as just when you thought that was it, there's also a card collection feature, enabling you to upgrade characters up to the "invincible" rank and transform your kingdom into a beautiful monolith. There's finally a main story with an open ending, leaving it up to you how the kingdom flourishes. It's certainly an interesting mix of genres.
If you're a fan of said games, we strongly recommend you check out Undersky. Of course, just like the other city-builders, you can purchase more in-game currency to help speed up the experience in case you're slightly impatient.
You can download Undersky: The Eternal Saga from the Windows Phone Store for free (requires Windows Phone 8).
Windows Central Newsletter
Get the best of Windows Central in in your inbox, every day!
Rich Edmonds was formerly a Senior Editor of PC hardware at Windows Central, covering everything related to PC components and NAS. He's been involved in technology for more than a decade and knows a thing or two about the magic inside a PC chassis. You can follow him on Twitter at @RichEdmonds.
Nice game to add to wp8!!!

But is it available for my bigger screen tablet/PC and Win8/8.1?

reviews please. waiting to get home and try it. wondering if the wait is worth it.

Looks similar to the one that Gameloft released a couple weeks ago. I like the art in this one better.

Been playing the Gameloft one "Kingdoms and Lords" and I got bored very quickly. It really seemed like a modified version of the Ice Age game they made with different art. Hopefully this will be a bit more immerssive.

Hi Rich,
I love reading your articles but can you please refrain from using the "head on past the break" cliché after the first paragraph please? I'm sorry to say it but it really does annoy me.
Otherwise, keep up the great work and I look forward to reading future articles. Cheers.

99.9% of readers would hardly even see those words after reading them several times. The brain would normally learn the pattern quickly and automatically skip over them. I would try meditation, yoga or even pot at first until you learn to let go of the small stuff.

I love the art (Referring to the screenies). Hope it does the same in my L620 :)

I've just tried the game out on a 1020 (4.5" screen) but the font is tiny and difficult to read. Sadly then I won't be able to get into it to be able to play and enjoy it. Otherwise it does seem like a decent game for those with better eyesight than me.

Looks nearly identical to kingdoms and lords. Anyone played both?

Looks identical, very similar indeed

Hmm is this better than Fortress Under Seige? Sounds similar. But really can you guys check it out? I think the dev did a great job with this game too and I would like people to support those games too. Actually, how can I recommend games to you guys?

On the 920 it was incredibly sluggish and the cost for buildings is excessively high relative to how quickly you can acquire gold/resources. i prefer kingdoms and lords personally.

Had a bit more of a play around, need to level up a bit to gain a lot of cash, still tiring to get iron and wood though for only the second round of building upgrades. It's a much more tedious trope than most city builders. Plus with the battles it just seems like I hit the fight button and I get chucked into a random battle, there's no world map, or progress, to be found.

No Xbox LIVE means no deal for me

The font is small, the controls extremely unresponsive, and the text was translated by google translate from the appearance of things... Tried, do not install.

This is another POS that it's obvious hasn't been tested and probably was a paid review. Crashes, buggy, non-responsive, forced tutorials, and in general crap.

We don't accept payment from developers or publishers for reviews or any type of coverage. This article is not a review; it's simply a preview/announcement article and not intended to pass judgment on the game. Maybe we'll publish a full review in the future.
Windows Central Newsletter
Thank you for signing up to Windows Central. You will receive a verification email shortly.
There was a problem. Please refresh the page and try again.