Here are all the new features coming to the Xbox app and Windows 10 this summer
Microsoft just unveiled the latest round of updates for the Xbox One and its integration with Windows 10.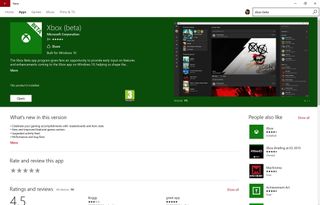 Cortana will be available on the Xbox One, bringing natural language voice commands to the box both on Kinect and via headsets. The games collection has been totally revamped, and Microsoft has given us greater control over the Xbox One's activity feed.
It's not only Xbox gamers who have new features to look forward to, though! The Xbox app and its integration with Windows 10 has a ton of updates on the horizon as well.
From Xbox Wire (opens in new tab):
While the Xbox One features are rolling out this week in preview, the updates to Windows 10 will arrive over the coming weeks to the Xbox Beta app for Windows 10. Download the Xbox Windows 10 beta app over here (opens in new tab) if you haven't already.
Here's what you can expect for the Windows 10 updates so far, as Microsoft moves to merge the Windows 10 Insider Program with the Xbox Preview Program following the upcoming Anniversary Update.
Upload edited GameDVR clips to the Xbox Live community
You'll be able to take clips you've recorded using either your Xbox One or Windows 10 Game bar, edit them using any video editing suite and then re-upload them to your activity feed on Xbox Live. Content creators rejoice!
Additionally, GameDVR has now moved into the profile section of the app, allowing you to manage your showcase, captures, uploads, and downloads in a single location.
Record PC game clips in 60 frames per second
Here's something I'm jealous of as a Xbox One gamer. PC gamers will now be able to utilize a new "Very High" video quality setting in Windows 10's Game Bar to record clips at 60 frames per second. 30 frames per second will still be available for less powerful hardware as well.
Use Game bar in more full-screen PC games
When games are running in full-screen exclusive mode, they often lose access to the Windows 10 Game bar, used for creating clips and capturing footage. Microsoft has added several popular Win32 games to include the Game Bar when running in full screen. So far, these include League of Legends, World of Warcraft, DOTA 2, Battlefield 4, Counterstrike: Global Offensive, and Diablo III.
Reminder: To access the Game bar on Windows 10, press the Windows key + G.
For more information on how to use the Game Bar and DVR on Windows 10, I wrote up a helpful how-to guide over here.
Major PC games are becoming integrated with the Xbox platform
Microsoft is building a database for 'top' PC games on Xbox, meaning they'll have their very own game hubs within the Xbox app and on the Xbox One itself. It means that you'll be able to follow games, receive updates direct from developers, and see news and content relating to that game in a single place.
Additionally, it also means that you'll be able to share game clips and screenshots directly to Xbox Live, and gamers — regardless of platform — will be able to see, like, comment and share those clips with the rest of the community. You'll also be able to see what games your friends are playing, whether it's Halo 5 on Xbox or World of Warcraft on PC, all from the friends list.
The Windows 10 Store and Xbox Stores are becoming integrated
While there's no information as to when this will happen, Microsoft are moving to bring UWP apps to the Xbox One. As a result, the Windows 10 and Xbox Stores are converging.
As noted previously, the Windows 10 Store will pick up the ability to see DLC, virtual currency, season passes and other things necessary of a legitimate PC gaming store, with more enhancements down the line.
Activity feed enhancements
Like on the Xbox One, you'll be able to tailor what gets automatically shared to the Activity feed. Right now, achievements and game clips are automatically shared for all to see, but if you'd rather your followers only saw the best of what you had to offer, you can now disable the automatic sharing of both features.
Additionally, the Activity feed submission functionality has been enhanced, allowing you to search more easily through recent clips, screenshots, and achievements for sharing with your friends and followers.
Share from the Xbox app to Twitter
Similar to the features found on Xbox One, you'll now be able to share your clips and screenshots directly to Twitter from the share button on the Windows 10 app.
Just the beginning
This is just the beginning of Microsoft's planned updates to the Xbox integration with Windows 10. Microsoft is planning to launch a second wave of updates to the Xbox One Preview Program and Xbox Beta app later this summer, which could contain heavy-hitting features the company want to keep under wraps for announcements at E3. As noted at Build, the Windows 10 Insider Program will merge with the Xbox Preview Program too, to "streamline" the feedback process and speed up further updates.
To read up on what the summer's wave of updates has in store for the Xbox One itself, see the link below:
Here's everything you need to know about the latest Xbox One Preview Program update
Windows Central Newsletter
Get the best of Windows Central in your inbox, every day!
Jez Corden a Managing Editor at Windows Central, focusing primarily on all things Xbox and gaming. Jez is known for breaking exclusive news and analysis as relates to the Microsoft ecosystem while being powered by caffeine. Follow on Twitter @JezCorden and listen to his Xbox Two podcast, all about, you guessed it, Xbox!
Anyone else read the statement from Xbox wire in don lafontaine's voice?

Famous movie trailer voice over guy known for the "In a world..." phrase.

https://www.youtube.com/watch?v=PjWKE-IJ4R8

Boooooooooo All that build up to not get anything I care about. Why I'm surprised I'm disappointed in MS again is kind of confusing. MAYBE we get a 360 feature (background music) before a new Xbox?

This is for the Xbox app and they already confirmed that background music is coming in the anniversary update.

Wow. Color me unimpressed. Hopefully there will be much better news next Monday. They really love to hype it up. I'm glad I joined the PCMR last month...

I'd like for them to get Kinect to work without me screaming at it. Seems to degrade over time, either the hardware or the algorithm. I'm on my second Kinect.

I have a feeling they are tweaking that thing non stop. there was a time last year mine wouldn't boot up . i sent one back on waranty for that issue. but overt time it worked again. it usualy works fine now so i am unsure if it was a softwear glitch or hardwear. but ya im sure they are tweaking it.

updates updates updates updates... updates. to the batman theame song of the past. great updates. hope people use them there are so many apps to use on pc. aka steam that one from amd that raptor, no discord. all 3 have abilities to show some of the games you are playing to friends. it is a nice concept tho that this will show allmost all x86 games to all users. one app to rull them all so to speak. i hope it becomes a standard. time will tell.

Pvr only works on digital over the air tv broadcasts

Ms should now replace the old Xbox app with the beta and integrate more than the previous one, or use it as a replace/upgrade in w10 anniversary. Keep too app on a device make me feel so how, just because you are not sure if the beta integrate. E.g Facebook, even where u are using the beta, if you want to sign up in any app with fb, I still use the fb that came with the phone. The why installing beta app, sometimes make me feel somehow, I like beta app because what new is what improved.

I'm very happy about the Xbox app for windows. I use the DVR feature to record all my Street fighter 5 matches. I've been uploading rage quites.
https://m.youtube.com/watch?list=PLlEB22Ig2H1IZt6fGvy9b4aXAydmdPqyx&para...

Seems like with every iteration the app is getting fuglier & fuglier

Just like how the NXOE made the actual console fugly.