Here are the dates and availability of the Surface Pro 3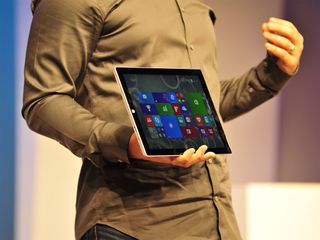 Want the Surface Pro 3? You probably do and that's totally normal, we all want a piece of that tech. Tonight you'll be able to pre-order the Surface Pro 3 from the Microsoft Store website and starting tomorrow you'll be able to pre-order in physical retail stores. Details, pricing and more after the break.
We've shared the various Surface Pro 3 configurations that will be available. But for those that missed out, here they are again:
Intel Core i3 / 64 GB / 4GB of RAM / $799
Intel Core i5 / 128 GB / 4GB of RAM / $999
Intel Core i5 / 256 GB / 8GB of RAM / $1299
Intel Core i7 / 256 GB / 8GB of RAM / $1549
Intel Core i7 / 512 GB / 8GB of RAM / $1949
This is a nice spread, those that want a Surface Pro 3 can find the model that fits their budget and needs. The rest of the specs are all identical between the various configurations. Check out the full spec list for the Surface Pro 3 if you want to see what else you get.
Now, how do you actually get it? By giving Microsoft your money and you do that by going to the Microsoft Store tonight at midnight (EST). Well, technically you can pre-order the Surface Pro 3 staring tonight at 12:01 am Eastern Time at https://www.windowscentral.com/e?link=https%3A%2F%2Fclick.linksynergy.com%2Fdeeplink%3Fid%3DkXQk6%252AivFEQ%26mid%3D24542%26u1%3DUUwpUdUnU22798%26murl%3Dhttps%253A%252F%252Fwww.microsoft.com%252Fen-us%252Fstore%252Fb%252Fhome%253Frtc%253D1&token=Ivjkj-oW in most launch market. Tomorrow, on May 21, you can pre-order at retail Microsoft Stores and Best Buy in the Unites States.
The Surface Pro 3 will be available for purchase in store and through authorized resellers beginning June 20th in the United States and Canada. By the end of August, 26 additional markets will pick up the Surface Pro 3. Those additional markets are: Australia, Austria, Belgium, China, Denmark, Finland, France, Germany, Hong Kong, Ireland, Italy, Japan, Korea, Luxembourg, Malaysia, the Netherlands, New Zealand, Norway, Portugal, Singapore, Spain, Sweden, Switzerland, Taiwan, Thailand and the United Kingdom.
We wish we could give you the specific date for your country that you'll be able to get the Surface Pro 3, but we just don't know yet. We'll of course let you all know when the Surface Pro 3 begins to expand availability.
On the Microsoft Store website, the listing for the Surface Pro 3 shows the shipping dates for a few of the configurations. Only the Core i5 models will ship on June 20, the Core i3 and Core i7 models don't ship until August 31. Keep that in mind before splurging on that 512GB/i7 model.
You can also check out the pricing and listings for a few of the Surface Pro 3 accessories on the Microsoft Store website. Here's what's coming and how much they'll cost for your Surface Pro 3:
Surface Pro Type Cover - $129.99
Additional Surface Pen - $49.99
Additional 36W Power Supply - $79.99
Additional Pen Loop - $4.99
Docking Station for Surface Pro 3 - $199.99
Surface Ethernet Adapter $39.99
Of course, you can still use your older Type Cover with the new Surface Pro 3.
Anyone picking one up a Surface Pro 3?
Windows Central Newsletter
Get the best of Windows Central in your inbox, every day!
Can we stop posting these not available in X country posts? Sheesh. They're in every single article.

Eh, I'm okay with it. Those left out certainly have an opinion on it!

This isn't an opinion just a statement

Since you're nitpicking my statement, technically the frown face is an opinion. HE IS VERY SAD. I am concerned. WPCentral Support Group. Hello *hello* My name is Peter. And I live in a country that doesn't have X. AND I AM SAD

Comments are not just to express opinions, but to share feelings as well, which what that statement does.

No, that's what Twitter is for: To let everyone you know, read about your innermost thoughts that 98% of the world doesn't care about.

Last time I checked, the words "comment" and "opinion" are not mutually inclusive.

I think its more like 99.99999999999999999999999999999999999999999999999999999993%

Yeah, they need to talk to their governments(India) before going on tyraids about Microsoft

They have a kickass government in India now in a week. Won't be surprised if they come up with they're own versions of dual sim surface pro 3.1

They need to fix their rip-off tax system first. Then India will be back on the map. Right now nobody wants to do business there.

Rather see the obligatory FIRST! Lead off than this constant whine. Fine, complain your country isn't getting it. At least wait for a few minutes for something relevant to get posted first. Posts like that one are hell on phones. We have to swipe four or five times to get past the whine. It's the same every time. Someone leads with whining. People attack the whiner. Other people attack the defender, yada yada yada. Swipe, swipe, swipe, swipe, swipe, swipe, swipe... Anything relevant yet? No, more bitching... Swipe, swipe, swipe...

Welcome to the internet, you must be new here.

I said the same thing, "Here we go with the bitchfest".

I think it's important that people say where they would like to purchase stuff, so the community can see if there is even a small bit of interest in other parts of the world. I mean, when people were tracking down Xbox Ones when they first came out even here in the states people were saying where they were and weren't.

There is Surface Mini after all right? No where on this earth right?

Apparently, it is too expensive for our market..

I would expect a few to pop up in eBay. Couldn't you just buy it that way?

My Lumia Icon is getting a big brother.

Yeah but where's the middle brother??

I know. I'm def wanting a mini tablet n the surface rumours were the only thing holding me off

Aborted. Jesus will frown but aborted.

Sam, is the additional pen loop magnetic or somehow attaches to the keyboard? Abit confused lol.

They are selling an additional pen loop as an accessory as stated in the article, I am fully aware there is one on the left handside of the keyboard. I was asking how would one attach the additional pen loop accessory.... have searched via Bing and there is not much info yet just some self diy pen loops. Guess will have to wait a few more days for more info.

Why never for South Africa!? :(

Because of Oscar Pistorius, that's why?

Because they don't have the infrastructure necessary for the dedicated servers the game requires. We're still talking about Titanfall, right?

This is stupid everything else comes on time in South Africa (Samsung, Apple) but Microsoft jeez it's like they want to be unsuccessful I'm yet to see a place that 'officially' sells the first Surface here, I have been waiting so long I have ended up spending my money on products I don't want and this is a billion dollar company.

Just out of curiosity, you've obviously found a hole in the maket. Why don't you start your own company, provide a service to many others like yourself and make your fortune? Much better than carping from the cheap seats.

No surprise so far! Really sad! They will sell the tablet completely overpriced in some dubious channels. Of course, no guarantee from Microsoft. Brazil, you're welcome.

Still waiting for news of the Surface "mini".

Are we sure it exist???❔❔❔❔❔

Endgadget says that the Surface Mini was officially killed as it didn't differentiate itself from the myriad other Windows 8 tablets in that size that already exist.

Oh man I hope not. I was looking forward to a Surface mini with the same kind of superb OneNote integration found in SP3!

I don't think you'd find that in a cheaper smaller device though.

Why no North Korea or Iran? :'(

I mean... North Korea. Do they even have tablets there

Of course! Tablets were invented by the beloved leader and then stolen by the murderous thieves of the Western World!

And they're built by unicorns.

Well, they have smartphone(made by the Chinese), using Android ...It's a step forward for them.

Wow! Just like America....

http://www.businessweek.com/videos/2014-05-18/north-korea-launches-local-tablest

Dude, the business mans from Iran buying these stuffs from another country and then export it to Iran and sell it in their stores very expensive than the original price, I think they'll sell SP3 i3 for $1899 lol!

They threaten the US too frequently : ) just kidding

Apparently this has no built in GPS, so i wonder if they are going to bring in some kind of connectivity with your windows phone to add that feature. That would be quite nice :D

There is GPS ... If you mean 3g/LTE you still can use a mobile Hotspot or even get a mobile router for just about 30-50$ that won't drain extra batery of your surface ;)

These is no GPS unless you have link to another set of specs already listed. While 3G/LTE usually gives you GPS capability, it is an expensive option if you want GPS.

your phone has GPS, I'm willing to bet

Probably will use wi-fi for location services, that does a respectable job.

Because smart phones with GPS are everywhere, I'd rather not have it built in to the tablet and increase the cost. Not everyone needs it, and if you wanted to attach some kind of GPS to it, there are a bunch of them out there. Anything that would work with a PC, works with this.

Good gives me a month to sell my surface pro. I'll buy the surface pro 3 and that super super sexy blue cover. Then when I get my own apartment, ill get that overpriced dock so I can hook this up to my 63 inch TV like a boss

Sigh... The pro 3, comes out in only a year since the pro 1 launched in the UK. I have no need to upgrade, and its now worthless to sell on because stores are still selling my 128 model for £400, only £600 less than it was lol. Will still probably get the 3, but if they could keep it as the current model a bit longer this time it would be nice.

I wish you would give your information in $ AND £! (and maybe €)

Judging by the other Surfaces it will be the same price but just changing the money sign. So it will be like $799 = 799€

Scrap that. In Portugal they're asking for 819€ for the i3/64GB

Yep that's standard practice over here in Netherlands too. Hate the damn Euro. That's why I get all my devices in the US whenever I'm there.

Does that price include VAT? That could explain the difference. In the US sales tax is added to the advertised price and is usually around 8%. In many Euro countries VAT is around 15-18% and included in the price. At least that's what I remember from years back.

Thats actually pretty quick. (Sweden) If MS keep this schedule... then good job.

Personally I do not consider end of August very quick, yes I am looking at the I7, but.... to each his own...

It is too expensive, On UK website core i5 256GB is for £1109 incl. VAT.

I looked at the pricing too, seems a step up on the Pro 2 pricing.

Its too bad. These would sell in droves if they were priced much lower.

And they would probably lose money on every single one. Tech this small that doesn't overheat is expensive to make.

Some people want everything for free :P, buisness is all about making profit lol. Finally the UK link is up... time to check the pricing. Edit: Looks like someone has made a itty bitty typo LOL. "Substantially thinner and lighter, weighs 1.80 kgs" <--- shouldn't this say 0.80 kgs lol. "13-inch MacBook pro tips the scales at 1.57 kgs" http://www.microsoftstore.com/store/msuk/en_GB/pdp/Surface-Pro-3-i5-128/...

This is a premium product not some commodity tablet and judging by previous demand they are going to order tonnes of these. That means this price point is here to stay for now.

It's an expensive device, but seems worth it from what I've seen so far. I'm not keen on pre ordering a device and waiting 3 months for it though.

Man, even without VAT, thats like $250 more than the US price. Are Apple products similarly marked up in UK?

Little disappointed no news for Surface Mini

Me, too. I (and I'm sure, other people that don't want to spend that much) would have probably been all over a Surface Mini for the right price. Maybe, we'll see one in the fall?

I am very disappointed too. I will be watching Google I/O for the Nexus 8 since Office will be coming to Android devices. Posted via the WPC App for Android!

Unfortunately though, office on other devices won't be the same experience people know on Windows.

Does this also mean pre-order on Best Buy's website too or just in store?

So do I have pro all the funds up front or a percentage until the arrival date?

I might get a Surface Pro 2 when they start clearing those out

Still would like to know battery life for each configuration before I decide on which to purchase.

Funny how MS only gave out the web-browsing battery life for the i3 configuration. No video-run down for i3/i5/i7 variants. I call this LYING.

marketing...lying...it's the same thing

i knwo what you mean but it would be a long and boring list of they explain all teh combinations. Obviously they show their best results. No different to brushing your teeth and hair for a first date ;)

Microsoft you're drunk... Those prices are a non-starter. You can buy an x86 Tablet PC for much cheaper than $799 and tablets galore for $199.

but still. you should five respect for the hard work that went into this tablet. judging how thin it is

MSFT is keeping the Surface line a premium (high priced) brand. Not to mention, these aren't running Intel Atom processors. These have power Core processors, 4-8GB memory, 64-512GB storage, premium build quality, digitizer pen (not a stylus), extremely useful kick stand, 2160p resolution, & wireless AC compatible ---- I don't think Dell, HP or Lenovo offers anything that powerful in this form factor. I think these prices would be fair ---- IF it included the TypeCover.

These Intel processors are the same as those in the Surface Pro 2, right?

1440p resolution and no built-in LTE. Agreed about the Type Cover. It's foolishness to charge $130 extra on top of $799-$1899.

I agree. it seems like they are going the Sony route, and we know how well that went for them.

Surface pro is not a toy consumption tablet. It is an actual PC you can do power intensive tasks on. Compared with other OEM products, the only downside is that MS tablets are sold only in limited places and thus rarely if even are on offer. I nearly always buy a new PC when I can get a great offer on it, last time I bought an entertainment notebook few years ago I got the price from $1800 to $1100, doubt I will ever get a similar deal on a Surface, unless it's the first gen outdated model.

Not only is it a powerful PC, but it can actually be your one device. Your mobile tablet while you are out, your laptop when you need to setup in the hotel room or coffee shop and do work, and you desktop when you drop it in the dock at your home or office. I certainly wish it was cheaper too because I wont be able to afford one until end of the year or later, but there is nothing else like this on the market right now. A lot of engineering and development went into making this a premium device. So far, the Surface line has not been profitable. Hopefully this changes that.

Also, it appears to be priced similarly to the 13" Macbook Air and just a little more than the 11" if you look at the core i5, 256GB version, which seems to have no trouble selling. More RAM, the ability to function as a tablet and the pen more than make up for having to shell out for the keyboard cover IMO.

Kind of missed the point, its aimed at replacing both a tablet and an Ultrabook. In any case, if its too expensive you can buy something else, seems good considering its the same price as a Pro2 but with a larger screen.

I think you're drunk (and a bit native). You obviously don't understand the intended market, nor the cost involved with such tech, or the actual power you are getting for this price. Get over your sense of entitlement and go buy a Lumia 1520.

Hey Sam! Happy Birthday! :) Edit: Oh it seems i wished you very early! But here its already 21st May! So Happy Birthday in Advance! May you keep on giving us very valuable Windows Phone and Windows News! God Bless You! :)

This will be a niche device and far out of most peoples reach. the surface pro will not make an impact. Even as a surface pro user, I do not see a offer compelling enough unless 1. there is tailored software for note taking wiþh a stylus (onenote needs more features and finetuning for stylus use and an adequate ink to text recognition in the modern UI app). 2. real life battery life is validated as stated by microsoft. 3. There is a package deal. I'm not going to shed out extra money for a cover after what I've learned from the surface pro one. Windows 8 is still more focussed as a mouse and keyboard device, and there is no good experience with windows 8 and office without a keyboard. A surface pro is just not a complete experience without a stylus AND cover keyboard.

I guess you missed both the live MS presentation and WPCentral's videos demonstrating the new Wacom pen and how much better the new keyboard is. Wish purple would research before making statements like this.

You may want to make your homework as well.... It does not have a Wacom.

Sorry. It appears that Wacom is no longer being used. However, I got that information from WPCentral's follow up video today they did at the live conference. They used the word Wacom. Didn't think to look that up since they are there, reporting first hand at the official announcement and used the word Wacon to describe the pen. I figured that would be correct. It would appear they were just using that word since it is familiar to people. However, my main point is that it does what he wants it to. He is calling it out before even knowing what it is capable of. Because if he did, he wouldn't have made that statement.

Has MS stated this or just assumed because the pen is active?

I can't remember. It's highly possible they didn't even use the word Wacom in the conference. I watched it, but can't remember now, and when WPCentral said Wacom, I just assumed they knew since they were there.
From what I'm reading online, it looks like it is using a diff technology now.

WPCentral is reporting Wacom. Engadget is saying Ntrig. Or is it proprietary?

Yes, a nice device like the similarly priced macbook air.

Well I'll be damned!! The surface 3 will actually be for sale in Portugal before the Xbox one!! Ain't that something?!

Yup. It'll be there gathering dusk before the Xbone since almost no one will buy it at these prices...lol

August 31... Yikes. Still want that $2K model

Why does MSFT and Nokia announce the products weeks in advance giving sammy and appy time to ape them and then they lose the market share. why cant the release the product after letting the world know ? couldn't this announcement wait till August 28th ? Was somein in MSFT awaiting a raise becos of this . I dont get it .. Why does ever product they sell be compared with competition ? why can't they sell on its merits alone.. why compare it with IOS or Mac or Iphone... are they accepting that apple products are superior and we are trying to get thier market share ?

First, I don't know how any manufacturer could copy the Surface Pro 3 in four month's time, let alone make enough to usurp Microsoft's sales between now and end of August. Second, everyone compares their products against the competition to show their products to be superior. Why would you compare your product to the competition if you thought they had the superior product?

Have you visited MSFT website for pre-order why is the comparison only against Apple products ? why not Galaxy tab ? Nexus ? Asus ? LG Lenovo products ? wouldn't that be a fair comparison ? isn't SG3 having similar display or better display then IPAD? or compare it even with Surface RT or Surface pro . have not seen apple make these comparison in thier ad or thier website.. why cant MSFT talk about thier strengths and not about the weakness of competitors ? not a apple fan.. just a thought...

17 million Surface articles?

I will get a Surface 3, not the PRO. Although it's design is awesome.

How big is the bucket of cash if I trade in my RT?

Why so many surface news articles? I like the surface but sheesh!

*sigh* Because MS did a private presentation in NY today. wPCentral was there documenting it through live blogging it like most tech news sites tend to do.

Well thanks for pointing out the obvious. And now back to my point I'm sure they could've been combined a little. Any ways 12" is too big for me, I'm hoping for an 8" RT version which will fall into a lower price bracket.

Your point was not clear.
They always post multiple, separate and specific posts for special events. You must be new here.

Two reasons why Mobile Nations does this: 1) Breaking each different piece of information allows the editors to rapidly release each article and get the information to reader as soon as it's available. Also, it makes each article simple, reduces confusion, and allows the editor to clarify other pieces of information before releasing those articles. 2) Money. Look at the amount of comments on each article. Those comments generate page clicks which means more money for the site.

Looks like the mini is now dead. Cancelled. Another mistake by MS. So they can cancel the tablet everyone was waiting for and release 1 that could cost 2 grand when they can't sell ones that cost half as much as it is. Brilliant. Way to go after that market share Microsoft. Being a MS fan is the most frustrating thing in the world. http://www.engadget.com/2014/05/20/microsoft-reportedly-axed-a-smaller-s...

It was canceled, very recently too

Canceled? Or, just delayed??

They'll probably release it under the Lumia branding.

I'm not opposed to this. And, now that you think about it, you may be right. According to Bloomberg, it was axed last minute, because it didn't have enough pizzazz to make it stand out from the other Android and iOS slates in that price range and size bracket. So, knowing that Nokia does have great build quality, a Surface Mini may be released bearing the Lumia moniker. Here's to hoping!!!

So basically they will sell it in like what... 13% of the countries of the world? Is this even worth an article? Why the hell they bought Nokia, if they cant use their shops and warehouses around the world?

Already a third generation of Surface devices and still no official distribution in Poland. It's like Microsoft shouting "Hey, get an iPad or some crappy Android tablet". Would love to invest in Surface 3 but without it being sold by MS in Poland I'll stick with Apple's vision.

Excatly, the same situation is in the Czech Republic, after more then 3 years they do not sell any of Surfaces here. My next mobile device will be Android or Apple, I have enought waiting.

I am happy with a new Asus Transformer with W8.1 here - much better than crappy android :) But you're right, thats shame. I hope MS will more focus on us. Also with "swype" keyboard, Cortana and so on...

Seriously Microsoft, you selling xbox, supporting windows and windows phone in turkey. But not selling surface? Come on now...

Can't wait to buy one ! But still calculating which configuration is the best for me.

Need a new laptop to replace my 6yr old machine. This fits the bill nicely.

Will the i7 variants be available in store on June 20??

But apparently, only the UK variants are shipping 8/31/14, the i7s. Are the US i7s shipping that day, too?

Will the original Surface Pro charger work with this?


Cortana reminder set for 9pm PST .. i5/128GB :)

When is the mini available?

Whoa, Canada is getting same day release as the US, what universe am I in right now? We are always an after thought...

Not for surface rt. Wasn't it the same day then?? We have Microsoft stores in Canada.

You may be right. But for services and phones we are left behind.

Europe is the biggest market for the surface. Why so late?!

Because it's Microsoft we're dealing with and their moto is: US today, US tomorrow, US Forever.

I have to agree, Microsoft has US only strategy.

Why to celebrate product in May, if it is available in end of August, in fact in September?? I really dont understand this philosophy of last years. If you present something, give it to me. If you dont have it, its useless.

You can get lower tier models exactly in one month. Not everyone wants or needs an i7

All of the sources I've seen say the UK i7 variants ship 8/31/14, but what about the US i7?

There goes Microsoft again taking a good step forward but at the same time more like four steps back. You'd think by now they would have learned their lesson on how the market behaves, I'm actually starting to get exhausted from all of this complaining WHY?! Great improvements on the SP3 though.

Not in my budget and not need ed. My surface works great for my needs combined with my lumia 1020. Just got a new dell desktop last year. I have a while to wait.

Own the original Surface Pro 128 gb. Damn, I would love to get my hands on that i7 512gb beast! For those who want to say, "too expensive," you are right, if you're in the market for an iPad or Android tablet. I'm not bashing either device, but it's always been clear you can't compare those devices to the Surface Pro series, at least, it was clear to me. Hopefully, the adoption of the Surface 3 with large companies, will mean a quicker price reduction in the future. When MS can actually make a decent return on their investment, average consumers may benefit. In the meantime, anyone in the market for a laptop in the Macbook Air price range, could easily buy the Surface Pro 3. It would be all about preference at that point. The rest need not apply.

When I was a MS apps instructor, I advised students to buy least expensive machine that would do what they needed it to do... But personally,I really NEED that i7/512! I may make do with the i7/256 so that machine and dock total less than$2k.

This may be exactly what I am looking for when I am ready to replace my laptop. I have been using W8 since the first preview and bought the original RT. This will fit in as I make my final change to a more cloud based sm system. Ready to shred my external drives, 15" laptop, add touch, pen and the ability to slip it out of the dock. There is so much more here than meets the eye with the One Note and the cloud. And for me in Japan the timing will be just about be right. I was impressed, and this answered the question as to whether RT was the proper OS for pen.

I would love to have that if it comes with powerful graphic.

Maybe this means I can pick up a SP2 for a steal.

I was about to buy a SP2. Good thing I waited... I hope the student discount takes into account the SP3 as well so when I order it in a couple of weeks, I can save come cash. This will be my replacement laptop... no more lugging around a big a** 17" screen beast to run SolidWorks, MATLAB, and ALGOR.

Still have not seen the SP2 here in Thailand so not expecting a SP3 anytime soon.

I think that Surface Pro 2 won't available in Thailand forever, but I think that Microsoft Thailand want to apologize to customers by importing the Surface Pro 3 faster. So don't worry about that na krub.

In order for this to be successful, and I hope it is, MS must always have the i5 128 in stock. That is my choice and what I will be getting. Add a Sandisk 128 sd card and you've got a pc replacement.

Just preorder mine at my Microsoft store. They can order them now.

Any word of a LTE version for Verizon? We could really use a good quality Win8Pro tablet with cellular on Verizon. We'd probably buy at least a dozen of them...

Please bring here in the Philippines

At the current prices I don't see this being anything other than a niche device. Can't see the sales having much impact in the tablet/laptop market.

No Philippines :( Posted using Samsung Galaxy Note 10.1 (2012) via WPCentral App

I'll wait for the reviews on the i7. I'm affraid it will be a power hog.

Pricey as this all is, glad the student discount still applies. $100 of the Surface Pro 3 and $14 off the new Type Cover. Looking forward to having this arrive!

Plus add in the $100 off GRADUATION promo code.

End of August! Will be obsolete by then.

You know you can get decent touch laptop whit those prices? And Sony Vaio Flip didint even cast that much

I see alot of people complaining that they live else ware and need to wait longer... I truly feel sorry for you guys, it does suck when things don't release or take longer to release in your country. I'm in Canada, so for 99.999999% of the time, we get everything the same time as the US. But when things don't, it sucks lol

i'm seeing countrys fighting over prices, like mate australia has to pay $979 for the 64gb version (which i'm still getting it's just amazing although formatted cappacitty is just blehh) and nearly $2200 for the i7. your move rest of the world getting this

Not for the Czech Republic :(

Nope nope nope, forget surface. Because surface is never launched in Indonesia even first surface.

Well it cost to much so it won't compete

Tiger direct has the i5 128gb listed with 8gb ram??? For $999???

There are ways to get these devices anywhere. I bought my RT from Expansys out of Hong Kong (labeled as .jp for Japan, so no issues with currency etc.) and my first Windows Phone, unlocked. I got my Lumia 920 on eBay at the launch of the 1020 when prices were sliding. Japan launched the Surface a few months later, and as people will recall, Japan was the first with a 256gb Surface. I spoke to someone at a large retailer here, and he was unaware that Japan would ever get the Pro 3. He was ready to sell me ultrabooks in lieu. To be honest, the lower tier Pro 3s are actually priced below the corresponding Pro 2. Considering the higher specs for most things, they are priced competitively. My current laptop is an i3 and considering it is over 2 years old, it is getting long in the tooth. Depending upon pricing here, I will step up to the 256Gb i7. That should be a screaming machine by all indications.

i would happy to pay $800 if they include type cover and ethernet adapter along with the device not as a accessory.

1.3 is all you are getting off me Microsoft!

If only they provided the SP 3 in any of the Middle Eastern Countries, I would pick it up in a heartbeat. Show us some Love LOL

i dont use a laptop but for some occasional picture cropping/small editing and a few programs and 98% of the time its just web browsing.... imma get that i3 and drop a 64gb card in that bad boy.. and i should be good

can anyone tell me if the new Surface Pro 3 docking station will have REAL PXE Support? Having to use the Ethernet Adapter is no good. The surface 2 pro is stupidly difficult for enterprise deployment.

Come on, why not Brazil?!