Here are the Lumia 950 XL and Alcatel OneTouch Fierce XL winners!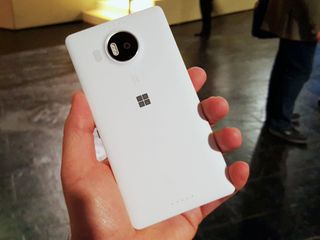 We had a couple of cool contests last month here on Windows Central for a Lumia 950 XL and an Alcatel OneTouch Fierce XL. We switched things up a bit and announced the winners in the contest widgets on the original posts, but it seems a lot of people missed that so here is the official announcement of the winners! Keep reading to see who got lucky and won a new phone!
First, a big congratulations goes out to Windows Central reader Michael S, aka TheSuperShoe! He is the winner of the Alcatel OneTouch Fierce XL giveaway. And let's all give an equally big congratulations for Trinh H aka trha, who is the winner of the Lumia 950 XL giveaway. Way to go winners, I hope you enjoy your new phones!
Everyone else, thanks for entering! Be sure you check out the ongoing Microsoft Gems sweepstakes we have going on through the end of the month. There are a ton of great prizes to be won, and you can be sure there will be many more contests in the future here at Windows Central.
Sad face. I mean, congratulations winners. Jerks.:P The Windows Central Universal Application for Windows 10 Mobile on a Nokia Lumia 830

My poor Lumia 830 so wanted a new shiny Lumia 950 XL in the house.

lol... I'm still here using my Lumia 520 after over 2 years. I would kill to get 830! :P

I have a Lumia 520 sitting on my desk. And a Lumia 640 sitting behind me on my bed.

Make sure to check under your bed ;-)

Unfortunately I can't do that without disassembling my entire bed. How anything could get under there is a mystery.

I thought I would win..lol;

Everytime I thought the same :D
Btw it would be nice to see comments they made that were that good to win the contest. I mean what if it was like "I'm in" or "hello"? XD

They're chosen at random, and aren't always comments, so that would be pointless. :)

Congrats Winners!! (y)
Better luck next tym.......(me) :| Posted from the Forever stylish- Lumia 830

Congratulations! They are both great phones.

Wait you didn't call my name.

You guys always misspell my name... :p

Lol i was about to say "i think you guys misspelled my name ;)" :D don't worry, internet is full of these kind of contests and giveaways, make sure to join as many as possible and that they are trustable sources :D sooner or later your luck will get better i suppose, or atleast that's my theory :) more contests joined at the same time = bigger chance to win

Congrats to the winners :) Posted from Windows Central for Windows 10

No, that's not correct. Please choose again.

Gratz to the winners! Hope you have enough money saved up to pay for taxes.

Yay! I won! Can't wait to get the Alcatel! :-)

Congrats, enjoy the devices. The Alcatel works wonderful and can even utilize the Fast ring for Redstone. I still have yet to see a 950, but I'm sure it's an amazing phone as well. =) Grats! =D

I wanted to win a phone so bad. Oh well. Congrats to the winners and enjoy! Cheers!

Nice one Posted via the Blackberry Priv

Congrats guys! I'm so jealous hehe :)

Good stuff Posted from Windows Central for Windows 10

Congratulations, winners. Tough luck, whiners. Yeah, that's me. I'm about to fall into that whiner category real quick. I so wanted one of those phones. So bad.

Congrats guys !!!
Please Windows Central, Raffle off a few more 950XL's, I would love to get my hands on one of those, I'll even be your poster boy if need be, LOL.

Congradualtions Winners, Enjoy your Smartphones. I hope Microsoft and Verizon execs read this article and get together and make a lot ofolks real Winners by having a Verizon version of the 950 XL for sale and use on the Verizon network. USA Verizon Windows smart phones fans want a NEW Microsoft Flagship/Continuum Capable windows 10 mobile smart phone. Make it happen Microsft-Verizon.

Microsoft has explained that it is taking a restricted approach to current Lumia phones. None of the new models were submitted for CDMA certification, so, none are compatible with Verizon Wireless and Sprint on radio and LTE fronts. Best guess is that VZW and Sprint customers won't have access to a new Windows Mobile phone until the anticipated Surface Phone is released for sale to non-commercial users (assuming that Microsoft produces a VZW compatible version and that it will be made available to commercial users first).

not fair! this is the 5th time I try and didn't win anything. This is rigged ;-) congrats!

If it were rigged, Daniel Rubino would probably always win This comment was posted on Windows Central for Windows 10 UWP.

ok, ok, it's not funny. too late to change it and simply leave it at congrats....

Congratulations to the winners! I like to think that every time I lose a contest, I gain stock for my chances in the next one. XD

Congrats to the winners! Posted via the Windows Central App for Android

Okay... This comment was posted on Windows Central for Windows 10 UWP.

lumia windows 10 türkiyede ne zaman güncellenecek ?

Off topic, but I just got my amzer tpu case for my Lumia 640, and I love it This comment was posted on Windows Central for Windows 10 UWP.

BOOOOOO!!!!!!!!!!!!!!!!!!!!!!!!

Many of the time, the contest is within US. Not really cool.

950 XL is understandable it's having a good hardware, but That OneTouch LOL :P I won't even look at it even for free :P it's such a lame device:-/ either way congrats.

Congrats to the lucky winners. I dont know what i would have done with the tmo Fierce anyway because im not a customer of tmo but the Lumia would have been awesome. Enjoy!!

Congrats to Michael S , and to Trinh H. Enjoy!!!!!

Awww shucks Posted from Windows Central App
Lumia 830/Win10Mobile

Congrats Guys!!!! Awesome Phones!!!! Treat them Nicely!!!! :p

ah well, keeping my 1520, hope it does continuum!

Ohh okay :| congrats by the way

Grats to the winners. Looks like i have no choice and will have to change my 920's battery :P.

Congratulations Winners. :'( :'( :'( heartbroken.

Congrationlations winners! I will go now and enjoy the last days of Mix radio on my Lumia 930

Really A Poor Person Doesnt Have Good Look. This Contest Proved That point... Thank u I really congratulate to winners, Enjoy Your New Handsets ..

My first time ever to win anything... Anybody knows how I can claim my prize?

I will be sending you an email to get your information, probably later today. :)

Is there anything wrong? I still haven't got my email :(

I'm still waiting for my name... Sad...
Windows Central Newsletter
Get the best of Windows Central in in your inbox, every day!
Thank you for signing up to Windows Central. You will receive a verification email shortly.
There was a problem. Please refresh the page and try again.