Here is what is new in Windows 10 Mobile build 10586.218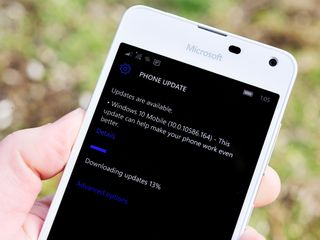 Microsoft has begun pushing out Windows 10 Mobile build 10586.218 for all Insiders on the Release Preview Ring, phones officially updated to Windows 10 Mobile as well as all retail devices (phones sold with Windows 10 Mobile, non-carrier). The same update is also going out to all PC owners as well due to the shared core of Windows 10.
Here is what is new with this release for those on phone as posted in the community forums (opens in new tab):
Windows 10 Mobile Build 10586.218 Changelog
Reliability, performance and stability improvements.
Support for Visual Voicemail on Dual SIM phones.
Improvements for Bluetooth connectivity, including the reliability of connecting to and staying connected with Bluetooth devices.
Fix for a problem that caused audio playback to get occasionally interrupted in Groove Music and other music apps when phone display was turned off.
Improvements for Microsoft Edge browser, including support for configuring a prompt before a file download occurs, support for background downloads, and a fix for a problem where opening a link from an another app wouldn't load the web page.
Reliability improvements for Cortana reading text messages aloud and usability improvements for Quiet Hours feature.
Improvements for Store reliability, including a fix for a problem that prevented some apps from being updated and installed.
Fix for a problem that occasionally caused some apps to show blank tiles after upgrading from Windows Phone 8.1.
Improvements for PC connectivity via USB on some phones that were upgraded from Windows Phone 8.1.
Overall, it sounds like a substantial update, and we're applying it now to our phones. Let us know in comments what you think!
Windows Central Newsletter
Get the best of Windows Central in your inbox, every day!
Daniel Rubino is the Editor-in-chief of Windows Central, head reviewer, podcast co-host, and analyst. He has been covering Microsoft since 2007 when this site was called WMExperts (and later Windows Phone Central). His interests include Windows, laptops, next-gen computing, and for some reason, watches. Before all this tech stuff, he worked on a Ph.D. in linguistics, watched people sleep (for medical purposes!), and ran the projectors at movie theaters because it was fun.
Downloading. Sent from pichke materine ;)

Wow! Thanks for letting us know you're downloading!

I'm also overjoyed that he is updating.

Remember. Everyone likes a little ass, but no one likes a smart ass. Sent from Windows 386

I dunno..geeky asses can be kinda hawt. Y'know, in a librarian sort of way.

hey, i already downloaded it, i am not slow, i am not fast, i am halfassed

Thank God you shared this crucial information with us! Now we can all die in peace!

I'm breathing in... Breathing out...

Poslano s pičke materine ;)

Makni to, sramotiš sebe i ostale. Posted from Windows Central for Windows 10

I know... I'm loving this update stuff. More frequent than 8

Because W10M is more broken than 8.

I love reading replies like yours, because you act like you could live and use and deal with WP8, go ahead use it. And tell me how handicapped you feel and limited that there's: No notification center, No Actionable Messages, No Actionable Notifications overall, No buttery smooth twitter app and other windows 10 apps, and here's the best one: loading... Enjoy the old hardware!

I updated my Lumia 930 to W10M & I use my Fast Ring'd 950XL as my daily. While not deal breakers afaic, W10M is still a long way from being a polished OS, thus the frequent updates. That's all I'm saying/typing.

Whoaaa there buddy calm the hell down. Attacking me isn't the way to get your point across first of all, so lemme throw the same question back at you "What does that say about you?" Now second of all, I'm using a Lumia 830 and believe that phone is probably one of the most beautiful phones ever and have received many compliments. This has NOTHING to do with Lumia 950 vs 930 or 830 in design, I'm talking pure physical capabilities of processor and graphics, and most importantly, about software. Now, software wise, I have no idea how the keyboard laggs for you and your exaggeration of not replying fast in actionable notifications because if on my Lumia 830 it's really reliable and fast, then your simply lying if your gonna say 950 or 930 aren't better at that than the 830. Impossible. So straight up your already starting to look like somewhat of a troll or maybe just a weird fanboy (although I am a true windows fanboy... Xbox One, Windows 10, and W10m lol). Anyways, another point I'd like to tell you is that yes, resuming... Isn't the most pleasing thing but hey if design is on point, apps look much more polished and mature on the OS and function great, then I am not complaining. As of recently, the Resuming... have really happened A LOT on windows 8 or 8.1 apps, which is a given. No DUH those aren't optimized, because the TWITTER, yes im gonna mention twitter again, app opens in about 2-3 seconds on my 830, rPerfect Tube opens in 3-4 seconds, and so on... Yes, some apps may have resuming, yes some apps don't open the fastest but that is because of the DEVELOPERS, not the OS. Clearly, Twitter optimized their loadtimes, and outlook too has fairly good load times as well on a dated hardware... So yeah, it is stupid to look back at those OS's because they don't look good anymore, they don't function great to today's standards, and no I don't LOVE android nor iPhones, but you can't close your eyes to them and say they aren't doing something that consumers like. Now onto the restarts... When I downloaded the "official" windows 10 mobile for my lumia 830, that thing never heated up, restarted once every week or 2 randomly when battery was low, which was about the same as when I would have 8.1. So yeah, I think your arguments are pretty useless to me and MY OPINIONS. YOUR OWN OPINIONS can be something else, no need to act like a kid for that

+ Battery usage is a disaster :( No option to stop the playing background music ! File sharing stops when lock screen start ! In bluetooth you should accept for every single file ! & . . . Year 2050 Microsoft : we are releasing windows 10 Insider Preview Build 999999999

Bought a samsung galaxy s5 to replace the lumina 640 which i left on 8.1 so i can use it as a standalone nav device.great hardware from nokia.wish they would setup the call record feature with windows 10 and a replacement for here drive
Oh billy why so silly what has happened to the good old American can do

call recording integrated now in win10 mobile, let's see what they got as replacement for the HERE app win10 mobile is better with every day. I'm missing on apps for accessories . smart home or smart watch or whatever smart fridge or i dunno :) I want to get my life "SMART" :)

Can you help me to find Call Recording option in W10M , Please ? !

Hey does anyone know how to fix cellular data on windows 10 mobile?

Please try the forums and include some specifics... Your question is so broad that the answer could literally be anything...

It downloaded for me last night on my 1520.3 which has never been on Insider. So 10586.218 is being pushed to production for Factory Unlocked as well. WaaS FTW

Finally! support for background downloads in Edge.

What I'd REALLY want to see is call recording for devices which are not the 950/XL, 550... Even though as far as I gathered, it will never be available though it's not a hardware limitation...

Another thing they've fixed which annoyed me (and others) a lot, is the song title flickering bug in the music controls.

Time to update then Posted via the internet

But my Lockscreen is still flickering when I change tracks though the track's title looks stable. And the Groove app still doesn't have the icon in all apps menu. Is it only me?

The fix for that is in the RedStone build unfortunately..

Me too with the groove icon. At least it appears on home screen/start menu.

i have a blank blue icon too

I know exactly what you are talking about and will post it in feedback, but yea hopefully it's fixed it at least improving so I don't have to post.

Phone voice recording demands specific hardware..

Although the lock screen music controls are still showing the ((o)) streaming icon when playing from the locally downloaded collection.

So background downloding works ?

It works flawlessly buddy!!!...but u don't get any progress notification......just download started and download complete......BUT I WOULD LOVE TO SEE THE DOWNLOAD PROGRESS IN THE ACTION CENTER

Me too that would be sweet!

Holy Caps Lock, Batman!!!

Visual Voicemail! Finally! I cannot express just how much I have missed this feature since getting my new phone. I really, really hope it "just works"... updating now, so we'll see... Posted from Windows Central for Windows 10

It should just work. I've been using it on the Redstone release for a while.

So after updating, I've called voicemail a few times, changed my password, rebooted twice, and it still hasn't enabled. I think it's time to call AT&T... again...

Update: *just* as I was starting to dial 611, the phone popped up a box asking for my voicemail password to enable visual voicemail. And I just confirmed it's now working the way it is supposed to. :-)

Visual voicemail has been working on my 1520 on build 14295 already, but I'm glad if it wasn't working for others, it's now fixed.

That's a Redstone inside build. This was back ported into the production and release preview rings.

It also worked for me with10586.164 (NL925)

Do you have a dual-SIM phone? The fix is specifically for making visual voicemail work on unlocked, dual-SIM phones. It never was a problem for single-SIM phones.

Oops sorry... not Dual SIM. I missed that part.

Yeah, a lot of us didn't realize that VVM was a problem before buying a dual-SIM phone. Glad that Microsoft figured out how to make it work, because calling into AT&T's insanely verbose voice mail system made me feel like I was back in 1993.

Downloading on my unlocked Lumia 950XL single sim (international version)

I'm glad while some that feel the need to broadcast to the world that they're 'dowloading' others are finding the time to downvote.

How about posting something intelligent after installing? No one reaaly cares if you're in the process of downloading.

Was trying to show that the update was already available for the international single sim version of the Lumia 950XL. Bad day or something?...

Really? I had to to check updates cpl of times to pick up the download. Whats wrong if someone confirms it? I have seen far more useless comments than this. So calm down.

Here you go.... "Seems faster"

Safari definitely feels faster on .218

You mean Edge? Safari's on iPhone.....

Hi anybody know why my phone is showing (Insider Slow, Insider Fast and Production) Only?

This is public release. Not just release insider ring

How do I change to this branch

You can uninstall and reinstall the Insider app.

On previous article there's written only for Release Preview Ring

How do I,select release preview. I don't have this option anymore

As suggested above, try uninstalling and reinstalling the insider app. If it still doesn't show, not sure what the next step would be.

What version are you running at the moment? If you are running 14XXX you are on the development which isn't elegible for Release Preview builds and therefore this option doesn't show.

Yes I noticed that. I'm on Redstone already ☺

What about those using build 14295?

Build 14295 is Redstone. It will remain in beta for quite some time. This build is for production channel. Think of it as Windows Update for existing Lumia devices which came with Windows 10 preinstalled.

So i have a 950xl on 14295. Can I not recover with windows device/recovery tool and get to the production channel? I want the hell off of this build pronto!

yes you can do that, just choose preview release if you want more frequent updates of drivers and such or just choose production and go with the normal flow in life.

@KillaRizzay, yes you can use the windows device recovery tool to get to the production channel.

downloading, hope navigation bar issue is resolved, unable to hide navigation bar for 8.1 apps like WhatsApp, unable to use payment apps bcz payment button is hidden under these navg. bar..... most annoying issue for me..... HOPE HOPE HOPE everything is resolved. - From Windows 10 Nokia Lumia 730

Hi... Do reply how the device is working after update. Is windows camera working fine with living images option.? I am also using Lumia 730 and in .164 build it was not working properly. So I moved back to wp8.1. Regards.

They resolved the navigation bar issue in the Redstone builds, so we have to wait a little longer...

Well you can hide the bar but there is a big black space in 14925..

Oh.. so now they have to fix the "hidden navigation bar issue". lol

That is unlikely to be fixed. Those apps cannot scale themselves to use the blank area. Only UWP apps can.

Not entirely true. WP7 apps were limited to WVGA, so they can't scale to fit a longer screen (such as 720p). However, apps in WP8.1 would scale to the size of the screen when the navigation bar was flicked away. Those same apps in W10M don't scale when the nav bar is flicked away.

I hope so.
The only apps where I would like to hide the navigation bar (because I can't now) are: Whatsapp, Telegram, Spotify, Messenger, UC Browser, Tubecast.

I don't think that's true. There is some kind of bug in W10M. On WP8.1 (HTC One M8) hiding the navigation bar resulted in most (but not all) apps stretching to fill the missing space. But even still, I could always hide the bar. Now I cannot hide the bar in many older apps, and even many apps that used to scale no longer let me hide the bar.

There is no need to scale them. Just (MS) let the app be full screen and let the navigation bar being over it and if someone needs to hide it it hides it, if not, not. It's really not that hard, MS. Oh, wait, it was already on win 8.1...

I hate how some of the 7/8.x apps make the nav bar bigger. It gets taller

Now my comment. On Lumia 535,the nav bar is closing the bottom of all Windows 8.1 games(Hungry Shark,Subway Surfers ...)and make the touch screen input to be not correct on that game. I think they need fix that.

Microsoft Lumia 535 DS has bluetooth issue in windows 10 all builds, bluetooth pairing is ok but music comes out of phone insted of bluetooth speaker, any one facing this issue

I think it started to work.

Navigation bar is still not hiding for WhatsApp..... stupid update..... Redstone updates will never reach to Lumia 730, they will ditch us for sure....... so forever my mobile navg bar doesn't hide and I have to face this issue forever..... don't suggest me to go back to 8.1.......... we were fooled with these updates. - From Windows 10 Nokia Lumia 730

Why do you think they'll ditch the 730? Posted via the WC App for W10M on Lumia 730

I'm on Redstone update Lumia 730 you can too!

hello, I think they will not release official Redstone update for L730 bcz by then this mobile will become 3 yrs old and MS as usual won't support older mobiles and ask us to buy new ones...... u seeeeeeeeeeeeeeeeeeeeeeeeeeeeeeeee - From Windows 10 Nokia Lumia 730

coming to keyboard its even horrible now, never takes what I type, stupid OS, I am gonna break my phone............ - From Windows 10 Nokia Lumia 730

forgot to mention I cant access my offline maps now, it shows some error..... so I had to reset my mobile, if I hard reset it will it go back to 8.1 ? - From Windows 10 Nokia Lumia 730

A hard reset will install a wiped clean version of the currently installed build. To install a prior build, you need to use the recovery tool. http://www.microsoft.com/en-us/mobile/support/faq/?action=singleTopic&to...

As you mentioned Redstone and 730, is it only with me or there's any compatibility issue of Redstone with 730? Because my phone goes into a restart loop and never turns on. I had to roll back every time. Sent from a black hole.

at least you can hide it, on lumia 630 the navigation bar can not be hidden at all

It's especially annoying when you're trying to watch youtube videos through TubeHD on fullscreen. Or when you try the same thing by using Edge,that damn search bar can't be hidden,it's so annoying. Actually there are many minor lags and bugs that pisses me off. But oh well,i guess only thing you can do is wait for update. Since i have 640xl i guess i'll have to wait for a while...

Should try MyTube! You can hide the nav bar.

Yeah,but the app it self isn't that good,as far as i remember.

The developer is quite active especially in communicating with the users. So far, my experience with it is great.

The app is good but has some serious issues with search. I mean, i search something and it gives me, let's say, 30 results. After that it does not search further so i end up everytime with a small amount of results.... That's annoying! But the app is great. I find it better then the otgers Aproved by me!

go for Perfect Tube, it has download option for videos in all formats and UI is amazing... but I missed LIVE TV in all Windows Utube apps, is it bcz of Windows limitation or wantedly developers ignoring this ? - From Windows 10 Nokia Lumia 730

Sounds good, will upgrade ASAP. Hope it fixes some small glitches too, like no darkened App List background, occasional app crashes and mobile connectivity problems.

So far, the issue of tinted BG not functioning seems fixed.

It fixed on 14285(i think) but on 14291 the dark app list is REMOVED(i cant try 14295 because it doesn't show in phone updates). I think they have fixed that on 14295, if not, will be fixed in 14316(if we get it).

I think the number is correct or not.

I had to take the Slow Ring off my 640 yesterday and revert back to 8.1. I don't know why, but it had sooo many problems. I had to reset it at least 1-2 times per day because it would stop notifying me of messages, it wouldn't connect with my Band, the sound would get distorted, and so many other problems. If anyone can tell me if this is worth trying again on the Production Ring, please let me know!

Which release was giving you the problem? If it was 14295, I went through the same thing. After I reverted, I rejoined Insider, upgraded to .107. Following this, I enabled Release Preview in Insider, and updated to .164, which was very stable (had a problem with Wi-Fi - had to recreate SIM APN). Am now updating to the latest release - we will see.

I'm not entirely sure. It's just the most recent Slow Ring. I'm pretty sure it was 14295, yeah. I loved the features of W10Mobile but the tradeoff was so frustrating I had to revert back.

This isn't an insiders update.If you are at 8.1 right now and upgrade via insiders(at8.1 ofc) you will get the 10856.xxx and then update it without download the insider app at w10.
The production release is still too buggy. Posted from my Lumia 640 Xl dual sim 10586.164

Dang. They need to fix these bugs! I want the features of W10Mobile but not the unnecessary frustration that comes with it.

Me too.Bit I think this build 10586 its very good but as for the bugs I think they will be fixed until summer. Posted from my Lumia 640 Xl dual sim 10586.164

That's too bad. I guess I can wait.... :'(

Download the 10586 at my opinion the differences between them aren't so big.

Thinking of reverting back to 8.1, then doing production release of 10. The latest slow ring update has made a mess of my 640 as well. screen flashing, video playback issues, etc. The previous update gave me no problems. I though the point of slow ring vs fast ring was to weed out the really bad updates with fast ring. But if they're going to send out updates that weren't any good in fast ring, what's the point? I'm hoping they're smart enough to NOT send 14295 out in production release!

Juist do a hard reset. My old L830 got screwed up royally when i updated to the first redstone build and didn't improve on 14295 so I did a hard reset and all my issues went away. The joy of alpha software.

Hard reset or factory reset, then update? I did a "hard reset", which got my apps to work (anything on the SD card was grayed out), but the video issues remained. And of course, like every other release, a startup tells me that my SD card is corrupt and it wants to reformat it. I tried doing that, and even using a different card, it still gets that error message. Even though the SD Card seems to work fine.

I always get the same message with the SD Card although again it seems to be working fine. It gets really frustrating sometimes and I'd like to know what's causing it, but I can't figure it out >:( Posted via the WC App for W10M on Lumia 730

Did the SD Card apps removed after hard reset??

Because on WP 8.1 after hard reset it says that there are apps from other phone and deletes them.

I had the exact same problems. I just flashed my phone using Windows Recovery Tool and updating to Production build. In 14295 initially SD card got corrupted then apps did not update, then did not install (new) and finally never opened. Always crashed. Even Store started crashing. I have L640 unlocked dual sim. There is no other way than to flash your mobile.

My 640 lte runs very well with 14295 only had problems with Cortana and Canada language pack but use us English and it perfectly fine now and stable.

I had 14291 and then tried to switch rings then I got a gray screen of death

Seems like a solid update. My Lumia 830 is 26% dome with preparing to install. Windows Central for Windows 10-Microsoft Lumia 640

I noticed the WC app is better, doesn't crash when switched to

Scroll down, there's a separate article for that!

HTC One M8 downloading & can't wait to resync my BAND 2 ... Jamaica

Finally got to resync HTC One M8 with BAND 2.

Download finished but I still need 40% batt to install... CHARGING!!! Lumia 640 XL DS
Build 10.0.586.164

DONE! Love this update... Lumia 640 XL DS
Build 10.0.586.218

DONE! Love this update... Lumia 640 XL DS
Build 10.0.586.218

which ring are you in? coz mine i have only slow, fast and production.

It's raining some very welcomed updates! MS and WC, and water outside.

I think you deserve royalty checks

Is the cellular data network bug resolved plus battery improvements Windows 10 mobile -L535

Bro hows is build .164 on lumia 535 ds?

This isn't the same build as the one that was held up. This is a retail release.

I'm downloading it right now to my Lumia 950 XL Dual SIM. I'm really excited for the visual voicemail. Posted from Windows Central for Windows 10

I got the update but visual voicemail still doesn't work for me Posted from Windows Central for Windows 10

I just installed the update. Visual voicemail does work. I had to give it a call as normal and once I hung up, a prompt from the OS asked for the pin number for voicemail. Once I typed it in, it works as it did on my Lumia 1520. Posted from Windows Central for Windows 10

I tried that but didn't get the prompt on any of the 3 950XLs I tried on Posted from Windows Central for Windows 10

Sweet! Posted from Windows Central for Windows 10
Using the Alcatel OneTouch Fierce XL for Windows 10

Hope my mobile lumia 620 get detected via usb after this update...

Oh you have a 620 too! Wonderful phone but MS is abandoning it I guess.

How about the not so cool WIFI problem is that solved?

Not sure why you got downvoted. This bug has actually pushed us over our data limit for the month when we've failed to notice that wifi has just mysteriously stopped working and you have to reboot the phone to get it to find any wifi network again. Anyway, here's hoping it *is* actually fixed this time around.

Looking forward to 3rd bullet item: "Improvements for Bluetooth connectivity, including the reliability of connecting to and staying connected with Bluetooth devices."

No kidding. It seems like it would take forever to connect to my Ford Sync. Occasionally it would drop out as well. Plus, the Groove music (and other apps) fix is welcomed, too!

It is downloading on my Icon right now!

Haven't had a successful update in months. Reset bug?

look like old lumias in windows insider are receiving this update. .....Now Updating my 920

Just wait for the new update

M not a part of any insider, still i'm able yo make update, - India Seen on Lumia 640 Xl

If you have 10586 you get it. I was surprised myself

This seems to be an old changelog of last build Sent from Windows central app for Windows 10

Downloading on my AT&T Lumia 950 now. Not part of the preview programs myself.

For third parties apps we can't able to hide navigation bar...plss fix that issue...and calling option stucks....and in lock screen time displays slowly...and very poor in tile updates... Sometimes hangs wen msg arrives...plss please plsss first make camera clarity better.... Its was good in 8.1 but in 10 it's horrible...plss make...it and store s very slow...plsss update it..and groove music too...

they will never fix navigation bar issue bcz MS want all 8.1 apps should developed UWP 10 apps, so they wantedly doing this. it will take months to get any further update - From Windows 10 Nokia Lumia 730

They've already fixed this in the first Redstone update. Sent from a black hole.

when Redstone update release to non insiders ? after years by that time L730 is old phone and MS will ditch us..... - From Windows 10 Nokia Lumia 730

I've heard that RS1 is scheduled for production release this summer, and RS2 will be next year.

Visual voicemail is FINALLY back?!?! Thank the heavens! Posted with Windows Central for Windows 10

What about the battery..last branch build caused my battery to drain like i was playing fifa16 on ma phone 24/7

Lol. I didn't even get a chance to play FIFA 15 ut on my phone.

Is this available for phones which don't support Windows 10 but were running the TH through Insider Preview?

Hotspot under lock screen?

sick same problem Hotspot auto disconnect when lock screen or 10 sec

Whooa! Those are some nice improvements! Already downloaded the update, now waiting for the instalation =)

No new features that could woo a Androider or iOSer to switch. Or for us WMers to stay...great job MS

Christ... Complain, complain, complain...

come on, I just updated my L640 (had rolled back from RS1 preview to WP 8.1 R2 earlier) to build 10586.218 and so called blank tiles (blank tiles after upgrading from Windows Phone 8.1.) remain to exist and to be honest all the blank tiles are of MS' native apps. Should we assume that size of the team that's working on W10M must be less than 10 folks and they don't even test! This is really frustrating, at least what they post in changelog as fixed should have been fixed IMHO, else what's the point. I have reported the issues to Dev Team with screenshot in the feedback app, hope they look at it.

Daniel Rubino Christ... Complain, complain, complain...

Christ Free speech, free speech, free speech...

Stability first. Major new features coming in the Anniversary update as it should. Take a chill pill and switch if life is so hard for you on WM.

Ha stability sure it is my xb1 begs to differ

This is in the production Threshold branch. If you want to try out new features, go to the Redstone insider previews.

@mikepalma...As a long-time Windows Phone fan and user who is now at peace with the state of Windows Phone even if it never receives another update, I invite you to sell yours, get something with a Samsung logo printed on it and start whining in an Android group.

It was ~65-70 MB. Surprisingly small

I love to receive updates this fast, with a retail phone without insider stuff. (Lumia 950XL DS)

Downloading, Lumia 1520 :)
Not insider preview

I'm on Production Ring I thought i won't get the update and have switch to Release Preview but before switching i checked the update and surprisingly got it(Sorry just remembered than i even uninstalled the Insider app)

It is a Public Release !!! Downloading on my Lumia 730 - Non Insider/ Unlocked - India !

All those running Windows 10 Technical Preview on non eligible devices please give positive feedback on this build and pray to get these phones back on Technical Preview supported devices list! /s
Lumia 630 user here :P

And you can download this update on Mobile Data network. It is only for 77 MB. I am downloading it on my 2G Vodafone network.

I know I was shocked I thought I was going to have to go to a coffee shop

Got it without being an insider
640XL INDIA
size 71MB

It is official available for all non insider customers.

This update is available on my Orange (french carier) lumia 950

"Fix for a problem that caused audio playback to get occasionally interrupted in Groove Music and other music apps when phone display was turned off." My single favorite fix right here. That was irritating me so much. Dual-SIM Visual Voicemail is pretty good too.

Still no fix for Band 2 connectivity issues. Ugh.

It's no better? Have you installed and tried it or it's just not listed? Downloading now and hoping to see a difference. Don't get my hopes up?

I am on 14295 build on lumia 640. I am not getting 10586.218. Can anyone help me out to get this 10586.218 build bcoz 14295 is too buggy

You won't get it. You have to go back to 8.1

14295 works fine on my 640 lte actually very well

I am so tempted to try Redstone again...

See if the Device Recovery Tool will let you install 10586 builds directly, or it might send you back to 8.1. http://www.microsoft.com/en-us/mobile/support/faq/?action=singleTopic&to...

No. It will send you to 8.1

And then you will need to accept the OTA update to Windows 10, which should take you close or exactly to the desired build. Not a painless process to say the least. It might be simpler to just wait for the next Redstone build.

Use Windows Recovery Tool, install 8.1 and get into production builds. Redstone build is way too buggy to be used daily.

I was wondering why I wasn't seeing the update, and then realized it's not a redstone build :(... hopefully that's coming soon too!

Recover ur phone then u got this update ....i also did this to get official windows 10 mobile .164

Lumia 920 support this win10m update

Downloading the updates right now..

Downloaded and now peparing to install on L730.

great ☺ Posted from Windows Central for Windows 10

Thanks, will download when in reach Wi-Fi Greetings from The Netherlands.

I will download it on my 550 soon. Good to see windows 10 mobile is getting matured day by day. I was wondering if Microsoft can add double tap wake up feature to mi lumia 550. I really miss that feature

amen! it would be sooooooooo gooood

Just updated. Working fine for me so far :-) , Microsoft edge is working perfectly now!

All Apps list background bug fixed

Yup, and the flickering track skipping in the volume control has been improved. It's not perfect, but looks far better than it used to. EDIT: It might look slightly better, but the experience is worse. Tracks could be quickly skipped through before, but now they can't: e.g. lets say i'm listening to a 10-track album, starting at track 1. If I wanted to listen to track 6 I could quickly hit the skip ahead button 5 times and track 6 would start to play. In the new build pressing the skip button multiple times only skips one song ahead and won't work again until the song has started playing, you are forced to listen to the start of every track.

This is how it is now on Redstone, the flickering is still there, but only once, when the song starts playing

I can quickly skip multiple songs on 1520, seems ok and no flickering. On 550 also can skip quickly, but it then genrates flickering.

A soft-reset has fixed this issue for me now, so skipping is working again!

Yes the issue have been fixed. NL1020

Yes the issue is fixed
NL1020

WiFi problems solved? Posted via the Windows Central App for Android

What wifi problems is this? I dont have any on 1.64

Like it won't connect sometimes

and lumia 630 is offically stuck at 10586.164

Please, guys, do not write "Now it feels faster" or something like that ))))))))) Posted via the Windows Central App for Android

I agree. Also as we install the new build the phone has restarted, so the performance improved due to that as well.

Seems faster lol I'm joking I don't have it yet

Let's see if this build improves overall performance of my phone. It would be interesting to see if the background downloading works effectively.

Impresentable la oferta para actualizar el equipo. Los lumia 920, 925 y sobre todo el 1020 deben actualizarse a Windoes 10. No hay excusa válida.

Still the same problem with glance screen how to disable it

download here in Romania, non-insider, L 640 dual sim

OMG! They fixed flickering when changing songs in volume menu! I can't belive it. The also fixed all apps background dimming. All that left is to make the OS and core apps NOT SUCK... Licke Groove, every time you SHUFFLE it takes ages and dosn't start the music, TV app crashes system after each video played, calendar is as useless as ever, Cortana keeps forgetting assigned "mom" and "dad" contacts, and when it doesnt, she thinks mom, mama and momma are different people - smart coockie, isn't she! Glance has date as Tuesday 12/April, but on Lockscreen it correctly doesn't have "/" in it... Still no option to put weather on lockscreen...

Are you serious? This fixes were on Redstone branch but they weren't reported here

Uuuu, from now on I ain't touching fast and slow rings with a 10 foot pole... I'm out of the insider programm for good after all the pain.

Last update for the 1020? Sent from Windows 386

Well this stinks, the Quiet Hours when a calendar event is set to busy has not been restored yet. :( Otherwise, I have not had a chance to look into this update so, I will see how it goes. :)

My Cortana still constantly crashes. Almost unusable. Already even reset my phone.

Did you alreayd updated ?

Same for me on Lumia 630 since the last build

Cortana crashes with a rate of about 70%

lumia 1520 and on laptop...

Downloading on BLU HD LTE and also on PC. Thanks guys and keep supporting this futuristic platform. Haters gonna hate.

The keyboard bug is still there.phewwww Posted from Windows Central for Windows 10 Mobile on L1520

If u keep typing keyboard fails to recognize some letters leading to miss spelt words. Great headache while using whatsapp. Think its fixed in redstone Posted from Windows Central for Windows 10 Mobile on L1520

It's the one where the keyboard injects the word "phewwww" immediately after the period at the end of each sentence you type. It only happens on Shibilumar's phone.

Actually I disabled the keyboard suggestions feature. One bar less increases space for reading messages. Feels better :)

small sized update 50-60 mb for my 730,

Still no cortana in the netherlands yaay

Currently on Redstone build. Are these updates now two different brances?

They have been different branches since Redstone preview first become available.

Oh right, I recently got a 950 XL. That's probably when I didn't realise I went onto Redstone builds instead of these ones.

Just getting this on my 1020. I thought MSFT left us out of any updates, so what is the story now?

Microsoft left us out official updates.

I didn't do a hard reset after the last update and after this one it looks like I really need to. Things like Backup didn't even want to open for like 5 mins and trying 3 times. I should follow my own advice and do it every time lol. - I hope damn sound notifications are finally fixed in WM10, I haven't heard an email notification since 8.1!

Happy to get this. Rolled back from fast a few weeks back and missed these fixes.

After updating, the SD Card is no longer working on my Lumia 535. Damn !

Where's double-tap to wake? I don't think we're ever getting that feature back.

Well, my HTC One M8 still has it.

It works on my 1520 but doesnt on 550

Here are some issues i am facing...
1. Still have glitches while changing song using volume keys.
2.loading and resuming screens for many apps even settings
3.equilizer crashes while playing song.

no flickeringwhen changing the song in volume menu on my 1520... what phone do you have?

Noticed it still happening on 550, but not as much as it used to be...

He said "glitches". You said "flickering". He said "volume keys". You said "volume menu". This mini conversation must end now.

You can't really change the song by volume keys alone. by pressing the volume key you invoke the volume menu or volume bar or however u wish to call it, and then, if something is playing, u can tap the pause/play or back/forward. Slight terminology differences. If it bugs you, you are welcome ignore this mini conversation...

How do I get this? "Release Preview" is no longer an option in my Insider app... Posted from Windows Central for Windows 10

It sounds like you may be on the Redstone branch (14xxx). To go back to the production Threshold branch, you need to use the Device Recovery Tool. http://www.microsoft.com/en-us/mobile/support/faq/?action=singleTopic&to...

Hide navigation bar is still not working. That's too bad. This is very improtant features for windows phones, as it occupies the significant part of the dispaly reducing the usable display area. This is first thing that I want to be fixed. Also the height of navigation bar is much more that required to accomodate the buttons. Guys if you agree please vote for this, I really want this to be taken care off as soon as possible. I am very positive that Microsoft will hear us. Lumia 730 updated Win10 and Lumia 640 on Win 8.1.

New to forum. Downloadingthe latest update. Looking forward to seeing and feeling the changes.

Wanna know what's new? The devices crashes and reboots every 30 seconds and deleting of all the files on my SD card every reboot! SUPER AWESOME MICROSOFT! (Lumia 640) FIX NOW PLEASE! Factory reset did NOT help. GUess I have to start all the way over!

What device are u running mate?

How BIG is this update? It seems to be reserving 3gb of space on my phone! I've had to uninstall some things and yet it still won't download! Posted via the WC App for W10M on Lumia 730

Are you updating from 8.1 ? I installed it on L730 from previous 164 build, downloaded quickly on wifi, not sure abt the size but shouldn't be that much big.

No, I'm updating from .164 wow this is a head scratcher Posted via the WC App for W10M on Lumia 730

I've heard that your download should be around 77 MB.

Thanks, I've managed to download after a few deleted apps and a soft reset and it seems to be 77mb indeed now, so all's good! Thanks for replying though Posted via the WC App for W10M on Lumia 730

So far seems fine for my Lumia 1320.

LOL. talk about the law of attraction at work...Out of the blue I asked my GF if she had the latest update on her phone earlier, .164 i think it was(same as on my 1020) - I just clicked update and saw 218!!...scratching my head i jumped on here to see its released for all phones....last one for us i guess. Shame the trade in is US and Canada only.

Scaling issues are still there on my 535 at some 8.1 games :/ That's my only complain about Windows 10 mobile. Not so annoying, but not the best thing ever :D Posted with the Windows Central app for Windows 10 on my Lumia 535

This seems like a good update. I don't have time for the "what's fixed, what's broken" drama.

Screen flickering issues older apps seems to be fixed. Bit to early to really tell. hope my live tiles keeps updating and not blank out after a while.

It would be good if it took us to the last comment after a refresh in here. Scrolling is tiring.

Tweet dan about it Windows 10 mobile -L535

First thing I noticed, App list transparency bug is fixed. Yay! :p Sent from a black hole.

Still cannot download Spanish (Spain) keyboard or any other not built in. Just fails and says try again later.

What still isn't fixed: Flipagram in Whatsapp and then trying to open file. Greetings from The Netherlands.

Can't download it. I can't change the ring to release preview.

If you're already on the Fast or Slow ring in the Redstone branch, there is no such option (other than Device Recovery Tool to drop back).

Lumia 950 XL Unlocked Dual Sim US. Visual voicemail works like a charm.

Where is the Battery improvements?!

Dear neither battery improved nor custom ringtone for individual contacts added

Custom ringtone for individual contact? I have had that for ages.

Custom text message alert won't play for specific contact when general alert tone has been customised as well.
On 164 build 640 LTE

"Fixed a problem where the phone continually rebooted when cell data was on and wi-fi was not"? No? Well, I'm holding off then.

The flickering of the music title in the drop-down music control doesn't seem to be 100% fixed. There's still a bit of flickering when your skipping through songs fast. Posted from Windows Central for Windows 10

just tried it, seems to work fine and responds quite nicely to multiple skips... that is on 1520 however, on 550 it is a bit sluggish and some flickering appeared...

has this fixed the problem of Edge randomly closing itself on the 535 yet?

The windows insider app in the store reverted to an older build. It doesn't have the prerelease option

If you're on the Redstone branch (14xxx), there is no Release Preview ring (different branch). To go back to the production Threshold branch, you need to use the Device Recovery Tool. http://www.microsoft.com/en-us/mobile/support/faq/?action=singleTopic&to...

Where is the release ring? It's not in the app?

If you're on the Redstone branch (14xxx.xxx), there is no Release Preview ring (different branch). To go back to the production Threshold branch, you need to use the Device Recovery Tool. http://www.microsoft.com/en-us/mobile/support/faq/?action=singleTopic&to...

No custom ringtones neither for contacts nor messaging. No call recorder. These are major features that MS is ignoring that's why people are leave this platform. If this problem would remain stagnant then soon MS would loose more its customers of phones. Remember my words and today's date

"Fixed a problem where the phone continually rebooted when cell data was on and wi-fi was not"? No? Well, I'm holding off then.

FIX THE DAMN MESSAGING NOT SYNCING SMS TEXT MESSAGES! Or at least allow us to go to OneDrive and manually restore! The "Backup+restore" option for SD cards has _NEVER_ worked right on Windows 10. Syncing my texts after a hard reset should not be a mystery!

I am having the same problem as well....I can't seem to get all my sms back. Even if I do manage to get them on my Lumia 1520 I am seeing 5 of the same text message etc. Henry Miller

I only see fast and slow ring there's no choice for a release preview ring

Not available on the Redstone branch (see my responses above).

I won't say flickering, when a song is skipped, is fixed. But yes, it has been reduced to 1sec. I still can't understand why it happens in the first place. Sent from a black hole.

it seems to differ from enrty-level phones to flagships... on 1520 no flickering, on 550 still some left...

The feature I was looking for (Visual Voice Mail for my dual SIM 950 XL) is definitely included in this release and it works great. I'm glad to have it back. I converted from my 920 Win 10, which had VVM on March 1, so it was only 5 weeks without it. But I DID miss it. Got it back and I'm smilin'

Hope it fix my Hey Cortana problem, not listening to me in training. :c

Settings crash when hitting restrict background data when roaming.. Sent from an alien space ship with a Lumia 950

If theres one thing I'm hoping for its battery life improvements

Downloading right now to Lumia 950XL, production release (non-insider), on AT&T.

Lumia 930: So still some icons for groove and news and weather are blank. But the most important under data usage if i make a plan for this and
if i want to restrict background data usage when i get close to the limit don't work just goes to homescreen.
Otherwise no complains

Am I the only one who is too afraid to update.

I can't find it for my 735 and I uninstalled and reinstall Windows insider since I am on the slow ring.

You won't get it on the Slow ring. You need to be either in Release Preview or Production (i.e. not an insider).

I left the program so now on production ring. Restarted phone and still nothing.

On the fast ring, I take it I can't get the update? My 950xl is screwed since last update but when I check no update available?

I too am waiting for the next Redstone update, since 14295 seems pretty flaky on my 950XL and my wife's 950. If a new build doesn't come out soon, my wife will probably drop back to the production branch (gotta use the Device Recovery Tool to get there).

For a dead platform there seems to be quite a lot of action going on in the graveyard. Not only is the old stuff still mutating into something better, but outside the cemetery a red stone is being carved too for those who want a peak...

I would like to see an update on the battery reliability and the web browser that still has problems after using the phone in one handed mode it will be imposible to touch the links after screen goes back. The only solution is to enter the task manager or turn the phone orizontal, then back to vertical.... Aproved by me!

And when will we get the firmware update we were about to receive before Windows 10 official release for phone? AT&T have released it in feb when will the rest phones get it?
There's still a flicker when I try to change a song through groove music when my phone is on lock screen. Still can't download mp3 files from edge.

I don't really have any problems with W10M on my XL950 other than random battery drains and windows hello. Hello is pretty useless since it needs to be up close but for some reason it works great on my surface. Battery drain is a mystery though. Tried everything. One day I can hardly drain my power and next day it just drains. Same usage same workload but some days it just seems to have a bad battery day? Other than that it is running fast and stable on 950XL and I just love that phone. Hope this build improves on that.

I just switched from the iPhone 5 to the 650 and I'm loving it so far, the only thing keeping me from getting other people to convert over as well is some pesky bugs that can easily be handled. It's nice to see them pushing updates regularly but still it seems like it should be on point as this point. I feel like I'm using a pre-alpha phone sometimes xD.

Lumia1020 64gb
Enjoying the latest builds has improved alot phone more responsive.pity we can't try RS build on it

Does anyone knows how big is this update?

Still showing blank tiles on lumia 950 in South Africa at download

Finally, URLs copied from Edge can be pasted elsewhere (Facebook, Messaging). Edge no longer uses its own private clipboard!

If 14295 is Redstone, how the check did I manage to get it on my 1520!? I have version 14295.1000 Posted via the Windows Central App for Android

C'mon MS.... Still waiting for live tile updates for group tiles. Don't make me dust off the L920.

I'm installing it on my Lumia 1020 in PRODUCTION MODE btw...

It seems they took some of the fixes in Redstone and put it in here. Like getting rid of the background blacking out when launching Cortana, app list darkening...

is there any chance to get this on 14295.1000?? man my 540 already got redstone frimware...

How about fixing music controls for Band 2 when listening by Bluetooth???

I just need a "close all" button for opened apps. It's very annoying to close one app at a time.

Critical problem "Mobile Hotspot" not work any all mobile

Kinda wanna go back to non-Redstone build. They seem much more stable and less problematic. Not being able to sync my band 2 unless switching language to Chinese is not fun... From Windows Central App for Windows 10

Cortana in latin american spanish? *sigh*

What about the metadata error for FLAC files? Is it already fixed in this build?

working on my icon. im confused, is this not redstone?

Why wifi direct is not available in windows 10 mobile(like on android) Posted via the Windows Central App for Android

Working even better on 640xl. Alot faster now!! ☺

Still the auto brightness isn't fixed and light sensor isn't detected.

I thought it was only me having that issue. But yes the automatic brightness level needs to be adjusted. It's really hard for me to see what's on my phone now. Henry Miller

Do somebody can install it on Lumia 830? Posted from Windows Central for Windows 10

Installed in my L830 without a problem. Runs great.

How do you install it?
I mean: On witch ring are you?

Can anyone tell me why my microsoft lumia is not updating to build 10.0.10586.164​..been trying for ages now...have hard reset lots of times.is there any other means i can use to update it.

Still blank tiles for MS native apps like Grove Music,Travel,etc. in apps drawer. :(

Wow it is for my lumia 520 too

So glad to have visual voicemail again, even though I hardly get voicemails. Also, Cortana works much better. Both by talking to her and typing in commands. Before she would close out instead of showing web results, or if audio her response would cut off and bring me back to start screen. Good job Microsoft!! Looking forward to the audio playback under lockscreen improvements and more stable Bluetooth. +950 XL DS NAM CV Windows 10 Mobile

Let me get this straight. This update is for devices like the 650, 950 and 550, correct? With pre installed software. Posted via the Windows Central App for Android

Downloadng it now on my 640LTE from .164

How is the battery life on this build....!!???

How is the battery life on this build....!!??

Can anyone tell me the size of this update ?

After the update .218 I hard reset my phone only to find all my apps installed on the device and had to move them individually to the SD Card. What a painfully long process. My 640xl's working better now though.

Store needs to be fixed. After installing this update I did a hard reset on my Lumia 730 and updated all my apps. After I saw that all apps have updated, I restarted the Store and firstly, it didn't update itself (I noticed the placement of 'Downloads and Updates' in hamburger menu and then on downloads screen 'Check for udpates' was at the bottom, which as far as I know was moved to the top in latest Store app) and then when I checked for updates it again showed me all the app updates available again. This is so frustrating. I had to do a soft reset and repeat the process and now it seems to be working fine. I'm on insider release ring and I expect the builds I recieve to be tested well. Other than this Store issue I haven't found anything broken (and I hope I won't).

I got this and I'm not on the insider build

Yay at least Cortana still crashes a lot. I'd be sad if they took that away.

This is cool and all, when are we going to be able to stream Xbox One to Xbox App on Win10Mobile? Posted via the Windows Central App for Android

On my 928 it is definitely more stable and responsive. Battery life is back to the way it was on 8.1, which is to say more than I need for a full day of use. I'm liking this, even if my phone will never be officially supported.

Did it fix the Band syncing problem?

After updated, my phone GLANCE SCREEN no function anymore. Another problem is when phone off screen, sms or any notification my phone won't switch on, I need to on by manual ....... What happen .....

STILL the pinned tile created from EDGE (webpage link) does not have screenshot of the page when it was created.. C'moon!

Worst update ever. Phone is overheating, battery is draining supper fast. I have 1520 using display on mid and it drains 1 % every 2-3 min. when on win 8,1 1 % was drained every 5 - 10 min of internet browsing. The Browser is super buggy atm. Phone is freezing 2-5 times per day, when in 8.1 I did not have a single freez for 2 years. In edge sometimes I have to pres several times the link or button for it to respond, even than it may not work until I refresh the page or it just brings me back to blank page or closess the browser. From the overheating the sreen starts to flicker and in the upper left corner there is a brighter sport, when the phone is cold there is no such issue, on Windows 8.1 there are no such issues I have downgraded and upgraded few times to test if the problem is from the actuall device, but it`s not. after 10586.218 my apps that show in my list for update do not show in the store as updatable.... and there are many more little ussies like when I try to dail a number the keyboards is supper slow and if I have to enter the number fast it skips digits I have to pres it very slow for it to respond or I have to pres it few times, it`s like the phone is lagging in the dail pad..... I`m considering going back to 8.1 but many apps that I use are not working for 8.1 anymore.... so IDK ... maybe switch to Iphone or something ..... Lets hope MS will make some better changes cuz this is coplete crap atm ......

Updated now in lumia 540
* performance and fast improved
* flickering problem in music resolved up to 80%
* Quick action centre became smoother
# Prones:-
* it takes almost half an hour to show applications stored in sd card. However songs and movies arr available from sd card in that time. Ie; the problem found in apps only
* it take few second to play next song from previous update
* keyboard not found sometimes.
* cortana becomes buggy than wp8.1. In 1st update to wp10 the performance was good.. But now it rakes too time to respond and recognise. No bug fix seen in it.
i couldn't find anything more. If any new improvement features found comment at the earliest.

I am not able to download new updates in 640xl its showing your system is upto date no new updates are download in my phone

Guys, the app list now shows the dark / white tone when returning to that from apps too :D So another UI bug is fixed in this build :D Posted with the Windows Central app for Windows 10 on my Lumia 535

when i checked my phone, this update was already downloaded nd just need to be installed. but when i tap on install, it just started installing and stopped. still showing install option. is this because i have battery less than 20%? but phone is plugged in though. still cant install ~DheeraJ~

I'm seeing a slightly improved battery life on my 950XL. anyone else experiencing this?

L930... Battery life are worst part of WP10 :'(

I am using Microsoft Lumia 640 XL, i am facing problem with battery charge time. its taking more than 4 hr to charge the battery, Kindly try to fix this issue ASAP

Am not seeing this build to download, am on 14295, any help to get the new build? Windows 10 mobile -L535

It kinda sucks to be you lol....you have to downgrade first. Henry Miller

Lol it does, I think I'll wait until the updates reach me after Redstone lol

Cool stuff. Downl Nah my 1320 does not support this. Let me go back to Android.

My phone's not an eligible device for W10M, but I receive the update! Is anyone out there get the update too? Lumia 630 DS | W10M 10586.218

hey i didn't get preview build option in windows insider. so how can i get this update.either tell me when when this build come on fast or slow ring.

Update ur windows insider app

m using uupdated version in my lumia 730. app version 1.33.233.2

Still waiting for SSTP VPN...

with every update I hope MS will fix that ugly bug with deleted photos that still appear in apps....cleared temp files etc ...still there.... Lumia 950

Just updated to the latest

With this update my L730 started inverting colours in it's own, i have ambient light sensor always ON.
Anyone with problem

I'm going to pack my Lumia Icon in the original box it came in and send it to Satya as a souvenir so that it can be placed in the Lumia gallery at MSFT HQ.....RIP

It seems it still has my Cortana crash randomly a few seconds after being invoked, or instantly. I get this on desktop too, I wonder what this is, it annoys me endlessly.

I am not getting the update installed .. :/ update is downloaded ...but when it restarted it's showin error 0x801882c1 !!!! i already did a hard reset and freed up internal upto 3.5gb+ .. but it's still showing and update failed .. what should i do ???
P.S. 640 XL user

Bluetooth fix my a**. Propper Bluetooth in the car like we had on music app on WP 8.1 is still not there.

I am not sure if i am seeing things wrong, but I think the latest update just made visibility worse in my home screen. Before the white lettering was very bold and had a great contrast with the background and tiles. Now it is much dimmer. The 'More apps' screen no longer glitches, when you turn the display on and off...and is much smoother, but I am wondering if Microsoft were really stupid enough to mess up the contrast.

My Alcatel OneTouch Fierce XL from T-Mobile just notified me this morning of the update. Installing now.

Why is my phone not seeing it? I'm on the insider fast ring. Lumia 950XL. I'm confused and bummed.

Nokia lumia 730 Not glance screen please add this feature next update

why am i not getting this build? I tried various ways on windows insider app but update is not showing up?????

Can i 'upgrade' from build RS 14295 to this build? Or does that mean a 'downgrade' and not available to do?

yes you can upgrade from your current version.

Its basically downgrading but stable... I had to use recovery tool to go back to .164 and upgrade to this form L950

Anyone knows how to get back to retail builds after signing out of insider builds on a Lumia 550? I'm now on 14295.1000 and unenrolled from the program but can't get this update

If you want 10586.218 even though you're on Redstone, flash back using wdrt

Updated mine Lumia 620 yesterday at night trough Insider Release Preview. So far, so good. Runs reasonably fast, with little to none glitches, despite Microsoft saying Win10 can't run satisfactory on 512 mb RAM devices. I can navigate trough apps list, options, settings with very little slowdowns. I didn't notice glitches at Groove or screen before, so can't comment if they are fixed. So far, I can't detect any of those with .218. Battery life, seems to me are good. But again, can't say if it was fixed with previous builds as I only had the .164. But honestly, I think my battery are beginning to run at end of it's life cicle, so if it's draining to fast, i couldn't detect if it's the OS or Hardware. Glance is working normally. Cortana is running good, so far. Keyboard are working good. Another thing is I wasn't getting Whatsapp, Messenger or 6tag notifications on Tile or Notifications Center before. Now they seems to be corrected with this build. Also, 6tag seems to be running a noticeably faster. Only issues i can say for sure are absence of Facebook notifications in the Tile and Notification center and a random freeze of the entire phone. So bad that i have to do a soft reset or take out battery. It's quit frequent to my tast, but at least is manageable.

I installed this update on my Lumia 650 and noticed a few changes. Screen animations used to be slow and sometimes got stuck but are now smooth. My phone has not been overheating as before and therefore the battery doesn't seem to drain as much. When starting up, the phone seems to load the start screen faster. Overall performance is improved.

Finally!!! I can log in to windows Central app on my Lumia 930... thank god MS fix what WC developers couldn't do

For as long as I had my ATT Lumia 950 I've always had the Windows Insider enabled. I was part of the Fast Ring and boy was it ride. I decided to revert back to factory via the recovery tool. After the getting back to square one I updated to this version. I can honestly say that the experience is a very nice change. I thought I could handle riding the alpha/beta but as it turns out I cannot. I might stick my feet back into that insider program but for right now this just works for me. I wonder if the unlocked 950 is a difference experience while on the insider program? The unlocked version does get more firmware updates because they are not tied down carrier certified releases. All I know the ATT version is a interesting experience to say the least while on the insider program.

Equalizer won't update is anyone else having the same problem with new software update Lumia 640

Still a small issue with groove when pausing/playing in lock screen...screen flashes with accent colour when you hit pause/play.

Where can I find which build is current for which ring? I updated my Lumia 735 via slow ring to Redstone, and my SMS stopped working. I had to use Windows Device Recovery Tool. How can I choose build .164, since it was the best for me? Anyone?

No update still in the Philippines on Lumia 930

hmm.. Windows 10 for phones is really mataring. Still waiting for my mobile operator to roll-out the upgrade :/

After the update i am experiencing my Lumia 550 much faster and improved battery life. Good jo Microsoft.

yesterday I rolled back to 10586 and my old messages wont appear in the messaging app, does anyone have this problem?

still missing icons in the menu view for groove music,weather app and telegram

Updated my production-build Unlocked 950XL DS yesterday. Was really happy to get VVM (even though I get maybe one message a month). Unfortunately, within an hour or so, my phone started locking up at the lock screen on wake - screen comes on, but no clock, calendar item and then totally unresponsive to any input, including power button. At one point, the phone woke to a call and was ringing but I couldn't answer. Soft-reset five times so far in the last 20 hours. Have not yet tried to hard-reset due to the PITA that it is but may be my next stop on this. All in all, first time I've had a major issue with an update. Disppointing, for sure. :-(

Finally I can log in to WC app!

Not sure what you mean by "non-carrier", Daniel. AT&T pushed this build to my 950 yesterday.

So far the most stable build to date on my lumia 1320.. didn't experience any freezing and live tiles are working perfectly specially those apps migrated from windows phone 8.1. Build 10586.218 really improved so much on the reliability and battery of my phone. By the way, I'm using this phone (L1320) as my everyday driver so you know. Good work windows insiders.

i still have the blank tiles for groove music and weather app after this update..Lumia 640

Activates wifi automatically...Lumia 550

Blank tiles issue not fixed for Groove & Weather app! Posted from Windows Central for Windows 10

Can't find it, it say my phone is up to update, how do I download this update on my phone

i really still want to see people hub changed, these circles are just ridiculous.

still resuming...loading... apps crashing...live tile is not updating.... photo app takes more than 5 minutes to load photos.... camera goes on saving mode forever.... I think .164 was better...

Battery back up quite improved i think

10000.15342 this is showing in my lumia 540. Is this the latest version ?

Seems faster! Just kidding, actually I recieved the update on my dual sim 640xl and it does seem like the performance has improved significantly. Apps open faster and as a whole the OS is more fluid and doesn't stutter or freeze like it used to. Also no app crashes since the update as i had before and everything finally seems to work as it should. Truly functional as a daily driver now (so far).

Has anyone else had the glance screen crash bug after the update?? It doesn't show up nor can enter it's own settings.

Can't seem to download anything new from the store. Anyone else having this issue? Am able to update apps that are already installed, just can't add anything new. On Icon currently

Default file save location needed in edge... every time I need to browse for folders and save...
or I've missed something here ????

This update is eating battery so fast !!! and charges it back slow !!!! any thing on it ?

my nokia 1520 is running as smooth as butter so keep those updates coming...

windows update error 0x800f081f mobile while trying to install update 10586.218 already done reset hard reset but not solved please help microsoft LUMIA 535

Really impressed with this build on my 640! Rock solid experience with plenty of zip.

i am waiting for the updates which bring OTG pendrive support in windows 10

After having allowed update to W10.0.10586.218 into my Lumia 650(W10) most third party apps I´ve installed before this update won´t stay open for more than a half second. Re-installation helps in some cases, but in others not.

Its Crap, pure crap, i installed it and i was unable to add outlook account, all my contacts was on that acc, constant backs to home screen even after hard reset.....its buggy and its far away from finished ...i rolled back to 8.1 and ill wait some stable version of 10. and yes , Battery drain omg I use phone and watch battery goes empty .....gg microsoft . btw i use lumia 640 lte