Here's my wallpaper for the Surface Pro 3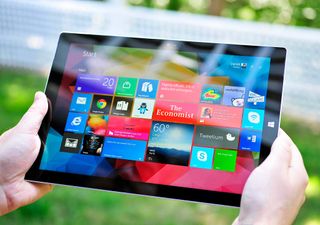 In scanning comments and tweets from my Surface Pro 3 review this morning, one request kept coming up: Where can I get that wallpaper? It's always a funny and flattering thing to write nearly 5,000 words on new hardware only to have your wallpaper be the most exciting thing, but hey, I get it!
So without further ado, here is the 1280 x 1024 colorful polygon wallpaper that I use on my Surface Pro 3 and other Windows 8.1 devices.
Don't right click and save the embed above, that's just for illustrative purposes. The download link below is higher resolution.
Update: Thanks to Maximillian M., he found the original source, which is Lancork.net. The download link below takes you to that site, where they have various resolutions!
And in case you want the one for my Windows Phone 8.1 devices, see my earlier article covering that one.
If you have a killer wallpaper that you'd like to share, toss the OneDrive link in your comment for others, and maybe we'll do a roundup of best choices? Let me know, as you folks drive this site!
Get the Windows Central Newsletter
All the latest news, reviews, and guides for Windows and Xbox diehards.
Daniel Rubino is the Editor-in-chief of Windows Central, head reviewer, podcast co-host, and analyst. He has been covering Microsoft since 2007 when this site was called WMExperts (and later Windows Phone Central). His interests include Windows, laptops, next-gen computing, and for some reason, watches. Before all this tech stuff, he worked on a Ph.D. in linguistics, watched people sleep (for medical purposes!), and ran the projectors at movie theaters because it was fun.
I didn't even ask but thanks I'm downloading it!

Thanks indeed, the background is bueatiful Guys I just got my SP3 and I'm wondering , do I have to install an antivirus program? if yes which one do you recommend that wouldn't affect the performance

Not unless you just really want to... I don't. Windows Defender was upgraded in Windows 8 to also scan for viruses (its the security essentials AV engine).

You can if you want, I hear Avast is a great free security suite. Nonetheless, I personally use Windows Defender (built in). Works great, not had any issues thus far. Microsoft has come a long way my friend.

Thanks a lot guys. I'll stick with Windows Defender then. SP3 is amazing, I'm definitely selling my macbook air.

ESET, but I think its not for free.
www.eset.com

Jackpot! I found all 18 of them. http://www.lancork.net/2013/09/ios7-iphone-ipad-polygon-wallpaper/

Under the influence, huh?!

You don't drink and browse? Get off my site! :P

Hahaha, booze and peruse maybe?

Thanks for sharing! Here's how my start screen looks now: http://i.imgur.com/wQnmOap.jpg

Chillax man! I was gonna add "good stuff happens under the influence!"

That first paragraph made me chuckle :D xD

Can you also send a link to download this type of wallpaper (high resolution polygon ) for windowsphone too ? Want it for my lumia 1520 start screen . Have seen such image in many of your posts having a lumia

On the hyperlink he set there are a lot of formats for this image. Go check it out.

Wow thanks Daniel! It's really awesome! Also, your review was very honest, helpful, and fun to read.

That's nice, Daniel..
............
Here's mine.. :-o
..............
http://tinypic.com/m/i5skmq/1

He said one drive, not tinypic. And your start screen is just a screenshot of your phone, not an actual wallpaper. You are way too conceited. ;)

It was supped to be a joke.. I was taking a shot at Daniel... Thanks for ruining the joke... Really???... Lol!

It was such a bad joke no one got it. And don't, just DON'T, try to crack stupid jokes.

Oh, can it.. Here's a napkin.. You need to wipe the $hit off your lips.. Lol!

Despite the wallpaper I guess it just looks good because of the surface pro 3 amazing screen! I remember many people asking for the wallpapers bundled with surface pro 3! they all looked great!!

When will be announced that I won the Surface Pro 3? Today is the day :3 (...and VIVA COSTA RICA CARAJO!!!)

Nah mate, sorry but it's me who's gonna win

sorry guys. face reality. it's going to be me that's going to win :D

Thanks for sharing Daniel.. :)

I'm using this for right now as my lock screen: https://onedrive.live.com/redir?resid=EA922CED098B3FD7!103686&authkey=!A... I have my kids as my desktop.

What? It is the upcoming Zelda game for Nintendo.

Yeah, i know but it's the picture in the left :)

Ah, I see. My main one drive folder is my junk drawer. I found that Claris Works book in a closet at work and was amazed they still had it.

Ugh, stop it. Now I'm gunna spend the rest of the workday daydreaming about the next Zelda in addition to the SP3. That lockscren on a brand new SP3... my head might explode.

I'll have you know I read all 5,000 words. ;) Thanks for the download link!

Thanks for sharing, Dan! seems faster

o.O whats seems faster..?

Does it really matter? You can say that for about anything...

Thanks! This total beats the pic of my wife and kids :-D

Thank you for the download link...looks fantastic.

Yeah, the polygons are in now. Along similar limes, fractals are neat geometrics. Also RAW images from the Hubble telescope look stellar! My humble collection of space images: http://1drv.ms/1qyTLSI

I love to browse the internet under the influence. My favorite thing is to take a shot everytime Buzzfeed starts an article with "the ten single most amazing things that....."

Is it me, or is this almost identical to the GS5 wallpaper? Just an observation - http://www.lirent.net/wp-content/uploads/2014/02/Samsung-Galaxy-S5-Wallp...

Pretty similar. The gs5 one seems to have more gradients on each triangle, whereas on this one the colors are a bit flatter.

Anyways, I love it. I think it compliments the tiles really well. I also made it the lockscreen image for my icon. Thanks.

Here's one from a Theme+ update I'm working on: http://i.imgur.com/6CJGi1W.png. Looks super colorful on the Start screen. Also, sorry for not using OneDrive, heh.

Boy that looks real my awesome!!

Enjoy! Feel free to download Theme+ to get more wallpapers like that one, customized by yourself: http://bit.ly/1irmGPn.

Woo, look at me! I'm a regular Daniel Rubino over here.

lol, living the dream...or something

Nice! Thanks for sharing. Glad someone knows how to make some great background images out of PolyScreen. I tried to figure out how to use that app once but it kept crashing on me, made my L920 too warm, and drained the hell out of my battery so I unstalled it! :(

You know, Daniel, you never revealed your wallpaper from your Lumia Icon that one time. I feel slighted...remember me? ;)

Anyone having any issues with the SD Card slot? Mine doesn't have a snap/spring that standard slots have and I cannot get my SP3 to read my SD.

Do you have it in backwards maybe?

Google chrome on a tablet, really?

Google Chrome is the best browser, so why not?

For touch on Windows 8.1? Maybe you haven't a tablet. Tell me what is better on the desktop. "grabs popcorn"

Thanks Daniel! You're the Man.

Thanks Daniel, I truly appreciate it!
And I'll reread the 5000 words tomorrow morning :)
You can blame Microsoft for that ... The Tile Backgrounds feature in 8.1 is truly a gift & a curse. Lol ;)

Nice wall Daniel! I've been using this one lately on my desktop. ;)
http://1drv.ms/1p06eiw And for the lock screen it's a shot (captured with the L525) of a cute kitten which is living in my garden these days. http://1drv.ms/1pti5U9

I recently got hold of the gray Microsoft Surface wallpaper that has the circle/hoops on it that have been in some of the Surface Pro 3 marketing shots. With no Surfaec Pro 3 labelling it is great for anyone with/or without a Surface to use. http://www.windowsobserver.com/2014/06/20/download-official-surface-pro-3-wallpaper/

Thank you sir. It was an awesome review btw. :)

Meh, it reminds me the GS5 wallpaper.

Is someone able to post the official surface pro 3 wallpaper?

How about your Lumia 1520 wallpaper??

Thanks very nice wallpaper!

http://1drv.ms/1nqelzr
This is a great paisley pic I use for my Lumia 1020.

Here's my Wallpaper Collection http://1drv.ms/1iSSazj

Wow. One word: Wow. And THX

Check out mine http://1drv.ms/1nqgv2a

Here is Mine. Square Boxes of Different COlor is Cool. :-) https://onedrive.live.com/redir?resid=CF0F8B9DDB703193!4112&authkey=!ALQ...

You use Chrome?Blasphemy ;-)

So..How would one get this wallpaper as a background on the start screen?? I can't seem to find the setting for this. Diregard... I found my answer...

I made that my phones wallpaper lol

I wanna Surface, but I'm living in LatinAmerica ;-;

I put it on my Nexus 5. WPC App via Nexus 5.

Thanx Daniel. It matters a lot for my upcoming Surface Pro 3 as a gift from Windows Phone Central!

Thanks for the wallpaper. Do you have the wallpaper that was shown on the surface pro 3 giveaway? I thought that one looked amazing and I cant find it anywhere. This is the one im talking about: http://www.wpcentral.com/congratulations-our-surface-pro-3-winner

I've downloaded for both my Lumia 920 and my Surface RT.