Here's what's been fixed and what's broken in the Windows 10 PC preview 14295 build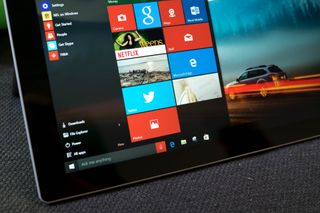 Microsoft has posted a list of what's been fixed and what known issues are in the just released Windows 10 PC preview 14295 build that's available for Insiders in the Fast ring.
According to Microsoft's Windows Insider head Gabriel Aul, here's what's been fixed in this build for Windows 10 on the PC:
We fixed the issue that was causing PCs to freeze when plugging in an Xbox One or Xbox 360 controller and other gamepads.
We fixed an issue where Microsoft Edge would refresh the tab if you pressed caps lock in a password field.
We fixed an issue preventing the Xbox app and other Xbox Live enabled apps and games from signing in.
We have fixed the driver bug that prevents Kaspersky Anti-Virus, Internet Security, or the Kaspersky Total Security Suite installed from working as expected in builds from the Development Branch.
Here are the known issues for the Windows 10 PC preview build:
We are aware of issues with Narrator and other screen reader apps being unable to read the menu options in the Feedback Hub, as well as issues with Narrator not reading selected text in the Feedback Hub, Cortana, and other apps. We're working diligently to fix these bugs as soon as possible and apologize to Insiders impacted by this.
If you use Hyper-V and have a Virtual Switch configured for your network adapter, you may see an error indicator (red-colored "X") for your network adapter in the notification area of your taskbar. The error indicator is incorrect and your network adapter should continue to work just fine.
On some PCs with TPM chips, such as the ASUS Zenbook UX31, you may experience glitchy audio and jumpy movement when using the trackpad due to the "tpm-maintenance" task running constantly in the background instead of once per boot-up like it should. As a temporary workaround, you can disable the tpm-maintenance task in Task Scheduler (under \microsoft\windows\tpm).
PCs that use Windows Hello or a PIN to sign-in to the device will launch the Microsoft Passport service. When this happens, there is an issue in this build where Bluetooth will then repeatedly scan for devices. This causes a few issues on the PC including reduced battery life, audio glitches, responsiveness issues with Bluetooth keyboards and mice, a decrease in Wi-Fi throughput on Wi-Fi/Bluetooth combo chipsets, and a decrease in throughput for Bluetooth file transfers. As a workaround, you can disable the Microsoft Passport (NgcSvc) service by opening an elevated Command Prompt, run "reg add HKLM\System\CurrentControlSet\Services\NgcSvc /v Start /t REG_DWORD /d 0x4 /f" and then reboot. However, you will not be able to use Windows Hello or a PIN to sign-in to your device. The service will be re-enabled again when you update to the next build.
After upgrading to this build from Build 14291, attempting to connect to a Miracast receiver the connection will fail. The workaround to get out of this state is to go to this registry key "HKEY_LOCAL_MACHINE\SYSTEM\CurrentControlSet\Services\SharedAccess\ Parameters" and select "StandaloneDhcpAddress" and change the value from "192.168.173.1" to "192.168.137.1" (value type is REG_SZ). Then retry the connection to the Miracast receiver.
We are seeing reports of some apps such as QQ crashing. We are currently investigating, and this bug may also impact older apps such as Windows Live Mail and Expression Encoder 4.
Damn, a lot more is broken in this build compared to the last build. I'm moving to the slowcring til some of these issues (such as Windows Hello) get fixed. I'm really glad we have the option to do just that.

I'm not a techie and don't understand why a new release "breaks" what worked before? I do have W10.164 on my mobile which still needs work on basics. But don't get why something that worked fine on one release is then broken on the next release......

Only having done basic programming I don't know the full ins and outs, but most if not all of the code is pretty much interlinked.
I can't think of a good example right now, but think about it a bit like your body: You may get ill (bug) and you try to get better with medication (fix), except there may be side effects which will make other parts of your body worse when they've made your original illness better. If that makes sense?

​The example is good; things are pretty complicated in big OS and Windows is one OS fitting all needs from IoT to Hololens, passing by several kind of devices in between and obviously working with a lot of hardware configuration and drivers. It is kind off topic but a recent nVidia update was killing video cards which shows you how big of an impact drivers can have on devices. Now we just have to imagine all the possible scenarios that Microsoft has to cover with Windows 10. Regardless, I'm annoyed everytime they break once more something that was fixed previosly.

That's the risk you take with Insider Previews though. It's like testing new medication: Things are bound to not go right and they'll use your experiences to improve those meds so that others will suffer minimal side effects if any once they're available to the general public. And during the even earlier stages, there could even end up being side effects that the researchers aren't aware of, which is like being on the fast ring & slow ring, depending on which stage of the research you volunteer for. If you're not happy about things constantly getting broken while others are being mendes then you might be better off sticking to the public/general releases. Sure you might have to wait longer but at least you're not putting your machine at anywhere near as much risk.

This should be made a sticky. Moreover, people need to keep in mind that the decision was made to skip Windows 9 and go directly to Windows 10. Much of what we get in Windows 10 was future code. Now we are working with code that was basically ideas after Windows 9. Its is still a work in progress.

Hahaha. 9 or 10 are just numbers. They did not throw away 9 code and made 10 code. Windows 10 code is a continuation of 8.1 code.
The reason to skip 9 is because similarities tot windows 95, 98 or 9x. Also from Marketing perspective 10 sounds more refreshing.

Thank you both for explaining in simple terms why "broken" occurs.

I think that using the same names in procedures or functions triggers the glitches. Its hard to remember all the old names when adding a new file to the system. Posted from Windows Central for Windows 10

Good explanation. But don't forget that various builds are build in parallel.

For me the xbox controller issue is important so updating. I would get off branch but don't want to get iso and reinstall since I cleaned up all restore files. :(

with the 4th issue i won't be updating :) will wait for a better one.

It looks like they are trying to enable the unlocking using the new authenticator app on phone via Bluetooth.

Just remove the PIN before installing, reverting back to a PW. Worked fine for me. Don

No fix for stalled text messages? None for crashed messaging app when trying to input a gif? None for groove music app crashing or stopping a song for no reason? One day, perhaps an article will say "Here's what's fixed," and not broken.

Off the topic :P but can know which wallpaer is it in background of screenshot??? I like it Posted via Windows Central App for Windows 10/Android

Thankfully the Xbox 360 controller issue has been fixed.... driven me mental!

It isn't properly fixed for me. Plugging it in doesn't crash my computer anymore, but playing Fifa 16 is pretty much broken with very stuttery performance ruining gameplay.

Same here , with every game I get stuttering , from old GTA5 to a new Far Cry Primal

I am in the process of reinstalling normal W10 on my S3 due to system instability sine 271 and 294. Constant unhappy face blue screen stating interrupt and graphics driver problems plus bluetooth not functioning correctly. S3 installers please comment on the stability of this install. Thank you

FYI: Now back to 164 (current release/non-insider) on my Surface 3. Although I haven't been long here I am back to quick and stable mode.

Isnt it a pity that we cannot have a build that just fixes things. Windows 10 should never have been released until they had a fully working version available rather than this "what can we fix and what can we break" crap that comes out weekly.....

Well, this is a fast ring that both introduces new features and fixes things as it goes along. They did say people wanted more builds, so there would be less testing. Perhaps Fast Ring is more close to alpha builds where Slow Ring is more like a stable beta. Just glad the Xbox controller issues is fixed.

Every single version of every single OS has things that get broken and need to get fixed, there is no such thing as a finalized OS. However, if the lack of stability bothers you, then you have no business being on the Insider rings as they are unstable by nature because it's where new things are introduced and tested before being pushed out to the general populace. Hence why MS said from the get go that these builds shouldn't be on your main device.

Has anyone else have been having issues with symlinks or junctions since the last few builds? See my feedback post for details and upvote if you can reproduce it -> feedback-hub:?contextid=395&feedbackid=4315bd81-130e-4ca1-90d5-987602285bf9&form=1&src=2

I don't see it in the broken or fixed section. Is the issue causing surface pros to freeze and have to do a button restart fixed?

MY WINDOWS 10 WILL NOT DOWN LOAD ALL THE UPDATES, GOES TO 59% THEN STATES ITCAN'T DOWNLOAD THEM ALL AND START UNLOADING ALL THE 59% DOWNLOADS !............WATCAN I DO TO CORRECT THIS ?............jscotthalterman@gmail.com

My 2nd monitor no longer works on the Surface Dock from my SP3.

Had some issues with mouse but installed drivers from web and now it works fine. Only issue I have is i can't install any new UWP apps. Ahh well.

bing lockscreen seems to be broken. doesnt work after upgrading and thinking it was a typical upgrade bug i did a hard reset(which I though would fix the problem) but now I lost everything of f my phone -.- Lumia 640

OMFG! Been running DPC Latency Checker on build 14291 for the last 4 days, trying to fix the audio/lag spikes on the OS. Followed the TPM advisory above, now it's all fixed. Damn finally. Now can play vids/music without hearing the jarring spike sound, like I'm being subliminally programmed by Windows 10.

And to MS, apologies to your 'bot' that has to read "How likely are you to recommend this build of Windows 10 to anyone" replies... I probably got a little bit... sweary.

I am on build 14291 and I don't know how can I update to the latest build because since 14291 my START button isn't working. I can't see the app list, Settings and all the stuff in START menu. I can only open the apps that are pinned on the taskbar. So now, I don't how can update this. Is there a way to get to the Settings aside from the Start Menu?

Does search work? You can use that to open Settings and then navigate to updates as usual.

is bluestacks working on this build? on previous didnt.

I just noticed something pretty cool!!!!! Developers can now respond to u directly when u review an app or game in the store as on this game https://www.windowscentral.com/e?link=https2F%2Fclick.linksynergy.co...

Updating right now! I can't wait to play Rocket League again.

Good luck. For me, RL is terribly laggy on 14295. :(

My question is when will they fix all the issues with edge. The most unbearable issue is the fact that it refreshes the page ALL the time on its own when filling out forms but just when using caps(i never use caps). Makes you start over. Such a pain.

Thank god the XBL sign in issue is fixed. That was a real pain in the butt on 14279 and 14291.

Getting Error 0x80240031 when trying to install 295.

14295 is ridiculously laggy on my computer. Opening a tab in Edge causes a black screen flash while it "thinks". Playing Rocket League is now horribly laggy, it pauses to think while calculating physics. I will roll back tonight.

still the same issue on 14316 build..... it has todo with the controller... unplug the xbox controller and it runs smoothly!! plug back in and it starts to stutter again..... no issues when using the steam controller!!

I dont have the PIN issue on my PC. Lol
Windows Central Newsletter
Get the best of Windows Central in in your inbox, every day!
Thank you for signing up to Windows Central. You will receive a verification email shortly.
There was a problem. Please refresh the page and try again.