Here's what's fixed and broken in Windows 10 preview build 14352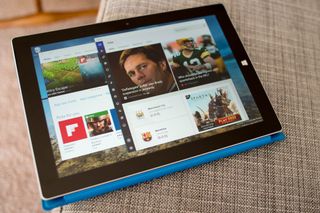 Microsoft has just pushed out a new Windows 10 preview build, which means there are a whole slew of fixes and known issues on deck for Windows Insiders. Thankfully, the list of fixes far outweighs the three known issues that are tagging along in the latest build.
Here's a quick rundown of what's been fixed in Windows 10 build 14352:
Feedback Hub should now be localized properly. If you install a different language, you will need to relaunch Feedback Hub to have it show in that language.
We fixed the issue with Intel HD Graphics 3000 or Intel HD Graphics 2000 GPUs causing rendering issues and instability with Microsoft Edge. If you mitigated this issue by using software rendering instead of GPU rendering, you can go back to GPU rendering.
Starting with this build, pinned tabs in Microsoft Edge should no longer get lost after updating to a new Insider Preview build.
We fixed an issue causing Surface Books to bugcheck (bluescreen) when using Windows Hello.
We fixed an issue that caused the Brightness Quick Action to appear missing.
This build includes fixes for Precision Touchpads. We have Improved reliability of using gestures to switch between virtual desktops. We also improved touchpad responsiveness for pans and two finger taps. We also fixed an issue where swiping on the touchpad might not wake the device once it was in Connected Standby state.
We fixed an issue resulting in maximized UWP apps slightly overlapping the taskbar if taskbar was positioned on top.
We fixed an issue in the Action Center where it wouldn't show the hover state when moving your mouse over notifications if a notification had been expanded.
We fixed an issue resulting in missing icons in Action Center when using Light mode.
We fixed an issue resulting in "Restart Required" continuing to show in Action Center after restart has already occurred.
Increased hit target of X icon for notifications in Action Center, to make them easier to dismiss.
We fixed a timing issue where the Bluetooth Quick Action might appear (with state ON) for a device with no Bluetooth.
We fixed an issue where using Esc to exit a full screen video with Microsoft Edge maximized would result in the window becoming unmaximized.
We fixed an issue where playing mp4s from a network share in the Movies & TV app would sometimes show an "MF_E_UNSUPPORTED_BYTESTREAM_TYPE" error.
We fixed an issue that resulted in the volume mixer slider for system sounds getting reset to 100% after receiving a notification or altering master volume.
Update notifications to now deep link straight to Update History, rather than the Windows Update landing page in the Settings app.
Updated the Settings app so now the CTRL + E keyboard shortcut will set focus to the Settings search box.
We fixed an issue where theme settings were not roaming correctly to other PCs with the same Microsoft account.
Fixed an issue resulting in the All apps list in Start being blank for certain languages
We updated the Action Center icon to now hide unread notification count when the taskbar is using small icons, as there's not enough space to display it.
Fixed an issue with Command Prompt where it wasn't keeping the current line in view after resizing the window.
We fixed an issue that resulted in the User Account Control dialog sometimes appearing behind other windows instead of in the forefront.
We fixed an issue resulting in the Lock screen sometimes not showing the Caps lock warning when Caps lock was on.
And here's a rundown of the known issues in this build:
Previously installed extensions for Microsoft Edge may not work for around 15 minutes after your first sign-in. A work around for this is to manually re-install each extension from the Store.
In some cases, the new Cortana features highlighted above may not work. Restarting your PC should fix the issue and get the features working.
Using the keyboard to navigate in certain Store apps like Netflix or Tweetium does not work. You will need to use your mouse.
In any case, you can now download the latest build if you happen to be a member of the Windows Insider program on the Fast ring.
Windows Central Newsletter
Get the best of Windows Central in in your inbox, every day!
Dan Thorp-Lancaster is the former Editor-in-Chief of Windows Central. He began working with Windows Central, Android Central, and iMore as a news writer in 2014 and is obsessed with tech of all sorts. You can follow Dan on Twitter @DthorpL and Instagram @heyitsdtl.
Nice! A lot of fixes and minimal bugs :) downloading now

Hope it magically fixes random wireless keyboard lag.

I thought it was my PC ast work I was about to opt for wired

It's horrible it just randomly starts lagging and you can't type at all unless you do one key every 20 seconds.

That SurfaceBook Windows Hello BSDO has been plaguing me, I'm ecstatic to see it was acknowledged and fixed

Yes, this. Had to disable IR Camera in EFI just to get to the login screen....

Lol, never seems like the biggest issues that I have ever get listed. Hopefully those are so obvious that I don't need to report even though I do, but idk. I'm sure there are some real good testers out there.

My Dell Venue Pro 8 is still freezing 2 to 3 min after booting in this build, And even after I reset the Windows to have clean machine.

Hmmm? I'm using the V8P version #2 and just hit download for this. Hopefully it continues to run with only minor issues. Just an FYI, I have noticed my unit is very finicky when using poorly made SD cards.

Now they've even removed the unread notifications count badge from action centre button when using small icons. I had requested them to enable the badge even for UWP app icons pinned to taskbar in small icons mode. But alas! :'( The badge actually didn't look weird at all. ~Sent from L830

Really??? I really liked that count notification on small icons :-( I'm gonna try requesting for it's return!

I don't know if I feel safe downloading Windows 10, but I could be wrong. Hope they are nice to me!


I don't see a fix for the constant stuttering of video that I've been having for the last several builds. Especially in Netflix, but even full-screen games stutter, making them virtually unplayable.

I know this sounds silly but have you made sure that you're using the latest graphics drivers direct from your gpu vendor?

Been getting a lot of hangs in in the previous version. Hope this new version fixes it

Now downloading on SB :) Has anybody been having problems with sleep in the last build, after mine froze in it a couple of builds ago I changed to 'shut down' on all options, so it can not sleep, would like to re-instate sleep if possible

I'm stuck on Build 14295. Build 14342 keeps trying, but it always fails and restores me back to 14342. Is there a way to cancel 14342 and skip it to try to install this new build?

Do a clean install,this will work Sent from my Underrated Beast Lumia 540 :)

Search on the windows central site there's a tutorial to clear out updates in windows 10 its easy I just don't remember the steps. Also doing a disk cleanup and clearing off previous builds can help.

You could try downloading the latest Insider ISO / media creator and upgrade from that. I had similar issues on 14295 and resolved my issue this way. How it works for you Posted from Windows Central for Windows 10

Hmmm... under the known issues it says, "In some cases, the new Cortana features highlighted above may not work. Restarting your PC should fix the issue and get the features working." - but I don't see any new Cortana features highlighted above???

Never mind, there is a seperate article detailing the new Cortana features...

I don't use the action/notification thing, so none of those changes interest me. Maybe this build will be more stable. I'm testing W10 on a tablet, a laptop and a PC. It's had random crashes and freezes on all three. Hopefully I'll see less of that. As it is, though, W10 is so horrible by design I'll be sticking with W8 on all our regular-use devices.

I Got Windows 10 Insider Preview 14352: error 0x80070020 whe try to update. Anyone else have this error? any possible solution? thanks!

Fix Windows Journal NOW!!!

I'm in the fast insider preview and can't see this build... Anybody has a clue?
Windows Central Newsletter
Thank you for signing up to Windows Central. You will receive a verification email shortly.
There was a problem. Please refresh the page and try again.