Here's what's new with the Intel HD update for Surface Book and Surface Pro 4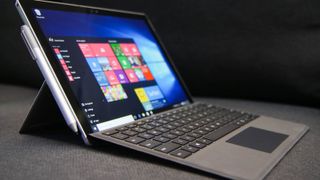 If you are an owner of the Surface Pro 4 or Surface Book, you'll find a new Intel HD graphics update available today. Version 20.19.15.4463 is a bump from the previous driver release back in March of 20.19.15.4409. The update applies to the Intel HD 515, 520, and 540 (Iris) graphics processors found on Surface Book, Surface Pro 4 (Core m3) and Surface Pro 4 Core i5 and i7 models.
The Intel driver version 4463 was released openly by Intel back in June, and beta users could manually install it. Microsoft has now approved the drivers for their Surface devices ensuring a stable experience when combined with the latest OS updates. Here is what is new from the release notes from Intel (warning: PDF):
Whether you're a casual gamer, power user, or gamer, this driver is aimed to improve your overall experience. We've fixed many hangs, crashes, and graphics corruptions across a wide spectrum of games and applications. We're especially pleased to report that this driver also fixes some long standing and frequently reported graphics issues on Intel's Support Community, including a scaling issue with Windows 10, and an error found when playing a particular game title. Please see below for additional details on fixed issues
System may hang while resuming from Sleep/Hibernation while using WiDi
Graphics corruptions may be seen in Just Cause 3, Forza Apex, The Witness, XCOM 2, Ark Survival: Evolved
Scaling issue, Black Borders problem in Windows 10® - Stuck at 'Constrain proportions'
Screen may not rotate in full-screen mode and other miscellaneous issues with screen rotation.
System may crash when playing back videos over WiDi or Miracast
The driver update applies to 6th, 5th, and 4th Generation Intel Core processors so there is a chance that earlier Surface models may also get the update along with other PCs, tablets, and two-in-ones.
Daniel Rubino is the Executive Editor of Windows Central, head reviewer, podcast co-host, and analyst. He has been covering Microsoft here since 2007, back when this site was called WMExperts (and later Windows Phone Central). His interests include Windows, Microsoft Surface, laptops, next-gen computing, and arguing with people on the internet.
Omg I super super hope this fixes metal gear solid 5 which I can play on the SP3 and SP4 except the online part, MGO, doesn't work on SP4 but works on SP3, strange when SP4 is more powerful. I can't play gears of war on the SP4 either when people have played it on the SP3, there's videos on YouTube, I just bought it so I haven't tried it on the SP3 yet. But OMG this gives me hope, I just hope it actually does something as I never ever ever see the issues get fixed. It's like they fix things that no one really has.

How does one super hope, let alone super super hope?

I've tried to install it five times now, it says "preparing to install" and never does. Have restarted 4 times now. I have a Surface Pro 4.

Same here since yesterday. Update history says it installed succesfully but it just keeps attempting over and over so.... I don't think it is. Surface Book Fast Ring 14385

I've seen reports on this too, although it installed on my two devices (both Fast Ring). Sometimes doing the old reboot helps, other times it will just go on its own. You could try to uninstall the HD driver to force it, or manually update.

Thanks Daniel, have definitley tried the reboot. Like you said, I've seen this before and it will eventually just resolve itself. We'll get a new insider build this week I'm sure and it will probably get resolved during the post install windows update or something :) Still haven't seen the June firmware on this thing yet though... not sure if its because its on Fast ring or what... but the sleep of death still plauges me nightly. ​EDIT: Actually I just looked in Device Manager and can confirm its the correct driver version. Just Windows Update goofiness I suppose. Have seen this since the Windows 10 betas last year.

It installed this yesterday and my touch screen and Surface Pen stopped working completely. I had to rollback to older driver to make my Surface Pro 4 functional again.

Edit: The Intel HD update has actually tried to install 11 times, according to update history. But it keeps reappearing in the update area when I check for new updates. Is it installed or not? How do we keep it from reappearing if its currently installed? Maybe they can work on this update area in the next Windows 10 Insider Build. Seems to be an ongoing problem ever since last Winter.

I'm experiencing something veeery wierd here.. i have the correct driver installed, just checked device manager. But Windows Update keeps trying to install the driver.. and every time it installs "successfully" aka. just stops installing after preparing to install, Windows Defender pops up with a malware warning!? :O
​If i check detected items in Defender, the infected file is locted in the Windows\System32\DriverStore\Temp\ folder.......
​Could the update contain a Virus, and could the be the reason for continuos reinstalls?! :S

Add me to the list. Restarted but the driver never installs -- though it shows up as installed in History.

Is this a cure for the device not waking up from sleep/hibernate, I see it mentioned in the notes but it refers to when using WiDi. My partner bought us both a pair of SP4 i5's with 4GB of RAM. Mine works fine but hers has on a few occassions needed to be hard reset if she's left it off for a while. Not a major issue but it has marred her experience a little as our previous iPad's were limited allbeit pretty bulletproof when it came to using them.

I had mine replaced just because of that.

I've had just this problem, but by fiddling with the sleep and screen out settings, I've all but fixed it. It mainly happened if I slept it with the type cover off and reattached it when sleeping. Couldn't seem to work out what it was, desktop or tablet, so stayed asleep.

I've seen that. Try changing tablet mode to always ask and go to desktop/tablet upon resuming.

On the first automatic installation it froze my Surface Book on a black screen after turning it off hard it installed without problems

What annoys me about the Surface is that old .exe programs (Paint Shop Pro, Bit Torrent, Audacity to name three), appear with blurry or corrupted fonts, small fonts, bad resolution, badly scaled dialog boxes, etc. Is this a driver thing?

I believe that is caused because those programs do not support high DPI or scalable UI. It's not really the Surface's fault. It happens because the SP4 has a resolution higher than x1080 :)

Thomas is correct. Win32 apps do not scale well on high DPI. Get a 4K monitor and you'll see the same thing on any PC. This is why Microsoft pushed for XAML in WPF/Silverlight and continued on in UWP. It's a joy to design in... yet no one does it.

Cheers guys for the clarification.

You use XAML too when you develop UWP.

That's not technically correct. It is possible for Win32 apps to scale well on high-DPI displays. Many do, including most of Windows itself, Office and Adobe CC applications, to name a few. However, it *is* necessary for the application developer to use the platform APIs correctly and program the correct behavior into the application. It's unfortunate that many older Win32 applications continue to ignore this. You are right that Microsoft has made this successively easier, first in WPF and Silverlight, then WinRT, and now UWP.

Here is a link on one way to fix the scaling issue: http://forums.windowscentral.com/microsoft-surface-book/430843-applicati...

Gents I have I7 just cheked for updates, but nothing found. Do I need to download the update directly from Intel?

You'll have to wait for the update to show up on your machine unfortunately. The updates usually come in waves.

Looks like mine has installed fine on SB :)

Ahhhhh looking at install history, looks like it installed correctly yesterday as well...

Are you on Production builds? Btw was Forza Apex​ playable before these drivers released?

WOW! Forza Apex was playable on these GPUs? Why they never said it?

Has anyone who got this driver actually installed it on a non-insider build? I have yet to see it on my Surface Book (which keeps saying its up to date). I know they usually roll out in waves, but this is probably the first time I've seen a post about a driver update and not been able to grab it on my SB almost immediately.

Same here...Surface Book i7...nothing shows up in Updates or install history.

not available on my srface pro 4

Still nothing on my SP4 m3

Microsoft probably has pulled the update the last moment. Nothing here, either (Pro 4, i7)
Windows Central Newsletter
Get the best of Windows Central in in your inbox, every day!
Thank you for signing up to Windows Central. You will receive a verification email shortly.
There was a problem. Please refresh the page and try again.