Here's what's new in Windows 10 build 14342 for PCs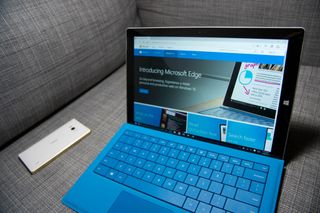 Microsoft is currently in the process of rolling out Windows 10 PC Insider Preview build 14342 to those on the Fast Ring. The official changelog lists a slew of new features that are debuting in the update, starting with extensions for Microsoft Edge.
Extensions for Edge can now be downloaded from the Windows Store, with future updates delivered directly through the store. Ad-blocking extensions AdBlock and Adblock Plus are making their debut, along with several others. Edge is also getting support for real-time web notifications, allowing you to receive notifications in the Action Center.
The most important update with regards to Edge is the return of swipe gestures for navigation. Swipe gestures will be making their way to the Mobile build as well. Here's the breakdown of all that's new in build 14342:
Updates for Extensions in Microsoft Edge: Instead of extracting and loading extensions from a local folder, all available extensions can now be downloaded directly from the Windows Store. This change means that your currently installed extensions will be removed, and you'll have to reinstall the ones you want from the Store. Then in future updates, your extensions will be automatically re-downloaded and installed.
We also have some new extensions available for you to try out. We are excited to announce that starting with this build, both AdBlock and Adblock Plus are now available for download in the Windows Store in addition to Pin It Button, Mouse Gestures, Reddit Enhancement Suite, Microsoft Translator, and OneNote Web Clipper. It is recommended that you only install one of either AdBlock or Adblock Plus as having them both running at the same time can cause issues with viewing websites in Microsoft Edge.
Important note: There is a bug in this build that occurs if you turn off all extensions without uninstalling them, you may not be able to close the browser or get context menus to work. To avoid this issue, uninstall any extensions you no longer want to use instead of turning them off. If you do hit this issue, to get out of this state you will need to turn on one or more extensions or uninstall all extensions, kill any Microsoft Edge processes running in Task Manager, and restart Microsoft Edge.
Real-time web notifications in Microsoft Edge: Microsoft Edge now supports real-time web notifications, which allow participating websites to send notifications to you via Action Center, with your permission. For example, when your friend sends you a message on Skype for Web while you're busy in the Xbox app, you won't miss a thing. A notification from the website will appear in Windows, just like an app might send. Click on the notification and you'll be right back in Microsoft Edge at the site that sent it!
Swipe navigation in Microsoft Edge: Since the release of Windows 10 Mobile, our top feedback request for Microsoft Edge has been asking for the return of the swipe gesture to navigate back and forward. It's also been one of our top 10 requests on PC. With this build, you can now swipe from anywhere on the page to get back to your previous page. This will be coming in the next Mobile build as well!
Bash on Ubuntu on Windows Improvements:

Symlinks within the Windows Subsystem for Linux are now functional on the mounted Windows directories. This fix helps support many scenarios including the npm installer.
Users with non-Latin Windows usernames are now able to install Bash on Ubuntu on Windows.
Many more improvements can be found in the WSL release notes here!

Skype UWP Preview Update: The Skype UWP Preview app has been updated in response to your feedback. In this release, you have the ability to set a dark theme and can switch between different Skype accounts. You can expect mobile release in the next few weeks.
Updated Windows Ink Workspace icon: We have updated the Windows Ink Workspace icon on the taskbar. The new icon shows a more expressive ink stroke and is more consistent with other icons in the notification area. The new icon also looks better at wider range of sizes.
Updated visuals for User Account Control dialog: The UAC dialog now supports dark mode! As part of this work, we've updated also the header color from yellow to blue.
Middle-click for dismiss in Action Center: Action Center now supports the popular dismiss model of middle-clicking on a notification via the middle button scroll wheel on your mouse to a single notification. Middle-clicking on an app's name will dismiss all the notifications listed for that app.
Apps for websites: As we discussed at Build 2016, you will soon be able to redirect certain websites to open with an app instead. While there are currently no apps that support this, in preparation for their availability we have added a new page at Settings > System > Apps for websites where you will be able to manage them. Please stay tuned!
Feedback Hub improvements: We've heard from you that it can sometimes be hard to find which category your feedback belongs in. Now when you create new feedback, the Feedback Hub will suggest categories and subcategories based on the title and description you entered. If you see a suggestion that looks right, just click it to fill in the menus and get your feedback to the right engineers quickly.
Windows Central Newsletter
Get the best of Windows Central in in your inbox, every day!
Harish Jonnalagadda is a Senior Editor overseeing Asia for Android Central, Windows Central's sister site. When not reviewing phones, he's testing PC hardware, including video cards, motherboards, gaming accessories, and keyboards.
Definitely excited for the app for websites to come!!! Posted on my Lumia 950

Right? That's the most exciting part of this build, honestly. Windows Central for Windows 10-Nokia Lumia 830

What's apps for your websites a proper explaining is needed for that?

Essentially an example would be that we all know myTube! is gonna use it to open YouTube links in the OS to his app, and the user himself gets to choose whether he wants an app like myTube! or perhaps Perfect Tube to open those links! Edit: Facebook could also do this with facebook links, twitter with twitter links, and so on.. The possibility basically is endless and is a feature from Android we've all been wanting bad. Posted on my Lumia 950

Indeed, this is especially true when using mobile such as phones, even tablets as web pages still not great when using touch. Sent from Turing Machine

Well edge notifications would be a great way to alleviate the app gap problem temporarly. If they enable developers to send notifications via websites and edge gets back the great tiles with site images on them we would have a lot of app-like experiences.

Anybody know if the Edge Notifications is the same type of notifications that Chrome can get from some apps? i.e Do both use the same standard for Web Notifications and Edge will now support them where Chrome does?

It's the same exact idea. I don't know if the programming / api for it is the exact same though, but I'd venture they're very similar at least. Also, Google has said they're going to implement Chrome notifications on Windows via the action center as well at some later point.

Agreed! The thing I can't tell from the description here is whether this would only work when the site is open (I would guess yes).

It would defy the purpose...

No, the site doesn't have to be open. Windows Central for Windows 10-Nokia Lumia 830

I'm sure that Paul Thurrott is going to be glad that there are improvements for Bash.

Finally.. they listened about the gestures.. !

Indeed! Glad they have it back. Though I'm not fan of how the swipe gesture animates (compared to actually swiping the snapshot of the webpage), its still great to have this back. Still, I'm still waiting when they gonna fix how Edge manage tabs. Its still clunky to drag tabs out and especially dragging it into the window. Full Drag-and-Drop on Tabs is still missing which a common feature to web browser these days. Sent from Turing Machine

They should ditch the animation all together, it just makes the feature seem slow and clunky when you have to wait for the actual content to reappear.I say just have it trigger the back or forward action.

You're not just removing the simple animation, you actually removing the dragging gesture which is staple on touch UX these days. Removing it all together will just makes the experience rough, unpolished and unnatural. Removing that dragging gesture is something I don't agree with and it actually affects UX overall negatively too. The problem was that how the Edge behaves when going back or forward, it doesn't cache the page and always....always refreshing web page even you've just opened it seconds ago. So the swipe gesture is affected also because of this overall inefficient way how the Edge handles it. They should've just outright copy what the Safari does on iOS and OS X where you actually drag the snapshot (though very high quality ones that it looks like an exact web page) with your finger and without any other animations going it. The swipe gesture behavior that Edge now uses is similar to Chrome on mobile where you see the back button icon and then it reloads the web page, instead of actually using cached page for fastest navigation possible. This solution that Edge swipe gesture uses 'feels' slower because it doesn't show a high-quality snapshot of previously loaded web page or even cached ones (faster but more RAM usage). Edge swipe gesture: http://mspoweruser.com/wp-content/uploads/2016/05/swipe.gif Chrome swipe gesture: http://www.droid-life.com/wp-content/uploads/2015/07/chrome-ios-gesture.gif Safari swipe gesture: https://www.youtube.com/watch?v=5_rppZ1V4X8 https://www.youtube.com/watch?v=cSbth-GG1TE

Wait why doesnt my OP2 have swipe gesture on Chrome? Posted via the Windows Central App for Android

OnePlus 2 right? Well, unfortunately Android doesn't have the navigation swipe gesture for whatever reason. It's one of the Google odd decision that only iOS users have. My friend's iPhone 6S have it while my Android tablet doesn't. Though at least both have gestures to swipe the addressbar left or right to switch tabs, which also would be nice of Edge would implement similar feature too (I know, we have reachable Tab button, but still the gestures more natural and actually is faster when switching between tabs).

Swiping on Mobile! Finally!!

At least, I can also forward pages too! It was one of the most major gripe about Edge that makes IE still feels more user-friendly. Sent from Turing Machine

Extension for Mobiles.....hell yes..... keep 'em coming....

One of the great things of having one OS, keep them coming, indeed

Just swipe for the moment, they didn't mention actual extensions for mobile.

yah....but the Leak does Gives us a Hope.....and I know that lot more Lesser Amount of Chance to get Extensions for Mobile. but if.....

Seems like a solide update to me, swiping back is great....

How to download adblock app after update it says in store that " TO USE THIS, YOU NEED TO UPGRADE WINDOWS. GO TO AKA.MS/WINUP " really confusing

You need to be on the insider fast ring for this update.

making there debue?? im on 32 and i have adblocker installed now .. thanks to the link from wc.

You know someone enjoys typing "bash on Ubuntu on Windows" Posted via the Windows Central App for Android

Bash on Ubuntu on Windows... BUW BUW backwards is WUB Windows 10 is dubstep confirmed ----------
I am someone, of the 2639th variety.

Skype UWP for mobile "in the next few weeks" then ffs can i have the integrated skype in messaging in the meantime instead of your old crap skype mobile app. :/

Sure, if you go to the current branch....Losing features early is part of being an Insider. When a feature goes Insiders lose it first because you're getting builds earlier. Completely logic IMO

You missed the part about them gimping WiFi Sense... I cant understand their train of thought...

They only removed the "share Wi-Fi networks with your contacts​" part of Wifi Sense. Wifi Sense itself it still there.

Good that part more often then not didn't work well. I hope it doesn't effect the syncing of known wifi networks between your devices.

Windows 10 is becoming the best Linux distro available!

Without the Linux! ----------
I am someone, of the 2639th variety.

Swiper no swiping! Excellent!

last 2 builds from fast ring broke my laptop, always getting blue screen on startup, and when suddenly it would boot, the windows explorer proccess would free in about 2 mins. is there any chance that this build would be better?

I guess there's always a chance, but since I'm not having any issues like that it would be difficult for me to confirm that they have been fixed. Hope it works for you! Have you tried Safe mode? I'd suspect driver issues.

Yes, the swipe gestures are finally here. It's been over a year, but its back. Will improve the navigation and tablet experience greatly.

Sounds like a nice update - One really great piece of news in there for Mobile users is that we can expect the Skype UWP Preview on Mobile within the next few weeks. That should mean that at the moment their expecting it by end of May / First week of June. Obviously subject to change

Finally, the swipe is back!!

What about File Explorer? Is "Unpinned by default" and washed monochrome icon still there?

I'll be glad when they bring back update history for the store.

Well they at least have notifications for updates now so that's a start.

No listed changes for Skype UWP detected..

Indeed, I do not see the new 'Dark Mode' that should be possible. And I don't think I can use multiple accounts either.

And Kaspersky still doesn't work. Is anyone at MS listening???

I know, I have 8 devices (3 year sub) on Kaspersky, but have to run AVG on this one with Insider Preview. This is making me angry!

Wow, the new Ink icon in the task tray is huge. I have the beautiful Bing desktop image but I'm still staring at the pen. Hopefully it will grow on me (not literally grow, as it couldn't be any bigger) :-) Minor nit picking aside, this seems like another solid preview release!

Great Build Thank you Microsoft for let us now the steps of making Great OS.
Windows Central Newsletter
Thank you for signing up to Windows Central. You will receive a verification email shortly.
There was a problem. Please refresh the page and try again.