Holiday Gift Guide for the Gamer
Need to find the perfect gift for the gamer in your life? This helpful guide should point you in all the right directions.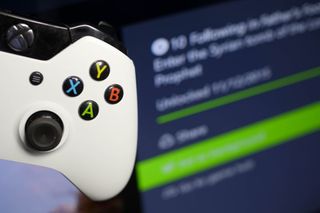 (Image credit: Windows Central)
Gaming is no longer the TV-tethered experience that it once was. Now mobile gaming and the latest gen consoles rock amazing technology and high-end graphics to enjoy whether you're a part-time gamer or an adventure addict. This year there are plenty of exciting gaming gifts worth checking out for that special someone, so go ahead and dive right in to see what's hot this holiday season. If you're interested in checking out some of our top picks that expand beyond the world of Windows, check out our extensive 2015 Holiday Gift Guide.
Xbox One 1TB
To really enjoy the latest and greatest games, you're going to need the gaming console to back it up. The Xbox One is still your best bet for playing exclusive titles like Halo 5, Rise of the Tomb Raider, and Rare Replay. Capture your best pwning moments and share them with your friends or broadcast your gameplay live. The Xbox One is also a media hub for watching your favorite movies and TV shows through apps like Netflix and Hulu. There are a handful of custom Xbox One Bundles available for a little extra if you want to spice up the look of the console, too. And with the recent addition of backwards compatibility there's never been a better time to step up to Microsoft's latest.
Xbox One Chatpad & Headset
Add a full QWERTY keyboard to your Xbox One controller or Elite wireless controller with this plug and play Chatpad. This handy keyboard makes sending messages to your friends, punching in codes, and searching all your apps quick and efficient. Two of the Chatpad's keys are programmable for accessing specific apps or taking screenshots on the fly. Backlit keys allow easy typing in the dark, and there's even access to audio adjustments right at your fingertips. Included with the Chatpad is a 3.5mm headset that plugs directly into the keyboard.
Halo 5: Guardians
You simply can't go wrong with giving the gift of Halo 5: Guardians. This fast-paced shooter is the latest in the Halo series and features an all new massive multiplayer mode called Warzone where 24 players can dive into the heat of battle. The Arena is set up for 4 vs 4 competitive combat, and a new rewards system allows you to earn requisition points to redeem for new gear. It's packed with 15 new maps, fresh content, and plenty of weapons and gear to keep you hooked.
Corsair STRAFE RGB Gaming Keyboard
Have a PC gamer in the family? Surprise them with the Corsair STRAFE Gaming Keyboard that rocks amazingly responsive, backlit keys that are easily adjustable to anyone's liking. This custom keyboard allows you to reassign any key or set up macros for advanced gameplay — making it fully programmable. Textured and contoured keycaps grant amazing grip and a smooth feel with a detachable soft wrist rest. The Cherry MX Red gaming key switches feature gold crosspoint contacts and enclosures, along with pressure-resistant metal allow springs. Any serious PC gamer can appreciate the durability, functionality, and overall quality of this gaming keyboard
$149 at Amazon (opens in new tab)
Rare Replay
Rare Replay is an Xbox One exclusive that packs 30 hit games into one epic collection. Titles like Battletoads, Perfect Dark, Banjo-Kazooie, R.C. Pro-Am, and plenty more are available with brand new challenges and bonus content to enjoy. This game brings together the adventures of its iconic characters from 2D classics to Xbox 360 favorites. For only $26 it's a great value for all the content that's provided.
Xbox One Lunar White Controller
The Xbox One Elite controller is the hot ticket but it's also looking increasingly unlikely to get hold of before 2015 ends. In light of that, the special edition Lunar White controller would be a great gift. Besides a stunning white and gold paint job, the Lunar White gains rubberized grips on the back to help keep things steady during the heat of gameplay. And it's one of the new style controllers, too, with the 3.5mm headset jack built into the bottom.
Razer Mamba Tournament Edition Mouse
Designed for eSports athletes, the Razer Mamba TE Gaming Mouse has been built with the world's most precise 16,000 DPI 5G laser sensor inside. This professional-grade mouse can be customized using the Chroma lighting feature that's capable of 16.8-million customizable color options. Its ergonomic right-handed design and textured rubber side grips provide amazing accuracy even for those long gaming sessions.
$78 at Amazon (opens in new tab)
Fallout 4
Nothing says the perfect gift like a virtual post-apocalyptic experience, and the latest launch from Bethesda absolutely nails it. Fallout 4 expands upon a world destroyed by nuclear war, giving you, the sole survivor of Vault 111 a chance to rebuild and determine the fate of this wasteland. The incredible amount of detail, immersive gameplay, and next-gen graphics Fallout 4 brings makes it a no-brainer for any gamer that hasn't already jumped the gun on purchasing their own copy. And Xbox One players have the added bonus of a free copy of Fallout 3 thrown in to play using backwards compatibility.
XBOX One (opens in new tab) Playstation 4 (opens in new tab) PC (opens in new tab)
SteelSeries XXL Gaming Mouse Pad
Mouse pads come in all shapes, sizes, and crafty prints, but the SteelSeries XXL Pad is designed for the PC gamer that needs the ultimate smooth surface for their gaming mouse for a precise and consistent glide. Underneath the pad is a non-slip rubber base that keeps it from moving around while you're clicking away. This thing is big, too — measuring nearly 3ft in length, so you have plenty of room to play without ever having to worry about running off the pad.
$40 at Amazon (opens in new tab)
Razer Wildcat Controller
Whether the Elite Wireless Controller is already part of your gaming arsenal or you're after a worthy alternative that sports some extra flare, the Razer Wildcat Gaming Controller is a sweet accessory for any Xbox One owner. The Wildcat rocks 4 extra buttons — 2 bumpers at the shoulders and 2 removable triggers underneath. You can remap any of these buttons individually if you happen to find a more ideal way to enjoy your favorite games. There's even a quick control panel to customize profiles and adjust audio.
$150 at Amazon (opens in new tab)
Turtle Beach Stealth 500X Wireless Headset
If you're looking for a headset designed specifically for Xbox One then this wireless offering from Turtle Beach is one of the finest you'll find. Combining 7.1 DTS surround sound with no cables gives you both freedom and earth shattering sound. Take advantage of separate game and mic volume controls as well as mic monitoring to make sure that what you're hearing and what everyone else is hearing is at its best. It charges over USB and you'll get around 15 hours from the built in battery before you need to hook it up to some power.
$230 at Turtle Beach (opens in new tab)
Windows Central Newsletter
Get the best of Windows Central in in your inbox, every day!
Windows Central Newsletter
Thank you for signing up to Windows Central. You will receive a verification email shortly.
There was a problem. Please refresh the page and try again.