How to add every single NFL game to your Windows Phone Calendar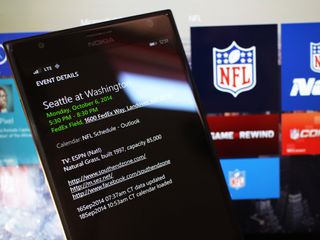 Back in June we showed you boys and girls how to add the 2014 World Cup schedule to your Windows Phone. This allowed you to see easily when matches were taking place so you could catch them in your local time zone. Here's how to do that for the 2014 NFL schedule.
The steps for adding the NFL schedule to your calendar is exactly the same as for the World Cup schedule. Here's how you get the full 2014 NFL schedule in your Windows Phone Calendar:
Go to calendar.live.com on your PC
Click on 'import' on the top left
Click 'Subscribe'
Add the following URL: webcals://sharing.calendar.live.com/calendar/private/d2d92d25-f277-4bc6-8bb4-5445386c99e3/dfb853f3-9572-42bc-bc7a-8a3b3a4e695c/cid-bb68ade454c33eb6/calendar.ics
Name your calendar (NFL schedule makes the most sense)
Select a color and charm (select the trophy!)
Click subscribe
And that's it! The games should be converted to your local time too, so you this saves numerous steps and will make sure you don't miss a game! Make sure you went to calendar.live.com and signed in with the Microsoft Account you use on your Windows Phone and Windows 8 machines. Now you'll see all games appear on your phone in due time. Impatient? Force the calendar sync by going to settings > email + accounts > long press Microsoft account to sync.
Only care about a single team or two and don't want the ENTIRE list of NFL games cluttering up your calendar in Windows Phone? Then grab the go to the official website of your favorite team and grab their calendars URLs. You can usually find them in the calendar section on their website. Here's the schedule for just the Seahawks to get you started.
Seattle Seahawks http://www.trumba.com/calendars/seattle-seahawks-schedule.ics
Who are you pulling for this season?
Via: Geek On Gadget
Windows Central Newsletter
Get the best of Windows Central in in your inbox, every day!
Falcons, RISE UP! This same process can be used for the NBA (and probably every pro league/team), as well as NCAA CFB.

Fellow Falcons fan here!! Rise up!!!! #DirtyBirds

Joining in on the Falcons love! ::fist bump::

Woooo! Rise Up, indeed! Btw, I do this for MLB teams as well, and it's awesome!

Fly Eagles Fly on the road to victory!!! Fiight eagles fightt score a touch down 123.... hit em low hit em high and watch our eagles flyyyyy fly eagles flyyyy on the road to viiicctorrry......E-A-G-L-E-S!!!!!!!!

Yeah Go Eagles!!!!!! Whooooo! 3-0 So far.

EAGLES all the way Ill be at 4 gams this year (was at the bird vs skins)

Just incase you want to use gmail and not live, you can download the ics files here: http://www.southendzone.com/ics/ Create a new calendar called NFL (or whatever) and then import the file you downloaded. I downloaded the entire NFL schedule ics, but there are a bunch of options for you to choose from.

Great! Will use for NBA too!

Well that worked out well for the Seahawks, Jets and the Knicks. For the Giants, had to download a CSV file, convert to ICS file, then import to Microsoft email account. http://www.giants.com/games-and-schedules/schedule.html The Seahawks schedule information is head and shoulders above the rest. Meanwhile the NY Giants... How does the NFL's fourth most valuable franchise have the most rudimentary method of obtaining the season schedule? Either cheapskates (not billionaires for nothing) or stupid. SMH.

Thank you Sam. GEAUX SAINTS! WHO DAT!

Exactly. Bad start, sadly ...

You telling me! 60 something points between our two losses, both by three. We will make the playoffs. We will. Side bar, I went to high school and church wiht the guy who body slammed Brees this past weekend!

Bless You Boys! Marching In, Baby!

I live in NorthDallas SouthDallas40, and the Saints will win this weekend!

We need cricket updates for Cortana.

Fifa 15 is out now for Wp

A few chumps don't define a team. Go Ravens. Thanks for sharing this, Sam.

Hopefully. From WI but 49ers fan here.

Does this work with NCAA football?

Yes it does. I used google search and was able to to insert my college teams. Enter your school team name, what sport, calender 2014.

Go Lions!! Love the idea of football in my calendar!

How we add cricket champion league to calendar

Can we do this with hockey as well?

Can you add just a single team?...i just need that Silver and Black schedule

Niners... unleash the Kaepernick!

The New York Football Giants. The only NFC East team to win a Superbowl in the last 20 years.

Anyone know how to do NCAA football or add only a specific team?

How would you do it for the NHL?

I googled pittsburgh penguins schedule and selected http://penguins.nhl.com/club/page.htm?id=56277 What is your team?

Feel that cool Brees!! Go Saints!!;!

Is there a way to add the MLB Postseason calendar?

Or we can boycott the NFL for their poor handling of concussions, assault and other offences by their players and owners, and their ridiculous non-profit status. Oh yeah, and they are finally formulating a drug/ped policy.

Drug/ped policy is a complete waste

Yeah.....NO! Not ever player is a dumbass offender. And I'm not missing my Pats beat up on any team cuz a player does something stupid.

Panthers! LUUUUUUUUUUUUUUKE!!!

This guy gets it. KEEP POUNDING!

Hey so I did every step, and its still not showing up in my phones calendar. Is there a trick to refresh the calendar?

How abt one for NCAA football?

Here is how to import NCAA Football schedules individually. Go to ESPN.com here: http://espn.go.com/college-football/team/schedule/_/id/59/georgia-tech-y... Choose your team (I have Georgia Tech on the link), click Export and choose Outlook Calendar. Save the file (use a unique filename if you're exporting multiple teams because the file will be overwritten if you don't). Go to outlook.com and choose Import at the top and go from there! I make a new "2014 NCAA Football" calendar, so when I'm done with the season, I can delete the whole thing at once if I want, or filter it.

Alas, this does not have the times. :(

Try this for NCAA Football: http://collegefootballcalendar.net/ Only bad thing is that past years are also included, from what some of the schedules look like.

All about that action. GO SEAHAWKS!

How to add the English Premier League entire calendar?

You can add premier league calender using skysports calender. Or you can choose to add the individual teams calender from each teams website. I have added Liverpool calender from liverpoolfc.tv website.

For the Europe football like the "Serie A"?

Raiders on three. One, two, three... RAIDERS !!

I use Yahoo Sports: http://sports.yahoo.com/111/teams/222/ical.ics 111 = league (i.e. nfl, nhl, mlb)
222 = team (min = minnesota, njd = nj devils, nyy = ny yankees)

Thanks for the .ics link as I had to add one for my Pittsburgh Steelers...:) Question: As I made a mistake attempting to subscribe to my 1st Steeler shedule...how does one delete this?? I have gone/searched a ton of Windows 8/8.1 Calendar option resources...but no success.. You can go into Metro Calendar app, through 'options' and -------->Hide it.....but can not delete it...Even have the old World Cup as a subscribed calendar too.... Thanks

My calendar is showing up on my Outlook calendar on my Surface, but how do I make it show up on my phone?

for Da Bears! webcal://e-qo.de/7jmw.ics

Great! Will use for NBA too!
Windows Central Newsletter
Thank you for signing up to Windows Central. You will receive a verification email shortly.
There was a problem. Please refresh the page and try again.