How to add a "Slide to shut down" option on Windows 10
If you're looking for a more interactive way to power off your PC, use this guide to add Slide to shut down to touch and non-touch screen devices on Windows 10.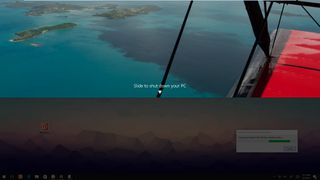 Shutting down and powering on your computer are perhaps some of the easiest tasks you can do on Windows 10. Back on Windows 8, Microsoft also included a new interactive way to power off your device with the "Slide to shut down your PC" gesture. That feature exists on Windows 10, but it's typically only enabled on tablets and Windows 10 Mobile devices when you press and hold the power button.
If you want to get the same shutdown experience on your laptop or desktop, you can quickly create a shortcut with the proper command to enable "Slide to shut down your PC" on Windows 10, even on non-touch screen devices.
In this Windows 10 guide, we'll walk you through the steps to add the slide to shut down gesture to your computer.
How to add Slide to shut down to your PC
Right-click on an empty space on the desktop, select New, and click Shortcut.
Copy and paste the following path:%windir%\System32\SlideToShutDown.exe
Click Next.
Enter a descriptive name for the shortcut (e.g., SlideShutdown).
Click Finish to complete the task.
Right-click the newly created shortcut and click on Properties.
On the Shortcut tab, click the Change Icon button.
Click OK to confirm that the path you specified doesn't contain icons.
Select an icon that best describe the shutdown button.
Click OK.
Click Apply.
Click OK again to complete the task.
Once you completed the steps, you'll end up with a shortcut that when you double-click will launch Slide to shut down your PC. Then you can simply use touch or click and drag with the mouse to the bottom of the screen to power off your device.
Additionally, you can right-click the shortcut and select "Pin to taskbar" for faster access to the shutdown experience using touch or mouse.
Quick Tip: When using keyboard and mouse, you can run the shortcut, and when Slide to shut down your PC appears, press Enter to power down your device.
More Windows 10 resources
For more help articles, coverage, and answers on Windows 10, you can visit the following resources:
Windows 10 help, tips, and tricks
Windows Central Newsletter
Get the best of Windows Central in in your inbox, every day!
Mauro Huculak is technical writer for WindowsCentral.com. His primary focus is to write comprehensive how-tos to help users get the most out of Windows 10 and its many related technologies. He has an IT background with professional certifications from Microsoft, Cisco, and CompTIA, and he's a recognized member of the Microsoft MVP community.
Or you could just shutdown using the existing icons instead of complicating it

Or you could just use your typewriter to type documents.

Nothing is faster then pressing power button and: Voila, shuts down;). So yeah, i will stay oldschool at this one, i also see no reason for this, but, it is good to know

Yeah my keyboard macro works fastest. One touch. Boom. Done

This featured first appeared in Windows 8 and is meant for tablets running Windows 10

As mentioned in the article...

how to make it so that when I click on Shut down (from the Start Menu options) it automatically shows the slider?

Not entirely sure if that's possible. And why would you anyway? Although with some software trickery you could make the slider appear with a key combo.

pin it to taskbar shuts down with single click (quicker)

And then tap or click it by mistake.

Wouldn't be too much of an issue, would just need to push "slide down to power down" back up the screen to cancel it :P

Nice find! Good job M. H.!

People still actually shutdown their PC or laptop???

Or sleep the computer. Most keyboards have a sleep button.

You can't just have it turned on all the time. It will last a lot longer if all the parts inside get a break at least when you are sleeping.

Does that mean I should always turn of my Windows 10 mobile when I'm asleep. I'm sure all the modern day computers and mobiles, tablets etc are designed to be left on 24hrs.

You don't necessarily have to turn your electronics off, but they should last longer and run better if you do turn them off every once in a while.

What if you assign "sleep" to the power button of the computer. When you hold the button then it will initiate slide-to-shutdown, like a tablet. Just thinking out loud... Will try it tonight.

Be kind to your Surface and give it some love. It will make your life easier!

You say it's available on Tablets, but I've never seen such on my Surface Pro. You referring to just Windows 10 Mobile tablets?

Try pressing and holding the power button for about 3 seconds when you release it you should see the slide to shut down screen. Be careful not to hold the power button too long or you'll end up forcing the machine to shut down.

That just puts my Surface Pro 2 to sleep...does it work for you? What device are you using?

A "Restart" option on Windows Phone (instead of a Shutdown) would be great too!

hold down the power button for about 10 seconds and the phone restarts

That's a hard reset that is not a clean shutdown

NO, it's called a soft reset.

Technically its a Hard Restart. Nothing is being reset in this process.

Correct Cindy ! That thing came really handy with non removable battery phones like my trusty old Lumia 720 !

Thanks! Very useful. Please post more of these. This is great! :D

Pretty fricking brilliant!!!

Where can I get that cool wallpaper you used ?

Why not add it to the start-up tab of Task Manager instead of adding an icon.

If it's added to the Task Manager, then it'll want to shut down your computer as soon as you log in.

But you have to swipe down first?

It'll show the "swipe down to power off" thing almost as soon as you log on.

If that's the case, the whole thing is pointless.

It's only pointless if the user adds it to the Task Manager startup tab. As a shortcut it won't activate until the user double-clicks on it.

How about I go on the feedback hub and just tell Microsoft to add this to lock screen settings. Your welcome

Is there any way to embed the setting on the Start Menu, I mean when I click the 'Shut Down' task in start menu.

Interesting and useful. ..a Windows enthusiast on Twitter @mccshreyas told me about it months ago.

Shortcut - Open RUN (Win+R) Type: slidetoshutdown Press Enter

Why not create a shortcut to
\system32\shutdown.exe /s /t 00 Now you have an icon that executes a shutdown without having to slide anything. Change '/s' to '/r' and now it restarts. Create a shortcut to
/system32/rundll32.exe powrprof.dll,SetSuspendState And your computer will sleep. Change powrprof.dll,SetSuspendState to
User32.dll,LockWorkStation And your pc locks.

I set up my PC with mouce clicks and it is only one click! Not click and then slide to power off! One less action...

Just got this shortcut and it works perfectly,on my NON touchscreen laptop. It'll save me alot of time pressing 3 buttons to power off my laptop.
Windows Central Newsletter
Thank you for signing up to Windows Central. You will receive a verification email shortly.
There was a problem. Please refresh the page and try again.