How to block non-Store apps in the Windows 10 Creators Update
You can allow users to only use apps from the Store on the Windows 10 Creators Update, and in this guide, we show you how to do it.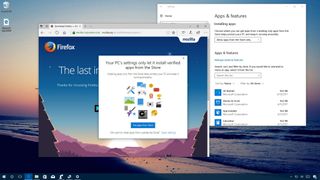 On the Windows 10 Creators Update, Microsoft is introducing a slew of new features and changes. One of these new additions is the ability to have more granular control over the kind of apps you install on your PC.
By default, you can download and install apps from anywhere, but the caveat is that getting apps from unknown sources can harm your computer and negatively impact the user experience. Starting with version 1703, Windows 10 introduces an option to block users from installing apps, including traditional (win32) apps, from being installed on your device outside the Windows Store.
Because apps published in the Store have been verified by Microsoft to ensure they don't include malicious code, and they work as advertised, using this new option can help you to keep your computer a little more protected and performing as expected. It's an ideal feature for less experienced PC users or youngsters.
In this Windows 10 guide, you'll learn the steps to block users from installing traditional desktop apps, and only allowing them to get apps from the Windows Store.
How to prevent users from installing non-Store apps
On the Windows 10 Creators Update, you can use the following steps to block desktops apps from being installed on your computer:
Open Settings.
Click on Apps.
Click on Apps & features.
Under "Installing apps," select Allow apps from the Store only option from the drop-down menu.
Once you completed the steps, the change will apply automatically without needing to restart your PC, and now users will only be able to install apps from the Store.
You will also see a few other options in the drop-down menu, which we're listing and describing below:
Allow apps from anywhere: This is the default option, and while it's selected, you can install any apps as you would normally do from any source.
Warn me before installing apps from outside the Store: If you select this option, you'll still be able to install any traditional desktop apps and those from the Store. However, the option will show a warning letting you know the app isn't from the Store. In the case there is an equivalent app, you'll see a link to get it from the Store.
Allow apps from the Store only: When this option is selected, users won't be able to install any app, unless it's a Windows Store app.
You can always revert the changes by following the same steps mentioned above, but on step No. 4, make sure to select Allow apps from anywhere.
Wrapping things up
Although this new feature might seem like another strategy from Microsoft to lure users into getting apps from the Store, there is a valid point here, as downloading and installing apps from the Internet and other untrusted sources can cause a lot of issues.
This may not be a problem for tech-savvy users, who can quickly see the difference between a real and fake app. However, this is not so obvious for many regular users who are often easily tricked into thinking that they're installing a genuine app when in fact, they're probably installing some sort of malware, or an app that is poorly designed.
More Windows 10 resources
For more help articles, coverage, and answers to common questions about Windows 10 visit the following resources:
Windows 10 help, tips, and tricks
Windows Central Newsletter
Get the best of Windows Central in your inbox, every day!
Mauro Huculak is technical writer for WindowsCentral.com. His primary focus is to write comprehensive how-tos to help users get the most out of Windows 10 and its many related technologies. He has an IT background with professional certifications from Microsoft, Cisco, and CompTIA, and he's a recognized member of the Microsoft MVP community.
Let's say I have Windows 10 Cloud based PC and I need to unpack some files with WinRAR, but I can't download WinRAR cuz it's not available in Store. So I should use some Store apps for that? Some of basic Win32 apps are really needed for such a case...

There are quite a few apps in the store that can do that.

Most non power users are going to encounter zip files not rar files and Windows can unpack those with no issue.
Otherwise, there are plenty of apps in the store that can unzip rar files so I can't see how this is an issue

See, as a students we don't use zip files at all, rar files gives us a better security when sending lots of Excel sheets, Word docs, fully protected etc. But yeah, there are some apps that can unzip rar files...I just got used to use WinRAR..

I found over 50 Rar & 97 Zip apps in the store.
In cases where user don't need shell integration, you can always download a compressed version of 7-Zip.
It's free & open source that doesn't require installation (but can be) then simply decomperss to new PC's or keep it on a flash drive. 7-Zip is arguably better than WinRAR and really fast without the competitions bloat.

Good point on apps that run in place and don't need to be installed. Do you know if those will work with Windows 10 Cloud, or will it block those from running too? I could imagine since the point is security that it's not just blocking installation of non-Store apps, but even letting them run at all.

TBO, I haven't used or seen much of either since the command line days of the 90's and most stopped using compression once broadband came along. BataBole *does bring up a good point about security on insecure mail servers. Digital IDs and certificates makes life less complicated.

Does anybody know of a good Store app that'll allow you to play DVD's? Free is preferred. The VLC app doesn't, I think.

I use Easy Player, but it has issues with fast forwarding. There's no quality app for DVD files in Store.. (I assume you mean .vob files)

Microsoft published a DVD app. But it's 15 EUR

I have a certain older relative that this setting might just do the trick. I like to joke that he is the hub for all viruses in the North Eastern US because he loves to forward every funny email he gets! "Hey, did you watch that video I forwarded you?" NOOOO! I've blown away and reinstalled his PC more time than I can count. However, I just know he needs his DVD player from time to time because I've walked him through a VLC install on multiple occasions.

Same thing here. Will set this up for my grandma as soon as she gets the Creators Update.

Use Kodi! It's an awesome media center, and they've made a UWP App of it 👍

Does Kodi play DVD's natively?

Someone pointed me to a MSFT built MPEG2 codec, in the STORE!! MPEG2 Video Extension https://www.windowscentral.com/e?link=https2F%2Fclick.linksynergy.co...

If you are interested to use secure software, I inform that we work for you! :-P I and a group of other developers we opened a github for convert and publish on MS Store win32 software open source converted to UWP... It's nice for next comming of Windows Cloud/WinOnArm! Today is just published this guide: https://www.windowsblogitalia.com/2017/04/convertire-programma-win32-in-... In the end of this guide there is a link to our telegram group.

Does they have English version?

Should have this setting by default but is simple and easy to change, especially on a home version.
Will stop so many of the malware problems and drive a ton of traffic to the store

Would love to set this up on kids' laptops but they'd kill me if they couldn't run Steam or games like that.

You can still run programs that have already been installed before this option is turned on

Most locked down business PC's with strong group policies run without problems until the hardware fails. Unlike the many home users that know enough to install and the only way out is starting fresh often.
Bringing stability back to non pro / enterprise editions should be a welcomed idea and something everyone should consider is demoting all users from administrator accounts to standard users. Then create a local administrator account just to change settings or install trusted software from reputable companies. You'll thank me in a few years.

Guessing the -1 is a "power user"

With UAC, unless it's turned off, even admin accounts at least have to go through the UAC for anything that requires admin rights. That doesn't stop someone from installing bad stuff, but at least it makes a little tougher to do it completely by accident. On the other hand, to your point, that same UAC prompt generally lets the non-admin users use that admin account when needed with a password, so there's not much downside to running as a non-admin.

I'm glad they added this option - Mac OS has had this in for years now and never been a problem for "non-techy" users on there

Kind of wondering why this isn't the default setting. After all it's like that on Android and Microsoft wants to ensure that its users are saved from themselfs (see mandatory updates). So why not just enable it and let people change it if they want to install other content?

I think because people Will complain, but I agee with you. The default should be that the user is warned when installing outside the store

It's like this on all new phones and on Mac's it's by default.

Some idiot would claim it's anti-competitive and they'd be facing a lawsuit

Probably true. They may have even been warned by the EU.

Next give us the ability to create some kind of profile that save list of store app installed for easy restore in case we need to reinstall Windows

There already is. You van view all your purchased apps in the store under your account. Easy to reinstall.

Been in the Store since Windows 8...

What I'm saying is profile which I can have an apps list to batch install, not a long list of purchased app. A profile which I can deploy/auto install after I reinstall Windows

I haven't tested this yet myself, and you haven't addressed it yet, so perhaps you can add: whether you need Admin rights to change this setting? My kids' computer has multiple accounts, and I'm the only admin on it. If I change this on my side, does the change affect all users? Can anyone change this?

For standard users & children, the option is visible but when you click on it, those users will be prompted to enter an Admins password to proceed. That's why it's great to have everyone using a standard account and only enter the admin password to make changes. Greatly reduces chanes of viruses and malware and keeps the system running smoothly. If you havn't already, you should check out Family accounts if they are younger. It gives you a lot of easy presets based on screen time, time of day, age etc. and notifications are sent to you that you can click on to make simple approvals.

Warn Me not Warm Me. It is hilarious.

Glad to have this option as well. Mac have had it for a while as others have mentioned. It'll be good for the parental units.