Developers don't love Windows. Can Microsoft mend the relationship?
Microsoft's tumultuous mobile woes have not only affected consumers, but developers have suffered as well.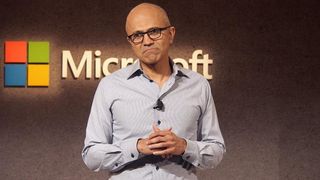 The frustrated cries from disenchanted Windows phone fans are a familiar "sound" across the blogosphere. The deafening silence that is the apathy of disenfranchised Windows-on-phone developers is an even more impactful response to Microsoft's all too frequent breaks in mobile OS continuity.
Microsoft's Windows-on-phone strategy has been expressed as a number of mobile OSes over the years. In a trek toward OneCore, Windows-on-phone has transitioned from Pocket PC to Windows Mobile to Windows Phone and back to Windows Mobile again. Sadly, the time, financial and (often overlooked) emotional investments of developers in their apps were lost with some of those transitions. So too was some of the trust and faith these developers had in Microsoft.
Microsoft, some developers just aren't "feeling" you
A developer's inability to bring an app, and all the work it represented, from a canceled OS to the next iteration of Windows-on-phone undoubtedly frustrated and disappointed many developers. That frustration was compounded to intolerable levels when committed developers (particularly those who saw themselves as partnering with Microsoft) reinvested in Microsoft's vision only to be burned again – and again.
Consequently, the meager mobile market share that provides little to entice developers, subpar Windows Store performance and paltry opportunities to earn money are not the only reasons developers are not embracing Windows as passionately as they embrace the more vibrant iOS and Android ecosystems.
Those reasons, combined with many developer's negative experiences with Microsoft likely have led some to simply not love Windows. Moreover, it is probable that their experiences have "poisoned the waters," discouraging other developers from embracing Windows as well. This is a big problem. Even Microsoft recognizes that there is a fundamental human, emotional component that drives developers and consumers to a product:
Simply put, no amount of streamlining processes, improving tools, guarantees of app visibility or promises of high return on investments (ROI) can bypass the reality that developers (and consumers) are, in part, emotionally-compelled beings. An appeal to the intellect, particularly when there are emotional barriers erected, will not drive a developer to love or get excited about Windows.
As BUILD 2017 approaches, Microsoft should consider how it will appeal emotionally as well as intellectually to developers. How will it promote good feelings about the company, its products and ultimately woo developers to embrace Windows 10, the Universal Windows Platform and Microsoft's personal computing vision?
Framing the mobile message with full Windows 10
Each year at BUILD, Microsoft appeals to its developer community to embrace the company's evolving personal computing vision. Microsoft has many businesses and is a software company and a self-proclaimed cross-platform dev-box for Windows, iOS and Android.
Mobile, though a priority for Microsoft, is not reflected in a push of the current iteration of Windows-on-phone — Microsoft's tools like Azure of Xamarin get attention for iOS and Android aspirations. In anticipation of Windows 10 on ARM and cellular PCs, Microsoft has a greater focus on what will represent the next iteration of Windows-on-mobile.
Windows 10 on ARM: Microsoft's ultimate mobile device vision comes into focus
Since full Windows 10 on ARM is expected to power Microsoft's "ultimate mobile device" (i.e Surface phone / ultramobile PC), the Windows 10 story is the mobile story. In other words, we must realize that as Microsoft makes various appeals for developers to embrace developing for Windows 10 at BUILD 2017, those appeals by default, will also be appeals to develop for what Microsoft has coming next in the mobile space (and they should make this clear).
That's all well and good, but Microsoft has appealed to developers to build for Windows 10 in the past with less than stellar results.
Bridging the gap
In 2015 Microsoft introduced the app Bridges to help developers reuse their existing iOS, Web, Win32 or Android (now canceled) code to ultimately build UWP apps.
Microsoft's VP for Windows Developer Platform Kevin Gallo said:
Sadly, the Android Bridge was canceled, and we've seen little developer enthusiasm for the remaining bridges. So why are developers not excited about bringing their existing code to a broader audience on Windows? A mere one percent smartphone market share is one barrier.
But what of more successful mobile devices, like 2-in-1 tablets and convertible laptops? Perhaps their lack of constant connectivity (unlike smartphones) is a barrier. The greater mobility of always connected cellular PCs — laptops, tablets, and 2-in-1s — coming later this year may make those form factors a more enticing target for mobile app developers. In anticipation of cellular PCs and a possible ultramobile Surface PC with telephony, I've predicted Microsoft will aggressively push of the Project Centennial app bridge to bring Win32 apps to the UWP.
Microsofts' Project Centennial app bridge makes sense of Win32 apps on phone
If mobile app developers' reluctance to embrace the app bridges is due to the lack of a mobile platform to deliver those apps to consumers, then highly mobile cellular PCs (and a telephony-enabled ultramobile Surface PC) should address that concern at least in part. If the problem is a fundamental lack of love for Windows, Microsoft has much more work to do.
Discoverability, monetization and a billion devices? Promises, promises
Developers want users to discover and buy their apps, or they at least want to earn money via advertising associated with their apps. Microsoft's Partner Group Program Manager for the Universal Store, Todd Brix stated in a blog post last year:
Sadly Windows 10's growth has stalled just shy of 500 million devices, store engagement on PCs is lower than expected, and Window-based smartphones represent less than 1 percent of the market. All is not doom and gloom though, as some developers are still bringing apps to the platform and others are updating theirs. Still, the fact that many developers never embraced Microsoft's UWP vision and many who have are withdrawing their apps speaks volumes. This is particularly painful when considering just last year Brix's same blog post stated:
Another spokesperson continued:
Sadly, with Microsoft's apparent confidence-killing reversal on first-party phones and subsequent revision of its one billion Windows 10 device install target, the potential for discoverability and monetization dropped dramatically. Thus, Microsoft's efforts to improve monetization now begin to ring hollow for many developers.
Developers who bought into Microsoft's vision may feel more comfortable using Microsoft's tools to develop for the more widely accepted platforms where opportunities for discoverability and monetization (though still very slim in crowded apps stores) are more likely than on Windows. That's not an entirely bad thing though.
Xamarin: Then there was one
Microsoft's acquisition of Xamarin last year presents an opportunity for the company to offer developers a tool to develop for multiple platforms simultaneously. Thus, developers inclined to use Microsoft's development tools to target iOS and Android could potentially be won to using Xamarin to reach Windows as well. Microsoft shared:
Such a move could represent an ideological shift where developers will see "mobile" as a single target, rather than three distinct platforms from which Windows is often omitted as a target for app development. Maybe.
Windows phone isn't dead part VI: App gap Microsoft has a platform for that
Time to come clean
The frequent breaks in mobile OS continuity, the failure of the Store to deliver on promised activity and discoverability opportunities; the diminished opportunities for monetization and the major shortfall in Windows 10 device growth among other challenges undoubtedly puts a sour taste in many developers mouths toward Microsoft and developing for Windows.
As BUILD 2017 approaches, Microsoft should be thinking about how it will appeal to developers on an emotional level to get past these barriers. Microsoft prides itself on the premise that it is a "do more" company that provides the tools to help individuals and companies do more.
Microsoft's "do more" vision of quantum computing
Satya Nadella talks about Microsoft's "do more" vision.
In the past, that philosophy has been the current that has driven many of BUILD's keynotes and presentations. These keynotes conveyed how great the company's tools are and how they would help developers meet their objectives. The tone from Microsoft to attendees has been a, "you need us" or at least a "you're better with us," message.
Microsoft's poor app ecosystem and precarious position in mobile states the contrary, however. Microsoft needs developers. And for the reasons I've shared many developers just don't love developing for Windows. This has been and will be an unaddressed elephant in the room at BUILD. Microsoft needs to openly acknowledge this problem and its role in why it exists.
Reconciliation and a new beginning?
While Microsoft's missteps have left many developers smarting, it's the lack of acknowledgement of these mistakes that hurts more. Simply "being nice" (like Microsoft with its first-ever Windows Developers Award) and brushing over past offenses hasn't helped to significantly heal the open wounds.
Microsoft can begin connecting with developers emotionally if it initiates its communication at BUILD 2017 with an acknowledgment of how some of the company's actions and decisions negatively impacted some developers. An apology, a promise to set things right, and a vision for the future — both far and near.
Furthermore, the underlying current driving the event should be one that acknowledges the value of the developer community and how much Microsoft needs them rather than how much developers can benefit from Microsoft's tools. Microsoft's innovations can easily be framed within a context of how much Microsoft values the contributions of and partnerships with developers who embrace its vision.
When an offense isn't acknowledged, the trust is shaken. Though there are no guarantees the past won't repeat itself, Microsoft's acknowledgment of how its actions negatively affected many developers can be the beginning of rebuilding the trust needed to get them to love Windows.
And, of course, getting developers to love Windows is the goal.
Get the Windows Central Newsletter
All the latest news, reviews, and guides for Windows and Xbox diehards.
Jason L Ward is a columnist at Windows Central. He provides unique big picture analysis of the complex world of Microsoft. Jason takes the small clues and gives you an insightful big picture perspective through storytelling that you won't find *anywhere* else. Seriously, this dude thinks outside the box. Follow him on Twitter at @JLTechWord. He's doing the "write" thing!