How to change date and time formats on Windows 10
Not everybody needs to see time and dates the same way — if the Windows 10 default for the Taskbar doesn't do it for you, here's how to change it.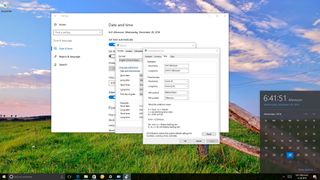 Windows 10 by default displays the date in the Taskbar formatted with forward slashes and two numbers for the year (12/28/16) and 12-hour format for time (12:00 PM), which is totally acceptable, but you can always change these settings if you want to see something different.
Perhaps you want to see dashes for the date (12-28-16) or dots (12.28.16). Or maybe for the time, you want to use a 24-hour format or something more unique, such as replacing "AM" with "Before Noon" (9:00 Before Noon) and "Afternoon" for "PM" (6:00 Afternoon).
Thankfully, Windows 10 is a flexible operating system that includes the necessary options to customize the date and time formats on your device to virtually anything you want.
In this Windows 10 guide, we'll walk you through the steps to customize the date and time formats on your PC.
How to change date and time formats on Windows 10
Open Settings.
Click on Time & language.
Click on Date & time.
Under format click the Change date and time formats link.
Use the Short name drop-down menu to select the date format you want to see in the Taskbar.
Use the Short time drop-down menu to select the time format you want to see in the Taskbar.
Close the Settings app to complete the task.
While you can change various date and time formats using the Settings app, you'll notice that you can't add custom formats. If you want to format the date and time with something more unique, you'll need to use Control Panel.
Open Control Panel.
Click on the Clock, Language, and Region link.
Click on the Change date, time, or numbers formats link.
Under the Formats tab, click on the Additional settings button.
Click on the Time tab.
Under "Time formats," you'll notice that now you can change various aspect of the time format.For example, you can edit Short time to change the AM and PM symbols for something like "Before Noon" (9:00 Before Noon) and "Afternoon" (3:00 Afternoon).
Click Apply.
Click on the Date tab.
Under "Date formats," you'll notice there is more flexibility to change the date format.For example, you can edit Short date to show date with dashes or dots (12.28.2016). However, unlike time, you have a limited number of valid formats you can use.
Click Apply.
Click OK.
Click Apply again.
Click OK on more time to complete the task.
Once you completed the steps, you should see the new formats immediately in the taskbar.
If you want to revert the changes, you can always use the same steps, but this time on step 5 click the Reset button.
It's important to note that the changes you make will not only alter the formats in the Taskbar, but also on apps that query the time and date from Windows, such as Office apps. This means that you may need to change the time and date formats in the apps themselves if you don't want them to use the same format showing in the Taskbar.
More Windows 10 resources
For more help articles, coverage, and answers on Windows 10, you can visit the following resources:
Windows 10 help, tips, and tricks
Windows Central Newsletter
Get the best of Windows Central in in your inbox, every day!
Mauro Huculak is technical writer for WindowsCentral.com. His primary focus is to write comprehensive how-tos to help users get the most out of Windows 10 and its many related technologies. He has an IT background with professional certifications from Microsoft, Cisco, and CompTIA, and he's a recognized member of the Microsoft MVP community.
It's very trickish. Nice one guys

Is there really a spelling mistake in Afternoon?

Good article, instructions nicely done. The whole AM/PM and "Before Noon/Afternoon" thing is just a stupid waste - they should abolish all that and lock everything in to 24-hour time format. People (Americans) will whine at first, but they'll get used to it. HH:mm is the only logical, consistent time format in existence. For date, I've been using yyyy-MMM-dd since the 1980s, when the company I worked for had a big contract with IBM and that was the date format they specified had to be on all of the documentation and communications (back then, communications were usually typed memos ;-). It's such a compact, logical format and it made so much more sense to me than either America's dd/mm/yy or Europe's dd-mm-yy. So I adopted yyyy-MM-ddd date format 30+ years ago and have used it ever since. For Americans, the transition from mm/dd/yyyy to yyyy-MM-dd is fairly easy because all they have to do is bring the four-digit year to the front of the string. Here is an older webpage that explains the logic of it (ISO 8601), along with some of the nitty-gritty rules for the truly detailed implementations (like transaction-processing systems):
http://www.cl.cam.ac.uk/~mgk25/iso-time.html (posted 2016-12-30 @ 13:21 PST US)

Well, one thing for sure, windows 10 desktop and mobile does NOT respect the regional settings any good. Set your language to English and your regional formatting to Norwegian and you will see several cases where this isn't respected. Eg. the calculator will fornat numbers like "123,456.00" where it should be "123 456,00". The clock in statusbar, and calendar is shown as "12.00" where it should be "12:00". My old control panel is set correct, and the new settings. Stop using my language as a way to format regional settings, Microsoft!

Agreed, this is very annoying. Another example is in the Weather app, uses AM/PM (if display language is US English) and not regional settings. This was actually fixed in one of insider preview updates, I think it was 14905, but back to unfixed in later builds. They actually fixed it in the alarms & clock app which used to have the same problem.

So much control over a time and date format, and yet the old infinite color schemes of Windows 7 have been reduced to something resembling the old days of 256 colors.

Fun fact. You can change the AM and PM to whatever you like. I always mess with people that leave their PCs unlocked when away from their desks. Their time will now read, 9:30 U R FIRED. Or 8:35 VIRUS ALERT. Freaks them out every time.

Anybody else in 12hr format experiencing Skype completely ignoring all U.S. region defaults? It always shows 24hr timestamp on messages.

Strange, I have the opposite. I can't always get it to follow yyyy-mm-dd HH:mm

And your system defaults are 24hr? What the heck. I open Skype and see something like "1/2" as a timestamp for an old message (seriously?! that's all the timestamp detail I can see?) and then for a more recent message, I see something like "18:12" which I have no patience to figure out in the moment. I know...I know, but it's just not something we're used to over here.

macOS: Checkbox -> Use 24-Hour Time formats Windows 10: 1990s Retro -> Which Excel-style Format string would you like to use for the Time? Almost like using printf() again!
Windows Central Newsletter
Thank you for signing up to Windows Central. You will receive a verification email shortly.
There was a problem. Please refresh the page and try again.