How to clean your mouse mat
Using a mouse mat on a daily basis can lead to the surface becoming clogged with all sorts of particles, be it dust or food, which can interfere with mouse operation and reduce performance.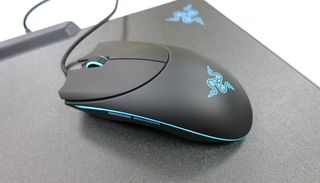 Like everything in the house or office, the trusty mouse mat needs to be cleaned on a regular basis. Going through long periods of use without adequate care can result in performance hits when it comes to the mouse. This is due to the build up of dust, crumbs from food, or other particles that may fall and settle on the surface. Luckily, it doesn't take much time nor effort to clean the mat itself.
Here's what we'll need:
Large bowl (sink, basin or even the bath will also do)
Washing up liquid
Hot water
Depending on the size of the mouse mat, you may want to select an appropriately-sized bowl or basin, which should aid in effectively washing through both sides of the mat without having too much of an overhang.
Brush any particles off the surface.
Fill the bowl or basin with fresh, hot water.
Pour in some washing up liquid.
Insert the dirty mouse mat.
Rub the surface gently.
Turn the mat over and do the same to the underlay.
After you've cleaned the mat and can no longer see or feel any particles along the surface of the mat, be sure to give it a good rinse and remove all the foamed soap. There are plenty of options to dry your mousepad, from patting it with a towel to letting it air dry to hitting it with a blast from a hair dryer. Regardless of which option you select, your mousepad will still retain some water, so you'll need to let it thoroughly dry before putting your mouse on it (remember: electronics and water don't mix). I recommend you leave it a solid 12 hours, or at least until it's dry to the touch.
Also, should your mat have advanced features like USB ports and LED lighting, be sure to check the manual and online documentation as to whether or not this method is suitable for that particular product. Alternatively, cleaning wipes can work wonders for removing stains and accumulated crud from the surface of the mat for maximum performance. Again, just be sure to let the surface dry thoroughly before use.
Rich Edmonds is Senior Editor of PC hardware at Windows Central, covering everything related to PC components and NAS. He's been involved in technology for more than a decade and knows a thing or two about the magic inside a PC chassis. You can follow him over on Twitter at @RichEdmonds.
It is official with this post. This site is content starved.

26 posts yesterday alone would say you're just being a (poor) troll.

I over reacted out of frustration. On the other hand, the story reads like a satire: "select an appropriate sized bowl, insert the mat and rub gently to remove particles." It's just me but my warped sense of humor prevents me interpreting it seriously. I would like to see more substance. To be fair, I am not a gamer so that means a good portion of the content is of no use to me. I understand gaming is both lucrative and popular. I confess my viewpoints are suspect; I use a Windows Phone after all.


I guess he referred to quality and not quantity.

Yo Richard, got any food recipes coming up on the site? :D Would like to try some new stuff!

It was content starved a long time ago, when we started getting posts about gaming and internet porn, topics that have absolutely nothing to do with Windows.

Both of those rank high among the top uses of Windows.

Are you familiar with the concept of "degrees of separation"? Well, this article is like me saying I invest in freeways because I drove on the I-95 to Florida. Please. Oh, and I know Dan Rubino personally because I drove past MA on said road trip to Florida. Please.

I find it really helpful as I just got a new qck plus. What's useless to you may be not be useless for others.

I don't think I have ever even considered that I need to clean my mouse mat. I've probably been using that same mat for 6 years.

just spit on it, cleaning completed

This seems fine if you have a cloth mat. Don't see the point if it's coated or hard plastic.

Dyson to hoover up the pizza crumbs and baby wipes to wipe away anything else. Or if it gets really bad yes, I throw it in the washing machine.

*grabs whip* Use a mouse mat you dirty boy!!!

Next week we'll cover the proper technique for thoroughly washing your hands before using your mouse (or after). Also, we'll discuss the top 10 reasons for eating at the dinner table instead of your computer desk.
Stay tuned!
;-)

While eating at your computer desk, you can also play games or watch internet... porn!!! Woo hoo!!!

Microfiber and a little water. This reads like how to wash a cutting board.

I like this site but this article should be deleted. It's a rediculous article. Soap and water? Really? If there is not a need to solve a problem don't waste the time on an article.

I'm a fan of this site, however I must agree with some of the commenters here that this article is not really necessary.

Can you please post an article telling me how to clean my monitor screen? It's getting very dirty after all these years, and I just don't know where to start.

First off, make sure your display is connected to an outlet. That causes more static electricity, which will help getting all the dirt off.
Also, more water = more thorough cleaning

Worst article ever 😆
«Large bowl, washing up liquid, hot water» - Are you kidding me???

I occasionally use a Clorox wipe to clean my steel and plastic mousepad. I just wish the mouse feet didn't leave so much material on the pad.

Wtf is "washing up liquid"? Lmao. This article feels like you guys must think your audience are idiots/small children. These SEO "how to" articles really demean the quality of the site. It literally drove me away from Android Central when they posted like 40 "how to" articles for Pokemon Go within the span of a day. It felt insulting and now I never go there and replaced them with Android Police as my Android news feed, which I'm glad about now because they break more stories and have respect for their readers.

In fairness, I think it's a British term for detergent, which is what we call it. They have different terms over there.

I wish they'd quit messing with our English language!

Hey, I didn't even know that there was such a thing as a "mouse mat". Now I need to do some shopping. :)
Windows Central Newsletter
Thank you for signing up to Windows Central. You will receive a verification email shortly.
There was a problem. Please refresh the page and try again.