How to configure a VPN on Windows 10 Mobile
How do I set up a VPN on my phone?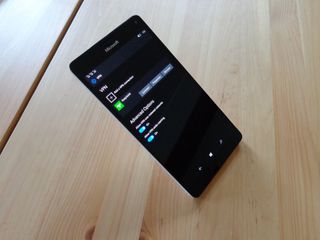 Privacy on the internet is being eroded every day, and many people are turning to solutions that help mask their activity online. Virtual Private Networks (VPN) are becoming ever more popular thanks to their ease-of-use and relatively low cost. For more information on what a VPN can do for you, check out our guide to the best VPNs and how they compare to proxy servers.
What's the difference between a proxy server and a VPN?
If you're in the market for a VPN and are not sure where to start, we also have a roundup of the best VPN services available now.
See the Best VPN Services for 2017
So you've purchased a VPN, and now you want to use it on your phone. Here's everything you need to know about configuring a VPN on Windows 10 Mobile.
Information needed before you begin
Before heading into your phone's settings to set everything up, you need to gather some information from your VPN provider. Popular VPN services, like KeepSolid, provide all this information in the app you download on your phone. If your VPN of choice doesn't have an app, this information can generally be found in your account settings on their website.
In the case of KeepSolid's VPN Unlimited, which is the VPN we are configuring here, this is the information presented to you in their app:
Server name or IP address
Whether you're using L2TP or PPTP to connect (if you can, always go with the safer L2TP)
Username
Password
Preshared key (this can change to a certificate or other key depending on your VPN service)
How to add and connect to a VPN on Windows 10 Mobile
With the required information now in hand, you can head into your phone's settings to configure the VPN.
Swipe down from the top of your screen.
Tap All Settings.
Tap Network & wireless.
Tap VPN.
Tap Add a VPN connection.
Tap the dropdown arrow below VPN provider.
Tap Windows (built-in).
Tap the Connection name field.
Type a name. This is solely for you to identify the VPN so you can use any name you prefer.
Tap the Server name or address field.
Type the server name.
Tap the dropdown arrow beneath VPN type.
Tap the VPN type. This will change depending on the VPN service you subscribe to. In this case, we choose L2TP/IPsec with pre-shared key.
Tap the Pre-shared key field.
Type the pre-shared key.
Tap the username field.
Type your username.
Tap the password field.
Type your password.
Tap Save. Your VPN provider should now show up in the list of VPNs.
Tap your VPN.
Tap Connect.
How to disconnect and remove a VPN on Windows 10 Mobile
Don't need your VPN anymore? Here's how to disconnect it and remove it from your phone.
Swipe down from the top of your screen.
Tap All Settings.
Tap Network & wireless.
Tap VPN.
Tap your VPN.
Tap Disconnect.
Tap Remove.
Tap Remove again to confirm.
Your privacy
Are you using a VPN while you use the internet? Which one are you using? If you're wondering which VPN is best for you, don't forget to head over to our buyer's guide.
See the Best VPN Services for 2017
Windows Central Newsletter
Get the best of Windows Central in your inbox, every day!
Senior Editor, Laptop Reviews
Cale Hunt is formerly a Senior Editor at Windows Central. He focuses mainly on laptop reviews, news, and accessory coverage. He's been reviewing laptops and accessories full-time since 2016, with hundreds of reviews published for Windows Central. He is an avid PC gamer and multi-platform user, and spends most of his time either tinkering with or writing about tech.
We use check point vpn in company, authentication via certificate. On android and iphone no problem, on windows 10 and w10m mission impossible.

Same with my company. Zero support for mobile. Continuum would be outstanding if I had that ability. It is still a great experience with mail, messaging and calendar, but I could leave my work laptop in the office if I had vpn capabilities.

We are updating to Checkpoint firewall at our datacenter locations, our office is using Pulse Secure. Glad to know that datacenter may have an issue.

Anyconnect or FortiClient here at work. W10/W10M and Android no problem. iOS/MacOS combo mission impossible. Known issue at Cisco for many years and still no solution.

I'm having great luck with ExpressVPN on all my devices.

Not on Windows Phone, or yes? I don't see it in the store.

It has to be manually configured. Easy. Lots of help on the web sight and the live help on line is spot on.

I'm planning on using this service and was wondering if you are using their app on the desktop or simply going through Windows 10 VPN settings like here on the mobile side? Is there any benefit of using the app over the built in method?

I tried to, but it disconnects every time my screen locks, so it's not really worth connecting unless I know I need to do something that needs it.

You may need to configure it to connect manually, instead of automatically, if you haven't done so already.

I have the same issue with the disconnection. It's the primary reason I may have to go back to iPhone :/

Third party free vpn apps such as hotspot shield and touch vpn haven't worked in nearly a year on 10 mobile...have developers left those apps, broken by anniversary update, as ghostships?

Anyone use Nord? it's top rated. I just wanna know if it works on 950XL. before I buy 2 years worth at $4 a month

I've been using it on my Lumia 950 and it seems okay but as others have noticed on VPNs on Windows Mobile, it disconnects on screen lock, which is frustrating. AFAIK there's nothing we can currently do about that. You can do a free trial of Nord for 3 days (https://nordvpn.com/free-trial/). They tweaked the sign-up system so you choose to pay by BitCoin but you don't actually pay. After 3 days you should be able to pay by card instead (or use BitCoin if you have some burning a virtual hole in your virtual wallet, of course).

I'd like to know this too. And, because Nord doesn't have an Windows 10 Mobile app, do they provide the log in credentials to enter into the "Settings" VPN.

I've been working with PureVPN trying to get L2TP/IPSec or IKEv2 to work on our W10M devices. The tunnels are established with no problem, but we can't get data to route via the VPN tunnels. Yet another feature that worked in Windows 8.1 Phone but has failed on 10 since day one.

Yes, MS forgot to put a Send all Traffic button...bunch of idiots! at least you manage to make l2tp to connect.most of the times it fails

Just did this exact thing yesterday for the first time. VPN Unlimited worked fine on mobile and desktop right away, but mobile only stayed connected for about half a day and has been showing error 691 ever since. Desktop has been giving me intermittent connection problems all morning today. Good thing there's a trial period. Will have to see how it goes.

i use purevpn :) **** happens in usa but the vpn services will enjoy

Using Private Internet Access for 2 years on mobile, any way to keep VPN permanently on as I have to go into settings to enable it all the time.

I use PIA at home too, have never gotten it to work on W10M. Works great on android tho.

https://helpdesk.privateinternetaccess.com/hc/en-us/articles/219014818-H... The username and password are different to the one used to log in, you have to generate new one in the PIA portal

Nice article. At work I sometimes use AnyConnect and FortiClient on my phone (Continuum) (and MS VPN). Which integrate nicely. FortiClient is UWP. Even Hololens apparently. Go get Fortinet VPN ! (we sell them too :) )

I'd like to use my netgear person vpn the uses a config file. Works great on android

Do I need to set up a different vpn connection for each wifi I connect to? Like at different hotels? Or can it be setup once and then work for all wifi? I have used unlimited vpn and it seems to work ok, but the above questions confuse me!

From what I know, you should be able to use the same VPN connection settings for any Wi-Fi network you're connected to (no need to configure separate ones).

Still no support for SSTP on Mobile, although this is a Microsoft thing and would be super easy to use from every foreign network making the connection over HTTPS port 443.

Edge should have a built in VPN like Opera. :/

L2TP fails! you cannot manually configure security options for L2TP and auto handling is broken. MS has not fixed this for more than a year...bunch of incompetents

Coincidentally I've been struggling to set up a VPN with windows mobile for an entire month. If you want something a little more sophisticated than a simple tunnel with username and password then you're screwed.
It's impossible to configure any advanced settings including split tunnel routes, certificate filtering and all other advanced stuffs without a Mobile Device Management software. There is Windows ICD which is supposed to create provisioning packages for Windows 10 Devices but it's completely undocumented and configuring the VPN node makes any package failing to install. No debug logs. Support is non existent. For an OS focused on enterprises the VPN setup is a complete fail, not to mention it still uses old and unreliable ciphers suites without any way to change them. Unbelievable.

VPN doesn't work for me since windows 10 mobile update and I can't downgrade to 8.1. Any person having the same issue?

I use a VPN for non-trusted networks. One of the main complaints I have about the built-in VPN for mobile is that there is no way to set up trusted networks, and to automatically enable the VPN whenever I connect to a non-trusted network, and to block ALL communication unless the VPN can connect.

I've used hide.me during wp8 days, it worked fine. But i haven't had any luck with win10m, and PC also (if i use the system app for configuration). They seem to connect but traffic does not seem to pass thru. And why can't they make an app that'll connect directly from the app like hotspot shield as it does on other platforms? I don't understand the issue with vpn on Windows 10, it's getting very frustrating.

Has anybody ever found a solution for windows 10 mobile connecting to a Sophos UTM via a SSL VPN?

Lumia 950 XL production build VPN stop working since 3 builds ago. prior was working fine. I am getting fed up with Windows Mobile.. among other problems..

It would be very helpful is you gentlemen explained to us how exactly to set up each of your Best VPN services on Windows 10 Phones. I can get VPN Unlimited to work, but but not the others, because I can't find the credentials. Help!
Sent from my Windows 10 phone

I followed your directions exactly (also using VPN Unlimited) and it keeps coming up with error code 789. It only works when I set it to L2TP/IPSec with Certificate. But isnt that less secure? How can I set it so that I can use L2TP/IPSec with Preshared Key?

Is possible to keep VPN connection? always disconnect when screen go off...

I have Surfshark VPN installed on Surface Book, iPad mini and Linx 8 Windows Tablet no problem but cannot get outside LAN on HP Elite X3 even though everything is set up correctly, any ideas?