How to create live folders, hide the Start menu app list in Windows 10 Creators Update
How do I use the new Start menu in Windows 10 Creators Update?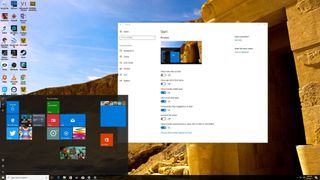 The Windows 10 Creators Update brings the Start menu a few new customization options to help make it feel more familiar.
You can now create and resize live folders to hold more apps in a smaller area, and you can remove the app list that normally appears on the left side of the Start menu. Let's take a look at how to create and customize live folders and how to hide your app list.
How to create and customize a live folder in the Creators Update Start menu
Windows Mobile users will immediately recognize this feature that lets you group apps together into something called a live folder. This allows you to keep many more app tiles in your Start menu without having to expand the size. Here's how to create a live folder.
Click the Start button.
Click and drag a tile onto another tile. The live folder will be created automatically.
Click the up-arrow tile to close the live folder.
In some cases, you might want to resize the live folder so that all tiles within are visible, or perhaps you'd like to make the live folder smaller to save space.
Click the Start button.
Right-click the live folder.
Click Resize.
Click a size.
Did you add an app to a live folder and now want to remove it? No problem.
Click the Start button.
Click the live folder.
Click and drag a tile outside of the live folder.
How to hide your app list in the Creators Update Start menu
Further following the trend of having the Start menu on Windows 10 look more like the Windows Mobile Start screen; you can hide the list of your apps that normally appears when you click the Start button.
Right-click the Start button.
Click Settings.
Click Personalization.
Click Start.
Click the switch below Show app list in Start menu so that it turns Off.
You can still see a list of your apps in the Start menu with the above option turned off.
Click the Start button.
Click the All apps button. It is located near the top-left corner of the Start menu and looks like a series of lines and boxes stacked atop each other.
Click the Pinned tiles button to return to the standard view. It looks like four tiles.
More Creators Update goodness
For more information on what the Creators Update for Windows 10 is all about, be sure to check out Zac Bowden's in-depth review. Also, check out our full guide to customizing your Start menu for more great tips and tricks.
Windows Central Newsletter
Get the best of Windows Central in your inbox, every day!
Senior Editor, Laptop Reviews
Cale Hunt is formerly a Senior Editor at Windows Central. He focuses mainly on laptop reviews, news, and accessory coverage. He's been reviewing laptops and accessories full-time since 2016, with hundreds of reviews published for Windows Central. He is an avid PC gamer and multi-platform user, and spends most of his time either tinkering with or writing about tech.
One really annoying thing about the folders is that Twitter profiles that are pinned just show as the twitter lgoo, rather than the profile image when the folder is closed. On Mobile it correctly shows the profile picture.

I don't quite get the hidden apps list thing. The apps list has always been hidden like that for me on the start screen since the release of W10? How is this a new feature?

Maybe it could be hidden on certain devices or you had a bug. Either way, it can be now removed for all users now.

No bug, and no specific devices as this was the same on my desktop, laptop, tablet and stick PC on the TV. Heck, even on my phone I have to swipe to get it. It could always be hidden for all users. Just as it shows in the article, the apps list has always been behind the icon switching from tiles to full apps list. Could this be something to do with the compressed start menu option? Since I've never found a reason to shrink my start screen (seems like a bit of a pointless option to me, that just makes the start screen smaller to show some desktop area that can't be used whilst in the start screen anyway), I've never run like that on anything. Perhaps it's just for compressed start screen users?

You don't have an app list (and never had), when you run your start menu full screen.

Sure you do, it's hidden just behind the icon as described in this article as it has always been. I certainly never had to switch to a compressed start screen to access the full apps list.

The apps list is hidden behind the button on the start screen (in tablet mode) but on the start menu (in desktop mode) your apps appear next to the tiles.

I can assure you the full apps list is also hidden behind the button on the full start screen when in desktop mode as well as in tablet mode. This has never been a tablet specific feature and has always been a part of W10 in desktop mode.

I didn't say full start screen in desktop mode though, did I. And this article isn't showing images of a full start screen in desktop mode.

Exactly my thought, as I mentioned earlier this might just be a compressed start screen addition? As I said, I've never used that mode before so it might be, but since it's the least useful mode (is there any reason to shrink the start screen? I can't think of one) I can say I've noticed no difference. I think it is a feature we've always had, but has now possibly been extended to a mode that may be useful in some highly specialised usage situation I've not encountered yet? I wish they'd just fixed the boot to start screen setting in group policy. I suppose you can't have it all...

Too bad they are not completely live folders like on mobile.

They still haven't figured out a way for me to make this more like Windows 8. I much prefer being able to swipe up from Start to see a MUCH better looking and customizable All Apps view. Also, Tablet Mode shuts down the moment you connect a second monitor. I should have the option to keep the Start Menu on one monitor all the time if I prefer.

Yep, too true. All they need is a swipe to get to the all apps screen like in W8 and we'd be there. Still suffering from hamburger-itus it seems. Eventually they'll work out that this fixation on fiddly buttons isn't converting Android fans and they'll drop the idea but until then we suffer the little finicky buttons in touch instead of the lovely broad swipes.

I wish it would adapt to and from tablet mode on startup. For instance, if I am in tablet mode then shutdown, if I connect my keyboard while the device is off, when I switch it on again it won't automatically switch to desktop mode, it stays in tablet mode. It's only if I attach/detach the keyboard while it is on that it will adjust itself.

I believe there is a control in tablet setting for start up behaviour. Try setting that to "appropriate for my hardware". Does that sort it?

I will be happy if the update doesnt trash my mothers TileDataLayer Database, yet again. Anything else is a bonus.

How to create live folders, hide the Start menu app list in Windows 10 Creators Update ... Really ??? Everyone who has a smart phone should already know if you drag an App over the top of another and release it, it creates a folder. Thought you were talking about an actual live folder. How about creating Live animated desktop wallpaper. Give windows a new look, they did tr this years and years ago, and then dropped. Have you seen the live wallpaper Google uses for Chrome ??? Reallt nice.

You gotta remember that these articles come up on search results when people who aren't as experienced with tech look these things up. Not everyone will know how to do this or think of doing it normally, Windows serves a wide variety of users.

I actually never use the start menu any more, it's only to shut down my device, I keep important programs on my desktop and most used links on my task bar, the start menu is completely useless to me.

Eww but then you get glitter on your desktop? No no. Clean desktop, one icon column.

Omg that mess would drive me crazy

tenicons isn't exactly a mess.

Anyone know is features beta speakerphone option is available on windows 10 yet either through gestures beta app working or speakerphone option added in touch setting next to mute? Or are we Gina have to wait till 3 years go by? Can't believe a company like Microsoft could let a very useful feature like this a pear in 2015 then disappear when windows 10 came out. I know I'm not alone here.

We need the option to export all that work of customizing our start menu to a single file or a folder. It would make it so easy after a fresh install, or if we move on to a new PC. A text file within that folder with all installed apps being used on the start menu would also be great.

Customize your start menu with this app. you can create your own Tiles and save them as png to a designated folder for future use. https://forum.xda-developers.com/windows-10/development/win10tile-native...

It kinda sucks most of the apps I use live tiles dont work or they were never implemented.