How to customize the startup color of Windows 10 Store apps
You can further customize your app experience by personalizing their startup color on Windows 10. Here's how.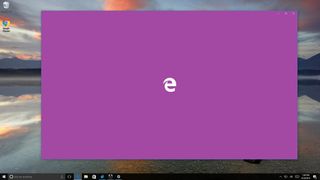 Alongside the slew of new features and changes, Windows 10 brings a new version of apps that work across devices and adapt to any screen size. The operating system comes bundled with some of these apps, including Photos, Alarms, Calculator, Xbox, Microsoft Edge and many others. Of course, you can get more from the Store, which is the one-stop-shop to get thousands of additional apps.
While each app is different, most of them include a settings page to customize various options. However, the one thing that every app has in common is that they don't offer an option to change the splash screen color you see every time you launch the app.
You'll notice that some apps will take the color accent from your current theme, and some other apps display their signature colors like the Xbox app with its green color and Microsoft Edge with its characteristic blue color.
In this Windows 10 guide, we'll walk you through the steps to change the splash screen color for various Windows 10 Store apps by adding some tweaks to the registry.
How to change Store apps startup color
Important: Before diving into this guide, it's worth noting that modifying the registry can be dangerous, and it can cause irreversible damage to your system if you don't do it correctly. It's highly recommended to make a full backup of your system before proceeding. You've been warned!
To change the startup color for apps on Windows 10, do the following:
Use the Windows key + R keyboard shortcut to open the Run command, type regedit, and click OK to open the registry.
Browse the following path:HKEY_CURRENT_USER\SOFTWARE\Classes\Local Settings\Software\Microsoft\Windows\CurrentVersion\AppModel\SystemAppData
Double-click the key (folder) for the app you want to change the startup color. For example, you can double-click Microsoft.MicrosoftEdge_8wekyb3d8bbwe to change the color for Microsoft Edge.Important: You can try changing the splash color for every app in the list, but only a few will work. Some of the apps that will take the change include Microsoft Edge, Store, Alarm, Calculator, Maps, Photos, and Xbox.
Double-click the SplashSreen key.
Select the app key. For example, Microsoft.MicrosoftEdge_8wekyb3d8bbwe!MicrosoftEdge to open the key for Microsoft Edge.
On the right side, double-click the BackgroundColor string.
Change the value data to the color you want. You can use the name of a primary color, such as red, blue, or green. You can also use hexadecimal color codes like #FF0000, or you can even use the value transparent, which will allow the app to take the color from your theme.
Click OK to complete the task.
Once you have completed the task, you can launch the app to see the new color during the splash screen.
In the case you want to revert to the original color, using the same instructions mentioned above, make sure to change the BackgroundColor string to its original value.
Which apps did you change the startup color on Windows 10? Tell us in the comments below.
More on Windows 10 resources
For more tips, coverage, and answers on Windows 10, you can visit the following resources:
Windows 10 help, tips, and tricks
Mauro Huculak is technical writer for WindowsCentral.com. His primary focus is to write comprehensive how-tos to help users get the most out of Windows 10 and its many related technologies. He has an IT background with professional certifications from Microsoft, Cisco, and CompTIA, and he's a recognized member of the Microsoft MVP community.
Cool. Edge blue was getting to me.

I always like these registry guides from this site. Cool things I never knew I wanted.

That's a hack not a settings.
Your despicable neighbor Dr. Evil spoiling the mood.
What we really need from MS is a simplify share space between devices. creating a simple app for share folder that leverage the ad hoc connection besides of the cloud. If it had done that, there would be no yapping about copy and paste between devices. All of those tech website talking about it like it's something new. Apple make it more practical but it's nothing new, those bunches ofimbecile.

Storing documents in OneDrive has been working pretty well for me. The Office apps are really good about propagating changes, even when the same document is open on multiple devices.

Edge keeps crashing to the point I cant use it . its rubbish in pc and on my 950 xl

I wish this was possible on mobile as well, just set all the ones that make sense to black (yay black theme). I wish there was an option to follow theme, so that if you use light theme all the splash screen are white background black logo, and vice versa for dark theme. Transparent for everything else....

Love these registry tweaking guides. Wish they make a separate place for these guides. (Disclaimer : I once tweaked the wrong thing so I ended up seeing blue screen every time I boot. Be careful everyone!)

Is there also one to be able to change the color and transparency of the app live tiles (both windows native and third party app tiles?!) That would be even more awsome than the splash screen!!!!!!!!!!!

I thought the splash screen colors were set in the appx itself by the developer. I didn't think that was even possible to change them manually.

I like the black splash screen, as in the windows central app

The WC app now starts with an orange splash screen for me :D (I set the key to transparent) And it's looking good :D

Anyone tried on W10M using interop tool?
I am open given path but there is no folder for Edge.
Windows Central Newsletter
Thank you for signing up to Windows Central. You will receive a verification email shortly.
There was a problem. Please refresh the page and try again.