How to turn off Windows 10's 'Sets' feature
Windows 10 will eventually pick up browser-style tabbed window management in the future, called "Sets," but not everyone is going to want the experience right away. Here's how to disable it.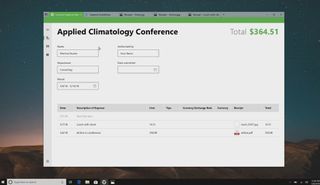 In the future, Microsoft plans to debut "Sets" for Windows 10, which is an all-new tabbing system for window management, similar to how tabs work in your web browser. Sets will be a unique way to manage your projects, allocating all the necessary windows you need into a single "set," able to be closed and recalled at will via the Timeline. For more information on Sets, head over here.
Not everybody will enjoy Sets, of course. Here's how to quickly turn them off for that "classic" Windows experience.
Note: To be clear, Sets is not yet widely available. It is currently in A/B testing for Windows Insiders. Microsoft has said that Sets will roll out to the public when it's ready, hopefully in the next big Windows 10 update, expected this coming fall.
How to disable Sets on Windows 10
To disable sets, first, open the Start Menu.
Click on the Settings cogwheel in the bottom left corner.
Once in settings, select System.
In the System settings menu, select Multitasking on the left list.
Scroll down to Sets, and disable Tabs in apps.
Once you complete these steps, windows will open as they used to, in separate containers rather than grouped into tabs.
More Windows 10 resources
For more helpful articles, coverage, and answers to common questions about Windows 10, visit the following resources:
Windows 10 help, tips, and tricks
Windows Central Newsletter
Get the best of Windows Central in your inbox, every day!
Jez Corden a Managing Editor at Windows Central, focusing primarily on all things Xbox and gaming. Jez is known for breaking exclusive news and analysis as relates to the Microsoft ecosystem while being powered by caffeine. Follow on Twitter @JezCorden and listen to his Xbox Two podcast, all about, you guessed it, Xbox!
The option has been removed in the latest build. You have to add every, single, program, in the exception list, one-by-one. Would be nice to have the reverse reverse where by default you already have it on the exception list where Sets makes sense like Word, Excel, Powerpoint, etc. and not Task Manager, Store, Mix Reality Portal, etc.

I'm on the latest build, and sets works for just about everything. No settings tweaks at all. Once you use it, it just feels natural. Now I find that I miss Sets when I'm on my work PC.

Hmm, I'm hoping you can set it to open in traditional separate windows, but that you can then drag a window into another to create a tab much like Edge. Tabbed browsing is fine and useful when I want it. Like any other feature though, it becomes an annoyance when Microsoft insists on deciding when they think I should want to open something in a tab and doing so as they please. The description in the article hints that they are going for an approach where either Windows decides when to open as a tab or you get no tabs at all. Very poor. They need an option for tabs on demand. Not tabs our way or we'll throw our toys out of the pram and take them away all together.

It's also kind of crappy for us multiple monitor users now that I think about it. The concept seems to be based on single screen usage.

Would make a lot of sense on a small device as well...where it actually makes sense to have a window maximized. Maybe a phone-like device. ...not so much on a large screen.

Definitely helpful on my small tablet I expect. Desktop use will be situationally helpful though, which is why I'm hoping for the option of a more manual implementation so I don't have to switch it off entirely.

I wish I had it on 1803...

I like to know how to turn the 'Sets' feature on! I am on the latest build (17666 ), and there is no sets and no cloud clipboard. I have checked the Settings, yes...

Sets is still in A/B testing meaning it's possible you don't have it... Cloud clipboard should be there for everyone running the latest build...

Is it another desperate attempt to force people to use Edge?

I don't have to be forced. It's people like you who want to be a techie but don't try or learn how to use all things; there will always be someone who doesn't use the same things you do and you just might have to show them how to perform a task using the item they choose to use as opposed to one you want to force them too. Grow up, even Microsoft understands that everyone doesn't use windows, windows phone, iPhone, android, chrome OS, mac OS, linux, etc and make their products and services available everywhere for those want to use them anywhere they are, so which platform is truly open??? You call yourself a "free spirit" and you feel you have to defend whatever browser you're using by bashing one you don't. Sound more like a "torchered spirit"

You didn't answer his question though.

How can he/she actually answer his question? He/she is not Microsoft. The answer he/she did give is as good of an answer even if he/she simply said yes or no.

I'm always amazed at how a lot of people into tech can be so conservative and stuck on habits. People who are into tech should be more open to try new things and experiment, believing in progress.

What make you think that they are into tech? Just because they come to sites like this do not mean they are into tech as such, they may just be nosy to see what is going on. I just want my computer to do what I need it to do, I to am getting fed up of Ms changing things all the time and then trying to push us to use these features.
i do not like Edge, simple as that and I do like being pushed to use it either.

Huh. I embraced Windows 8 and Windows phones. Most "tech" apparently didn't, preferring to stick with older Windows 7 experience and the same old sea of icons on their iPhones and Android devices. So….

I somehow can't activate it on my SP4 while I have no trouble on the desktop PC. And yes both have the same build.

Dude, people just barely has the feature, we're turning it off already?

Some people don't like change? And your comment sounds like a criticism (correct me if I'm wrong). If there wasn't a way to turn it off people would be complaining about Microsoft 'forcing' users to use features, but now that there's an article to show you there's an option then it's also somehow a bad thing thing?

Peoples choice, as soon as I update to the April edition of windows 10, which may be this week end if I can be bothered, the first thing that is going will be timeline and if any of the apps I have got rid of come back they will go again and so will cortana. Sets would certainly be disabled on my machine.

I really, really don't like this Sets feature, thanks for the tip.

you got keep in mind it still in it early days and it's not finalized. Also it may not even be released in Rs5

True, but it'is messing up the way I work for years and years. I can see the benefit of having tabs in every program, but not if it combines apps together. Even if every app would support it, I would still hate it. Same as timeline. The win+tab finally, finally was perfect now it's slow, static and rubbish again. No, dont like these 2.

I also want to turn off timeline. I hardly use it and prefer a less crowded tranditional taskswiter aka pre-april windows 10 update type user interface. How do I turn it off? If not where is the petition to microsoft and ask for an option to turn timeline off in settings?

setting/ activity history. There doing some Nice refinements to it
in RS5

What build is this? I haven't been able to test this out and I'm in the fast ring 17666.rs_prerelease.180504-1501

Looks like Chrome OS, did Google get it right?

Updated 17666 but sets option is not includ in multitasking ...