How to disable Storage sense on Windows 10
By Mauro Huculak published
If Storage sense isn't for you, you can disable the feature using these steps.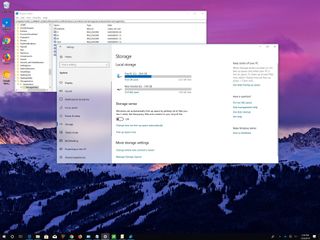 Storage sense on Windows 10 is a feature designed to monitor your device and free up space automatically. When your computer is running low on space, the feature will delete junk files, such as temporary system files, items you sent to the recycle bin, and many other items to make room for more important files.
Although Storage sense can be useful to optimize space automatically, it's not a feature for everyone, and for this reason, Windows 10 includes options to disable the feature in at least two ways using the Settings app and Registry.
In this Windows 10 guide, we'll walk you through the steps to disable Storage sense on your computer.
How to disable Storage sense using Settings
Windows 10 should have Storage sense disabled by default, but you can check and turn off the feature as necessary using these steps:
Open Settings.
Click on System.
Click on Storage.
Turn off the Storage sense toggle switch.
Once you've completed the steps, the feature will stop running automatically on your device.
In the event that your device starts running out of space to perform an upgrade or store files, you can re-enable the feature and use these tips to free up space.
How to disable Storage sense using Registry
Alternatively, if you're looking to create a script or .reg file to disable the feature more quickly on several devices, you can also disable Storage sense on Windows 10 by modifying the Registry.
Warning: This is a friendly reminder that editing the Registry is risky, and it can cause irreversible damage to your installation if you don't do it correctly. It's recommended to make a full backup of your PC before proceeding.
Use the Windows key + R keyboard shortcut to open the Run command.
Type regedit, and click OK to open the Registry.
Browse the following path:HKEY_CURRENT_USER\Software\Microsoft\Windows\CurrentVersion\StorageSense\Parameters\StoragePolicyQuick Tip: On Windows 10, you can now copy and paste the path in the Registry's address bar to quickly jump to the key destination.
Double-click the 01 DWORD and set its value from 1 to 0.
Click the OK button.
After completing the steps, Storage sense will no longer run automatically on your installation.
In the case you change your mind, you can roll back the previous settings using the same instructions, but on step No. 4, make sure to change the DWORD value to 1.
While you can also disable Storage sense using the Registry, at the time of this writing, there's not an option to perform the same task with the Group Policy Editor. However, the settings are planned to arrive with Windows 10 version 1903 (19H1) releasing during the first half of 2019.
More Windows 10 resources
For more helpful articles, coverage, and answers to common questions about Windows 10, visit the following resources:
Windows 10 help, tips, and tricks
Mauro Huculak is technical writer for WindowsCentral.com. His primary focus is to write comprehensive how-tos to help users get the most out of Windows 10 and its many related technologies. He has an IT background with professional certifications from Microsoft, Cisco, and CompTIA, and he's a recognized member of the Microsoft MVP community.
Windows 10 is being to aggressive at trying to back up my word documents on the cloud.... the net result of Microsoft switching to the same constant update model as Linux means that windows is becoming as junky and crashy as Linux... if you opt out of cloud backup of your word documents you constantly lose your files because Microsoft office is crashy as heck these days... and because Microsoft are being dicks in insisting that everybody enable cloud backup the net result is that you constantly lose hours of work unless you keep copying and pasting your word document everytime you make a small change leaving you with a junky directory of copy (1), copy (2), etc of your word document...

If you are having a problem with your machine crashing, then maybe you should look at your computer hardware. While I am not a fan of windows 10 I do a lot more on my machine than word docs, like video editing and that sort of thing and it doesn't crash. i am pretty sure you can stop it backing up on the cloud, I do not use word or any Ms office for that matter, I use Libre office, but if I did, I am sure there is a way to disable cloud backup.

Why would someone use the Registry to disable something that can be disabled with a click of the mouse? I disabled storage sense on installation. Ah, just read it again , for several machines.
Windows Central Newsletter
Get the best of Windows Central in in your inbox, every day!
Thank you for signing up to Windows Central. You will receive a verification email shortly.
There was a problem. Please refresh the page and try again.