How do you connect your Windows tablet to the internet?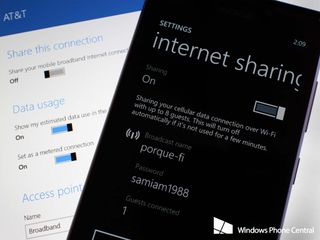 Earlier today we reported that the Surface 2 with LTE has begun to arrive at select Microsoft Stores for an impending launch. The Surface 2 with LTE shipments are starting to arrive at Stores in order to build up inventory for an imminent launch. Here in the United States the Surface 2 with LTE will work on AT&T's network, while abroad you'll be using Vodafone. The option to hop to the internet without Wi-Fi or tethering is definitely appealing. But we're wondering how the majority of you all connect to the internet on your tablet.
There are a few ways to connect your tablet to the internet. Which do you mostly use on your tablet?
Wi-Fi
We're guessing this is how most of you connect your tablet to the internet. Mostly because it's the easiest and probably cheapest option. Your home has Wi-Fi, as does your office and most public locations like coffee shops or airports. Plus all tablets have Wi-Fi, whereas all tablets don't have a cellular options.
Cellular
True mobile maven? Then you're probably connecting your tablet directly to a cellular network through LTE. Cellular is great for a lot of people. At a coffee shop and don't trust the public network? Connect directly to your data provider. The big downside of cellular is the extra cost on top of the data plan for your smartphone. Though it is super convenient.
Tether from Windows Phone
Another great option to connect your tablet (or ultrabook) is by tethering from your Windows Phone. Sharing the data connection from your Windows Phone with your tablet is awesome for when there's n Wi-Fi and you need to be connected. The drawback is reduced battery life on your phone. Another is that most carriers (at least in the US) don't include tethering in your basic smartphone data plan. If it's already an extra charge you might just want to go the cellular route.
Other
Use some sort of alien technology to connect your tablet to the internet? Please tell us about it in the comments after you take the poll below.
Reading this in our Windows Phone or Windows 8 app? Head to the browser to take the poll. On mobile? Go here to take part. m.wpcentral.com/how-do-you-connect-your-windows-tablet-internet
Get the Windows Central Newsletter
All the latest news, reviews, and guides for Windows and Xbox diehards.