How to earn fast Atoms in Fallout 76
Bottle caps aren't your only form of currency this time around.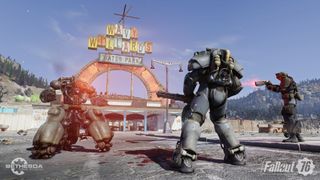 (Image credit: Bethesda Softworks)
When you start playing Fallout 76, you may find yourself earning Atoms. We'll break down what exactly these are, what they can be used for, and how to earn them quickly.
What are Atoms in Fallout 76?
Atoms are a new form of currency introduced in Fallout 76. While you cannot use Atoms to purchase items from vendors in the game, nor can they be used to to pay for fast travelling, you can use them in Fallout 76's dedicated cosmetics store, the "Atomic Shop." You can visit the shop through the game's main menu, with your total number of Atoms is displayed in the lower right corner of your screen.
How do you earn fast Atoms in Fallout 76 for free?
The easiest, quickest method to earn Atoms right now—without dishing out your actual hard-earned cash—is by completing challenges. Once you're in a game you can view the main menu and search through the dozens of challenges listed on the screen. Many of these are as simple as taking a picture in its photo mode or killing five different types of enemies. You can see which challenges you have completed, how many Atoms you will be rewarded upon completion, and you can sort them based on their category like combat or survival.
Some of the quickest challenges to complete are as follows:
Equip a Perk Card (10 Atoms)
Explore Appalachia for an hour (10 Atoms)
Acquire a Disease (20 Atoms)
Boil water (10 Atoms)
Collect wood (10 Atoms)
Cook a meal (10 Atoms)
Harvest wild plants and fungi (20 Atoms)
Kill an enemy (10 Atoms)
Destroy 10 robots (10 Atoms)
Kill 10 different kinds of creatures (40 Atoms)
Make a friend (10 Atoms)
Revive an ally (20 Atoms)
Join a group (10 Atoms)
Take 20 photos in a specific region (40-50 Atoms per region)
Discover each region (20 Atoms per region)
Pick 10 locks (20 Atoms)
Hack two terminals (10 Atoms)
Fallout 76 will also feature daily and weekly challenges that will periodically change, providing further chances to earn.
Just by playing through a couple of B.E.T.A. sessions and several hours of the game after launch, I've earned about 1210 Atoms without actively trying to complete challenges.
Where to buy Fallout 76 Atoms
Love them or hate them, Fallout 76 does feature microtransactions. You can purchase bundles of Atoms from anywhere between $5 to $40. The cheapest will snag you a total of 500 Atoms while the biggest pack will grant you 4000 (+1000 bonus Atoms).
Whether or not the price is worth it is entirely dependent on you. For reference, items in the store right now cost anywhere between 50 to 1800 Atoms. Icons generally tend to be 50 Atoms, emotes cost around 300 Atoms, face paint and tattoos are priced at 250 Atoms, and the most expensive apparel charges from 500 to over 1000 Atoms per item. Here's where to buy Atoms for Xbox One and PlayStation 4.
Buy Fallout 76 Xbox One Atoms
Buy Fallout 76 PlayStation 4 Atoms
Are Fallout 76 Atoms pay-to-win?
No, Fallout 76 is not pay-to-win. As of publication, you can only purchase cosmetics in the Atomic Shop. There are no weapon mods, perk cards, or anything of the like.
Here's how Bethesda puts it: "The Atomic Shop was founded to give you as much choice and variety in how you want to customize and celebrate your adventures. It doesn't offer anything with a competitive advantage, and more so, it aims to bring joy not just to you, but the other dwellers around you."
In the meantime, for those yet to pick up Fallout 76, the game is available now starting at $59.99.
Windows Central Newsletter
Get the best of Windows Central in your inbox, every day!
Jennifer Locke has been playing video games nearly her entire life, and is very happy Xbox is growing a stronger first-party portfolio. You can find her obsessing over Star Wars and other geeky things on Twitter @JenLocke95.
>.< this reminds me how Streetfighter 5 has implemented challenges and missions to earn fight money. I just hope the cost of items just don't sky rocket thus actually draining the fun out of the game...