How to edit the custom spell check dictionary on Windows 10
Did you add the wrong word to the dictionary? No worries, in this guide, we'll tell you the steps to remove or add new words to the custom dictionary on Windows 10.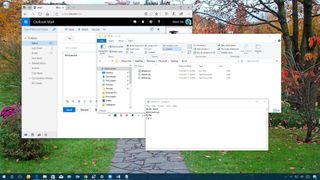 On Windows 10, whenever you're typing on the web using Microsoft Edge, or an app like Mail or OneNote (mobile), you can quickly right-click a misspelled word to add it to the custom dictionary when you know you have the correct spelling.
However, sometimes, you could also end up adding a wrong word to the dictionary, and Windows 10 doesn't provide an easy way to undo the change. As a result, the spell checker won't highlight it as a mistake the next time you type the word, which can cause you to submit an email or paper with grammar errors.
If you made a mistake adding a particular word using the Windows 10 spell checker, it's possible to edit the custom dictionary to remove it.
In this Windows 10 guide, we'll walk you through the steps to add or delete words from the custom dictionary.
How to edit the spell checker dictionary
If you made a mistake adding an incorrect word to the dictionary on Windows 10, or you want to add a list of new words, do the following.
Use the Windows key + R keyboard shortcut to open the Run command.
Type the following path and click OK.%APPDATA%\Microsoft\Spelling
Inside the Spelling folder, you'll see one or more folders depending on the languages you have installed on Windows 10. Double-click the folder that corresponds to your language (e.g., en-US for English).
Double-click the default.dic file to open with Notepad.
The default.dic file contains all the saved words that you manually added. The only thing left to do is to remove the incorrect words and save the file as you would normally do with any Notepad file.
Also, to remove words, you can also use the default.dic file to add words in bulk for items that you know the spell checker won't recognize. Only remember to enter one word per line.
It should be noted that these instructions will only edit the custom dictionary on Windows 10. Other apps, such as those from Office and Google Chrome, use their own dictionary.
While we're focusing this guide on Windows 10, you can also use the same steps on Windows 8.1.
More Windows 10 resources
For more helpful articles, coverage, and answers to common questions about Windows 10, visit the following resources:
Windows 10 help, tips, and tricks
Mauro Huculak is technical writer for WindowsCentral.com. His primary focus is to write comprehensive how-tos to help users get the most out of Windows 10 and its many related technologies. He has an IT background with professional certifications from Microsoft, Cisco, and CompTIA, and he's a recognized member of the Microsoft MVP community.
No, what would be useful is if there was a consumer friendly app for desktop AND MOBILE that would easily allow us to view, and edit, our dictionary... What? Why is that not here yet?
Off to feedback I go, once again.

Putting new features while not fully completing the essentials seems a MS way of doing things apparently. Alot of Windows 10 features such as Task View didn't get any improvements of any kind since its introduction. Not sure why they seem to just forgot some rather basic things, they even not bother even after years that feature has been implemented. They don't need us Insiders to tell us what's obvious.

They SHOULDN'T need us insiders to tell them what's obvious.... But, MS does.
....
Does GoogApple?

Please share link for the feedback. Rodney :)

I wish they add a dictionary to Windows 10 that gives a word's definition when you right-click on it and choose "Define.." for example.

Wish they had something similar for mobile...

I would love some instructions for the custom dictionary for office as well. Would be nice to do this on my Elite X3 as well.

Is there any way to do this on/for WP8.1?

An option to completely disable the spell check would also be very welcome. For some reason, for example, the Mail app doesn't want to listen to me disabling the spell check in the system settings.

I'm going to add all the words that the dictionary lacks.

This should be a feature and not need these kind of hacks.

Is there a list which services and apps in windows call from the default.dic file? And is the .dic file extension identical for all regions and languages? For example:
Does Edge use this dictionary?
What about the virtual keyboard and the ink handwriting pad?

Wow! how simple and modern is the process.

Mauro, This also works in Windows 8.1, not as you say Windows 10 only... Good reminder though.. Thanks

I added a note in the guide. Thanks,
Windows Central Newsletter
Get the best of Windows Central in in your inbox, every day!
Thank you for signing up to Windows Central. You will receive a verification email shortly.
There was a problem. Please refresh the page and try again.