How to edit image metadata on Windows 10
You can add, remove, or completely strip metadata from pictures, and in this guide, we'll show you how to do it.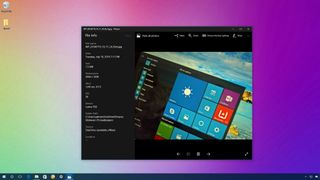 Every time you take a photo using your phone, digital camera, or using any other device, the file that is created not only includes the image, but an array of data about the device, author, date, and other important details, which are known as metadata.
Thanks to metadata, applications, such as the built-in Photos app can show you information, including when the image was taken, dimensions, ISO, size, etc.
The caveat is that sometimes the information recorded in the metadata is missing or incorrect. Fortunately, Windows 10 allows you to easily edit this information or completely remove it from virtually any file type.
In this Windows 10 guide, we'll walk you through the steps to edit the metadata information on photos (but you can use the same steps to edit other type of files).
How to edit image file metadata
To edit the metadata on image files, do the following:
Right-click the file and select Properties.
In the image properties, click on the Details tab.
All the information you see in the Details tab is part of the metadata, and you can quickly edit the information by clicking the value field next to the property. However, keep in mind that some data cannot be modified.
The Details tab divides metadata properties in a number of sections, which can be different in other file types. In this case, the image file is divided in six sections. The first section is called Description, and you can simply click the value field for Title, Subject, Tabs, Comments, and edit its information. You can even rate your image clicking one of the five possible stars.
In Origin, you can edit the Author, Data taken, Date acquired, and Copyright.
Then there is Image, and in the section, you can view relevant information about the image, all of which is automatically added an cannot be modified:
Image ID
Dimensions
Width
Height
Horizontal resolution
Vertical resolution
Bit depth
Compression
Resolution unit
Color representation
Compressed bits/pixel
The Camera section includes the details of the camera that was used to take the picture, including:
Camera maker and model
F-stop
Exposure time
ISO speed
Exposure bias
Focal length
Max aperture
Metering mode
Subject distance
Flash mode and energy
35mm focal length
You can only edit some of these metadata fields.
The Advanced photo section, includes a number of fields that will be particularly useful for photographers. You can only edit some of the fields, but things like lens, camera serial number, light source, white balance, EXIF version, and more.
The last section is File, where you can view file name and type, location path, date created and modified, owner, and computer name where the file resides. However, you can't edit any of these fields.
Once you're done editing the metadata, click Apply, and OK to close the picture properties.
How to remove picture metadata
While metadata can be useful, sometimes it can also be considered a security concern for many people. Thankfully, you cannot only edit metadata, but the operating system also lets you remove in bulk certain properties that might contain personal information, such as name, location, etc.
To remove your personal metadata information, do the following:
On the Details tab of the picture, click the Remove Properties and Personal Information link.
Select Create a copy with all possible properties removed or you can also select Remove the following properties from this file, and select the properties you want to remove.
Click OK.
Close the picture properties to complete the task.
Wrapping things up
Although metadata is usually ignored, it's useful information that can help you organize your files. Also, metadata makes search easier on your computer, because this is the kind of information Windows search looks for to return a search query. This means that most metadata information you add, the more accurate the search results will be.
More Windows 10 resources
For more help articles, coverage, and answers on Windows 10, you can visit the following resources:
Windows 10 help, tips, and tricks
Windows Central Newsletter
Get the best of Windows Central in your inbox, every day!
Mauro Huculak is technical writer for WindowsCentral.com. His primary focus is to write comprehensive how-tos to help users get the most out of Windows 10 and its many related technologies. He has an IT background with professional certifications from Microsoft, Cisco, and CompTIA, and he's a recognized member of the Microsoft MVP community.
Useful feature... tnx! :)

If you upload your music to OneDrive, you'll notice Groove uses this data as well and recently I had to go back and add Data so it knew the musician.

I use MediaMonkey to edit/correct all my mp3 tags before uploading to OneDrive. Saves a lot of trouble.

It's rare it happens but thanks for the tip, I'll check it out

That's useful and nothing new for me but I think you should be able to do this directly in the photos app and the same for music in groove music.

Agreed. I don't like the trend of "read-only" data in modern/mobile first applications.

I have all my photos scanned and properly dated and they are sorted correctly on my PC w10 photos app. However, on my 1520, everything older is lumped into "January 1970" with no older years selectable. Is there some setting i have wrong?

It would be nice if you could, somehow, lock the copyright info after entering it.

This is so timely for me because I tried Paul Thurrott's suggestion using Windows Photo Gallery for scanned pictures, just this weekend; but, at least to my knowledge, it does not run on W10. Two questions: One, can you batch change meta-data? Two, Windows Photos tries to read old numbers printed on scanned photos (the photos that have the, often, orange date in the corner) and has categorized the photos based on that date. If I change the meta-data using W10, does anyone know if this will override the programs attempt to categorize according to the old orange date in the corner?

To edit metadata photos in bach, you could use geosetter.

Still using Windows Photo Gallery and the Geosetter desktop app.

Same for me. Windows need a tool to make this. Geophoto UWP app make similar, but don't allow to tag with gpx files. You could try to write a email to the developer trying to convince that this feature is a must have feature to windows platform and reflex users.

Speaking of metadata, Windows 10 DESPERATELY needs a way to edit video metadata so you can identify a movie as a movie and a tv show as a TV show, so they show up properly in the TV & Movies app and just not in an unorganized pile in 'personal' L. This has been going on since Windows 8 and is just an orginizational mess.

Geosetter make this great. You have to collect the gps location with gps log tools. then you could compare the gpx timestamp with the time of the camera and sync the locations in the photos.

Geosetter is the most useful app for this. For collect the location timestamp In my android phone I use Easy GPS logger. There are both free. You only need to turn on Easy Gps Logger when you start taking photos, and stop when you finish.

Another point to note is that W10 does not allow you to change the Time portion of the Date Taken tag.

I agree. This a major deficiency.

I'm not saying it's major, it's just something I needed recently and found was missing. It seems odd that the time is displayed in the field but not available for edit.