How to enable the activity reminder in Microsoft Band 2 and get your butt moving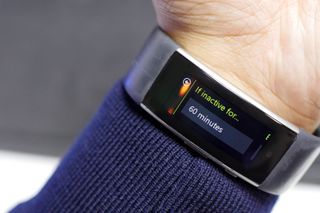 The Microsoft Band 2 received an update last week that enabled music controls, improvements in the Exercise tile, and the addition of Activity Reminder. With the update, the Microsoft Band 2 can now remind you when to get up and move if you've been still for too long. We'll show you how to enable it on your Band.
Go to settings on the Microsoft Band 2 (gear tile)
Tap the snail icon
Turn on/off the Activity reminder
Swipe left and select the duration for inactive minutes. You can select from 30 minutes to 120 minutes.
Swipe left and select the range of time you want to be reminded. By default, you can get reminders between 8 AM and 7 PM.
Swipe left and choose whether you want to get reminders during weekends, weekdays, or everyday.
That's it! This feature reminds us of the third-party app Walk Reminder that was released for the original Microsoft Band. We're glad to see that Microsoft has made it a built-in feature on the new Band.
What are your Activity Reminder settings for the Microsoft Band 2? Let us know in the comments!
Microsoft Band help, tips and tricks
Buy the Microsoft Band 2 (opens in new tab)
To be honest, It's annoying they're not bringing this feature to the first Band. It's not like it requires a new sensor. I know it will make some people want to buy Band 2, but still...

Another software update that they aren't bringing to the Band1. Quit ******** a device one generation old over, MS.

Only annoying thing is that it asked me to move and i was in the car...

This actually points to an improvement in Band 2. Band 1 would pick up erroneous step readings while driving, while Band 2 seems to have fixed that problem.

Just start to dance while driving

Yeah, I had to shorten the time frame it was active, as I have a 90+ minute commute (each way), and getting an activity reminder while driving just makes me sad. :D

all new feature is great. still waiting for mulit language support. . . . .

What bums me out is that they didn't announce that these features were due very shortly. I'd have pre-ordered and traded in my old one for these features especially the music controls. Now I'd have to pay full price, and as has already been said, they could bring them to the band v1.

Problem, is if they do that then people will also complain that what is the point of them buying the band 2 lol.... Soo what do you do?

Its true, that's why I didn't opt to pre-order the band 2, there was no significant feature that I wanted over what I already have in the band 1... Until now. Just looks like I'll be upgrading sooner than I planned!

People would also complain that promised features are taking so long to come

this is a good feature...have been using it for a week or so now (since the update). thnx for letting others know:)

Band 2 is still not available here in Philippines :(

Anyone use this with android? How is the experience? Posted via the Windows Central App for Android

Well.. Android user here.
I have been using band 2 almost a month and also noted the activity reminder with the latest update.
Out of my 24hrs day, in average I sleep about 4.5 hrs (Band 2 sleep monitoring which seems/feels really accurate) so in theory rest of the time I am rather active and bad haven't had a chance to "nudge" me. Posted via the Windows Central App for Android

MS, please update the Original Band (1.0) firmware too! AFAIK - it is possible to make even a stairs counter without an altimeter too... I have read an article about how to do this. The gyro and accel is sufficient (maybe it'll need more calculations). Very disappointed of thrashing the Band 1 on the scrap! I will keep it, 199 GBP is too expensive, at the market is too many new devices at this price range with more style and features (Garmin, Tom-tom, Fitbit and many less-known brands).

I agree, if they dont send any more updates to it I will switch to another brand when I next upgrade my fitness tracker.

It's quite annoying they aren't bring some features to the Band 1, the stairs counter isn't something I really want, but there are various features the Band V1 should get as it's capable of it. They don't HAVE to put them in the Band 1, but they should do really for a 6 month old product (in UK). I imagine when the Band 3 comes out (Or whatever comes next) there will be a massive difference between the V1/V2 and the V3, so people with the V2 will be in a similar situation but worse - I envision huge changes in the Band 3 in terms of the OS it runs, where as the Band 2 is very close to a Band 1 plus a few features and obviously the new sensor and better build quality.

I'd be generally interested why Ms has kicked dirt in the eyes of all Band 1 owners. Clearly an early adopter means nothing to MS as its not a hardware issue with either of these tiles.

Some people will say "This is technology, it happens" but these people are jumping to conclusions too quickly that all people are whiners. Microsoft seemed to be good at updating older hardware (approx.. 6-8 months old in terms of the UK release) but they are letting quite a lot of people down with holding back features that could definitely be added. Most of the features aren't things that will persuade people to upgrade for - The main one would be the build quality and especially the new screen as well as the additional sensor. Things like music control and inactivity reminders should really come to the Band 1. I'd read somewhere that the Band 1 would get everything that was possible from a technical standpoint, but we are yet to see it.

I enjoy the updates, but when will they fix the connectivity issues. The moment I got my 950XL I lost Cortana and keyboard input on my Band 2.

Is the reminder countdown since the user last took a step?
Windows Central Newsletter
Thank you for signing up to Windows Central. You will receive a verification email shortly.
There was a problem. Please refresh the page and try again.