How to enable the Dark Theme for Windows 10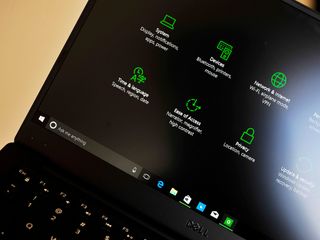 Windows 10 by default uses a lot of white for the backgrounds of system apps. This look, of course, is quite normal, but some users may want an even darker version of the OS. Not the evil kind, but the theme kind.
We covered how to do this back in the earlier builds of Windows 10 during the Insider releases. Believe it or not, the trick still works. However, the directions have changed.
Today, we are going to show you how to bring on the black for your Windows 10 PC experience!
Enable the Dark Theme
We should caution that modifying your registry, which is what we are doing, could cause problems should you touch something you are not supposed to touch. So read these directions carefully.
Having said that warning, this is very easy, and it takes you just a few minutes to accomplish. The difficulty level is medium , only because you are modifying the OS registry by hand.
1. Open up the registry editor
Type in the search bar Regedit. Select 'Yes' when it asks for permission.
2. Change key #1
Navigate to HKEY_LOCAL_MACHINE \ SOFTWARE \ Microsoft \ Windows \ CurrentVersion \ Themes\ Personalize by double clicking each "folder" aka key
3. Missing Personalize?
You may not have the sub-key \Personalize (I did not) so you can create one; if you already have one just go to Step 5
4. Create \Personalize Key
If you are missing the \Personalize key, just right-click on \Themes and select New > Key and call it Personalize
5. Create new DWORD
Right-click \Personalize and select New > DWORD (32-bit) Value
6. Name it
Name the DWORD AppsUseLightTheme
7. Correct value?
For its value, it should already be 0 so leave it
Change Key #2
Repeat the above but for HKEY_CURRENT_USER \ SOFTWARE \ Microsoft \ Windows \ CurrentVersion \ Themes \ Personalize. Once again, create a new AppsUseLightTheme DWORD (32-bit) Value with a 0 value.
Now, log out of Windows 10 and back in again. Start menu > Select your photo > Choose 'Sign out'
That is it!
If you ever want to go back to the light theme, simply re-edit the values of the two AppsUseLightTheme DWORDs and change their value from 0 (off) to 1 (on). Then sign out and back in again and you are back to the system default.
Please note that this theme only works in Windows 10 system apps like Settings. It does not add a dark theme to Mail or File Explorer, so its effect is limited. Still, it does look rather cool, but you decide if you want it or not.
If you think this guide is helpful, we have many more posts like this in our Windows 10 help, tips and tricks page.
Via: WinPoin; Thanks, Jonas K., for the tip
Windows Central Newsletter
Get the best of Windows Central in in your inbox, every day!
Daniel Rubino is the Editor-in-chief of Windows Central, head reviewer, podcast co-host, and analyst. He has been covering Microsoft since 2007 when this site was called WMExperts (and later Windows Phone Central). His interests include Windows, laptops, next-gen computing, and for some reason, watches. Before all this tech stuff, he worked on a Ph.D. in linguistics, watched people sleep (for medical purposes!), and ran the projectors at movie theaters because it was fun.
Hope this becomes an option in settings

Yeah, it should be as simple as mobile....

Rodneyej is the dark option

Now, NIST.... That is not appropriate... Lol.

This. The fact that the OS does not break and in fact shows you everything with the proper graphics, means the assets are there, but are unused.

Well... it's not done, that's why it's not in settings yet. You can tell because the Title bar is still white.

For me the title bar is 'Black', so as the text on it and the Close, minimize & expand buttons... Its annoying...

same. maybe because of the nvidia driver?

100% this. The average user has no clue about registry edits, which frankly is a ridiculous solution. Just make a straightforward option and done. Posted via the Windows Central App for Android

Agree. And I don't want to start messing around behind the scenes to get it. Make it a standard option, please Microsoft.

However messing with the registry is not rocket science for power users who do their own troubleshooting and repairs ;)

Probably many apps are not accomodated for this. But then most apps won't be accomodated for this until it is available for general users. So, I guess, why not :).

I hate playing with registry... I just hope windows officially adds it

I hope they add an option in File explore for Grey/ Dark theme and Tabs. These Mockups are very good http://1drv.ms/1ApKxek https://windows.uservoice.com/forums/265757-windows-feature-suggestions/suggestions/7119330-windows-10-mockups-modern-aero-glass-transparenc I use Dark theme on windows 7 http://www.tenforums.com/attachments/customization/25370d1437511896-how-change-fileexplorer-windows-explorer-background-grey-untitled.png

The mockups are too much OS X style.. specially the left blur side.

your mock up looks great... Is that a photoshoped one or real app like alternative to explorer?

Exactly. This should just be an option. C'mon Redmond, don't put things like that in there and make people mess about with reg settings to get it going.

Why is everything so damn hard in Windows 10?!?

Step 2, the notation for the HKLM hive was wrong (HKEY_LOCAL_MACHINE not HKEY\ LOCAL\ MACHINE) Good tutorial - I like the change, hopefully it is available in more system apps as time goes on.

I Just used Ross @rlindgre method. It was a lot easier without even log out...

I'm not sure I would consider something that takes 90 seconds hard, but okay.

Something being "a lot easier" does not necessarily mean yours is "hard"
:) Posted via the Windows Central App for Android

That's what she said. (sorry couldn't resist)

Haha, i was kinda thinking the same as i wrote it.

Hey Daniel I have a query..while upgrading windows 10 from 8.1 ,my installation stopped after downloading 100% and still some data was downloading in background and I stopped but I copied the install.esd from the folder ..can I install this esd by making into iso for upgradation or do I need to start the upgrade process again..plz do reply

Why do Microsoft not make these things options. This and the disabling of the hero image on login, shouldn't require reg edits to accomplish

That's the evolution of software. Fill out things in the feedback/user voice section and maybe it'll get coded in.

Lots of things have always only been done through the registry. I thought it was to take away options from users and give them to system administrators to keep things simpler for businesses, but this and a few other tweaks do seem unnecessarily hidden. Keeping a laptop from waking in a travel bag with certainty was only possible through the registry in Win7. Keeping the Windows button from turning on a tablet in 8.1, disabling backspace as a back button in IE, etc, etc. Lots of big hassels in Windows could be easily solved if Registry settings would become settings options.

It should be like windows phone in theme settings...

Yes, exactly... Probably just wasn't priority for the 29th launch... It'll come.

And that would save a lot battery life if tablets came with AMOLED screens.
Actually, why don't they? It's sad to see how poor the colors are on my Surface compared to my Lumia.

Because of price I guess?

indeed, AMOLED screens aren't cheap, and larger screens aren't cheap AT ALL.

I will do this when I get home. I would really like a dark theme. I don't know why it wasn't included in the first place.

The Preview for Office 365 for 2016 has a dark theme. Sadly, I could not get Outlook to open after my Win 10 upgrade and had to revert to the production release of O 365 2013.

It's not well done though. Just greys and not a good dark theme.

Here's an easier and faster way to do it. Just: 1 - Open search, type Powershell and open it 2 - copy/paste the following command New-ItemProperty -Path HKCU:\SOFTWARE\Microsoft\Windows\CurrentVersion\Themes\Personalize -Name AppsUseLightTheme -Value 0 3 - Press enter. Done. If you want to undo, just copy/paste Remove-ItemProperty -Path HKCU:\SOFTWARE\Microsoft\Windows\CurrentVersion\Themes\Personalize -Name AppsUseLightTheme

Very nice DJCBS. Powershell has definitely proven to be very useful at work and home as of late.

man wtf!!! it worked so good and easy ty very much dude.

This is how a real OS is supposed to behave, compared the other OS's for dummies out there.

Is it possible to run this as batch files dark.bat and light.bat to make it even easier? Or as a powershell shortcut+command line option?

Powershell ftw! Thanks! =D

nice one worcks great and really easier and faster way thank you

This is definitely something you need to be careful doing as the registry is something you don't want to mess up. But this a great place to start learning about registry values and editing. I taught myself to change the graphic of the Windows 98 logoff screen and have since moved on to more technical changes.

Thanks, Daniel. Really lke this - much more than the stark white one.

I'm almost sure this was built in into earlier builds

I mean, it was. I write about that literally in the opening paragraphs here. We even did a tutorial.

Yes but reading is hard these days. Maybe you should put the main body in the headline next time:D

I followed the tutorial, and it worked, except for one thing: The header at the top is dark and so is the color of the font and the minimize, maximize, and close button. They are almost impossible to see now. Does anyone know how to make them light color?

I noticed that but only for Settings. You seeing it elsewhere? And no, I don't know how to change that.

No, just in Settings. Oh well, I love dark theme so I will just live with it until Microsoft codes in an official way to do dark theme across the board. Thank you for the tutorial.

Some of the dropdowns within settings also have the black text issue. Also, any black icons disappear (discovered this in some drop-downs again).

Yes, had the same thing with windows 8.1 in dark theme and no transparency. And Cortana looks better in dark.

So how do u enable the evil kind

Load up OSX on a split partition? Heeyo...

I see what you did there.

+surface phone 64gb, but seriously, call me a thicko if need be, but has/can/why would anyone upload osx onto a Windows device?

You can on some devices mostly Intel and NVIDIA. AMD is harder. And why not? If one wants to experience OSX.

If its this easy ms must have thought people might consider this.

I think it's pretty obvious they are still working on supporting a dark theme which is why it's still stuck in the registry. I'll wait till they are done.

Love the dark theme, thanks again for this tip.

There's a reason this isn't an option. This isn't complete. The close, maximize, minimize buttons go black for me unless I switch to windows default theme. Once I change the wallpaper it goes back to the buttons being all black. Actually the buttons are all black when the window is in focus, so doesn't matter which theme is selected, buttons are black when window is in focus.

I have 3 monitors setup and it's easy to see on 2 out of 3. The contrast seems too low on the other but they are different shades..

It's still obviously not the intended coloring..

How dark is it!? Black or dark grey?

Dark grey. But it does look pretty cool.

...or a slightly darker black?

This along with the windows phone keyboard are both things that should be in windows 10 but aren't.

Yes, why isn't Word Flow in the Windows 10 keyboard?

Indeed. I often catch myself trying to "swipe" words on a tablet instead of typing them.

In the part of CHANGE KEY #2 the screenshots shown are of the creation of DWORD value in Themes but the change happens when it is created in Personalize.

What is change in the register for controlling the number of tiles in width?​ 4 tiles better than 3 tiles...(

I wonder if it has to do with being an insider or not. I upgraded (and was on the insider program) and I have 4 across. I'm assuming non-insiders get 3 across.

I have been wanting black explorer windows since windows 95.

Cool, sad it still doesn't work on all apps though. My Windows 10 app supports light and dark theme, but this didn't change it to dark in the desktop (works fine in W10 mobile). That's probably why it's not on Settings, it's a work in progress feature.

You can also use WinaeroTweaker for some of these hidden options :)

Been running this for the last few builds now. Why is this not a system wide option yet?

Because its clearly not finished yet.

When will MS formally release this?

Did not work for me. I am logged in W10 as a standard user. I opened regedit with administrative credentials, hence the "current user" applies to that account, not mine. After applying the changes, I logged in with adminstrative account, it has the dark theme, but mine is still the light one. I am too lazy to change my account to an administrative one.

Thanks, this will hold me over until they add a native system-wide dark theme like you find on Windows Phone/Windows Mobile.

Does dark theme consume less energy as the display is less bright?

No, the screen's backlight itself doesn't change, only the amount of that light is reflected or absorbed by the pixels. Having all pixels white or all pixels black is not the thing that consumes energy, but when you change the state of a pixel, then there is a significant energy consumption over an entire screen. Therefore there is virtually no difference whether white or dark, unless it's an OLED screen. Many years ago, there was this search engine that supposedly would save energy by having a completely dark background on the website instead of white, but as there's basically no difference, there was no point of the search engine.

Registry Editor, really? next time you could give people the .reg some people will have problems trying to do this I am sure. but sooner or later it will come to settings app, in some months I guess. it looks fine and people will like it but I would rather just wait for a proper setting. registry editor is boring in 2015.

Really? It's not that hard and < gasp > some people do not like download .reg files off the internet and run them. This also teaches people about the registry.

Since Windows 10 came out, I've been learning more and more about the registry (Windows 10 brought me back to Windows, actually). I also used it to add a default download location to Edge. Thank you, Daniel, for the tutorials. They are appreciated.

@Emi "registry editor is boring in 2015." Wow, that was a juvenile thing to say. Seriously, if you're unwilling to learn, then please don't stand in the way of people who do want to learn. I'd say that in fact, 2015 has never been a more perfect time for people to learn to use the fundamentals of an OS, as younger and younger people tend to tinker with computers (i.e. not Minecraft).

Kinda mess up when I do this. Minimize,resize,close on calculator is totally black. So white on alarm clock and kind of a grey on settings app. White title bar on xbox app with black background.

When on the dark theme, some things look very ugly in settings. Like "display" and the "Acer" tag at info so I went back

So it is in the OS but not directly exposed to users

Works great, thanks for the tip.

Im hoping on a full dark theme experience in the future

Very nice! Thank you for this post. I hope that MS will add a true/thorough dark theme option in the next update. Does anyone know if there is a way to do something similar in File Explorer and other apps?

Thanks! I really like that Dark theme! I don't know why Microsoft just didn't gave us the option in personalization settings.

Because its not finished.

This is useful thanks... I've missed these things from the default settings

I really don't care for the idea of solid black being "Dark Theme". Visual Studio 2015, XBOX App & Microsoft Edge (with the exception of the Favorites menu) were well designed with darker UI's. A combination of dark grays.

I couldn't agree more! Pure black and pure white both look gross to my eyes, especially when they cover large areas of space. The Groove Music app is a perfect example: both themes look hideous, but both would look much nicer if they toned down the contrast a bit with some grey shades. Edge looks very good in its dark theme because it is very dark grey, not black. The white File Explorer makes me want to scratch my eyes out.

I couldn't stand the Visual Studio dark theme with all the grays. It just was too depressing and the text background looked like it should be black but the bightness got jacked. I rewrote it to be a solid black design and have had several developers fall in love with the custom theme. I also made the font colors lower contrast too. Bright text on a black background is a bad combo too. The contrast between text and background needs to not be too much. I actuall get bothered by the Edge dark theme too. Gues we need 3 options.

alternativly use win aero tweaker

Pretty sweet! Does any one know how to remove that shortcut arrow? I've tried old methods that worked on Windows 7, but it doesn't work in 10.

that's cool. thank you :D

appreciate Daniel...nice tutorial. thnx

I thought the option is available in the settings? I'm using the dark theme now.

it was in previous insider builds, they removed the toggle for now as its not ready for rtm yet

This process is a lot longer than I thought it was going to be when I initially Started reading lol Posted via the Windows Central App for Android

Thanks for the info. It looks great on my Surface 3!

I don't know if it's because the OS is in spanish as some registry data but didn't work for me.

Thanks man, Really Cool although still wonder how prople get to know all this regestry hacks ( Any source of lerning all this?? )

This is the kind of thing about Microsoft that irks me. On one platform (Win10 desktop) they're pushing out the OS with the Light theme enabled by default with no easy way of changing it, as if that's how they expect people to run the OS. But on other platfoms (Win10 mobile and current Xbox dashboard) the Dark theme is the default everywhere. It's like they can't get their act together...where is the unified theme and experience across all platforms?

Isn't it obvious that its just temporarily disabled because it isnt finished?

i always wonder How do people figure these out ?!

The registry keys are easy to find and reverse engineer. You can also trace the registry access by programs and see what they are reading and writing to. Finally, a dev could have just leaked the setting.

I noticed that the select list for quick actions is white text on a white background with the dark theme, too.

Either the code base on the phone and pc are the same and they don't support it on the pc or it's just being refined for future implementation. Both of these are probably the case for now. A few bugs in this but worth it for me. The UI designers should be hooking into the theme from the get go and not using fixed colors.

Wow, you guys *must* be bored!

Just a quick note that I didn't have to sign out and back in for the change to take effect. It took effect immediately after closing regedit

Powershell mod worked Wicked fast... Thanks much

May the force be with you.

Hi There, Somehow It didn't work for me. I have checked restarting my PC also. Can some one help??

I'll wait until its properly implemented.

that is awesome I might check that out one of these days.. and do that

Great. Worked perfectly, going to keep it. Thanks Dan.

Why my font is silver.. not white and look like at the picture??

I've made a small tool to simplify the process.Its called DARK10.Check It Out : goo.gl/mEsBsy

The regedit method worked fine for me. I just hope the update the dark theme to include light colored text & icons in the titlebars (title, close, maximize, minimize, etc), as the black on dark background is very difficult to see. Thanks for sharing!

YAY! It worked for the settings menus. Is there a way to apply this to the file explorer too?

Hope Microsoft add this to all apps before Apple adds this and everyone thinks they are so cool

Thanks but looking to do the same on file explorer. MS should have such a feature!!
Windows Central Newsletter
Thank you for signing up to Windows Central. You will receive a verification email shortly.
There was a problem. Please refresh the page and try again.