How to enable the SpO2 monitor on your Fitbit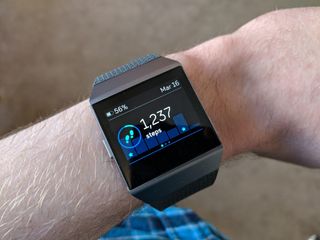 (Image credit: Windows Central)
Fitbit has built a solid reputation based on the quality of its wearables and its easy-to-understand in-app analytics. It was one of the first companies to popularize wrist-based heart rate monitoring, and also one of the first to include a built-in SpO2 sensor to measure blood oxygen levels. Now that this feature has been cleared by the FDA and activated by Fitbit, we'll explain how to use it and why it is important.
Products used in this guide
How to check your blood oxygen levels with your Fitbit
Note that at the time of publication, this feature has just started to roll out to Fitbit customers, so it may not have appeared in your app just yet. But keep checking — it will be worth it!
This feature is available on many, but not all, Fitbit models, including the Ionic (released in 2017), as well as all versions of the Charge 3 and Versa lines (from 2018 onwards).
Make sure your device is fully charged or is plugged into a charger for the update process.
Open the Fitbit app on your smartphone
Tap on your profile avatar on the top left corner of the app
When you see a list of your Fitbit devices, check to see if your compatible device (Ionic, Versa 1, 2, or Lite, or Charge 3) has an update pending. If so, tap on the device icon.
Once your device has updated, all you have to do to check your blood oxygen is to tap on the sleep tile from the Today menu (on the bottom of the app).
Tap on a sleep log (a night's sleep record) to see an Estimated Oxygen Variation graph personalized for you like the one below.
That's all there is to it! If you have the update and follow these steps, you'll be able to see your blood oxygen levels too.
What does SpO2 mean, and why is it important?
Your SpO2 is a measure of your blood oxygen levels, or as Fitbit refers to it, your estimated oxygen variation (EOV). According to Fitbit's help center:
The Fitbit devices mentioned above use red and infrared sensors that are already on the back of the watch case to shine light into your blood vessels and read the light colors and levels that "bounce back" to them. Based on these readings, your Fitbit can then provide a relatively accurate estimate of the oxygen levels in your blood.
Unlike in other use cases, the color red signifies a good value, whereas blue signifies a poor value. The more red light your blood returns, the more oxygen you have. The more blue light, the less oxygen is present in your bloodstream.
So why is this important? The medical community claims that knowing your blood oxygen levels (particularly during sleep) can be a good way to predict or monitor conditions such as sleep apnea and provide valuable data for people who have preexisting breathing conditions.
If you do notice any abnormalities or "big variations' in your EOV graph data, you should get in contact with your physician to interpret the findings and discuss treatment options.
It should be noted that Fitbit is not the only company with wearables capable of taking SpO2 readings. Both Withings and Garmin have watches that support this feature, and more companies are expected to roll out devices with similar functionality over the next year, pending regulatory approvals. One surprising omission to date is Apple, whose category-leading Apple Watch Series 5 sports all manner of health tech from fall-detection to ECG monitoring, but does not have a SpO2 sensor. Perhaps that will come in the Series 6 line or later.
To your health!
I hope you were able to update your device and app and have started to use this new feature. I recently received my update, and it has been interesting to see how my periods of high variation correlate to bad sleep or excessive snoring!
Our top equipment picks
This SpO2 functionality is available on Fitbit's top-tier smartwatches and fitness bands like the Ionic, Versa line, and Charge 3.
Alexa on your wrist
The newest and best smartwatch from Fitbit

The Versa 2 builds on Fitbit's most successful line of smartwatches with five days of battery life and Alexa access at the push of a button.
Fitbit continues to refine its popular Versa line with a more streamlined casing, larger and better screen, and enhanced fitness features.
GPS to get you there
The Fitbit for elite athletes

The Ionic is the only Fitbit to feature built-in GPS, but it also packs a large screen, decent app support, and onboard music storage for long runs or hikes in the wilderness.
The Ionic may be getting a little long in the tooth, but it's still a feature-packed fitness watch. As it ages, its price has come down to be competitive with the Versa 2.
Top tracker
For those who don't want a smartwatch for workouts

I think smartwatches are great, but I don't need or want all the distractions they can bring. The Charge 3 gives me all the fitness data I want, and none of the functionality I don't.
With a six-plus day battery life and smaller profile, the Charge 3 is comfortable to wear all day and all night to track everything important to me (like sleep!).
Additional Equipment
If you decide to wear your Fitbit to bed to track your SpO2 while you sleep, consider one of these softer bands for added comfort.
CAVN Woven Band for Versa 2 ($9 at Amazon)
With this CAVN band, you can get the look of the more expensive Versa 2 Special Edition for a lot less. Plus, this band will stay secure with its buckle and clasp.
Bandmax Rainbow Band for Ionic ($14 at Amazon)
Show your spirit with this festive woven Ionic band. If this one catches your eye, they also make a cool rainbow one with a black background that really stands out.
VEAQEE Nylon Woven Sport Band for Charge 3 ($8 at Amazon)
This nylon wrap-around band is the most comfortable I've tried with my Charge 3. It comes in nine colors and is available in three packs as well.
Get the Windows Central Newsletter
All the latest news, reviews, and guides for Windows and Xbox diehards.
Jeramy is proud to help *Keep Austin Weird* and loves hiking in the hill country of central Texas with a breakfast taco in each hand. When he's not writing about smart home gadgets and wearables, he's defending his relationship with his smart voice assistants to his family. You can follow him on Twitter at @jeramyutgw.