How to enable Windows 10 to sideload apps
When you have a modern app from a trusted source, but it's not available through the Store, you can use this guide to enable Windows 10 to sideload the app.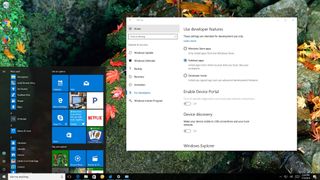 On Windows 10, Microsoft continues to push its new modern app platform, which the company wants you to get primarily from the Windows Store. However, similar to other platforms like Android, you're also allowed to sideload apps outside the Store.
If you're unfamiliar with the term "sideload", in Windows 10 it means the process of installing apps on your computer that hasn't gone through the certification process to appear in the Store and to run on a Windows device.
The operating system by default blocks you from sideloading apps. The main reason is to protect you and your computer, as getting certified apps from the Store ensures that you're getting a good app that won't harm your device and it'll do what the developer says it will do.
However, there is number of good reasons to install apps outside the Store. Perhaps you're a developer, or you have a friend who is a developer and wants you to test an app before submitting it to the Store. It could also happen that you come across an app that leaked onto the web, and you want to try, or the fact that there a lot of apps available outside of the Windows Store.
In this Windows 10 guide, we'll walk you through the steps to allow the operating system to sideload Universal Windows Platform (UWP) apps on your computer.
How to allow Windows 10 to sideload apps on your computer
Open Settings.
Click on Update & security.
Click on For developers.
Under "Use developer features," select the Sideload apps option.
Click Yes to confirm the risks involved running an app outside the Windows Store.
Restart your computer if applicable to complete the task.
You may have noticed that there is a "Developer mode" option too, both the "Sideload apps" and "Developer mode" will allow you to sideload apps, with the difference that the "Developer mode" will also enable other developer specific features.
It's important to note that it's not recommended to sideload apps as there is danger involve that could expose and harm your device. If you must sideload apps, you should only install those from a trusted source.
While we're focusing this guide for the desktop version of Windows 10, you can also use these instructions to enable Windows 10 Mobile to sideload apps on your phone.
More Windows 10 resources
For more help articles, coverage, and answers on Windows 10, you can visit the following resources:
Windows 10 help, tips, and tricks
Mauro Huculak is technical writer for WindowsCentral.com. His primary focus is to write comprehensive how-tos to help users get the most out of Windows 10 and its many related technologies. He has an IT background with professional certifications from Microsoft, Cisco, and CompTIA, and he's a recognized member of the Microsoft MVP community.
There're hardly any apps available to sideload on Windows 10

Not too many apps available in SysApp Pusher sadly...

"trusted source" what sources are there besides Windows Store?

If you're enrolled into an educational or enterprise network, you can be offered apps by network. ​Later, if certain companies decide that they want to enroll with an agreement with microsoft, they could become a trusted source. For example, if Steam wanted to sell games as UWP apps, they could become a trusted source and developers could sell their game there, and/or as well as the Microsoft store.

Like it says in the article, for example if you was developing an app and needs to test it I'd say you are the most trusted source if it was your app. There are other situations that count as trusted too

My kids have dabbled with making apps for their phones and tablets.

I would like to install Audible a second time since I have two different accounts. ​Where would I find the Audible program file that I could sideload ? ?

So, is there any sources for Windows 10 apps that can be sideloaded, even questionable sites ? (feel free to PM me in the fourms if a questionable site so we dont get banned for talking about bad sites)

I've never been able to sideload WP8/8.1 apps (.xap) on my W10 mobile. One of the advantages of WP8.1 over 10

No...you can side load apps by using "Windows Phone Application Deployment 8.1"
I am using it and apps are working perfectly.

Can you give more details or link a trustful and easy guide?

Also, does it work with UWP apps as well?

http://winphonehub.org/guide-install-windows-phone-8-0-sdk-lite-windows-...
Above link is for windows phone 8.1 sdk lite
In which you can find that deployment tool...and appx/appxbundle deployment was covered in the po-go(pokemon go) article.

Does this work for sideloading store apps? I actually had FIFA 15 in mind, cos I have the .xap weighing 921MB, and several other games like gt racing and asphalt 8

No since store apps are encrypted probably it wont work...u gonna need decrypted xap files to deploy using that tool
But if you have those store's xap files you can install by transferring them into your phone and then just locate that xap file and then tap on it...it will install

Aburo, se Naija lo wa ni abi Yẹnkii?

does anyone know why groove wont read music on my sd card on a s7 edsge? seems prety bad it cant do that basic task.

Maybe try the forums to get an answer for that.

maybe you use a lossless Apple format

The title should be 'How to enable Windows 10 to sideload apps while compromising security and privacy.'

Well, if you've been using before the modern apps came along, you have been compromising security and privacy on your computer with other programs for years. Thanks,

the only way you'd compromise security is by downloading them from shady sources.

Can i sideloade snapchat and kodi

Go to there website, just like showbox!!

I was thinking the same. But where would you go to try and download it . I still wouldn't know how to on mobile

I thought MS had changed this to default and just made it that developers need to have apps signed by MS and can then post them anywhere and the developer mode is the one that lets you use unsigned? My pc is set to sideload apps and I have never changed it. Confirmed on my laptop too.

"the fact that there a lot of apps available outside of the Windows Store." - I expect to see lots of articles about those apps.

Hi,
I have a problem in windows 10 in my pc. Cortana don't work after anniversary update . I've tried registry editor method, powershell apps reregister method.. I've done everthing that available on the internet but cortana don't work. Everything works perfectly smooth in my pc except cortana, so pls help me guys.
Sorry for bad english
Windows Central Newsletter
Thank you for signing up to Windows Central. You will receive a verification email shortly.
There was a problem. Please refresh the page and try again.