How to fix Microsoft Flight Simulator download issues
Can't get Microsoft Flight Simulator to download? You're not alone, and we have some suggested fixes.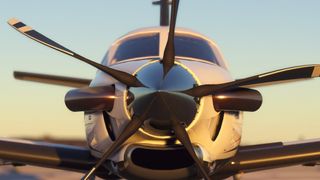 (Image credit: Microsoft)
Microsoft Flight Simulator has made its PC debut for some, bringing every kilometer of the planet into the virtual world, and primed for exploration. The latest entry concludes over a decade hiatus for the classic Microsoft-made series, embracing its modern cloud empire to deliver an unparalleled scale. But representing every country down the finest details isn't easy, requiring over a 150GB installation, without counting over two petabytes of world data ripe for streaming.
Microsoft's handling of the hefty installation size separates the initial game installation and in-game content, making that initial Flight Simulator executable just a few GB of the full experience. Newcomers opening the game for the first time will meet the "Content Manager," mandating users to download up to 100 GB through the client. That's not an issue — it's the expected with the full Microsoft Flight Simulator installation size — but not ideal when things go wrong.
Microsoft Flight Simulator download stuck or slow
The integrated "Content Manager" has emerged as a point of frustration for some early adopters, with reports of stuck and slow downloads when first starting the game. That leaves many unable to play the new Microsoft Flight Simulator as of launch day, with the game assets required to play.
The launch isn't entirely smooth for all, as expected with any new video game release in 2020. While many issues often subside with time, those looking to play as soon as possible may encounter hurdles over the days ahead. We've wrapped up some common fixes that may help your Flight Simulator download fly by in no time.
Restart Microsoft Flight Simulator
When encountering issues with downloads within Microsoft Flight Simulator, one common solution requires a restart of the title. Closing and re-opening the program may lose current download progress, but it can be a quick fix to alleviate hang-ups and get back on track.
Leave Microsoft Flight Simulator fullscreen
When downloading in-game content for Microsoft Flight Simulator, try spanning your game fullscreen, and leaving the PC to handle the full installation. The issue previously impacted our staff, sometimes resulting in crashes when left downloading new content in the background, minimized in the system tray. However, if progress isn't made within 10 minutes, we recommend pursuing further troubleshooting steps.
Fixing slow downloads
Microsoft has also outlined a networking issue that may occur, which results in slow downloads for some users. It posted a quick four-step solution to its official support portal, which appears to grant some users a workaround.
Type Command in the Windows search bar. Look for Command Prompt.
Select Run as administrator in the side-menu.
Type netsh int tcp set global autotuninglevel=normal
Press Enter.
After completing the steps, restart Microsoft Flight Simulator and continue your download.
Change the installation path
Microsoft Flight Simulator's Content Manager also features the ability to choose where you install your game content. If you have a secondary hard drive, attempt to change the installation repository, Alternatively, create a new folder on your existing hard drive, and attempt a fresh installation in that location.
Is software in the way?
While it's best practice to keep your PC running healthy, various Windows security features may hold your Flight Simulator experience back. Your antivirus, firewall, or user account limitations may restrict the download process. Temporarily turn off any potentially interfering processes one-by-one, and see if your experience improves when a particular feature isn't in play.
Stuck at 3.68GB?
Many users report no issues when installing the majority of Microsoft Flight Simulator, but later encounter hurdles when restarting the title. The title may open to a later 3.68GB update, which fails to download once started. A workaround remains unclear at this point in time.
Reinstall Microsoft Flight Simulator
Yes, it's not ideal — but reinstalling the Microsoft Flight Simulator client could fix underlying download issues. While resetting your download progress to 0%, a clean install of the title may correct any undetected hiccups impacting your original installation.
Just remember, it's launch day
While you may be eager to jump onto Microsoft Flight Simulator the moment it launches in your region, remember you're not alone. The sheer number of new users looking to download game content is guaranteed to impact speeds in some areas, even despite Microsoft's best efforts. After the initial launch rush subsides, installing the game outside of peak hours could eliminate several variables hindering downloads today.
We'll update this post over the hours ahead with new updates as they come.
The Legend Returns
(opens in new tab)
Microsoft Flight Simulator
Microsoft Flight Simulator 2020 has taken to the skies, promising a cloud-powered globe, with authenticity on an unmatched scale. It's out now exclusively on Windows PCs, offered in three flavors.
Pick Up A Stick
(opens in new tab)
Thrustmaster T-Flight HOTAS X
The best budget stick around

When you happen to be restricted by a small budget but want something better than a mouse and keyboard for Microsoft Flight Simulator, this is the perfect all-in-one solution.
Matt Brown is Windows Central's Senior Editor, Xbox & PC, at Future. Following over seven years of professional consumer technology and gaming coverage, he's focused on the world of Microsoft's gaming efforts. You can follow him on Twitter @mattjbrown.
What a boneheaded install process. Why didn't they install the whole game on a pre-load. At the rate it is updating I'm not sure it will finish updating by the end of day. It is getting review bombed on Steam because the update is counting towards the 2 hour play time so many are cancelling the update and refunding before their 2 hours is up or with very little play time. And someone decided it would be a good idea to a have an annoying, repetitive sound playing through the entire update. Could no one see this coming? That said, I'm expecting a truly awesome, revolutionary sim with some issues that I'm willing to put up with once I can get the game installed...eventually.

I didn't expect this either, especially with the MS store app. I thought we were done with installer wrappers. I might be able to fly by tomorrow!

I'm at 73%, hoping to get it sometime this afternoon

OMG!!! My laptop died in the middle of the update and now it seems to be stuck trying to resume with 69 gigs left. I might have to start over!!

I found a solution, so as not to have to download the whole game again. In the folder <C:\Users\[youruser]\AppData\Local\Packages\Microsoft.FlightSimulator_[something]\LocalCache\Packages\Official\OneStore> sort by order of modification, delete * .fspatch and *.fspackage files, and last modified folder, open the game, if it keeps freezing, delete the next last modified folder, and so on until the game starts. You no longer have to download everything again.

For those with the 3.68 issue: A reddit user found this workaround: https://www.reddit.com/r/MicrosoftFlightSim/comments/ibzcgx/potential_fi...

Is there any way to turn the depressive instalation sound off please??

Lol... I think it's supposed to be relaxive. I think it only becomes depressive when you find out that you can't at least play for another 2 hours. 😜

You can individually change the volume of programs if you right click on the sound/speaker icon in your taskbar and click "Volume Mixer". Find the program and adjust the volume slider all the way down.

I'm pleased to see that some avid sim fans are getting their downloads, eventually. I can't get mine to start. When I start the download/install process in the MS Store I get "Turn on Windows Update. Windows Update is disabled. You can repair Windows Update by running the Windows Update troubleshooter in Settings." Code: 0x80070422 Downloading and installing other games works fine. I have a new-build box just for this sim, and it's less than a week old. I've tried everything that MS suggests, as well as on many sites (including this one). No dice. Windows Update is alive and well, as I got an update just yesterday! I've done the "sfc /scannow" repair, everything. Except one thing: A full repair of Windows (or pristine install). Anyone here seen this one? If so, how to fix? And if not, what suggestions? I really want this one; I'm stumped...

Wow, havent been that unlucky. I am on release preview though, maybe try that?

I finally got completely frustrated with the whole process, once Powershell starting dumping errors about missing xml files, etc. The usual sfc /scannow and RestoreHealth tries all showed my system was in great health. So I bit the bullet and did a full reset on Windows, the one where you use the MediaCreator tool and then tell it to update Windows but keep user files and applications. Download now running fine, after logging back into the Store. Apparently there are just some errors you can't get past without a Windows reinstall...

I found a solution if the screen freezes on "Welcome, set your experience", so I don't have to download the whole game again. In the folder <C:\Users\[youruser]\AppData\Local\Packages\Microsoft.FlightSimulator_[something]\LocalCache\Packages\Official\OneStore> sort by order of modification, delete * .fspatch and *.fspackage files, and last modified folder, open the game, if it keeps freezing, delete the next last modified folder, and so on until the game starts. You no longer have to download everything again.

Sounds like an important find, Diego! I'll watch for that...
Windows Central Newsletter
Thank you for signing up to Windows Central. You will receive a verification email shortly.
There was a problem. Please refresh the page and try again.