How to flush Live Tile notifications during shutdown on Windows 10
When Live Tile notifications become overwhelming, you can use this guide to clear their content as you exit Windows 10 for a less noisy experience.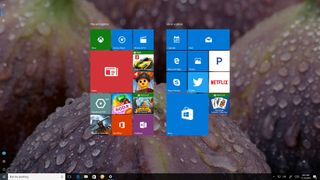 Windows 10 is a significant shift from Windows 8.x, but the new operating system still carries over some of the features Microsoft introduced in the previous version, including the Live Tiles you see in the Start menu.
These Live Tiles can light up and display updates for certain events depending on the application. For example, the News app tile may show you the latest trending headlines; the Mail app will notify you of recent unseen emails; and the Store app may promote certain apps and services.
The idea behind the Live Tiles is to give you a glimpse with useful information about apps or services you're using without you having even to open the app. However, as you start your computer, the information on tiles can be overwhelming and repetitive, especially if a particular tile got hangup and continuously shows you the same update.
Fortunately, Windows 10, similar to Windows 8.x, includes an option to quickly flush the cache content of the Live Tiles as you sign out or restart your computer.
So they can get re-hydrated with new information automatically or after you launch the app.
In this Windows 10 guide, we'll walk you through the steps to clear the Live Tiles notifications for apps as you exit the operating system.
How to clear app Live Tiles notifications on exit
Important: This is a friendly reminder to let you know that editing the registry is risky, and it can cause irreversible damage to your installation if you don't do it correctly. It's recommended to make a full backup of your PC before proceeding.
Use the Windows key + R keyboard shortcut to open the Run command, type regedit, and click OK to open the registry.
Browse the following path:HKEY_CURRENT_USER\SOFTWARE\Policies\Microsoft\Windows\
Right-click the Windows (folder) key, select New, and click on Key.
Name the key Explorer and press Enter.
Select the Explorer (folder) key, and right-click on the right side, select New, and click on DWORD (32-bit) Value.
Name the new DWORD ClearTilesOnExit and press Enter.
Double-click the newly created DWORD and change its value from 0 to 1.
Close the registry.
Restart your computer to complete the task.
Once you completed the steps, when you're signing out, the operating system will automatically clear the notification information on the Live Tiles on the Start menu. Then when you sign back in, you should see the Live Tiles empty.
At any time you can revert the changes by using the steps mentioned above, but this time on step 7, change the value of the ClearTilesOnExit from 1 to 0, and restart your computer.
Keep in mind that resetting the Live Tiles won't prevent the app from re-downloading new notifications. Depending how the app is designed, some will eventually download new updates, and some other apps like the Store app will resume showing updates once you launch the app again.
You can always turn off Live Tiles by using the apps context menu to prevent from showing notifications, but sometimes you may want to reset its content and not necessarily disable the notifications. In addition, this is a good way to reset Live Tiles that might get stuck, and they're not updating its content properly.
More Windows 10 resources
For more help articles, coverage, and answers on Windows 10, you can visit the following resources:
Windows 10 help, tips, and tricks
Mauro Huculak is technical writer for WindowsCentral.com. His primary focus is to write comprehensive how-tos to help users get the most out of Windows 10 and its many related technologies. He has an IT background with professional certifications from Microsoft, Cisco, and CompTIA, and he's a recognized member of the Microsoft MVP community.
Love the live tiles. One reason more to use W10M over iOS or android :P

Live Tiles forever! The one feature the other 2 will never have!

While Windows 10 is much better than 8/8.1 it has glitches where it shouldn't have, like in Live tiles which are not updating. Talking about mobile and specifically core apps like Outlook Mail and Calendar, Groove music, Weather and some more. Live tiles are thing what makes OS different than Android and IOS, and they are not working properly. Needs fix asap.

Yeah, the Live Tile on Windows 10 seems really bit buggy and doesn't behave as solid as from W8.X. Though it's not a common case, but it happens sometimes if you somehow aware of it, though to be fair sometimes the app itself have the shortcoming and not the Live Tile itself. Fortunately this issue seems rather rare at least on my case. Though I do noticed it sometimes on other PC. Posted from alternate universe

Exactly, we shouldn't have to go into the registry to do this, and shouldn't that option that we change in there be on by default? Why is is stitched off?

They were pretty broken in W8 too, pre-Aniversary Update it was also pretty buggy but now they seem to be working very well.

My Lumia 930 with the latest W10M, the Outlook app live tile doesn't always update, can someone please tell me how to fix...

"Fortunately, Windows 10, similar to Windows 8.x, includes an option to quickly flush the cache content of the Live Tiles".... everything that is a register hack is not quick, nor really an option for the majority of the masses...

I actually didn't know this. Now if there was a way to stop the 2 million notifications that pop up in the center at start up besides switching to quiet mode before shutting down, I'd be in business.

Isnt there a way that you can set how many notifications come from each app? And didnt Microsoft say they were going to relook at the syncing notifications. Like, if I check my email on my phone it will also take the notification away from my desktop? I would really like that. I have started just leaving my computer in quiet mode all the time now.

You could always just turn the action centre off. Will depend of course on whether you think such notifications have any value, I don't; and having **** pop out on me while I'm working drives me nuts. No action centre, no problem.

Can WinCentral put all of these in an archive on the app or something? I love these but have no way to save them :(

What about the Reading List app? You can create your own categories.

Was able to do that in Windows 8 and 8.1 without having to modify the registry was in the charm bar.

I do remember that you can modify the Live Tile cache within the Start settings from the Charms. This is one of the things they forgotten from W8.X/WP8.X which is sadly downplayed as if it didn't exist before, even for MS focused sites. The lack of comprehensive information regarding to regressed features contributes to things not implementing back in Windows 10. Now it's all left to Insiders which may or may not mention it on Feedback Hub, even so good luck with the votes in order for MS noticed them with busy development against all other ongoing issues such as bugs and other stuff. Posted from alternate universe

It would be really nice if Win Central also provided the .reg file that accomplishes the "hack" when they write articles like this.

The failure is why Live Tiles get stuck with old notifications, some are weeks old !
Dismal,

If I was using Windows 10 io would replace the start menu with a windows 7 style one, the tiles are awful, bad enough on windows 8 as a start screen, annoyed me like hell when I did use windows 10. Thankfully there are plenty of start menus around like the one I use on wijndows 8.1 which is start is back.
Windows Central Newsletter
Thank you for signing up to Windows Central. You will receive a verification email shortly.
There was a problem. Please refresh the page and try again.